Love Drop's 10 Vinyl Classics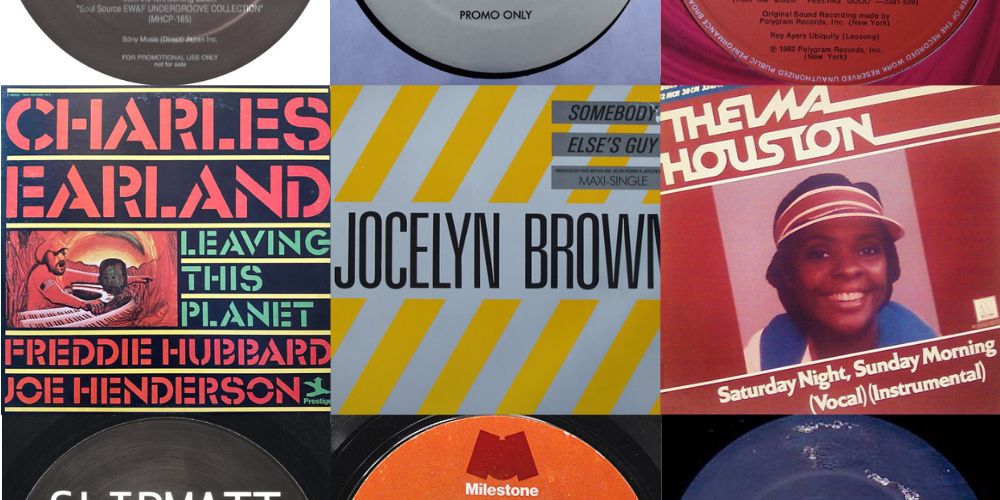 Love Drop has been a real firm favourite here at LV HQ, he has a sound which really stands out in a packed marketplace, reworking obscurities into dancefloor gold he's an artist who I highly recommend tracking down his 12's as they always hit hard on the dancefloor whilst staying completely true to his underground ethos.
He has a brand new 12″ out right now on his own Love Drops label and it's another must have fusing jazzy licks with left of centre Balearic sunswept vibes.
Grab it via: https://www.piccadillyrecords.com/148539/Love-Drop-Love-Drops-03-Love-Drops then do yourself a favour and track down his back catalogue especially the Love Drops and Gamm releases.
He's also a big lover of vinyl so I asked him to put together a list of 10 of his favourite vinyl classics for us. A wide remit I know but it's safe to say he has come up trumps for us with a list which perfectly showcases his own musical journey. He also put together a brilliant mix for us which you can check above.
Over to Love Drops to chat about his choices.
Love Drop's 10 Vinyl Classics
"I started buying records after I went to university in Brighton in 1994. I bought decks and started tearing through my student loan. Most spare money then went on vinyl, up until when my son was born ten years later and I needed to rein it in! Since then I've not bought that many 12″s, these days it's mainly just old man LPs, recent purchases include John Martyn, Joni Mitchell and Neil Young!
So I'm going to pick out ten key records from that first ten years of furious record buying, all massive favourites that had a great influence on me that I still love today."
808 STATE – Pacific State (Origin)
For a several years before I moved to Brighton I had been obsessed with rave music, acid house then old hardcore, and had mainly been listening to rave tapes. I subsequently picked up many of my favourite rave tunes from that time on vinyl. Unfortunately I wasn't old enough to hear this one at a rave, but it's always been special to me and I have fond memories of dropping it at midnight on NYE once – there was a lot of love in the room!
ZERO B – Lock Up
By the time Lock Up came out I was desperate to go raving, and in late 1991 you couldn't get much more of a rushy banger than this. Even now my heart rate quickens as soon as I hear it.
SLIPMATT – Breaking Free
I was going raving all the time in 1993 and 1994, a very interesting time musically because jungle was growing out of and eventually separating itself from hardcore, as the UK rave scene split. This was probably one of the last tracks played by all jungle DJs and 'happy' hardcore DJs, it's a great rave tune but when the bass drops it is heavy!
JOHNNY HAMMOND – Los Conquistadores Chocolates
Back to Brighton in the mid 90s and my horizons are broadening and I'm discovering a wide world of music. I used to love rocking a house party with a mix of the old rave and jungle but alongside new disco, house and jazz funk discoveries, and this combination usually worked a treat. Some jazz funk tunes like this one could sit comfortably next to a rave tune, this track is incredible.
ROY AYERS – Turn Me Loose
I think I first heard this one on a Joey Negro essential mix and was immediately hooked. Still one of his lesser known tracks but it's as good as anything else he has done, love everything about it.
CELESTIAL CHOIR – Stand On The Word
Oh Lordy, when you play this, everybody feels the spirit! I love my soul music and this lifts the soul like nothing else. Life-affirming.
THELMA HOUSTON – Saturday Night Sunday Morning
I like a lot of soul in my disco too and this track just spreads joy and has a wonderful singalong vocal.
JOCELYN BROWN – Somebody Else's Guy
You can sing along to this one too, but not like Jocelyn! She kills it on this, amazing intro, and when it drops you've got probably the best boogie pop tune ever.
EARTH, WIND & FIRE – Brazilian Rhyme (Krivit Edit)
Just a beautiful sounding record, all the elements are perfection, the production incredible, the bass is ridiculous. It's short but oh so sweet.
CHARLES EARLAND – Leaving This Planet
Equally amazing as the others but less obviously dancefloor friendly, this just builds and builds with killer solos into some serious psychedelic madness. This was probably my gateway to jazz. You never hear it out so I was excited to hear Theo Parrish drop this at Southport once. He filtered out all mid and bass frequencies from the start, and then played the whole track without ever bringing them back in! A very frustrating, baffling and tinny seven minutes!
For more info please check:
Love Drop Facebook: https://www.facebook.com/lovedrop666666
Love Drop Soundcloud: https://soundcloud.com/love-drop-edits
Love Drop Bandcamp: https://lovedrop.bandcamp.com
Love this? Check out more from Love Drop HERE
Like what you hear? To help support LV Online buy us a coffee via Ko-FI. Click HERE
Tags:
808 state
,
Jocelyn Brown
,
Johnny Hammond
,
love drop
,
roy ayers
,
Thelma Houston
,
Zero B