As Marcel Vogel & Lyma collaborate on new music we spoke with Marcel about the progression of his sound and the influences that led to his new album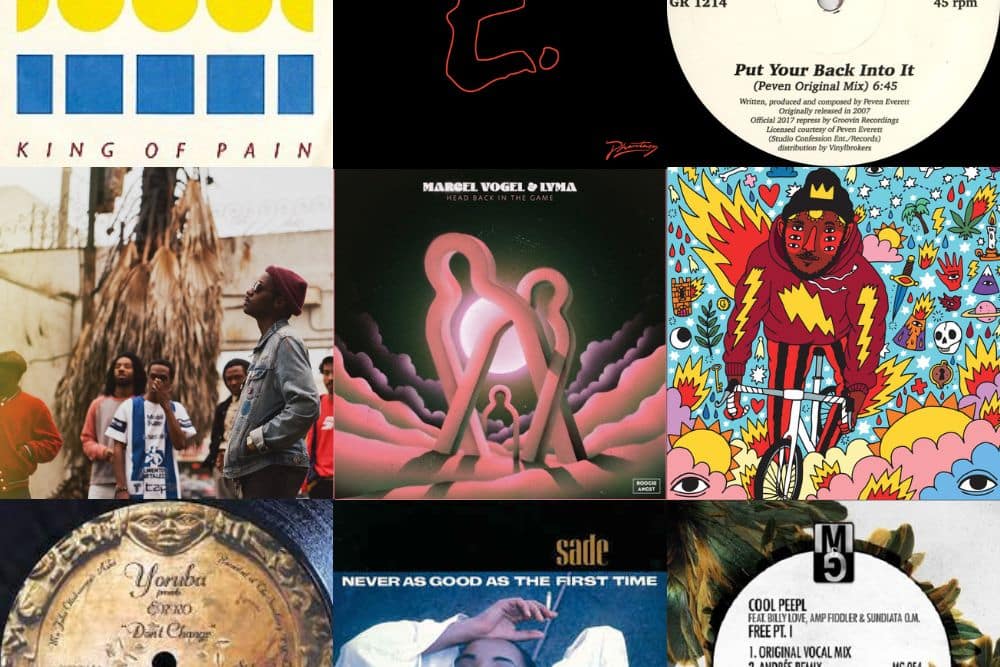 With a brand new album incoming collaborating with Amsterdam's LYMA, Marcel Vogel continues to develop his warm and thoroughly exciting sound as he adds a delicsious touch of 70's soul and edgy RnB into the mix.
The first track from the release Head Back In The Game has already landed and is available to check above and to buy or stream via: https://boogieangst.lnk.to/HBITG
I asked Marcel to chat about some of his own personal tracks which have foreshadowed the new album and tracks by other artists which have influenced him either directly or subconsciously over the last few years which have paved the road towards this release.
Starting of with Those Moments and If You like Marcel discussed how his music rarely exceeds 115bpm and regularly features live instruments alongside sampled drums.
Marcel Vogel & Tim Jules – Those Moments
Marcel Vogel & Tim Jules – If You Like (Original Instrumental)
With some key tracks which habe indicated the way to this new EP perhaps hidden away on EP's Marcel's music is very much seen by him as "regular experiments, a constant process of learning with each new release opening up a new universe of possibilities and confidence."
"Whilst the new album is focused on RnB in it's dirtiest incarnation I often treat my tracks as Hip Hop tracks. It's more about the snare and clap than the kick for me. That's why I allow myself to mostly use a slower tempo. It's always in between. And it's a very natural sound to my ears. Natural to me I mean. I currently work on things with this clarity in elements. You have a beat and the song is built on that."
Marcel Vogel & Tim Jules ft Javonntte – Just Because
Now check out some of Marcel's favourite tracks which have inspired him over the years.
11 tracks which have inspired Marcel Vogel & LYMA's Game Changer Album
Kindness – Gee Up (Errol Alkan Remix)
Always really loving blurry lines between genres, what is this, indie, disco?
Plus I love the break down loads and always get a great response playing this.
Mr G – Boiler Room Set
Some of the asthetic of the album i would attribute to collecting Mr G records.
I don't expect people to figure that out but i guess if you know, perhaps you can hear it a bit. I guess the way my inspiration often works is that it always translates
into a different form. I guess while I get triggered by certain stimuli, the expression of it might not resemble the trigger. Meaning I never try to copy, just to emulate and make my own.
Sade – Never As Good As The First Time
Not a particular song but generally whatever is on the best of album. I have to admit, the Best of Album of hers is so dense, I haven't even moved forward to check out her albums. I guess her best of is just one of my favourite albums. And naturally there are so many moods and textures to pick up from.
The Police – King Of Pain
Or King of Paint as my son says it. Because naturally that would have been a much better title. Since my son is a big The Police fan, I am a big fan too. Definitely the least annoying first favourite band I can imagine. Again, I am constantly listening to a lot of The Police, so a lot of their classics influence me. While I love everything about them, I would give an extra nod to drummer Stewart Copeland.
Channel Tres – Topdown
No doubt Channel Tres is achieving something special with his blend of Urban and Dance Music for the lack of a better way to describe it. I would like to assert, he may be the first to succeed with this mix to do it this authentic with major success. Big inspiration to keep the Hip Hop bounce in House.
Kaytranda feat Syd – You're the one
Kaytranda is just the goat of what he does, so much so I think of him and his sound as its own genre. Syd is also a big favourite of mine.
D'Angelo & Questlove – Tell Me (live)
The last two years I've been extreme binging Questlove's Supreme podcast, so I guess I am somewhat dialed into the world of Questlove. This video always manages to bring that back to base level, to complete feeling and love for the music. Of course D'Angelo is a big inspiration for everyone who makes R&B and Soul music. I also managed to catch him play live in Amsterdam in 2011 & 2012. Obviously two of the most outstanding shows I've ever experienced.
Leon Bridges – Bad Bad News
How much could it possibly get? Such a tune that instructs a lot of the thinking about the music we make. Just the tone, the soul, the level of organic elements, the Gospel in there. And a good reminder to keep it filthy and funky, even on a slow 4/4 beat.
Cool Peepl – Free (Andres Remix)
Naturally I listen to a lot of music from Detroit, Theo Parrish, KDJ, Waajeed, Andres and all of their different styles continue to make and impact on me. Generally I'll try to stick to my own sound and not try to emulate but of course a lot of my choice for sounds and vibe are informed by the Detroit sound. Ain't nothing better.
Erro – Don't Change
A pivotal record for me, one of the first times I heard R&B and House merge in the most organic of ways. I do hate all those terrible 90's house remixes of R&B hits, but I do love basically Osunlade's whole catalogue and take great inspiration from the fact, that he embodies: there are no limits on what's allowed in music. You can mix and match as much as you like if you stay true and authentic.
Peven Everett – Put Your Back In It
In some ways, we take Peven's music as such a given, we stop praising it. But he's still the best and I have so many of his tunes that I love and know by heart and played countless times. I just couldn't leave him out, as his music is always just a fingertip away.
For more info on Marcel Vogel and Boogie Angst check: 
Facebook: https://www.facebook.com/DJMarcelVogel
Marcel Vogel Soundcloud: https://soundcloud.com/marcelvogel
Marcel Vogel Instagram: https://www.instagram.com/marcel.vogel/
Marcel Vogel Twitter: https://twitter.com/MarcelVogel
Boogie Angst Facebook: https://facebook.com/boogieangst
Boogie Angst Soundcloud: https://soundcloud.com/boogieangst
Boogie Angst Instagram: https://www.instagram.com/boogieangst/
Boogie Angst Twitter: https://twitter.com/boogieangst
Boogie Angst Bandcamp: https://boogieangst.bandcamp.com
Love this? Check out more from Marcel Vogel HERE
Tags:
Boogie Angst
,
LYMA
,
marcel vogel