Rush City's 5 Tips For Making Classic House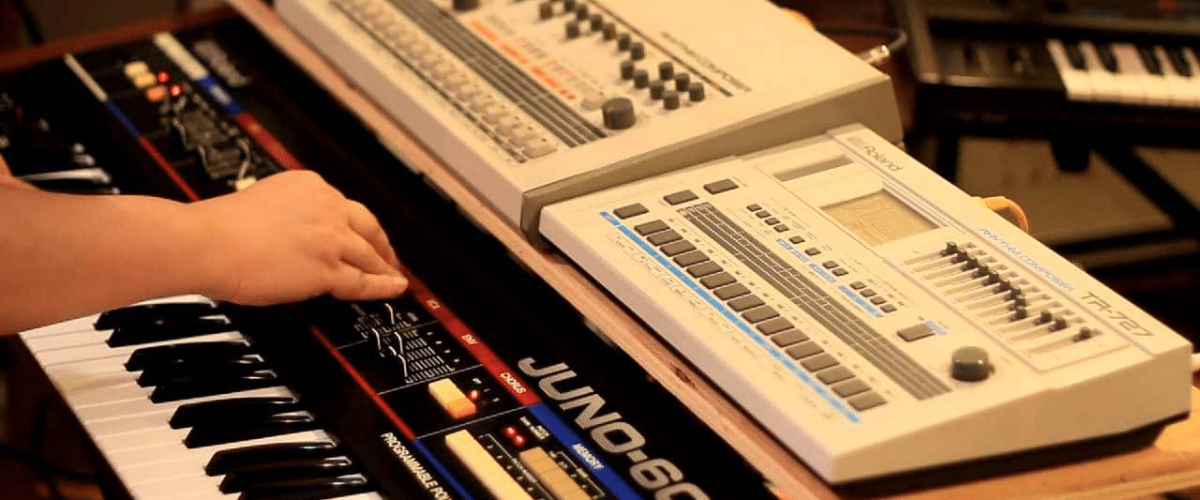 Rush City's 5 Tips For Making Classic House
Like what you hear? To help support LV Online buy us a coffee via Ko-FI. Click HERE
Featuring super talented Colombian producers Jonahlo and Joint4nine's Ivan Lozano, Rush City have just released a brand new EP Cosmic Vibrations featuring  UK vocalist Handerk. It's an EP brimming with Nu classic style house tracks. Utilising the latest production techniques they have succeeded in crafting an EP which has that timeless classic feel. You can check the lead track Feel The Rush below.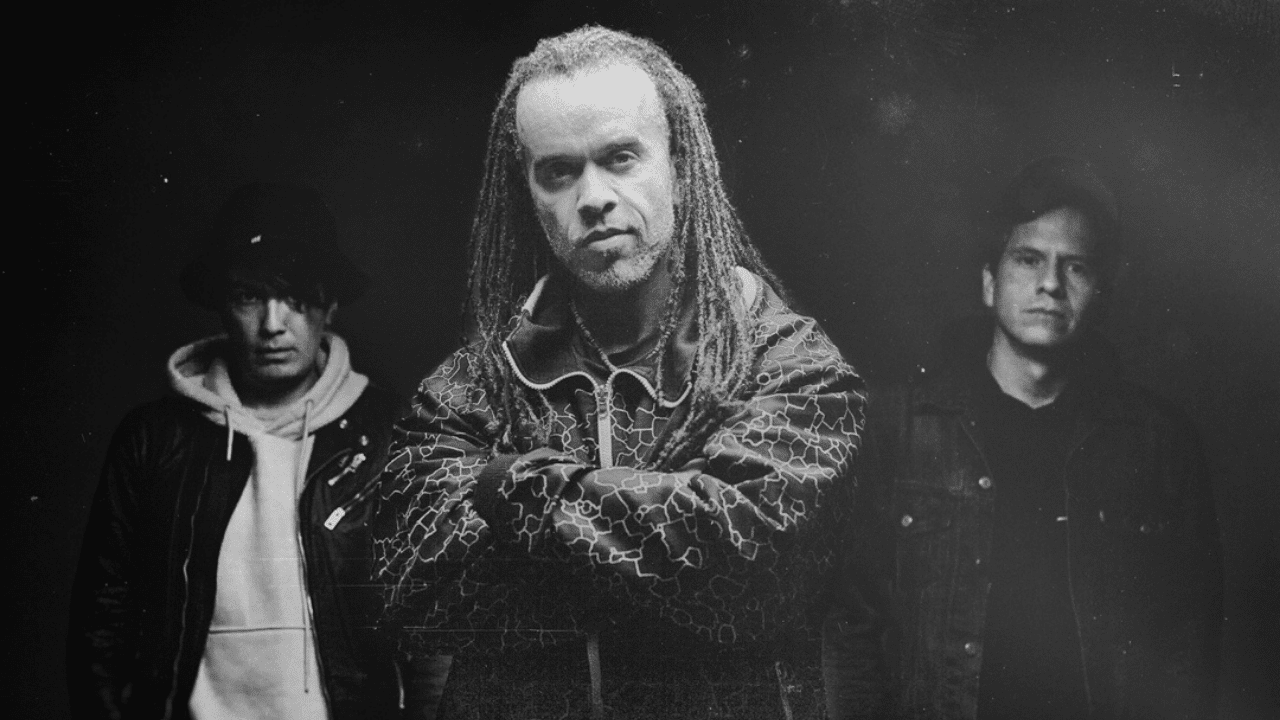 Grab Rush City's Cosmic Vibrations EP from: https://www.deejay.de/Rush_City_Handerk_Cosmic_Vibrations_RT001_Vinyl__973305
We asked Rush City to go into detail with some of the techniques that have used to create the vibe of the EP.
Rush city also put together a brilliant mixtape for us which you can check below and there is loads more info on the mix HERE including the full tracklist.
Rush City's 5 Tips For Making Classic House
1. Build you vinyl or digital Old School House (80's or 90's) references. Dig For your sounds and be organized with your libraries.
I think is really important to understand the Old School sound concept that producers developed in the 80's and 90's. Old School house is a blend of genres such as Hip Hop, Breaks, Bleep , Acid, African Music, Funk and Disco. In the 80's DJs and producers started making house music by sampling and creating beats and music on their MPC's. After that they added some drum machines, acid basslines, mellow pads, catchy synth phrases and then they started singing or rapping on top of it. Legendary producers such as Addis Posse, No Smoke, Afrikaa Bambataa, Mike Dunn, Dj Pierre, Larry Heard and Fingers Inc are big references in the old school sound.
It's well known that most producers use sample packs from friends or the web; and then create a folder full of things that they probably don't use. For us the key is to constantly go digging in record stores for new inspiration and sounds. Normally we work like that, we listen to a record and know immediately that we can work with it. At the same time the sounds get more personal, more authentic as you choose them. Be recursive and borrow some of the original machines from your friends and record the sounds that you like for your project.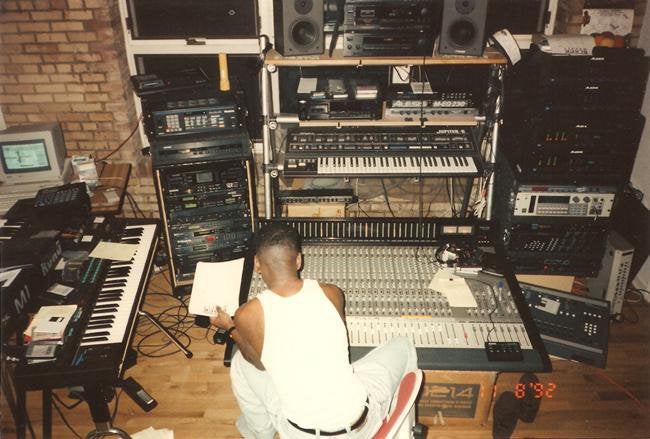 Larry Heard
2. Create your beats or rhythm section with Old School Drum Machines (707 – 909 -808 – 606). If you don't have any of these use a library sample.
One of the most distinctive instruments in the old school sound is the drum machine. For example for House and Techno music producers would rather use the 707 or 909, for Electro, Acid House or Hip House music they preferred the 808. All these drum machines work amazingly; you can manipulate Swing, Attack, Decay or Tune for each instrument, you only need to be creative.
Something that we decided with Rush City was to work with these Classic Drum Machines samples in order to bring that classic flavour to the tracks. We worked a lot with a sample pack from Medlar; all the sounds from this pack were processed by him in order to make them sound more raw and heavy. At the same time we borrowed some of the original machines and recorded the sounds that we felt that could work for us. So go dig, record and be organized with your samples and then you can create different drum racks with the samples with Ableton live to play with them more easily with a sequencer etc.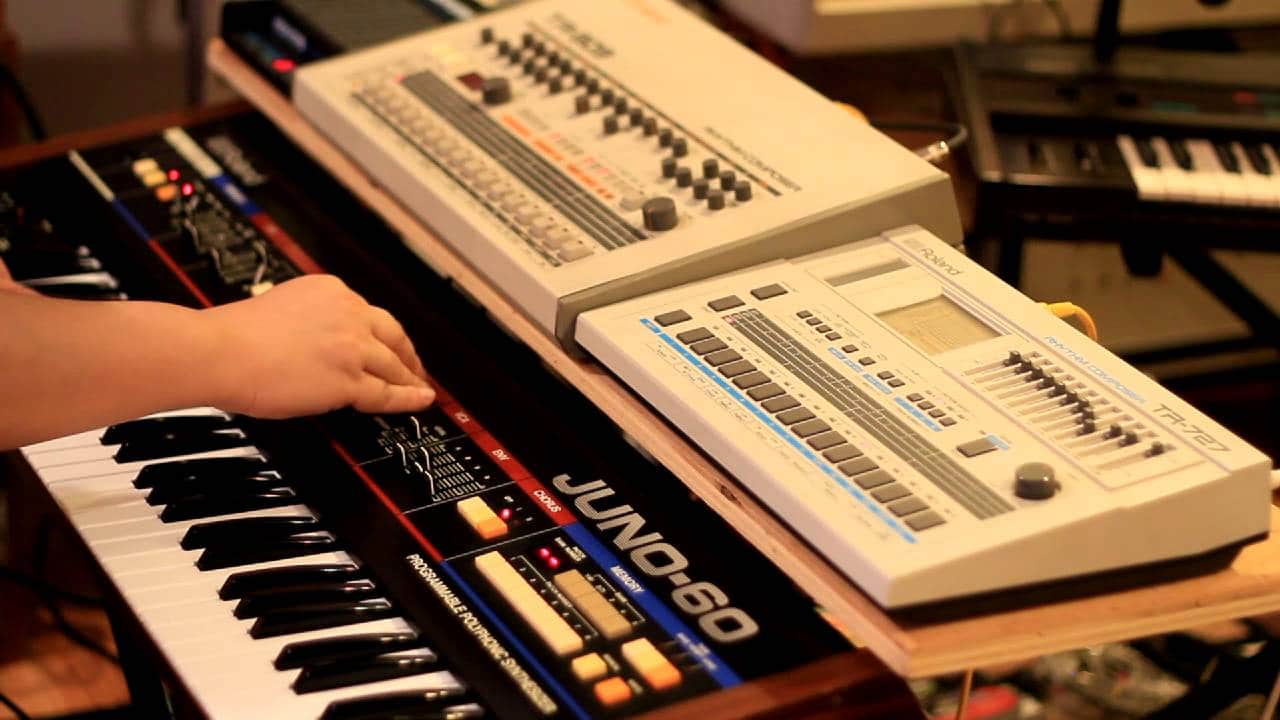 Download: https://www.deephouseamsterdam.com/london/medlar-10-free-club-tune-production-resources/
3. Try to use sounds and textures that synths such as the Yamaha DX7, JUNO 106, TB 303 and TETR4 can provide.
If you don't have any of these synths try to use plug Ins like TAL UNO, TAL Bass Line and DX7.
The polyphonic sound that the Yamaha DX7, TETR4 and Juno can provide for your music is pretty dope especially if you are doing Old School House because you will need subtle LFO pads with a long decay and release, heavy-weight basslines, hypnotic acid lines, swingy arppegiators, bleepy sounds, classic strings, electric pianos and organs. We have had the fortune to work with all these synths for our Rush City sound and that's how you can be classic and vanguardist at the same time.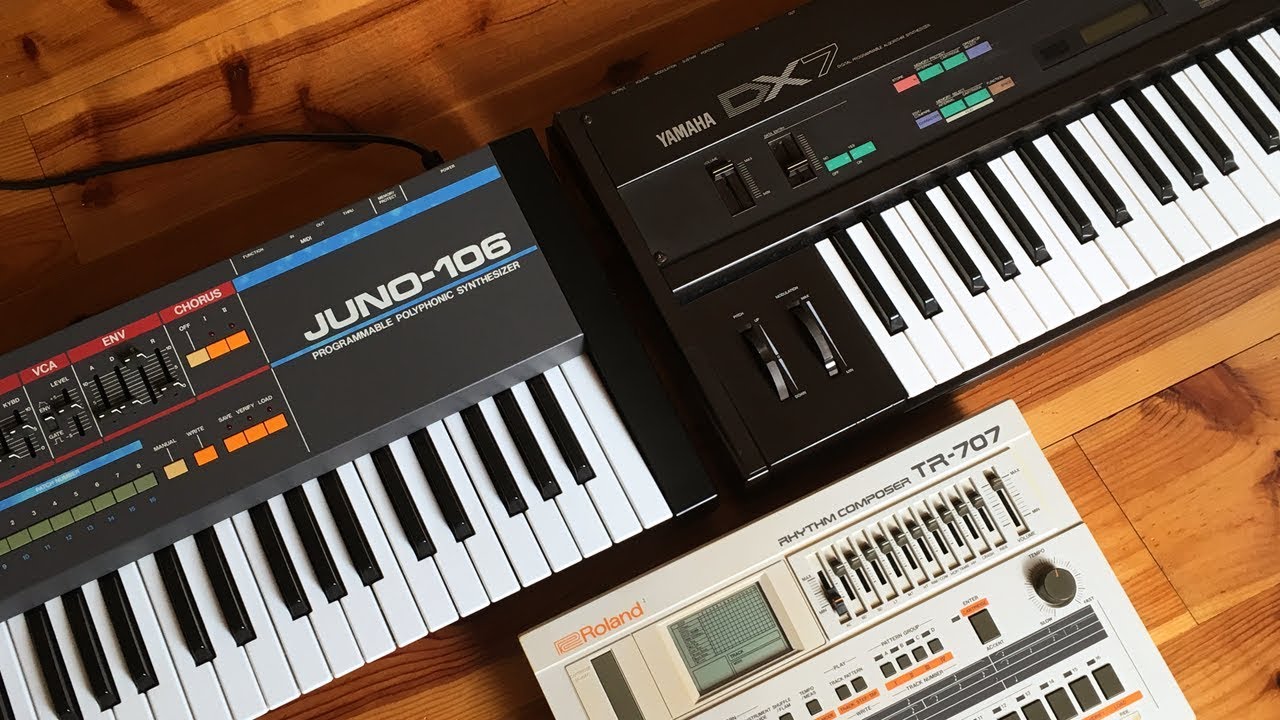 4. CDJ's / XDJ1000 for Sampling
Jhonny has a curious way to get the best out of his CDJ's for producing music. He's always looking for samples while I'm arranging the structure or mixing a track. It's pretty dope to have a Master Tempo with such a big range of pitch to play with samples, it's really fast and easy. First search for samples in the same or a sympathetic key to your track and start playing with it. Select different Hot Cues on the track, different points to trigger different sounds (It's just a matter of creativity), then start playing with you mixer effects by triggering different Hot Cues. This will give the track a more natural way of getting things into it because you're performing while you're recording. You can also do the same thing with a turntable, play with the pitch to get the tones that you're looking for and be free and try to express yourself.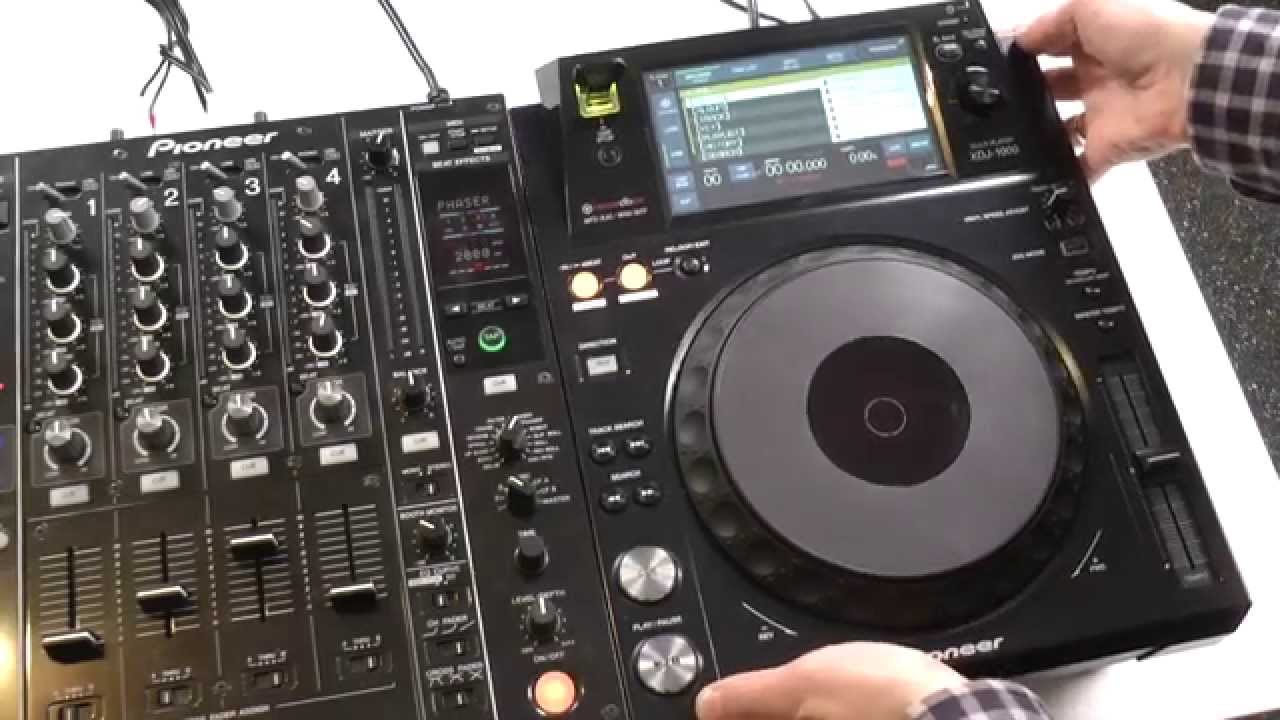 5. How to start mixing down a track and WAVES Plug Ins for mixing
Be organized with your session when you are producing and recording so that you are mixing while you are producing. Try to keep the different sections separated in your mixing window: Drums (Kick, Snare, Cowbells, Tambourine, Toms, Cymbals.. Etc) – Percussion (Congas – Timbal – Bongos) – Basslines – Synths (Strings, Pads, Pianos) – Samples – Vocals – Fx (Reverbs and Delays). Try to use the last ones with sends or auxiliary tracks. Then create a master fader and set this to 0db. Remember that the Kick drum and Bassline are the pillars of your mixing so keep for them at 70% of your mixing volume by setting the Kick drum and Bassline volume fader at -7db then you can start mixing the other instruments below this range. With regards to compressing, equalizing, panning, stereo image.. etc we've been working really well on our mixes with the Waves Plug ins. They have a large variety of cool compressors, limiters, stereo imagers, SSL dynamic channels etc…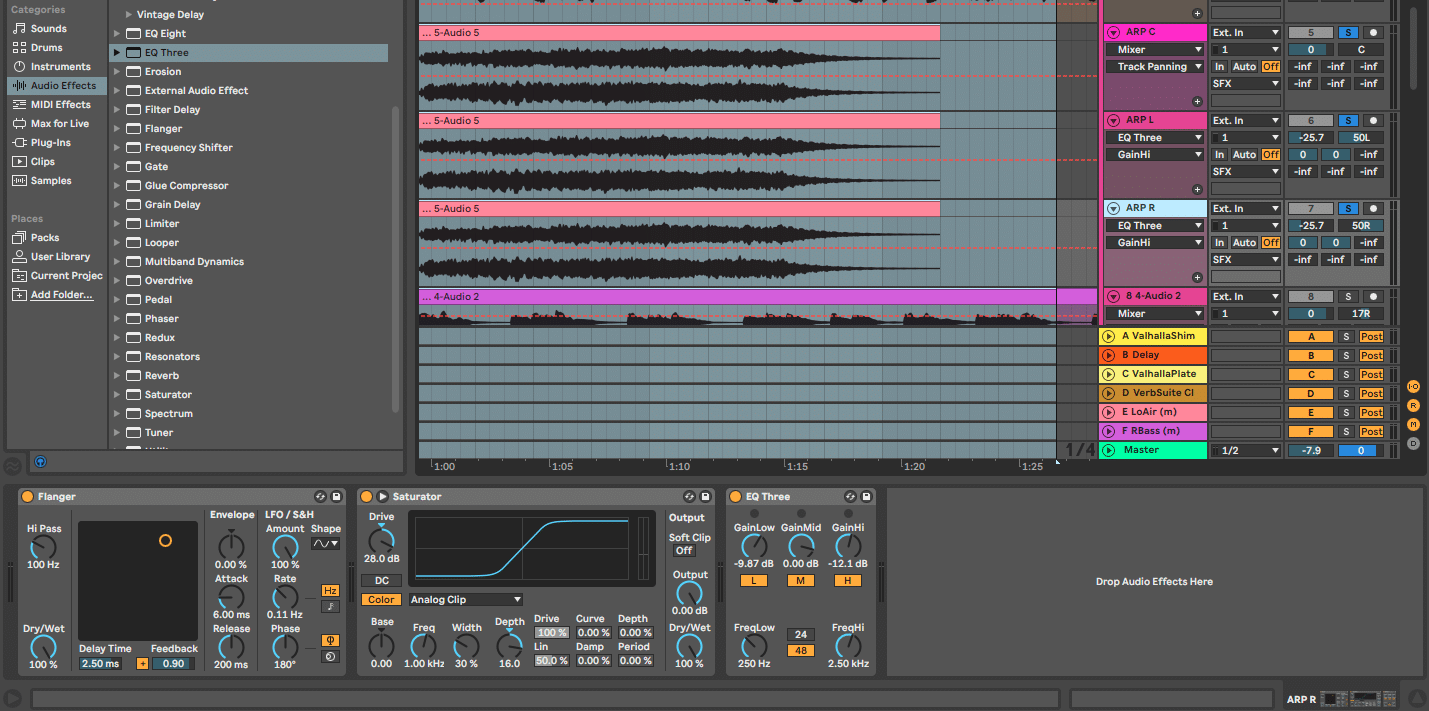 Grab the EP from: https://www.deejay.de/Rush_City_Handerk_Cosmic_Vibrations_RT001_Vinyl__973305
For more info please check:
Rush City Facebook: https://www.facebook.com/rushcity2020
Rush City Soundcloud: https://soundcloud.com/rushcity
Rush City Instagram: https://www.instagram.com/_rushcity_
Ritmo Terco Facebook: https://www.facebook.com/ritmoterco
Ritmo Terco Soundcloud: https://soundcloud.com/ritmoterco
Ritmo Terco Instagram: https://www.instagram.com/ritmoterco
Love this? Check out more production tips HERE
Tags:
classic house
,
Deep House
,
Production Tips
,
Rush City