Andy Ash Talks Buying Records, Mr Scruff, Art In Music and his Not At Home LP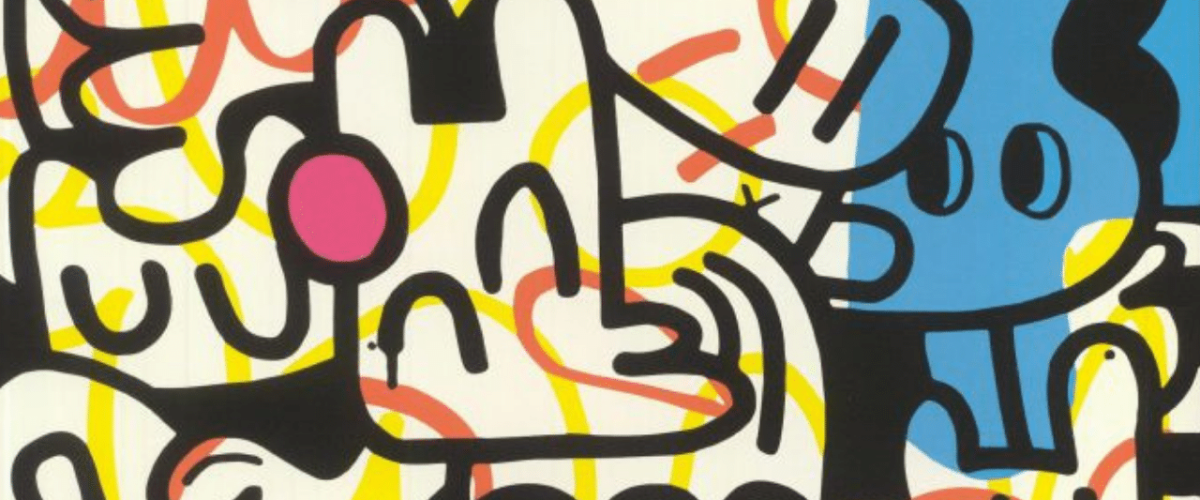 Andy Ash Talks Buying Records, Mr Scruff, Art In Music and his Not At Home LP
Andy Ash is a producer who I only first came across with the release of his Unconscious Therapy EP right at the start of this year on Delusions of Grandeur from which we premiered All Of It At Once. A quick check on his back catalogue and it was obvious that he was a producer with loads of talent and a well defined sound which comprises both stripped back underground disco and house packed with groove and attitude.
As well as being a talented producer he is also a well respected artist who is picking up loads of love for his colourful and fun paintings. Indeed he has a brand new series of paintings out on 7/5/21 via his bandcamp: https://andyash1.bandcamp.com/
Since the Delusions of Grandeur EP he has released a brilliant 6 track double LP on Still Music out of Chicago which also features one of his paintings as the front cover. It's a brilliant package which shows both sides of his undoubtable talent.
To celebrate the release Andy put together a seriously brilliant mix for us which is musically right up Le Visiteur's street, you can check it out below and grab more info on the mix including the full tracklist HERE. Please give it a share over on soundcloud and help us spread the love. x
We also spoke to Andy in depth about his career, his artistic influences, the favourite records in his collection and how his sound has developed over the years. It's a great interview.
Hi there Andy,
Thanks for speaking to us today.
Please can you tell us a little about your background and what were your first steps into the house music scene.
That feels like a long time ago now! I started buying records when I was about 12 and have never really looked back to be honest. From doing 'mixes' by switching between my parent's tape player and turntable, I then got a proper pair of DJ turntables a few years later and used to record mixes every weekend onto tape (and then mini-disc when they came along!) and give them out to literally anyone who would take them. Eventually, a local club night promoter offered me a warm-up slot, when I was about 15. I still remember it – I was so nervous, but it was so much fun. I think my parents picked me up at about 11.30 once I was finished! After that, for the next few years, me and a really good friend of mine would go to this same night each month – they would have to sneak us in the back door as we were too young – and occasionally I would get a warm-up slot. But, basically, through that we had exposure to some really great house music. The resident DJs, who both release music now under the names 'Rocco Universal' and 'Jitterbug', gave me real lessons on house music and it's history. It's through them that I really was exposed to everything I still love today. Some of the tracks they used to play regularly were Cajmere's 'Sometimes I do' and Lawnchair Generals' 'one thing' – they may not be considered classics, but they are to me!
Can you remember the first house record that you bought?
Wow – I'm not sure to be certain. I think it might have been 'Stranded' by Deep Dish with Danny Tenaglia's remix on it. That's certainly one of my earliest memories of having a record that I have. I remember I used to really love the weird funky groove to it. I don't think I actually have it anymore. Not sure what happened to it! I haven't even listened to it for years so it's funny to go and listen to it now. It brings back memories of recording mixes in my bedroom. It's not like I started buying good records straight away though – I bought a lot of rubbish along the way!
As well as your production career you also have a burgeoning career in art which also helps light up your releases. What does your art represent for you and how does it intersect with your music?
It's interesting that you call them both careers. I don't really see them like that. I think seeing this sort of creative endeavour as a career can often make it really hard to be truly creative. I've definitely got stuck in a rut in the past, when I've found myself starting to make things because I think other people will like them. That's probably the biggest lesson I have learned – don't do things to be popular, do them because you really feel compelled to do them. That really applies to both my music and art – I don't make a track or paint something unless I really feel the desire to. Luckily, I feel that quite often! So, to actually answer your question though, my art represents exactly the same things as my music. Both of them are just ways for me to express myself. I've never been very good at doing that with words and I feel pretty lucky to have discovered music and art, which have both enabled me to do that. It's not only fun, but I think it is really good for your mental state. That's something I feel quite strongly about – freedom of expression doesn't just mean "I'm allowed to say what I want", it's actually about ensuring that people have the tools, time and space to learn to express themselves. I feel that lots of people around the world aren't actually given, or don't get, that opportunity which is really sad. I genuinely feel very lucky to be able to do what I do.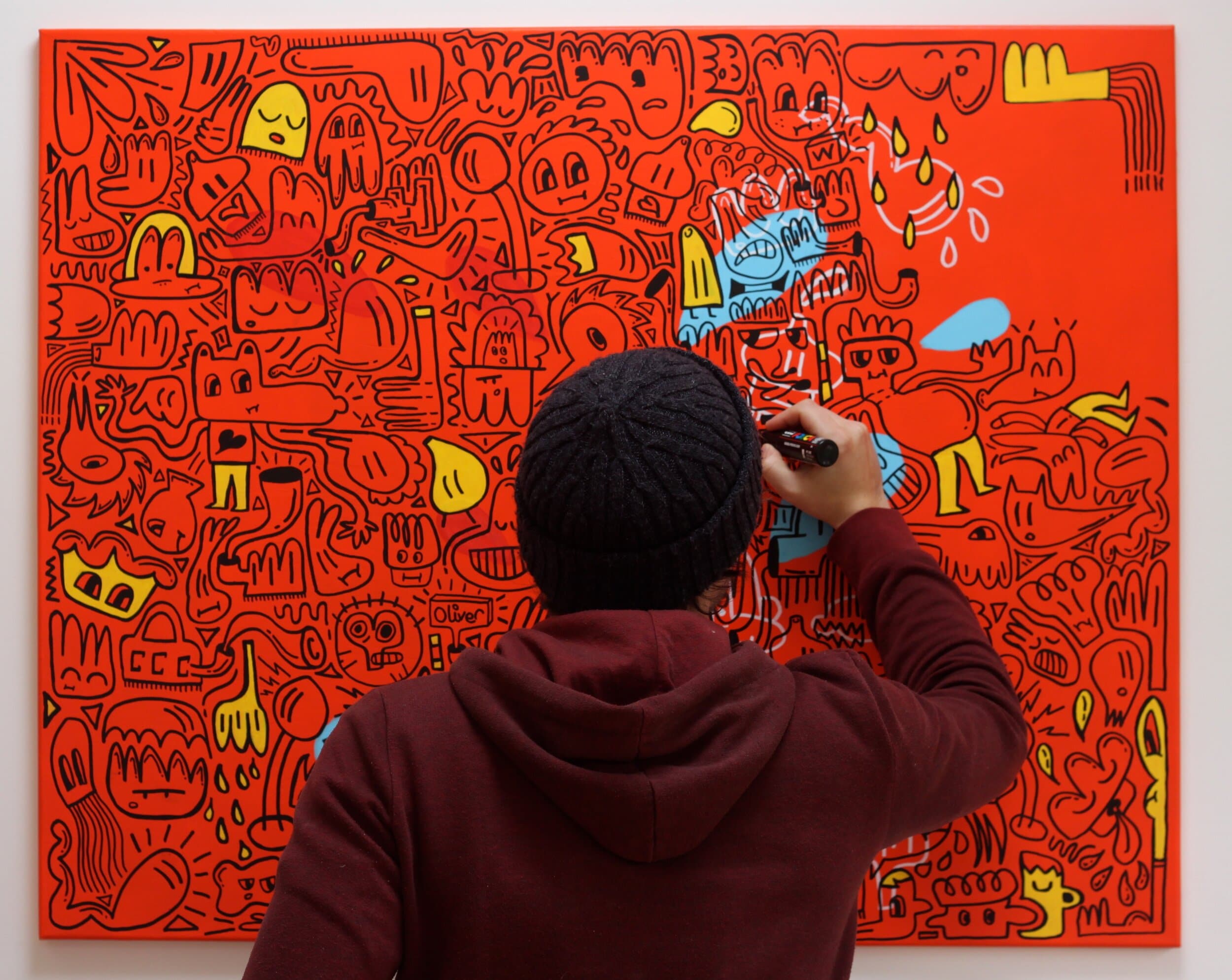 Who are some of your influences with regards to how art can interact with music?
I think the most obvious one for me is Mr. Scruff really. He has been a huge influence on me ever since I first discovered 'Keep it Unreal'. I love his drawings and the way he always does the designs for his flyers/posters etc. I've been nagging him for a piece for ages!
There are others though as well. So, one of my biggest influences is an artist named Jon Burgerman and I actually first came across his art because some friends of mine met him in a pub and he had done a doodle – they asked him if they could use it for their record label (now defunct Flip-Flop records) and that's how I first discovered his work. I think I discover a lot of artists through music actually.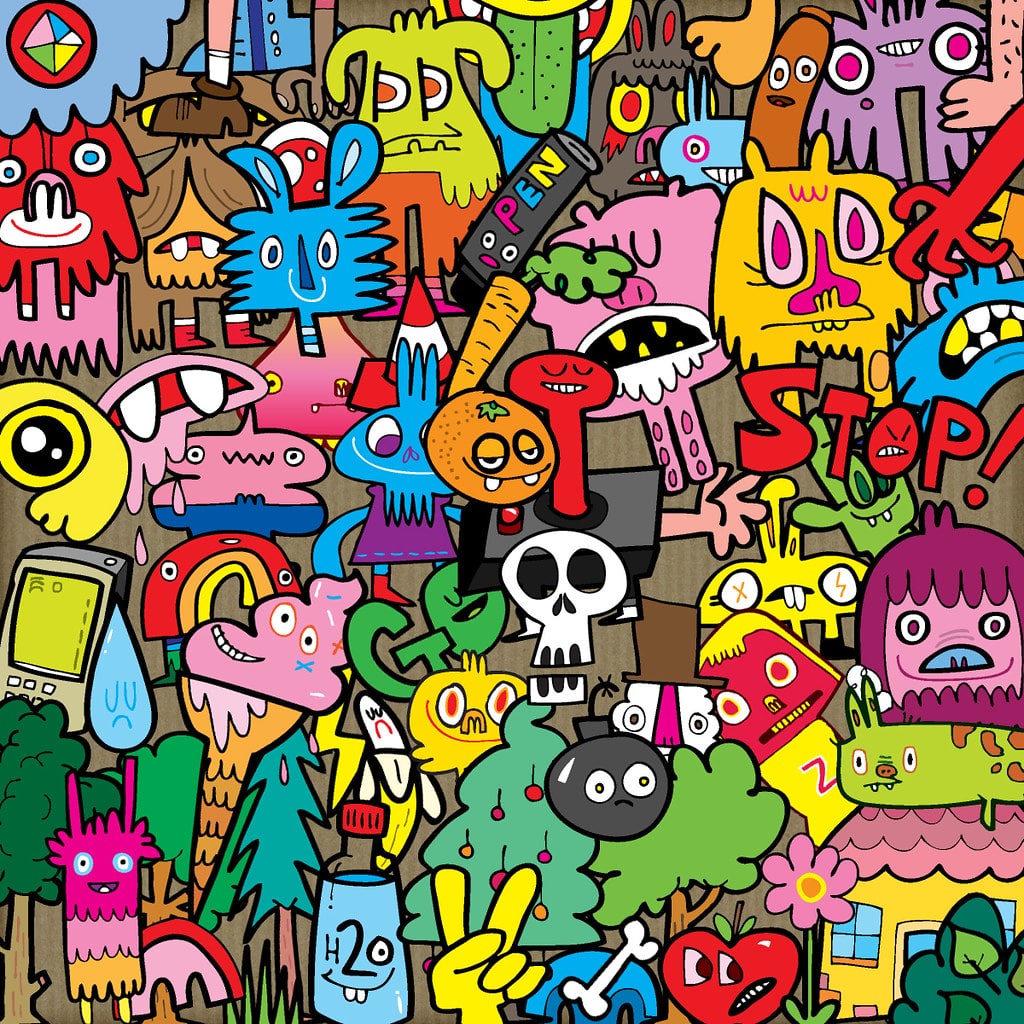 Jon Burgerman
Jeroen Erosie designs all of Martyn's 3024 record sleeves and I really love his work. Even going back to that first club I started DJing at – they used to have this huge piece of material they would hang up which had Keith Haring style artwork on it. At the time, I had never heard of Keith Haring but his work has obviously been an influence once I discovered it. That might seem weird to some people that I wasn't aware of it until quite late, but this was all in the late 1990s/early 2000s and the internet wasn't big so I didn't really have any ways to get exposure to older stuff like that.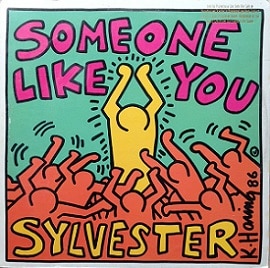 Keith Haring
You have a great love of vinyl, how long have you been collecting vinyl and what are some of the key records in your collection with regards to how your sound has developed?
As I mentioned before, I started buying records when I was 12 and have been ever since. That was the only format used by DJs at the time and I really fell in love with it. I've chosen three tracks from my record collection that I think show some of the diversity and also give an idea of the stuff I am really into.
Theo Parrish – Twin Cities
This was one of the first Theo Parrish records I ever bought. I remember I first heard Gilles Peterson play it and I absolutely loved it. It's so trippy and hypnotic and, at the time, it was totally different to anything I had ever heard before. It took me a while to find a copy, but I think I eventually got a copy from Soul Jazz in Soho.
Data – Blow
It was quite a while before I started buying anything that wasn't house music but when I did, I started to buy all kinds of stuff – from jazz through to disco and more. I've chose this one as it's a really cool electro disco sort of thing. I've played this one out quite often actually.
Underground Resistance – Jupiter Jazz
I bought this record when I first moved to Liverpool in about 2005. It was from a record shop that sold mostly rock and indie but they had this small section of Detroit stuff that had loads of UR and Jeff Mills stuff for great prices. I love the whole EP that this track is from but this one really smashes it. Such a great track.
How would you describe the musical style of Andy Ash right now in 2021?
I find these questions really hard. I guess I would say it's pretty deep for the most part with a bunch of samples and synth sounds. Maybe a good word to describe it is 'simple' and dancefloor focussed. I've never really been into tracks that are overly complicated or processed. Most records I buy are fairly stripped back and that is the kind of stuff I enjoy making. A lot of the skill is in taking four or five parts and putting them together in such a way that it makes for good listening (and dancing soon hopefully!)
Please can you give us three tracks from your discography which you would say are quintessentially Andy Ash?
This is a fun question; I don't tend to spend much time going back and listening to all the records I have released in the past, but this gives me a nice reason to. I think it took me quite a while to really pin down exactly what I wanted to make and so, naturally, there are tracks in my back catalogue that I feel aren't really 'me', if that makes sense? But here are some that I think do represent what I am about. I've tried to pick a range from right back when I first released, up until now.
Andy Ash – White Leaf
This came out in 2012 and I think, at the time, I really felt that I had made a record that had the sound I was looking for. Listening back to it, I am still into it and pleased with it as a finished track/EP.
Andy Ash – Freak
As well as 100% original tracks, I obviously do quite a lot of heavily sample based stuff and edits etc. I have always approached sampling and editing in what I would describe a hip-hop way – cut them up and use them as you please! This was one of my earliest releases and had quite a bit of support from Tim Sweeny (Beats in Space).
Andy Ash – Erika Wants
I think this was on my first ever vinyl release, on StillLove4music. I am really into making slower tracks and I think this is a good one to demonstrate that sort of vibe.
How would you describe your latest release the Not At Home LP which is out now on Still Music and please can you give us a bit of history about the release?
Well, I think I would describe it as an LP full of my heavily sample based material. It's a real melting pot of acid, disco and deep house music. It was Jerome (who runs Still Music) who put out my first ever record and I hadn't done anything else with him since then. I had gone through quite a long period where I hadn't sent any music to labels and I just decided to send him a bunch of tracks to see whether he was up for doing something. It was totally unexpected, but he came back and was like, "yeah, let's do all of these on a double 12". I really wasn't expecting that, but on reflection, there is a reason I sent him all the tracks I did – they work well together. Funnily enough though, I think I actually made all of the tracks over about a three- or four-year period. So, some of them are actually pretty old to me. On top of that, I then asked Jerome if he would be up for letting me do the artwork for the release which he was more than happy with. To be honest, it still feels a little weird to have an LP out with my own full-colour artwork on the front. If you'd have told me that three years ago, I wouldn't have believed you!
All your releases which have drawn me to your music have come out on vinyl. How important is it for you to release on that format?
I think it seems a bit dogmatic to some people but releasing on vinyl is really important to me. I wouldn't necessarily describe myself as a purist or anything – I do have a set of CDJs as well – the new technology is amazing. The problem I found was that, when I had music released only digitally, it left me feeling a bit empty. I'm not sure why and that really isn't a dig at digital only releases. It's a personal thing. There is just something about being able to hold your new release in your hands, see the grooves, and that moment when you first put the needle down and you hear it – there's something special about that for me. On top of that, as a DJ, I play probably about 95% vinyl, so not having my music on vinyl means I am much less likely to play it. And, at the end of the day, I make music to be able to play it in clubs! As well as all this, there is a connection to my art now. Painting a picture is a really physical thing – it has a place in the world and, as a physical thing, it influences a space. Well, I think records do that as well. Physical things influence space and that in turn influences our lives and how we act, think etc. I just don't see digital media as doing the same thing. Although I am pretty sure that someone who has grown up in the last ten years will probably think really differently to me about that.
The last year which has seen the electronic, live and club world close down due to Covid has shown just how devalued music has become due to the proliferation of streaming rather than physical sales as artists across the globe have struggled to survive. What are your thoughts on this issue and what would you like to see happening going forwards?
Yeah – the devaluing of music really bothers me. That, combined with the fact that music is so readily available and accessible, I think has led to it not being recognised as the powerful and important thing that it should be. Before Discogs, Youtube and Spotify etc. it could be months or years before I would discover a track I had heard on a mix or something. For example, I used to stay up until 2am each weekend to record the Radio 1 Essential mix and I would often hear tracks on there that I am still only now discovering the names of. You could see that as a bad thing, but it certainly did make me value the music a lot more given how much effort had to go into finding it! I'm not saying we should just go backwards in time, but the music industry could certainly do with a shake up so that artists could actually make a living of making music. Currently, I think it must be really hard, if not impossible, to try and make a living off making music and not play the game of social media, trying to make money from other sources. As for Covid – I think this has just shone a spotlight on this issue more than ever.
What else can we expect from Andy Ash in 2021?
Well, I have a few forthcoming releases – one on Quintessentials, one on Moment Cinetique and one on 18437 records. I'm really excited about all of these and can't wait to share them with people. I'm also continuing to do the artwork for 18437 records which is great fun – I'm really grateful for Tooli giving me that opportunity. I'm also working on some series of paintings. I'm actually releasing a mini-series soon of small, post-card sized, paintings that will come with an exclusive track. I like the idea of just doing fun stuff like that.
Love this? Check out our Disco and House playlists HERE
For more info please check:
Andy Ash Facebook: https://www.facebook.com/andya3h
Andy Ash SoundCloud: https://soundcloud.com/andy-ash
Andy Ash Instagram: https://www.instagram.com/_andy_ash_
Tags:
Andy Ash
,
Deep House
,
Delusions of Grandeur
,
Mr Scruff
,
Still Music
,
Theo Parrish
,
Underground Resistance