Bushwacka! Talks about being inspired by Ratpack events, Layo & Bushwacka, Love Story, Campo Sancho, Michael Bibi & new venture Listen Up Therapy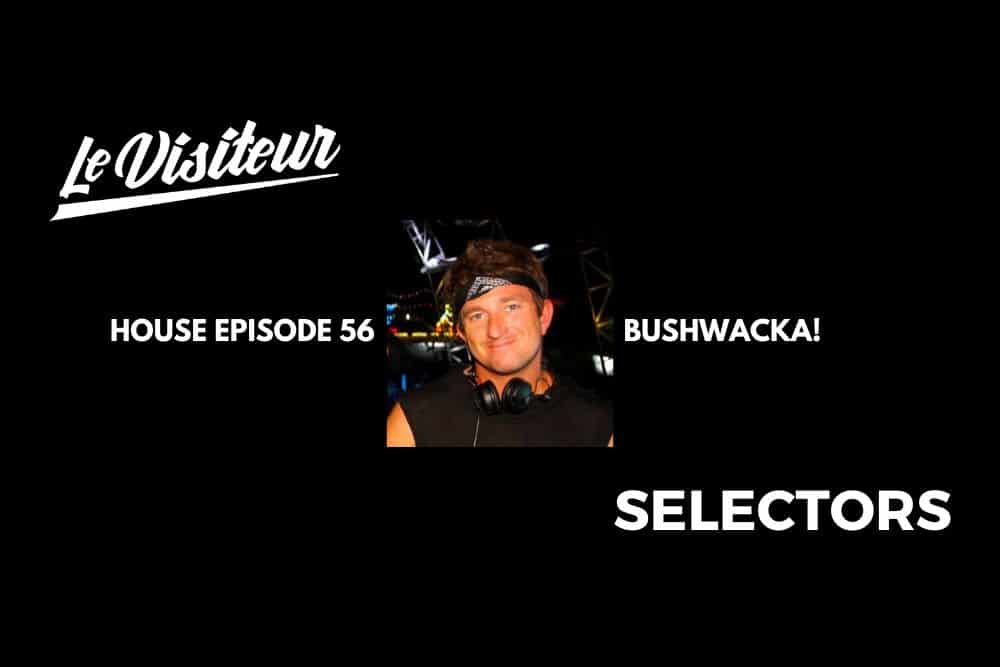 Bushwacka! Talks about being inspired by Ratpack events, Layo & Bushwacka, Love Story, Campo Sancho, Michael Bibi & new venture Listen Up Therapy
Bushwacka! is a producer and DJ who really needs no introduction. He has been part of the fabric of the electronic music in the UK since the late 90's both in his own right and as one half of chart conquering duo Layo & Bushwacka!. whose track Love Story Vs Finally has become an evergreen staple since it's release in 2002. That track is only a tiny fraction of the Bushwacka! story though, along with Layo he released four lauded albums and countless singles. Across the last two decades they toured all corners of the globe. As a solo artist he has been equally in demand both for his albums, original tracks, remixes and bootlegs including his infamous Michael Jackson remix.
One of his next gigs see's him land at Campo Sancho where he is playing on the Saturday night, 30th July. Ahead of the gig I spoke to him at length about his musical upbringing and his extensive career along with what we can expect from his set at Campo Sancho and loads more.
Bushwacka also put together this outstanding mix for us
Check out the full interview below.
You can win two tickets for Campo Sancho HERE.
Campo Sancho Festival runs from 29th to 31st July.
Camping from 28th through to 1st Aug.
The magic happens at Walkern Hall, Walkern, Nr Stevenage, SG2 7HZ.
Karma Canvas offer fully equipped luxury bell tents.
There's Camper van parking on site, hot showers and eco toilets.
Car park to dance floor in 10 minutes.
Tickets currently £139 per adult, £20 for 0–5-year-olds, £55 for 6–17-year-olds, excluding booking fees:
http://www.sanchopanza.org/campo-sancho/
https://campotickets.sanchopanza.org/
Hi Bushwacka!,
Thanks for speaking to us today.
Nice to E-meet you!
Firstly where did you grow up and where are you based right now?
I grew up in Glasgow from the age of 0 to 5. I then moved to Cape Town in South Africa for almost 2 years and returned to Scotland for under a year before moving to London. I regard London as my home. I'm based in Hampstead in London right now and I'm about to move back to West London where I mostly grew up, went to school, and most of my friends live.
Was there a lot of music played in your family house when you were growing up?
My family house was very musical when I grew up. My father played the guitar in a band and my mother played the piano. We had a piano in our house and I remember making up tunes on the piano from the age of three or four. My mother and father light a lot of jazz music. They also liked the Beatles, Supertramp, 10cc, Paul Simon, and The Beach Boys. There was often music playing in our house.
What are some of the first tracks which really stick in you mind as you were finding your own musical path?
Based on what I heard growing up, there are a few tunes that stick out. I was an avid Depeche Mode fan as a boy, and everything counts had a huge impact on me as a piece of music. The Sergeant peppers album by The Beatles was the one album I remember vividly growing up. The big change for me was in 1983 when I first heard Afrika Bambaataa, planet Rock. Everything changed that day.
When did you start playing a musical instrument and what other instruments have you learned to play over the years?
I played the piano when I was a boy, the trumpet for a while, the clarinet with the intention of moving onto the saxophone which never happened, but my main instrument was percussion, the drums.
You played in the London School Symphony Orchestra growing up, how did that  help inspire your musical career?
The time in the London School symphony orchestra was so rich and I'm so grateful for having that experience. As a percussionist, I learn so much about dynamics, timing, counting bars, and the importance of passion in performing music. All of this translated into my electronic music career one way or another.
You were "converted into a member of the infamous Ratpack after a warehouse party in '88" What are your memories of that period and who were the instrumental figures in your career back then?
That period was life changing. I don't wanna go too far down the rabbit hole of the acid house revolution as it's been documented so many times but let's just say that life was never the same again after the first Ratpack party I went to in an empty swimming pool in North London.
How does the scene back in 88 compare to the scene right now in 2022?
It was 34 years ago and I was 16 in 1988. It's difficult to compare as I'm at such a different stage in my life, but there are still places where the vibe feels exactly the same as it did back then, and I feel very blessed to get to playing some of those places.
You quickly picked up some enviable DJ gigs playing in some of London's hottest clubs. What was the secret to your explosive success?
I never thought of that as enviable. It's just what I did and what I lived for. I lived for the music. Music was everything to me. I put 150% into everything I did, I worked hard and I played hard. I partied hard, and every waking hour that I wasn't DJing or touring I was producing and recording. Due diligence.
How did you and Layo first meet and why do you think you hit it off so well?
We met in the recording studio when I was engineering. I believe that we hit it off so well due to Leo's sense of humour and our personalities and intellect. The chemistry was always great and still is.
What parties did you frequent when you weren't djing back then and are there any stand out DJ set memories from selectors that you saw playing?
There are many. When the Ministry of Sound first opened I was a regular punter and used to listen to Todd Terry, Tony Humphreys, Masters at Work and a lot of the American genius DJs. I will never forget Todd Terry playing a 10 hour set of all his own music at the ministry. I also used to go to Colin Dale's night, Knowledge in Victoria and listen to amazing techno.
Following on from your well received debut album Low Life on End Recordings you signed to XL Recordings for your second album Nightworks. What can you tell us about the ethos behind that album?
It's always been about how it makes us feel. Nightworks is a beautiful album, but it was always shorter than it should've been. There are a few tracks that never made it onto the album due to issues with sample clearance which is a shame.
Were you surprised at just how successful the album was?
Lowlife was a surprise. That first album really got peoples' heads turning and I had no idea it would have the impact that it did. Many of my peers gave such positive feedback on their first album regardless of their musical background or chosen genre.
Nightworks of course included one of your signature tracks Love Story. What's the story behind the track from creating your original to the chart smashing re-imagining with Finally?
Love Story ended up with the vocals from Kings of Tomorrow after we tried creating various different vocal versions with different singers. Because as a DJ I had created something special on the dancefloor by mixing the a cappella of Kings of Tomorrow with Love story, and the powerful effect that chemistry had, it was a tough challenge to try and recreate something similar in a recording studio environment. In hindsight it may have been better to get somebody else to record the vocals, but there was something so magical about that particular vocal and that's why we used it in the end.
You are renowned for a couple of residencies your All Night Long Parties at the End and your own Shake It Parties which you threw all over London following the closure of The End. What do you think was the secret to those parties which made them so essential at the time.
The best quality sound systems, amazing music, great security, great managers, 100% creative control, and fantastic guests.
If you had to pick one stand out moment from your peak Layo & Buskwaka! period what would it be and why?
That is a difficult question. I think all I can narrow it down to is a particulars year. I'm going to call 2002 is the best year of our lives. This is debatable.
Please can you give us three tracks from your discography which you would say are quintessentially Bushwaka!? 
Healer
Deep South (L and B)
Chorus.
You also ran the Olmeto label for a number of years which was a vehicle for both Layo & Bushwacka! and Buskwacka! solo material and the Plank label. What led to the formation of the label, what stood them apart from each other and how did you enjoy running the labels?
Olmeto  was just an extension of Layo and Bushwacka!. Our outlet for our own music. We used the label to spread our sound and to keep creative control. Running labels isn't much fun to be honest. Playing the music on the labels and making the music personally I find much more rewarding.
You are still working on releases for Plank, what do you have upcoming?
I am working on a new series of retrospective compilations which will cover the years from the mid-nineties to the mid-naughties. I'm also working a lot of collaborations but not focusing much on Plank Records at the moment
How would you describe the Bushwacka! sound in 2022?
Often intense, with depth and sprinkled with a bit of magic powder.
One of your next upcoming gigs is at the Sancho Panza's 'Campo Sancho'. Have you ever been to the festival before?
I've been many times and I'm a big fan of everything these guys do. They are beautiful people with big hearts.
What are you most looking forward to at the festival? Is there anyone you are really looking forward to catching spinning?
I'm looking forward to hanging out with Matt and Jim more than anything. There's something about being around those guys that just makes me feel good.
Do you have any new tracks up your sleeve that you might drop in your Campo Sancho DJ set?
For sure there will be some new treasures to drop at the party.
What is your favourite festival peak time dancefloor track that you love to drop in your set? 
Well it usually involves Michael Jackson at some level. That's all I'm gonna tell you.
You also have a long history with Ibiza. What have been some of your favourite places to play and are you playing out there this summer?
I have a residency at Pikes in Ibiza. Some say it's the last real Ibiza venue. I disagree as all the venues are magical in their own ways and have their peak moments in different years. Ibiza is an animal, and that animal has been caged for the last two years. This year the animal is out of the cage and is running rampant.
Do you have an Ibiza insider tip for our readers?
Get some sleep.
Do you keep in good contact with Layo and do you have any gigs coming up with him?
LAYO and I talk regularly and are the best of friends. He is my brother. We are DJing together on the 17th of July in East London for a Sunday daytime party where I'll be celebrating my birthday.
Have you checked out any of his restaurants and if so do you have any menu recommendations?
All of his restaurants are great. I seriously recommend you try everything if you get the chance.
Coming right back up to the present what musical projects are you working on right now?
I'm working on a huge project creating functional music for wellness, using Binaural Beats, healing tones, and positive affirmations. My new company, Audio Intention, is in full creation mode at the moment. More news will follow when the time is right.
Please can you describe your production set up for us and what is the one piece of equipment or plugin that you couldn't live without?
I've just ordered someone to build me an original 909 drum machine. It's a replica not a clone, and although I've lived without it until now, it's always been my dream machine. I'm hoping it will be ready before my birthday.
Who do you think is tearing up the electronic scene right now?
Michael Bibi. His solid grooves parties are globally a phenomenon.
And finally, what else can we expect from Bushwacka! in 2022?
My main focus is on Listen Up Therapy Ltd, the company I run with my wife, providing counselling and therapy, mentoring, and meditation for people. My journey into working as a psychotherapist has been life changing, and it's so different to my work as a performer, but I can't imagine how my life would've been without therapy and how much that's helped me over the years. I want to give something back so that's what I'm doing.  www.listenuptherapy.com
Bushwacka! thank you for a great interview!
For more info check:
Bushwacka! Facebook: https://www.facebook.com/bushwackaofficial
Bushwacka! Soundcloud: https://soundcloud.com/bushwackaofficial
Bushwacka! Instagram: https://www.instagram.com/bushwacka/
Bushwacka! Twitter: https://twitter.com/bushwacka_ofc
For more features on Campo Sancho click HERE. 
For more info please on Campo Sancho check: https://www.sanchopanza.org/campo-sancho/
Like what you hear? To help support LV Online buy us a coffee via Ko-FI. Click HERE
Tags:
Bushwacka
,
Camp Sancho
,
Layo & Bushwacka