Casbah 73 talks 'Let's Invade The Amazon' on Boogie Angst, Gilles Peterson, Glasgow, Madrid, record digging across the globe and much more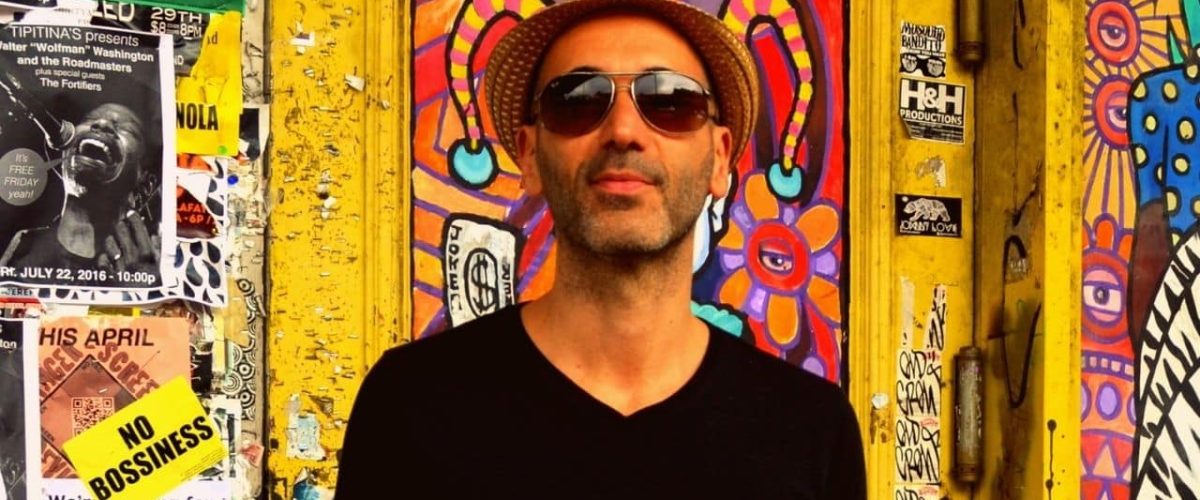 Casbah 73 talks 'Let's Invade The Amazon' on Boogie Angst, Gilles Peterson, Glasgow, Madrid, record digging across the globe and much more
Like what you hear? To help support LV Online buy us a coffee via Ko-FI. Click HERE
An Interview with the Insider for Le Visiteur
Casbah 73 is a fascinating character whose releases have definitely piqued our interest over at LV over the last few years. A producer whose sound is quite distinct weaving in instruments and vibes from across the globe as he creates modern disco perfectly realised for the dancefloor, he's been on our radar for some time.
Now with a brand new and thoroughly expressive and enjoyable EP Let's Invade The Amazon out with Boogie Angst, which you can check more on here, we thought that it was the perfect time to talk to him about his career, his extensive record collection and big reputation as a record dealer.
We also spoke about the EP and his time in Glasgow and Madrid. It's a fascinating interview. Casbah 73 also put together this ace mix for us, please give it a share over on Soundcloud and help us spread the love.
Thanks for talking to us today. Where are you at the moment and how are you spending your day?
My pleasure! I'm in Madrid. Just spent the morning in my studio recording some exciting vocals (in English and Yoruba) and a talking drum solo for a new bonus afro-funk version of "Amazon" I have nearly finished for this same project. Now I am in a café enjoying this sunny weather while chatting to you.
Where were you born in the USA exactly?
I am originally a New Yorker, Brooklyn Heights then Jackson Heights, Queens. Still have family there but I moved to Madrid at a very early age.
Were you born in 73?
Actually, that number came about for a very different reason. In my early digging days I was struck by how many amazing records I came across that were released in 1973. Even when I was travelling on other continents, so many great records were from '73. I liked to imagine a contemporary record buying, black music lover's head exploding just trying to keep up, but in reality I'm sure it didn't happen like that – nobody at that time would have been aware of all the obscure, underground, local and international releases happening at the time. So many of these records didn't achieve any significant success – if at all- and this particular perspective I'm referring to comes very much from a period of reassessment starting in the late 80s.
When did you move to the UK, what brought you here initially?
I moved to the UK at the tail end of the 80s, at the tender age of 17 to study at university.
Where were you exactly in the UK. What were you up to while you were here?
Oh I was up to no good. I was in Glasgow and a lot was happening at the time, it was a very exciting period in music and clubbing and the city has a very distinctive vibe to it. My musical outlook changed completely and sent me on a path I am still exploring to this very day. Thank you, Glasgow!
Were you Djing at that time? Where were you playing?
Yes I was. I discovered black music in all its glorious forms and overnight my life was transformed. The very first party I didn't even DJ because I didn't have enough records, it was in a hairdresser's salon after hours. We used to put on parties at the School of Art and then I had a weekly Saturday night residency "The Casbah" at a club called Rain where I had complete musical freedom.
What kind of stuff were you playing?
Music scenes were a lot less restrictive in those days. Necessarily so – if you went to an acid house night they would quickly run out of records and resort to playing funk and rare groove by the end of the night. Techno and acid was the thing at the time, but I'd seen that dance music could be so many other things…jazz, Brazilian, you name it… and this just seemed so exciting. So I was pursuing a slightly different sound to what was generally going on, mixing disco, gospel, with funk, jazz and house. I was very into championing all this amazing lost music from the past that seemed so fresh, but equally I've always liked to keep things contemporary, not stuck in another era. We were competing with rave so it was going against the pervading trends, it took people a while to get it, but in return we got an intense scene – at the time it was described as "like a rave – without the E"!
At what point did you take off to Madrid? What led to this move?
At the beginning of the millennium I did start to weary of the weather in the UK and was feeling like a change. I guess, in a way, after so many years of digging, travelling constantly to the States (and beyond), investigating music so intensely, I started to feel a sense of diminishing returns and in turn, the urge to produce was getting stronger, it was something I'd always dabbled in and really wanted to get into properly. So it seemed like the right time to make all those changes.
You moved to Madrid with 16,000 records. How painful was this process moving so many records?
So long ago…and yet I still remember it vividly. There were three removals guys who worked all day boxing up the records and counting them (this was essential on their part for insurance purposes). When they finally finished, one of them announced the results out loud: 16122 records…and I haven't heard of a bloody one of them! After they left, I lay down on the floor of my now empty flat and felt a strange surge of weightlessness, or freedom. Then the phone rang and it was Nicola Conte, wanting to buy some records. It wasn't until the next day that I realised I'd inadvertently packed my passport and several thousand pounds in cash in one of the boxes, which were now in a warehouse, to be delivered in six months' time. How I actually made it to Madrid is another story…
You built your studio in Madrid. What is the set up in your studio?
I have a purpose-built, soundproof room, lined solidly wall to wall with records. My actual set up is very spartan: great monitors, a keyboard, a mic for recording vocals, a pre-amp for guitars. It's designed for composing and mixing, most of the time when recording musicians I go elsewhere.
The digger, the DJ, the producer. What came first? What role would you say you are your best in?
I'd say digger/DJ is a chicken and egg situation, they feed off each other so it's hard to say. My passion for music led to my wanting to share it with others, while my love for wanting to make people dance is the urge behind always seeking out exciting new sounds. Honestly, I'd say my strengths are as a dealer I have a great ear for seeking out exciting sounds, as a DJ I can read a crowd and connect, as a producer I'm a complete fake, ha ha! They are roles that often complement each other, except when composing non-electronic music, then it becomes a little difficult to pull myself out of that bubble and focus on other areas.
The music that you're making is a blend of soul, funk, disco. Who are the artists and producers that inspire the music that you make?
If I start talking about the artists that inspire me you'll never get me to shut up! I'm really digging the music Inflo is producing lately, while guys like MCDE, Dam Swindle, Dave Lee, Moodymann, Dimitri From Paris are some of whom I consider to be at the peak of their abilities, consistently putting out great music while still pushing the envelope.
Love Saves The Day, originally out on Lovemonk and then Defected. How was this record born?
If I remember correctly, I was messing about with a very basic groove one day when I happened to watch a video of the 40th anniversary celebrations for the Paradise Garage, an outdoor party held on King St. with a lot of the original attendees there celebrating. I thought about how influential that club was even to those of us too young to have been, about how inspired and elevated I felt at the Body & Soul nights in NY and then of those special clubs around the world with that inclusive vibe where people go to just be themselves. Then Lovemonk label boss Borja suggested I take the track I was working on and develop it for musicians, which I have to say was a lightbulb moment for me. I recorded all the parts in a basic manner and then worked with a number of highly talented individuals who made the song what it is. There was one funny moment when the Rhodes player refused to play a part insisting that it wasn't correct or natural the way it was. So in the end I played some of those wonky keyboard parts in the chorus and he concentrated on the lush Rhodes.
Why do you think it was so successful? Did this form a template for future releases?
I guess it's quite catchy and good to sing along to, I don't know. Angela's vocal performance definitely has something to do with it, I think she sounds amazing. It definitely gave me the confidence to explore and develop my songwriting skills and yes, following that release I've been focussing on writing songs with musicians in mind. It's a very different approach than when producing electronic music, where you can develop the ideas directly in your computer, instead of having to write things out first, record my dodgy playing on keys/bass/guitar and then get the fully fledged results some time later. You end up thinking and approaching things very differently and in a way, I look forward to writing electronic stuff sometimes as it serves as a refreshing break. I have an alter ego, where I released this not too long ago, for example:
Oli Stewart digger & seller. Buying records is an addiction and you are the dealer lol. What's the rarest record you've ever found?
Oh there's been a few. Keep in mind that I always tended to focus on finding the sounds that hadn't been discovered yet, so, interestingly, a lot of very rare records made their way into my grubby paws without any expense on my part. Having said that, while it's true that a lot of the rarities I could mention only cost me a dollar – things like Edge Of Daybreak, East Of Underground or Cortex, just to name a couple at random, I actually had to sit on them, keep quiet and wait several years before I could hope to sell them for much more than a dollar myself. The trick is to discover a record, decide that something is hot, then double down on that bet, make the effort to locate every single possible copy, then wait for when the musical climate seems right, sell it to the right person to get the ball rolling…
https://www.popsike.com/EDGE-OF-DAYBREAK-Eyes-Of-Love-LP-on-Bohannons-Rare-Private-Soul-Funk-Sealed/221350172315.html
What's the most expensive record you've ever sold?
You've got me scratching my head now, but I do remember this one Uptown by Gloria Barnes. Was it the most expensive? Up there, definitely.
https://www.discogs.com/release/6277496-Gloria-Barnes-Uptown
Are there some records you find that you simply cannot part with?
You have no idea, ha ha! I ended up with these many records for a reason, and that reason is: my mission as a dealer was always to feed my habit. Keep in mind that back when I started there was little to no information out there, so the whole reason for digging was to obtain the actual music, not the records, but over the years you get attached to them. Especially those quirky, low budget, underground releases. There are so many personal touches on these records, which is why those hand-painted Sun Ra releases are so in demand, of course.
For example, I have a copy of this Brazilian record by Antonio Adolfo, it's actually called "home made" (Feito Em Casa) and the design features handwritten notes and rubber stamps on the sleeve – except my copy has actual real hand stamps on it. I've searched high and low but have never seen another copy like it. It feels so personal, quite apart that the music on it is stunningly beautiful, how on earth could I ever part with it?
Is there a record dealer network or is it quite competitive?
Dealers deal with each other all the time. That doesn't mean it isn't competitive, but to give you one example, I am in contact with dealers in other genres and if, say, I find rare things I'm not interested in but that fit their tastes, we can often work out mutually beneficial trades.
Nick the Record has a great reputation here in the UK. Have you ever bought a record from him and what was it?
Nick certainly has a well earned reputation, not just in the UK! Have we bought from one another? Probably, can't remember, I do remember he was on my mailing list from the very early days, maybe even before he was a dealer, or at least he hadn't adopted that name, or I'd have kept a close eye on him.
A friend of a friend bought a very rare record from you for a few hundred quid, and they thought it was well worth the money. Do you think there are any limits on the values that records should go for?
I don't know about limits, if something is rare enough then it'll be reflected in the price. I know for a fact that a lot of the rarities I've sold over the years have increased massively in value so they can be considered a good investment. I'm in it for the music, but definitely recognise the feelings associated with handling a unique artefact.
How do you feel about re-issues. Has it changed what you do much?
Reissues are essential, they can revive an artist's career and reach those music lovers out there beyond the hardcore collectors' scene. In the early days, a reissue release was a tricky thing because it could in fact bring the price of a record crashing down, as the scene was dominated by DJs who were primarily interested in playing something exclusive that nobody else had. Things have changed enormously and nowadays, a reissue is more likely to generate renewed enthusiasm for the original record and an increase in value.
Reissues have made certain records more accessible to younger DJ's to an extent. How do you feel about this?
Again, it's essential. I dislike the elitist approach to music, which more often than not leads to people championing second rate records simply because of their holy grail status. Some young DJ who develops a passion for a sound previously not on their radar, how great is this?
North Africa – Have you been searching on this continent? Are you into the sounds of Benin for example?
So much amazing music…It just so happens I'm off to Africa very, very soon… I'm dying to get a little deeper, I feel there is just so much left to explore and appreciate.
South America must have a shit load of rare Latin, Bossa, and folk stuff. Have you spent time there searching?
You bet! Brazil, Argentina, Uruguay, Mexico, I have made several buying trips over the years and it's incredible what you can find. I released a compilation called Jazz Travels on the Hitop Records label back in 2006 and one of the main motivations for doing so was the insane amount of incredible music I was finding there at the time.
https://www.discogs.com/release/791085-Various-Jazz-Travels
A mate of mine was in Canada couple years ago and he brought back 10 copies of Alan Parsons Project, that he bought for 2 Canadian dollars each. Must be a real buzz when stuff like this happens?
This is very addictive, it's like digging for buried treasure. I have hit the jackpot on several occasions and as I've mentioned, when I believe in a record I like to bet heavy. My biggest score was 400 sealed copies of this incredibly rare beauty:
https://www.discogs.com/release/1633442-Ronnie-Aprils-Positive-Energy-Volume-1
Do you think that there is still much gold to be found?
There is plenty, although maybe not lying around in huge piles just waiting to be claimed like in the old days. You need to work a little harder. Maybe we should start referring to it as "fracking" instead of "digging" in acknowledgement of this.
I hear about a lot of people selling their collections these days. Do you buy a lot of these or are they not your thing?
Yes please, as they say in the ads: ca$$$h waiting!
I hear that you send a lot of records to Gilles Peterson. What is the last gem you sent him?
Well, I believe very strongly in generally not announcing to the world who swings by on record buying visits and I never disclose what anyone bought or what they paid. I'm the soul of discretion! Having said that, Gilles has very much fallen in love with this artist and been very open about it, so I guess there's no harm in mentioning this one:
https://www.discogs.com/release/3621235-Litto-Nebbia-Canciones-Para-Cada-Uno-Vol1
What is the brief on the sort of stuff you send to GP?
No brief whatsoever, as in, there's nothing regular going on. Having said that, we recently spent a very pleasant afternoon here at my place and really, the takeaway was as extensive and eclectic as you would expect, it's who he is.
'Let's Invade the Amazon' is a stunning musical journey with a killer vocal. Sounds very Sun Ra. Any references in there?
Thanks!! I can't resist throwing in references into my music. I don't know if it's the point in history in which we're at or the fact that at heart I'm just a huge music fan/geek. There's a definite little nod to Sun Ra in there, he was always so into his nursery style sing-song rhymes and all about using them in unexpected ways. I also couldn't resist referencing The Clash, and Dr Seuss, of course. That last one's more of a nod to the Extinction Rebellion movement.
Talk us through the production and arrangement of the title track?
"Amazon" developed slightly differently to previous productions, and this was due to the fact it was recorded during confinement. It started out as a very depressing song, then it developed into a very angry song, I think I was reacting to circumstances at the time. But slowly it started to take shape. I recorded the demo in my studio but because of restrictions, I wasn't able to take the next step to record the musicians in person, so things took a bit longer, with sessions going back and forth. Germany, for the drums, Barbados for the guitars, Italy for the keyboards, Peru for the vibraphone, Canada synths, the US for vocals etc You know how people in the past played chess games through the mail? Seems so agonizingly slow, right? I always wondered how that felt, now I know.
Who is the vocalist? Did you let them do their thing on the lyrics?
Tonya is a superb singer, first time working with her. I did what I always do: record a guide vocal, provide extensive notes. I chose her for her sensibilities, I knew she would have that sweet mix of jazz and soul I was looking for, and then she took it all the way, far exceeding my expectations.
The press release mentions that you take inspiration from Michael Mann's book – The New Climate War. There was quite a lot of controversy about this book. What is out take on it?
I think it's a fantastic, essential book. I can't see what the controversy is, except from the point of view of those exposed by his arguments. The way we are all so brazenly manipulated by a small number of powerful interests, with arguments designed to confuse us just enough to be lulled into inaction. I was reading this book round about the time I was writing the lyrics and can definitely say I was directly inspired by it.
https://michaelmann.net/books/climate-war
You've got some great remixes coming soon from Yoruba's Osunlade and Razor-N-Tape's JKriv. How did you get these guys on board?
I had nothing to do with it, this is all thanks to the great work done by Wim from Boogie Angst Records and, having heard the results, I'm so happy he did whatever he did to make this happen.
What else are you working on at the moment? Is there a Casbah 73 live? It would be incredible to see this release on stage. Any plans?
There's no live yet. It's something I have considered though and I think the right time to do this would be centered around an album release, which is what I am working on, amongst other things. Those other things include new tracks that I can't really talk about, hopefully very soon! Oh – look out for remixes of this:
What do you like to do when you're not making music?
There's life outside music? Please show me! Just kidding, it would be criminal to live here and not take advantage of all the city and the surrounding countryside has to offer. I live near the Retiro park, I go for a run there pracically every day. The outdoor life here, the bars and cafés, are one of the best things about it. It's also very manageable, hop on a city bike and you're anywhere you need to be in ten minutes.
If we make it to Madrid this year, what is something we simply must do?
As a first time visitor, personally I would say you must visit the Thyssen, have a drink in one of the rooftop bars such as the Bellas Artes or the Hotel Riu and go for a fixed price lunch at Casa Macareno. At this time of year, the weather's glorious so before it gets too hot, take the cable car from Pintor Rosales to the Casa De Campo and enjoy lunch at one of the many restaurants by the water at Lago.
https://www.esmadrid.com/en/tourist-information/madrid-teleferico
Please provide us with the best record shop in the city to find rare gems? Only joking… 😊
I am more than happy to hook you up with the best record store! It's actually more of a giant warehouse, sealed to the public until very recently, so huge that half the stock is still unexplored. It's called ……
Grab the EP via: https://boogieangst.lnk.to/Amazon
For more info check:
Casbah 73 Facebook: https://www.facebook.com/casbah73
Casbah 73 Soundcloud: https://soundcloud.com/casbah-73
Casbah 73 Instagram: https://www.instagram.com/casbah73/
Casbah 73 Twitter: https://twitter.com/djcasbah73
Boogie Angst Facebook: https://facebook.com/boogieangst
Boogie Angst Soundcloud: https://soundcloud.com/boogieangst
Boogie Angst Instagram: https://www.instagram.com/boogieangst/
Boogie Angst Twitter: https://twitter.com/boogieangst
Boogie Angst Bandcamp: https://boogieangst.bandcamp.com
Tags:
Boogie Angst
,
Casbah 73
,
disco
,
Giles Peterson
,
nu disco