Mr Flip talks about Hit Different on Yoruba, making music with Osunlade, his take on Hip house, Kai Alce and much more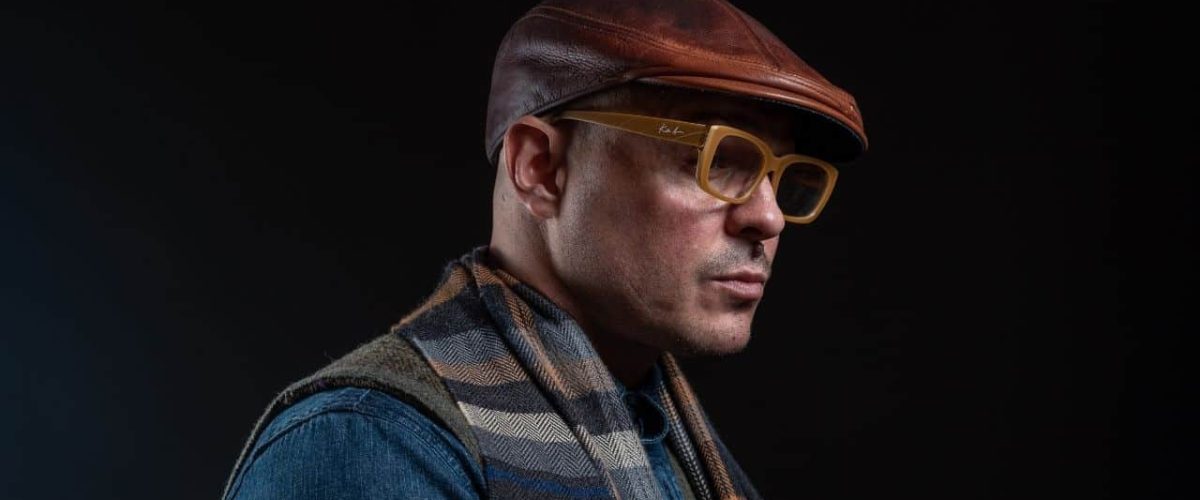 Mr Flip talks about Hit Different on Yoruba, making music with Osunlade, his take on Hip house, Kai Alce and much more
Like what you hear? To help support LV Online buy us a coffee via Ko-FI. Click HERE
An Interview with the Insider for Le Visiteur
Mr Flip is back with the second installment of his exciting and very now take on hip house. Working with Deep house legend Osunlade he has just released a brand new single Hit Different on Yoruba, packed with hot remixes from Kai Alce, DJ Kemit, Kevin Reynolds and Afefe Iku, following on from the well received 2020 four tracker Osunlade Presents Mr. Flip.
Now working on his debut album the Insider caught up with Mr Flip to talk about his life which has seen him travel across the US from Jersey to LA, his love of Hip Hop, how he developed his own fusion of Hip House and ended up working with house legend Osunlade.
You can also check out the Kai Alce remix of current single Hit Different below and more on the release here.
Thanks for taking the time to talk to us! Where are you right now and how are you spending your day?
I'm currently in St. Louis. Going back to L.A. in June. Spend my days working my 9 – 5, which is currently hustling cannabis hardware and accessories to smoke shops and dispensaries across the country. In the gym 4 days per week. Really focused on healing because I've had some recent health issues. Basketball Saturday mornings in the park. Movies, music, parties. I play a lot of backgammon.
Where were you born and raised?
Jersey. Half the family is from the Bronx, the other half from Jersey. My dad's a Jersey guy. Never really felt comfortable there. Finished high school in Baltimore and moved to the Bronx shortly after. Lived there forever before heading out west to live in L.A.
You got into rapping at a very young age. What was the starting point for you? Who was your influence/ mentor?
My grandmother sang professionally in Harlem. In the Bronx we used to put on shows for the family when we were kids; me, my brother, and my cousins. I couldn't have been more than five years old. We were called High Pitch. We published our own magazine in the bedroom lol called The Century. My older cousin led that. He went on to start rapping. Had a few different groups. One of them was signed to Tommy Boy but the album never got released. I wrote my first rap in my TiTi's bedroom in the Bronx when I was 12.
Who were the artists who were part of that education in those early years?
Of course, I watched my cousin, his name is JayCee, and his partners. My man G, Diz, Matty, and Buggz. They were all dope. Mixtape DJ's like Tony Touch, Doo Wop, Stretch and Bobbito; all of them. You name it. If they were dope we were up on it. Definitely the mix tape DJ's though because they were always bringing you a variety of different artists.
Were you writing your own lyrics?
Always.
Was there a lot of music at home when you were young? What kind of stuff was played?
Oh, yeah. My dad is a music lover. My grandmother sang professionally in Harlem. They were pretty much into the full spectrum of music. I pretty much followed everything my older cousin and brother did though. I was into hip-hop, r&b, soul, and funk since I can remember. That's just the things that moved me.
Was radio important to you as you were growing up? What station and DJs did you listen to?
Wow. It's hard to remember. I haven't listened to the radio in so long. Hot 97, of course. I pretty much always was rocking mix tapes though. I never really liked the radio.
Did any of your friends go on to make music from those early years? Anyone we would have hear of?
My friend Jay Sharpe, MC Sharpness, from Baltimore did some things in the Drum n' Bass scene. He was DJ Craze's emcee. We used to freestyle all the time together back in high school. Other than that nah, not really. I knew a lot of talented cats that just never got the right opportunity back then.
When did you move to Baltimore. How old were you? What took you there?
When I was in high school. The universe took me there. Just another stop on my journey to get where I am now.
How did you music passions develop in Baltimore?
We was always freestyling. Always. We hustled and we rapped. That's just what we did.
What was the scene like there at that time?
I wasn't really involved in the scene per se. We was just kids running around in the streets. They have Baltimore Club music so the DJ's there never really broke hip hop artists.
What were clubs you went to there? What were they playing at that time?
I used to go to the Paradox in Baltimore and Nation in DC. I was always into house music. I went to my first rave and first club in New York when I was only 15.
What were you doing musically prior to you debut releases as Mr Flip?
Nothing. Last time I wrote a song was in 2010. I had walked away from it after that. It wasn't until Covid and the initial lockdown that I decided I wouldn't be able to forgive myself if I didn't go back. That's when I hit up Osunlade and started creating again. I was very fortunate to have such a talented friend lol.
When did you make the move to LA? What was the motivation for the move?
Six years ago. My older brother had already moved out there from the Bronx and was doing his thing so that made it easier. But I moved there to go hustle. I built a distribution ring hustling out of my trunk with my partner consisting of probably 2,000 mom and pop convenience stores, 300 7-Elevens, 150 schools, bunch of gas stations. My friend Timmy Grins had started a company called the Cool Suppliers. He made an all natural frozen Icey packaged in a squeeze pop. He had given me the opportunity because in New York we opened up every single bodega north of 96th Street and the Bronx after I had gotten laid off from a different job. We were running up in stores and taking other people's freezer space in the ice cream freezers.
Are you based there full time now?
Yeah, I'm in L.A. It's the weather.
How did you hook up with Osunlade initially?
We met at an after hours spot after one of his gigs a few years back. The way we connected was that he was helping me with some things on a spiritual level, as he does. I never even mentioned music for quite some time. We were cool for a couple of years before I ever brought the music thing up to him.
Yoruba has been a force on the scene since 1999. It's associated with quality, and more than 300 releases deep. Must be pretty special to have the main man as your mentor and guide?
Couldn't feel more blessed or more grateful. It really is amazing.
What you learnt in the time you've been working with Osunlade?
Most things I've learned from him don't have anything to do with music. Things mainly about healing spiritually, healing my body naturally. For me those things translate to the music though. Got to see a lot of how behind the scenes operate seeing him run his label and how he interacts and conducts business on a daily basis. Professional, for sure.
You clearly have a vibe and a style all your own. How would you define that style and sound?
I have no idea how to define it. I don't think you really can. I've never wanted to be defined or fit into any one thing. The name of our crew from the Bronx is the Urban Misfits. I don't think I really fit in anywhere, but I can move anywhere.
Who are the artists that you sit alongside right now?
All of the artists on Yoruba. Osunlade has opened up his network to me, which is huge. A lot of talented producers are going to be doing remixes, and I'm sure there will be opportunities to work with a lot of talented people down the road. This whole thing is just getting started.
Tell us a few hip house records that have been important to you?
I never really listened to hip house. There aren't any. For years though I'd be on the dancefloor freestyling in my head to house music at parties. That's where this idea of what I'm doing now came from. I love hip hop. I love house and partying. Let's do this my way.
Dance Circle was your debut release on Yoruba. You mention 'Street kids with happy feet'. Would you say you make music for dancers?
Yeah, those are my people at the parties. I don't chill in the DJ booth. I'm out there on the floor.
Osunlade performed some vocals on your tracks. I didn't know he sang. Did he sing on Activate My Love too? Such a beautiful track btw.
Thank you! Yeah, he sang the singing parts on the first EP. By having him on the songs it opened up his audience to me. Grateful for that.
Let's talk about Hit Different. How did the song begin? What was the starting point?
Sitting at my desk in my apartment. It was one of the last songs I wrote for the album.
Tell about the lyrics and the intention of the song.
The intention was to make a song that sums up the whole project and what I'm trying to do. And what we're doing hits different front to back, every single track. All killer, no filler. Came up with the title, rolled a joint, and started freestyling. That's how I come up with my choruses.
So, you worked with Osunlade on the production. How did that process play out?
Simple process. I don't write to beats. I write to a tempo. Then he gives me a kick at that tempo. I record it. He then builds the music around that. It's pretty amazing how he does it. I record the song to a kick drum. He says, "Give me about 20 – 30 minutes". Next thing you know he has a full musical production. He turns my voice into an instrument for the music he creates. It's him who creates the sound from scratch that hits your ears.
I saw a video of you performing this live with jazz musicians which worked incredibly well. Ashley Beedle once said to me that when a song is that good, it can be interpreted in many ways. What are you feeling on this?
Yeah, that was fun. If it's got a beat I can rap to it lol. We're going to do more of that. We'll be performing at Spotlite in Detroit on May 30th during Movement. It's a Yoruba party featuring many of the label's artists. I'll be performing again with a live band. I love doing that.
Watch the video here: https://www.instagram.com/p/CcBMXF2Dk50/
It really is quite astounding how many great versions are on this release. Were you thrilled with what they all turned in?
Hell yeah. Again, that goes back to Osunlade having such a vast network of other talented musicians. But yeah, I love every version of this single. I'm really blessed and grateful to be a part of his Yoruba family.
I watched a lot of streams with the brilliant DJ Kemit. Wasn't he part of Arrested Development?
Indeed, he was. I believe they won two Grammy's, if I'm not mistaken. I had the opportunity meet him in Atlanta. First impression is a solid, stand up guy. Man of great character. Of course, super talented musically. His remix of Hit Different is bananas.
Kai Alce has cast some magic on Hit Different. What did he do to the OG in your words?
He took something dope and made it dope Kai Alce style. Had the chance to meet him too, the same trip I met Kemit. Kai was also a super cool dude. Great energy. Bought a pair of his glasses. Get a lot of compliments on them. Anybody reading this should definitely check out his eyewear line if they are in the market for some frames.
But Kevin Reynolds really steals it for me with his super sleazy, Detroit rework. It's so good to hear something from Kevin again. Is he still making a lot of music out of Detroit?
I love his mix too. So good. He does his thing. He has a release coming soon on Yoruba Records so keep an eye out for that. I can't give too much away though.
'Hit Different' paves the way for your forthcoming album. What can you tell us about this project? When does it drop?
No release date yet. 2nd single is called Da Boogie. Probably drop a third single after that and then the album. I'd love for the album to be out by August or sometime in August but I can't control those things. I can't wait though!
Do you plan to tour the album live?
Oh, yeah. I love to perform. I want to do as many shows as I can for as long as I can. So I'm hoping the project does well to create the demand where promoters want to book me.
What other material are you working on right now?
Got about five or six more songs already recorded. Took a little break to focus on getting this release and album release in order. I'll be getting back to writing the rest of the follow up album soon. It's already half way done though.
When you're not making music, what do you like to do to relax?
To relax? I like to smoke a joint and put on some music or something good on the TV. I live in LA so I also like to just chill on the beach.
Tell us something we should know about you?
I've never really known how to answer these types of things. Hmmm. My favorite color is forest green lol.
Is there anything else you would like to tell us about you?
Lol. I hate talking about myself! The music says it all.
Mr Flip we wish you all the very best with this KILLER release. Thank you. Cheers.
For more info please check:
Mr Flip Facebook: https://www.facebook.com/flip.mckenzie.1
Mr Flip Instagram: https://www.instagram.com/officialmrflip/
Mr Flip Youtube: https://www.youtube.com/channel/UCGk-q7VjqUN-PyiGR-AwzNQ
Yoruba Records Facebook: https://www.facebook.com/yorubarecordsofficial
Yoruba Records Instagram: https://www.instagram.com/yorubasoulofficial/
Yoruba Records Twitter: https://twitter.com/RecordsYoruba
Tags:
Hip House
,
Mr Flip
,
osunlade
,
Yoruba Records