Cults, Crews & Bangers 'n Mash.. with Terry Farley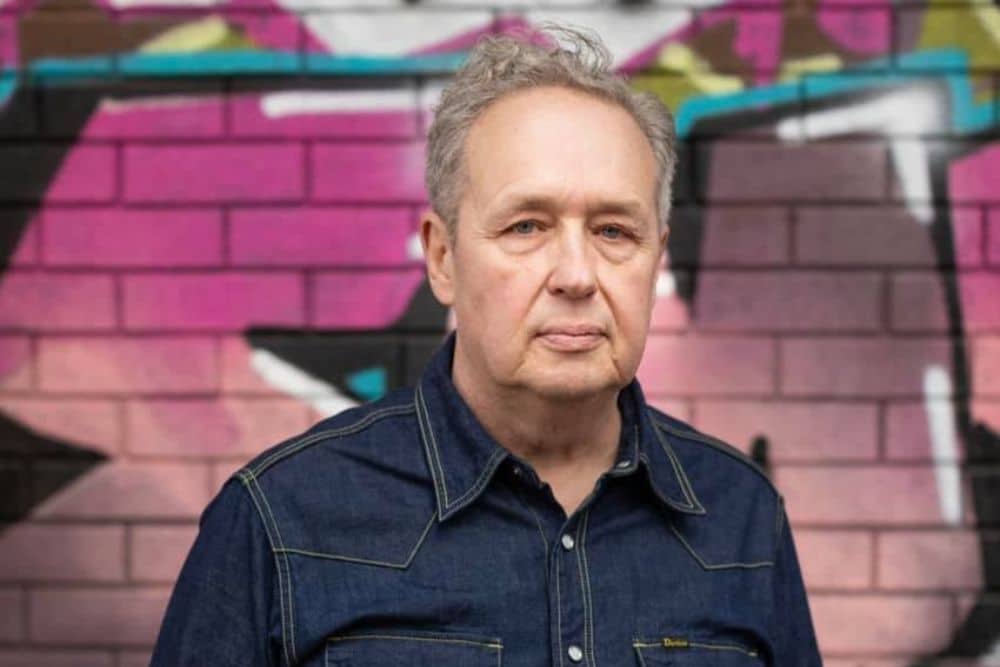 Cults, Crews & Bangers 'n Mash.. with Terry Farley
Interview by 'The Insider' for Le Visiteur
Terry Farley is a DJ, producer, promoter, writer and all round scene good guy who has been an integral part of the UK electronic music scene for more than three decades now. His resume includes being one of the heads behind the Boys Own parties and fanzine and the Junior Boys Own label. He was also heavily involved in The Faith scene which threw incredible parties as the infamous Faith Fanzine. It's a magazine which has recently had a wonderful new lease of life courtesy of their relaunch in conjunction with Defected.
With the Fanzine, mix series, a clothing range and record label all now setting the scene alight all over again it's a hugely exciting time for Faith. You can check out more via: https://defected.com/store/brands-labels/faith.html
You can also check their upcoming Cathedrals 12″ which includes a Farley & Jarvis remix.
As a producer he has been behind huge international hits both in his own right as well with Pete Heller in their Fire Island and Roach Motel guises. He has also remixed some of the biggest names in music. More recently he has been working on the excellent The Spaces Between project who have just released the brilliant Ghosts EP which is essential listening with Black Science Orchestra on the remix.
Our undercover writer The Insider tracked Terry down for a chat about all the different aspects of his career and as you would expect it's a fascinating insight into not only Terry's background but also the UK house scene.
Love this vibe? You can also check out this Junior Boys Own, Boys Own, Jus' Trax mix
Cults, Crews & Bangers 'n Mash.. with Terry Farley
Hi Terry,
How has this last year been for you? How have you kept yourself motivated?
Well, it's been tough, but the Faith relaunch has been a saviour mentally. It's got me doing creative shit instead of getting fat on the couch watching Netflix lol. The fanzine really has stepped up in quality thanks to Defected and my editor Andy Thomas. I've also been involved in making music that's been well received which is always nice.
Musical Tribes
You seem to have always been part of some musical tribe. What was the first gang you were in? Who was part of it? What did you get up to?
I love tribes, youth cults and music. All my musical loves have fashion & dancing styles that go with them from Reggae to Northern Soul to Jazz Funk and House. Working class British kids have always loved black music and dressing up so you naturally gravitate to other kids just like you. The first post school movement I was part of was the London Funk / Soul / Jazz Funk scene which was from '75 to '81. It was truly amazing. The friends I met back then are the same pals who went on the clubbing journeys over the next decades with me travelling to Ibiza to New York, Miami to Italy in search of the best parties.
Where did you kick around in your teens? Are you still in the same area you were born?
No, I was born on Latimer Road, North Kensington. I moved out to Slough which had an army of bored teens who created a truly great Soul scene of their own. A scene to be proud of.
Boys Own
When did the Boys Own movement begin? Who was involved? What was the ethos?
Basically, it was the kids from Slough meeting up with the Windsor crew (The M4 motorway separated the towns). We were all going out to the West End / London clubs together. Cymon & Andrew Weatherall, Gary (Aciieed) Haisman, Steve Mayse, Johny Rocka and Paul Mckee. We had a great crew of fashion hungry herberts who craved the latest music. The fanzine grew out of sitting around Andrew's and Cymon's flat and throwing ideas about. We did our first party at a small basement in Earls Court called Cafe de Artist where Andrew & me DJ'd for perhaps 200 people.
Junior Boys Own
Was Junior Boys Own an evolution of the original movement? Or was it just the label?
It was just a label that grew out of the original Boys Own scene involving Steven Hall, that we had financed by Pete Tong's FFRR. They dropped us because we were only selling records to a then very small scene. But that enabled us to be more creative and by then that small scene was blowing up nationally and internationally.
Fire Island
Fire Island is you and Heller. When did this duo begin? How was it different from Boys Own? Are you still mates?
We'll always be mates, he's Spurs, I'm Chelsea, there's a history already there. I was getting asked to do remixes but hadn't a scooby how to do anything in a studio, I knew Pete (From dancing at Shoom) was musical and had a drum machine, so I asked if he wanted to help. We rode a wave and we remixed almost everyone from Michael Jackson to Frankie Knuckles to Armando and U2. We still DJ together quite a lot and Chelsea are still London's top club.
Shout To The Top
You made Shout to The Top in 1998. Did you ask Paul Weller if you could cover it? What did he think of Loleatta's voice instead of his?
We never heard until very recently when Paul was interviewed for Faith Fanzine and he was very complimentary. Something along the lines of "it's what I wanted my version to sound like". Imagine that, some kid from the wrong side of the M4 making a record with the Queen of Disco that Paul Weller really rated … stuff of dreams.
Weller was on the cover of your recent Faith mag. Are you old mates then?
Never met him but have always been a fan. We tried to start a Mod revival when I was about 15 in the early 70's. Doomed to failure but if nothing I'm a trier.
Footie
You've been a big footie fan in your time. Have your footie mates been the same as your clubbing, music scene mates?
YES! even the ones from rival clubs like Norman Jay & Pete who are proper Spurs, mostly Chelsea though. Time served at Chelsea; we paid our dues as they say.
Andrew Weatherall
You go way back with dear Andrew Weatherall. A year on from his sad passing, what do you think he would have said about this last year?
I think he would have used the time in a creative way and treated us to loads of art and music. The stuff he has left behind though will last way into the future.
Can you tell us a happy memory you have of him?
A big gang of us around Cymon's flat in Battersea, all pretty battered, and he told us he had been offered a weekly residency at £100 a week. This was in 1988 and a lot of money for 2 hours work. We were all was so happy for him. He was like Trevor Francis the first million-pound football player and our mate.
Faith
Who are the original members of Faith? Tell us a little about the movement?
Stuart Patterson, Dave Jarvis, Leo Elstob, and I joined by Bill Brewster. We started Faith because in 1999 London's House scene was shrinking with Trance, Progressive House etc, filling the big rooms. We joined together to make a bigger party (still only 400 – 500 people). Together we were stronger.
Faith Magazine has been about for a while. How many editions were there in the original format?
The first series there were 3, the second series about 20, the latest incarnation we are putting together its the 3rd edition. All of them are wicked and different but the same. Leo, Bill alongside Jimmy P and Roual Galloway were pretty much the lynchpins for Faith Fanzine in its Stroblight Honey glory years when it was about the messy after hours antics as it was music. It was like Boys Own Fanzine in that it had its own slang and full of in jokes. I'm hoping once the pandemics over we can get Faith back into the messy world of afters and cabs of shame home.
The Faith Parties took place in London pretty much. Why do you think they were/are so special?
Really underground party music with a crowd of heads who all knew each other, no trouble, no shade, no ruffians. We also were able to book DJ's early who weren't famous (and expensive) yet! Dixon, A'me, Kerri Chandler, Maurice Fulton, Derrick May, Andrew Weatherall, all played early Faith parties for very small fees. We had Honey Dijon play for us way way back in the day as well when most people knew her because of her Peaches edit label.
Faith has a new lease of life with your association with Defected. How did that come about?
Simon Dunmore had always supported the mag via advertising and wanted to bring back a printed magazine into the scene. It was a no brainer for us. Musically Defected / Classic has moved to the left of centre which is where Faith has always felt most at home. We are the 'dub mix' on the import double pack and it's our natural environment.
Check out the Faith Fanzine here: https://www.faith.london/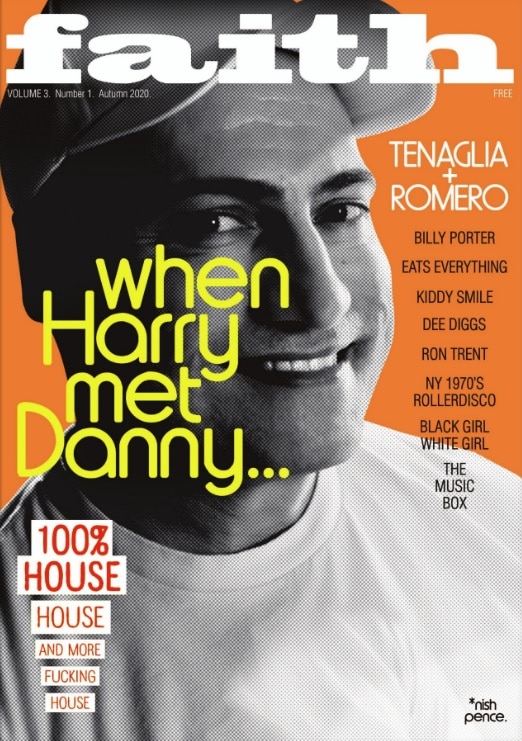 As a DJ, how do you go about sourcing new music?
I like to listen to other DJ's. I no longer feel the need to be super upfront or have exclusives, I'd rather bring back to life a record missed by everyone or support a new artist than chase the newest 'banger '. In fact the only bangers I like are with mash 'n onions.
Career Advice
You've had a long and successful career in the music industry. What advice would you give to a young DJ today?
Play what you LOVE. Don't be a jukebox. And go dancing to other DJs. You learn naturally how to pace a crowd and set a vibe. Oh, and those mixer knobs ain't hot. Try to get the crowd focused on the music you play and not you.
What's the best advice you've ever been given?
When DJs think they are bigger than the music they play its over … That was Frankie Knuckles.
Who is your rock?
My partner Sue. We been dancing together since we were teenagers. Guess we still are teenagers in a lot of ways.
If you weren't making music, what do you think you'd be doing?
I'm scared to think what I would have been doing, what I would have missed, the mayhem, the travel, the people, the music. Thank god I had the good fortune to have great mates who helped me along the way.
Love this? Check out our recent interview with Ashley Beedle and Terry Farley about the recent The Spaces Between EP Ghosts HERE
You can grab The Spaces Between's incredible EP from: https://fclrmusic.bandcamp.com/album/fclr013-the-spaces-between-ft-harry-dennis-ghosts-ep
For more info please check:
Terry Farley Facebook: https://www.facebook.com/TerryFarleyOfficial
Terry Farley Instagram: https://www.instagram.com/terryfarley
Terry Farley Twitter: https://twitter.com/terrystuckshop
Like what you hear? To help support LV Online buy us a coffee via Ko-FI. Click HERE
Tags:
Andrew Weatherall
,
ashley beedle
,
Boys Own
,
Faith Fanzine
,
house music
,
Junior Boys Own
,
Pete Heller
,
Terry Farley