Get Down Edits Top 10 Samples in Dance Music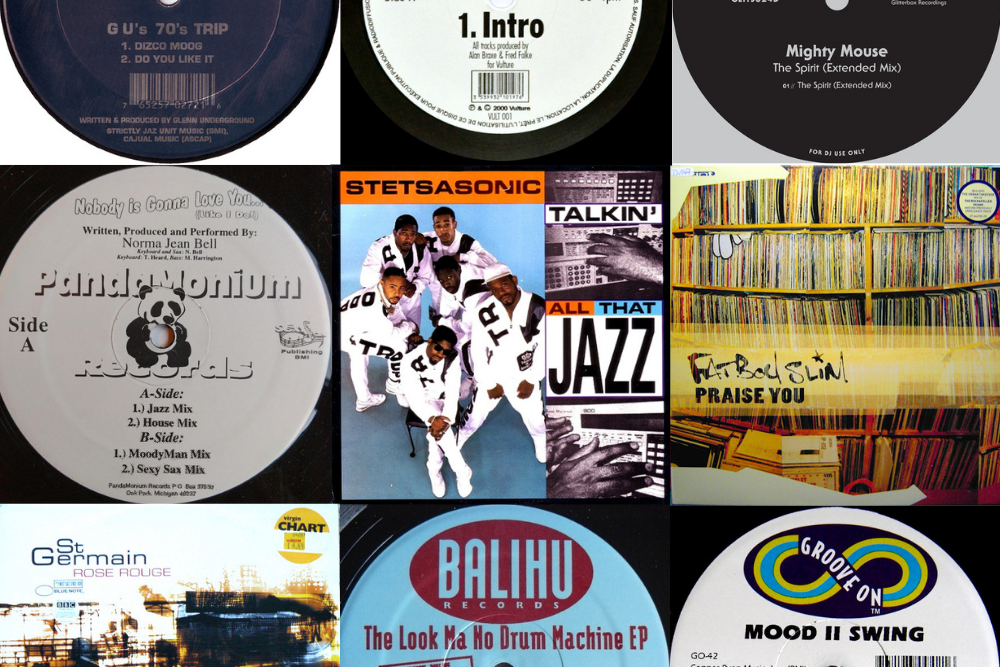 Following on from our Top 10 samples feature a couple of weeks back with George Feely which you can check HERE we thought we would turn this subject into a series as it's so fascinating. Taking things forward with our next edition of sample goodness we have Get Down Edit's Daz Dalton.
Daz is a renowned expert on samples and it's a skill which has come into good use for his own career. Both Get Down Edits DJ set's and their own releases have become legendary within the edits community. Daz started collecting music at the age of 15 and soon after bought his first set of turntables and a mixer in 1996. After doing a music production course in 1998 he would soon start crafting his own edits inspired by hearing Kenny Hawkes (RIP) playing out a dubby edit of Another One Bites The Dust. Unable to find that edit Daz decided to create his own. It would lead to a lifelong fascination with samples and recreating tracks in his own mould so that he was able to play them out in his DJ sets.
When the edits scene kicked off good and proper a few years later Daz was encouraged by legend Greg Wilson to set up Get Down Edits the label. 6 vinyl releases and 9 digital releases have followed whilst Get Down Edits have also released via Paper Disco, File Under Disco. Samosa Records, Editorial, Hot Digits, Disco Deviance, Master Works, Golden Soul, Slighty Transformed, Re-Loved, Hotbox Boogie, Reckless Records, Solar Taxi Music, Deep Sense, Alpaca Edits, Unkwn Records, Ism Records, Queen & Disco, Wall Of Fame, Glenview Records, Editors Kutz & Midnight Riot. It's an impressive list of some of the finest labels on the scene.
2020 has been a particularly strong year for the Get Down Edits camp with some great releases which you can check below along with a mix from Get Down Edits.
Vibrations & Temptations [Get Down Edits Remix]: https://www.traxsource.com/track/7001647/vibrations-and-temptations-get-down-edits-remix
Get Down Edits – Comin At Ya: https://samosarecords.bandcamp.com/album/funk-purpose-vol-3-pt-1-sms016-1
Get Down Edits – Suite Magic: https://www.traxsource.com/track/7664056/suite-magic-original-mix
Get Down Edits & Stephen Richards – Making Music 2: https://www.traxsource.com/title/1413661/making-music-
Get Down Edit's Top 10 Samples in Dance Music
1 – Stetsasonic – Talkin` All That Jazz [Tommy Boy 1998]
Samples – Lonnie Liston Smith – Expansions [1975]
Talkin All That Jazz was written by Stetsasonic as a response to criticism that hip hop sampling was lazy and uncreative. The song opens with a reference to Stestasonic member Daddy-o who heard jazz musican Mtume belittling hip hop on New York radio. In the second verse Stetsasonic points out that a sample is just a tool, a building block, for something larger. The third verse makes the point that sampling breaths new life into older music," … James Brown was old 'til Eric and Ra came out with I Got Soul".
I first became aware of the song in '98 when I picked up the Dimitri From Paris remixes on 12". I soon after started digging back through earlier Tommy Boy release's & picked up a copy of Tommy Boy greatest beats comp. Lonnie Liston Smith's 1975 jazz-funk masterpiece Expansions intro bass loop makes up the backing track.
2 – Alan Braxe & Fred Falke – Intro [Vulture 2000]
Samples – The Jets – Crush On You [MCA 1985]
What a record. It's an all time dance floor classic which sounds as great played out today as when it was first released back in 2000. It features an amazing use of an incredible 4 bar loop taken from Crush On You by The Jets. The haunting voices are so soothing & then Fred Falke`s Baseline kicks & what a baseline it is. The best French house you'll ever hear.
3 – Mood II Swing – Do It Your Way [Groove On 1996]
Samples – Montana – The Toys Come To Life [Atlantic 1978]
Also Vocal Samples of Barbara Ann Teer – "Black Theatre"
This is an incredible mid 90's proper deep house record introduced to me [like so many other great records from that era] by Irish DJ legends Greg & Shane, aka Fish Go Deep, on one of many trips to the legendary Sweet night in Cork's Sir Henry's. I had known and loved this record for years and years before discovering the sample origin and the sample blew my mind just as much as when I first heard Do It Your Way. It samples Montana's The Toys Come To Life, a track from a 1978 Orchestral Disco album
"A Dance Fantasy Inspired By Close Encounters Of The Third Kind" by American composer, arranger, vibraphonist, and percussionist, Vincent Montana Jr who is best known as a member of MFSB and as the founder of the Salsoul Orchestra. He has been called "the Godfather of disco"
It also includes beautiful topped off by vocal snippets from African-American writer, producer, teacher and actress Barbara Ann Teer`s Black Theatre.
4 – Daniel Wang – Like Some Dream [Balihu 1993]
Samples – Eddy Rosemond – Funk It [Flarenasch 1979]
Also samples Sleeque – One For the Money [1986]
This is sampling at its very best, Daniel Wang took 3 bars from 1979 rare disco funk Sylvester style track Funk It By Eddy Rosemond & turned it into a deep down and dirty cosmic deep house classic. Topped off with some some "Dream, I can't stop feeling" vocal snippets from 1986 One For the Money by Sleeque this is pure heat. I also love playing Dave Lee's Prospect Park – Lets Dance (Get Down Tonight) which use's a lot more from Funk It. Make sure that you check them all out.
5 – St Germain – Rose Rouge [Blue Note 2000]
Samples – Marlena Shaw – Woman Of The Ghetto (Live) [Blue Note 1973]
This is a very obvious sample and one that's been used a lot from Blue Boy's Remember Me [released in 1996 as part of the Scattered Emotions EP on Guidance Records] to Pascal's Salvation EP on French Deep House label Rotax. Marlena Shaw's vocal just belongs to Rose Rouge, a perfect Jazzy House record that's more jazz than house.
6 – Norma Jean Bell – Nobody Is Gonna Love You… (Like I Do) (Moodymann Mix) [Pandamonium 1996]
Samples – Joe Bataan – I See Your Hiney [Salsoul 1980]
Salsoul Records are no strangers to samples and must be the most sampled labels of all time. Moodymann makes great use of this Latin, funk, soul, disco piece by Joe Bateen. As great as the original is check out Norma Jean Bell's vocal over that loop & then the sax drops. Pure Heat!
7 – Fatboy Slim – Praise You [Skint 1998]
Samples – James B Lansing Sound Inc 1973 Balance & Rehearsal
Also samples Take Yo` Praise – Camille Yarbrough [1975]
Another obvious one but I don't think you could have passed through the late 90's being a fan of samples and not admire and respect one of the artists who has done it best, Fatboy Slim. He was an absolutely serious talent when it came to the use of samples in his music. Praise You was huge and one of his most successful songs. The vocal came from Camille Yarbrough`s 1975 Take Yo' Praise which itself is a great sample but how on earth Norman Cook managed to find a piano loop from a Rehearsal outtake & and unite it with the vocal sample and make them sound so natural together is a near miracle. It's the sign of a true sampler, someone who can hear the most fleeting thing and build an entirely new idea around it.
8 – Glenn Underground – Dizco Moog [Cajual 1997]
Samples – The Kay-Gees – Tango Hustle [De-Lite 1978]
I was a massive fan of Glenn Underground's music. Disco Moog is the B Side of 1997's 70's Trip. I absolutely loved both tracks. It was years before I came across The Kay-Gees Tango Hustle & spotted where Glenn had pulled the sample from using the loop to make up the bassline of the track and then added a fun Moog Synth Melody GU Style.
9 – Mighty Mouse – The Spirit [Glitterbox 2018]
Samples – Patti LaBelle – The Spirit`s In It [Philadelphia International 1981]
A more recent release and probably my favourite release of 2018. I played The Spirit out loads during 2018/2019. I'm a big fan of Mighty Mouse's production work and what he's done to Patti LaBelle's The Spirit's In It is just incredible. The vocal is massive and the build up in this record works so well with the right dancefloor.
10 – Moodymann – Do Wrong [Mahogani 2020]
Samples – Al Green – Love & Happiness [Hi 1972]
The most recent release from my selection & the best piece of music to come out so far in 2020 in my opinion. It's another obvious sample and a sample that everyone will know came from Al Green's Love & Happiness but what Moodymann turns it into is nothing short of genius. Do Wrong is the Introductory track from his latest album Taken Away and borrows loads from Love & Happiness. There's the low-slung groove making up the bulk of the backing track but the connection is deeper than just a sample on Do Wrong, the exasperated lover Dixon Jr. portrayed on I'll Provide seeks solace in church. "You got me back in church / I'm still in love with you / I guess the devil's at work," he sings, before inverting The Jones Girls' legendary kiss off: "You better find a way to love me / 'cause if you don't somebody else will."
For more info on Get Down Edits please check:
Facebook: https://www.facebook.com/GetDownEdits/
Soundcloud: https://soundcloud.com/get-down-edits
To book Get down edits: andy.raeside@defected.com
Check out George Feely's Top 10 samples in Dance Music HERE
Like what you hear? To buy us a coffee and help support LV Online via Ko-FI click HERE
Tags:
alan braxe
,
Daniel Wang
,
Dimitri From Paris
,
fatboy slim
,
get down edits
,
glenn underground
,
mighty mouse
,
Moodymann
,
Norma Jean Bell
,
Samples
,
St Germain
,
Stetasonic