Trickfinger: Guitar Virtuoso John Frusciante's Electronic Alter Ego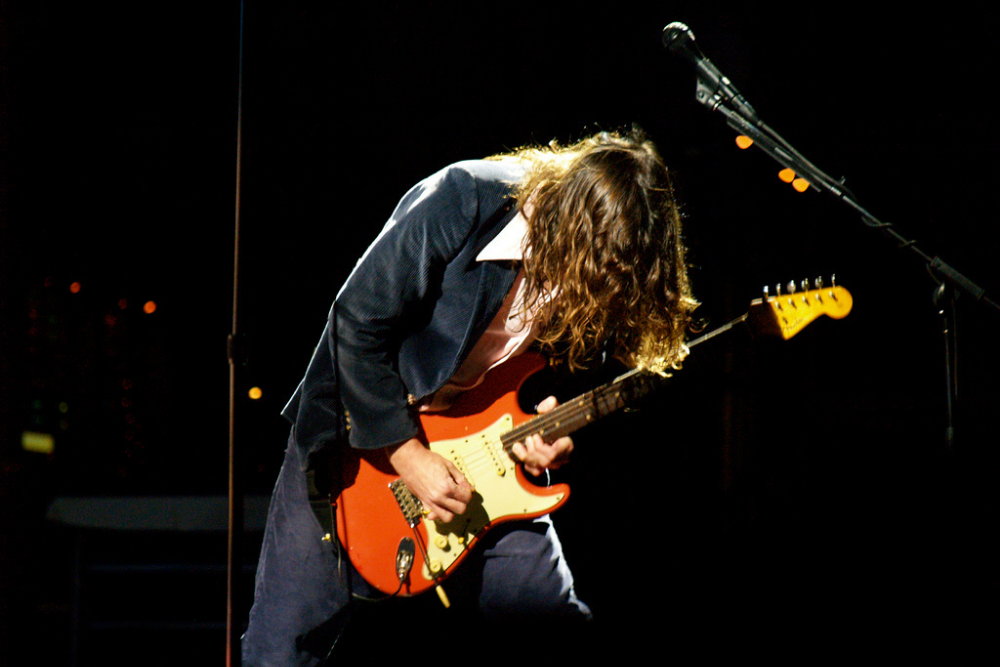 Trickfinger: Guitar Virtuoso John Frusciante's Electronic Alter Ego
Image Credit: Chad Carson under CC BY-SA 2.0  License – No changes were made to the image.
Guitar effects god, funk-rock luminary, and Red Hot Chili Peppers (RHCP) veteran John Frusciante released his third album as Trickfinger in April, 2020.
To cut a long story short, the new album She Smiles Because She Presses the Button is an eclectic and ambient collection of some of the most infectious and mind-bending contemporary acid house tracks. With just six songs, the painfully short album is reminiscent of Kraftwerk's pioneering b-boy techno while echoing the unpredictability of alternative, neo-psychedelic ambient artists like Prefuse 73 and Isotope 217. Equally at home in the dark pulsating corners of a nightclub as it is alongside a psychedelic-driven introspective journey, She Smiles Because She Presses the Button almost feels like a long-walk through the evolution of acid house and electronic music itself.
Truthfully, it's a similar story for Trickfinger's two previous albums. While both Trickfinger (2015) and Trickfinger II (2017) have had very little attention outside of Frusciante fans who know him from being the founding guitarist of RHCP, stylistically speaking, these albums are no outliers in the world of acid house. As one of the most influential electric guitarists from the '90s alternative rock scene, it's quite surprising how Frusciante's able to dish out what already sound like club standards. What's not surprising is that Frusciante also has every Roland-TR drum machine model in existence, along with a variety of synths and guitar gear in his personal studio, these combine to provide the palette with which this guitar virtuoso slashes new paths in electronic music. If you're an RHCP fan expecting a similar sound to the band, you might be a little disappointed.
Apart from the funk-inspired grooves and occasional guitar solo, all three albums and the other efforts by Frusciante as Trickfinger sound nothing like his work in RHCP. However, there's no doubt that they're all approached with the same electronic virtuosity that the multi-instrumentalist pours into everything he makes. In fact, while some fans have criticised Trickfinger as nothing more than an experimental side project, long-time Frusciante followers know that he's always been obsessed with electronic music, as evident by his crowded pedalboard, which he wields with relative ease.
Way before Trickfinger's first self-titled album, Frusciante hoarded and experimented with a variety of distortion, pitch shifter, phaser, and other guitar pedals to achieve the seminal guitar tones with which he has somewhat unwittingly influenced current and future generations of electric guitarists. Out of the different units on Frusciante's pedalboard, the MXR Micro Amp boost pedal and its ability to prevent drop off in a lengthy signal chain has always been a mainstay. He uses this boost pedal not only to fine-tune string dynamics but also to ensure signal integrity over his long chain of guitar effects units. And while the pedal world might seem alien to house music fans, Frusciante's actually not the only electronic musician with a penchant for guitar effects pedals.
Apart from using a variety of Roland synths and drum machines, Manchester-based DJ and producer Gina Breeze also runs her main instruments through the CS-3 Compressor pedal. Similar to Fruciante's MXR boost, the CS-3 Compressor is a dynamic pedal which directly effects the signal input, in this case compressing the overall signal to balance out audio levels. In short, there are really no rules about how electronic musicians should be making their new stuff, and Breeze and Frusciante are just two of the many DJ-producers out there willing to experiment with anything they can get their hands on.
Trickfinger is living proof that virtuoso multi-instrumentalists are exactly what acid house needs amid the most eclectic time in the history of music production. And if you're looking for contemporary house with a firm grasp of acid music's roots in hip hop, funk, and psychedelia, check out She Smiles Because She Presses the Button.
Grab She Smiles Becasue She Presses The Button from: https://acidtestrecords.bandcamp.com/album/trickfinger-she-smiles-because-she-presses-the-button
For more info please check:
John Frusciante / Trickfinger Facebook: https://www.facebook.com/Johnfrusciante
John Frusciante / Trickfinger Soundcloud: https://soundcloud.com/jftrickfinger
Gina Breeze Facebook: https://www.facebook.com/ginabreezemusic
Gina Breeze Soundcloud: https://soundcloud.com/ginabreeze
Tags:
acid house
,
Gina Breeze
,
John Frusciante
,
Trickfinger