Jaegerossa talks about Scottish House & Disco Festival, Midnight Riot, Platinum City and drops a classy mixtape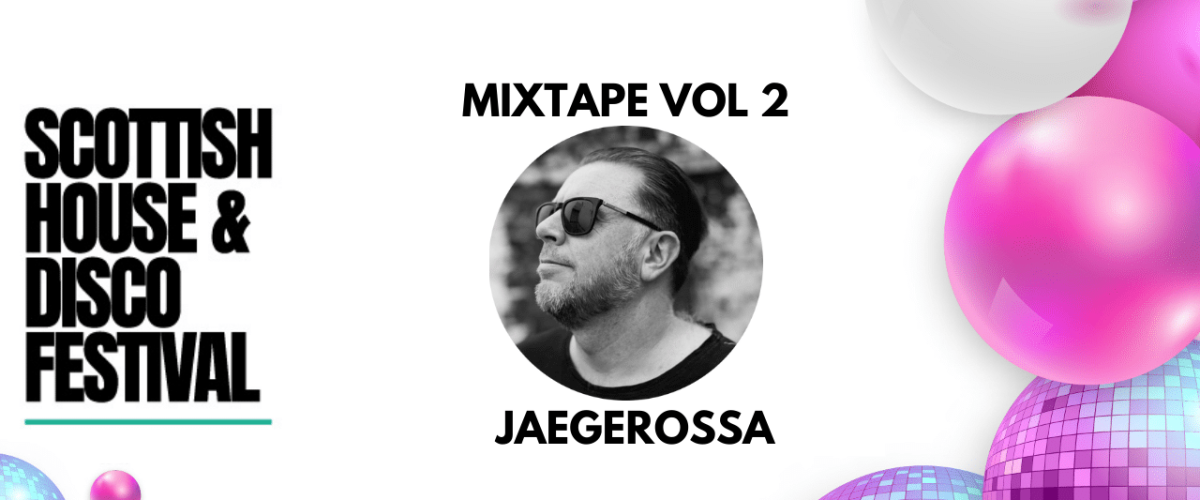 Jaegerossa talks about Scottish House & Disco Festival, Midnight Riot, Platinum City and drops a classy mixtape
Following on from our feature and mix with Queen & Disco last week which you can check here, next up to the plate as part of our Scottish House and Disco Festival coverage is one of the gents of the scene Jaegerossa. One of the heads behind one of Disco's most prolific and loved labels Midnight Riot, Phil the man behind Jaegerossa has been a dedicated clubber, music lover, DJ and producer since the 90's. Along the way he has had some serious success under a variety of monikers including most recently as the chart topping Platinum City. Ahead of the festival I spoke to Phil in depth about his musical upbringing, his career, some of his hits and near misses, Midnight Riot and Platinum City. As you would expect he has some fantastic stories.
You can catch Jaegerossa as part of a packed bill on April the 16th at the Scottish Disco and House festival. Grab you tickets here: https://bit.ly/SHandDF
Jaegerossa also put together a Scottish House & Disco Festival Mixtape for us packed with exclusives. Make sure you give it a listen and PLEASE give it a share over on Soundcloud and help us spread the word.
Hi there Phil,
Thanks for speaking to us today.
Beginings
Right let's go back to the very start. Where were you brought up and what was it that led to your lifelong interest in music?
I was born in Preston hospital in 1973. God, this is going way back isn't it. I was a child to older parents. So I've got two older brothers and there is a 20 year gap between us, so I've got a brother who's 68 and my middle brother is 56, so I was one of three. So bizarrely, my mom and dad really aren't massively musical, but my dad was a frustrated singer, and he was an amazing singer. But music was so prominent in my life just from being born, really, because there was a piano in the front room. So to put it in context, my older brother Thomas is, I suppose you would class him as a polymath, he's got several degrees, a master's degree in maths, a master's degree in zoology and botany, he went to Oxford uni. He's also a grandmaster at chess, a swimming teacher and a school teacher and he's also a classically trained pianist, so he can give concerto recitals. He's an amazing guy. So you can imagine how I was brought up with him playing Beethoven and Rachmaninoff. I knew all those at like, four and five. And then he would play a lot of Ragtime jazz. And then my mom and dad were heavily into music, like massively. So every Sunday was telly off. music day. So I'd come down, and we'd have a top system whenever, you know, all separates and my dad was into Motown, soul, Tina Turner, Gladys Knight, they were his favorite's.
And then there was my middle brother Paul. He's a virtuoso bass player, and he was a punk. So Thomas is the oldest, he was a hippie and Paul was a punk. When I was 10 I could tell you who was the lead singer of Weather Report and I knew Stanley Clark and I knew who Japan was. So I had the soul of Motown and the big voices and the singers and then I had the classically trained pianist every day and I had all the Punk. It was just an amazingly musical house constantly, but then there were a lot of counter counter culture influences as well. So it was only gonna go one way and it was a musical way, I suppose.
First Records
You are well known for your love of disco and house. When did you first get into the club scene and can you remember any of the first records that you loved?
Yeah, in the early days, my first influences, were first Weather Report, if you listen to some of the early stuff from them, and early punk as well, which imorphed into that sort of Blondie vibe, that was the time when you had that amalgamation of disco and hip hop and punk and it was all mixing together. One of the biggest records for me when I around 10 was Blackmarket by Weather Report, I knew all the tracks individually and it was a really massive influence on me when I started getting into music. It's not necessarily house or disco but from that modern jazz funk movement in the sort of early to mid 80s.
My dad was playing a lot of Gladys Knight so that was also a massive influence, I used to love Gladys Knight. When I got into buying records, I was a massive hip hop fan and that was my first foray into that world in the 80s. But I think the first ever record that I ever bought was House Arrest by Krush. I was 13 years old and it was the first 12 inch record that a bought. It was like a kaleidoscope, it was syncopated with a woman with a hook singing "if you're looking for love don't follow me. We got we've got this house under arrest". So that was my first foray into the music that led me on to disco and house.
First club nights
Can you remember any of the first club nights that you attended and were there any DJ's who really stood out for you?
Yeah, definitely. So being six foot three, when I was 14 and 15 back in 1987 I remember trying to get into places and not being able to get in. I had a teacher at school when I was in the fourth or fifth year and she used to go to the Blackburn acid house parties. And there was a little group of us at school and I mean, five or six of us that were really into house music, and we loved it and she used to show us the acid house parties at lunchtime on video that she'd been to at the weekend. If I ever saw Mrs. Faircloth now I really want to thank her because she was so cool. So nice.
And then in about 1988 I got into a place called Park Hall in Chorley which bizarrely, and you're not going to believe this, was voted the best club in Europe at that point. It was unreal you know, it was Thursday night and you'd have Alistair Whitehead and Sasha and K-Klass. There was no bigger Thursday night in the whole the north of England. I'd always been into music, and I knew about records because I was buying them and I knew this thing that was coming through with DJ culture and I started understanding it and I heard Sasha doing Leftfield and Whitney Houston live and it was my DJ epiphany. I was like, what's going on here he's put a banging house record with this Whitney Houston vocal on the top. I just saw the crowd and it was like, he was creating something here, this is not just DJing, he's creating a moment, he's creating a space and a movement. I still remember it to this day.
First steps into DJing
When did you start to DJ and what were you spinning at the time?
So in around 88/89 was the first time that I started DJing. We had odd turntables, a Sony turntable, which didn't even have a proper belt drive on it and we had a really early Technics copy along with a Realistic mixer that we got from Tandy. A friend of mine called Mick Murphy, we'd be in his bedroom djing. He was a big clubber before me and he'd be at Eastern Bloc every week buying imports. We would buy a lot of the early Chicago stuff and we were massively into my all the warehouse rave albums and the early Frank De Wulf and a lot of the more euphoric stuff like TNT Italian, the real pinnacle of Italian house. I remember Twin Hype too, you know, Kid and Play had a remix. We used to be into stuff like that, but then you didn't have genres at that point it was all just house or disco. So when you would go to parties you would have Chic being played and then you'd get early hip hop and you'd have house and then you'd have acid and then you'd have techno getting played. It wasn't all broken up into the genres at all.
What was the best bit of advice that you were given when you were starting out as a DJ / Promoter?
I think back then, there was a hierarchy and I was always the young one. Because the scene was being written around me, the rules were blurred, there weren't people telling me what to do or what not to do. What I did learn at an early age was how to warm up properly in the early days of me playing on vinyl. I would go and play vinyl for six or seven hours, for no money, just to get my foot in the door. In the very early 90s, I learned never to overtake the guest DJ. I learned how to control situations, I learned how to read crowds and I learned how to duck when a can of Red Stripe was thrown.
Ibiza
Back in the 90's you had gigs in Ibiza, what are you memories of that time?
I spent a good few weeks in Ibiza in the mid 90s. I remember going to the opening of Space and there was a procession of fruit, that was real. And I remember being in Space, and I'm a massive Jamiroquai fan, and he was dancing, like literally right beside me with a fur jacket and no top on but it took me an hour to realise it was him. We did the opening of a place called Kanya cafe, which Tony Anetto used to own. We did the opening party at a club in the middle of San An called Play Two and we did the milk bar. So we did a few places, but never really any of the big clubs. Again, I was just a nobodyand no one knew who I was. I was blagging my way into places. So yeah, it was a good time to be there. We're actually going back there this this year for Midnight Riot, which is going to be great. I can't wait.
Midnight Riot
Coming right back up to date you are now well known for your work with Midnight Riot who are celebrating their 10th Anniversary this year. How did that all kick off, and what is the secret of the labels success?
So back in the day when Jaegerossa was two of us, me and a guy called Chris Hunter, we did a disco edit and Andy put it on his Mixmag mix. Back in those days a Mixmag mix would get 10s of 1000s of plays. I just happened to message Andy in the early days of social media on Facebook and say thanks very much for your support. That's how we started talking and we kept in touch. And then I got really friendly with Mickey Oliver from the Hotmix 5, what a guy, you know, the true untold story of House music, amazing guy, amazing story, amazing back catalogue of music. And then we started sort of working together on that and we ended up producing together. This was about eight years ago now. Andy asked me at that point, do I want to be an A&R for Black Riot? I was the first one. He had literally just created it and it's just sort of organically grown from there.
There's only two of us and we keep it really tight in terms of what we do and and how we manage things. I think we've grown over the last couple of years and we've never been busier than we are now. You know, in terms of the quality of releases it's 50% / 60% better than it was two years ago. I know I'm doing well, because the other day, I always had this joke saying I'm a regional tea boy, and he actually called me up and said, "I think you can stop calling yourself a tea boy now. I think you're a bit more than that at the label". And he doesn't give compliments very easily, Mr. Williams, so that was a big thing for me. Andy honestly from a production standpoint, his musical ear and his ideas is amazing. We have a bit of a family mentality in terms of how we run things. Everything's done as a cottage industry. We're not a big Defected or a big Toolroom. We're not like that. There's me and Andy when it comes to it so we're the A&R department, the marketing department, the production department, the social media team, the podcast host, the bookings and events, and everything. I think a lot of people like that, that they don't have to go through a catalogue of people to get to somebody. Whereas it's like, no, you're in now. That's it.
If you had to pick just one release that you are most proud of that you have worked on for either Midnight Riot or it's sister label Black Riot other than your own what would it be and why?
Oh, my goodness. I think a recent one I think I was really proud of and this was Platinum City 'Change' it was one of the only records I've ever heard that's been played simultaneously by Horse Meat Disco and, and it got played by Melvo on the same day, on the same stream.
And there's a few things coming out, which I'm really proud of at the moment. I think Platinum City Arthur Rocks has done really, really well and caused a little bit of a stir. It turned out fantastically well. I think in the early days, there was a Buckley remix that I did on Black Riot, which did really really well. I was really proud of that, but There's so many that I've kind of lost count of the stuff that we've done.
Favourite career stories
You have been producing for a number of years, what is one of your favourite stories from your career?
I think when we got on Pete Tong, that was a big thing, it was massive. IT was around 10 years ago, when it was Chris and I and we did a track called Move Your Body which was quite a house track. The story behind that is unbelievable. We had a track that sampled Alex Nari, an original Italian house track and we couldn't get the pianos quite right. We were good friends with Grant Nelson and had been for years and years and we just sent the track and Grant Nelson played the keys on that. I love Grant, he's a lovely guy. I had been booking K-Klass for my club night and Bobby sang on it and she created this amazing vocal. We also knew Sarah Favoritism quite well so I sent it to Sarah and she loved it and signed it to her label. Bizarrely we did this dub thing as it was just around the time when the guy from LFO had just died and we made this record which incorporated a bit of an UFO baseline sample and we called it the C&P factory dub. Favoritism has as a good relationship with Radio One and unbelievably we got the email said it was gonna get played.
So the story of how we actually got played was that Pete looked at it and went oh wow a C&C factory dub and thought Robert Clivillés had mixed it and put it in the show and he rang Robert up and Robert said no, that's not me. That ended up with Robert Clivillés contacting me and Chris directly, saying I love this record and will you remix me new single? So within the space of three months we ended up remixing a Grammy Award winning producer. It had the lead singer of chic on the vocal. It went out to the Southport crowd and became a bit of an underground anthem but never got released. A few months down the line another extremely famous producer lifted our music from it and used it for a remix but that another story entirely. I think that getting played on Pete Tong is one of the proudest moments if I'm being honest, and doing all of that in the space of six months. I'll tell that story to the grandkids.
Platinum City
Please can you tell us a little bit about your latest project Platinum City?
Platinum City was instigated by a guy that I go to the gym with Nathan, he is a proper audio-phile in terms of music. He has amazing knowledge and an amazing record collection, a lovely fella. He was a fantastic DJ in the early 90s and he used to do a lot of early Soul, funk & disco stuff well before it was massive. We've known each other since we were in our teens and we were talking and he told me he had just done a music production class and had got back into producing music. So we just started doing some bits and and then Change came along. I said we need to have a bit of an name for ourselves so I came up with Platinum City. We did two tracks together, Change and Nothing But The Music. Nothing but the music was a number one and Change got the Glitterbox streams, so for first two records it was going great. For whatever reason though Nathan decided he didn't want to carry on with it so I've persevered with it and carried on and Andy has helped me out with it. I've had a lot of ideas so now it's just become like I know what I'm doing and I've actually got three releases ahead and there's another release coming soon.
We've just done Arthur Rocks which Melvo played out and it had Dr Packer and Michael Gay playing it on his stream and it got to number two. The next ones coming and it's called Enchanted that's got to Packer remix on it and then I've just finished the next one after that.
So it was just an idea really and it seems to have taken off a little bit and it seems to be taking over the Jaegerrosa thing a little bitand I'm quite happy to move along with it. The sound is based on my love for soul, funk and disco but but it's a bit house as well. So it's great man. Yeah, I love it, it's going really well.
You are djing all over the place this summer as part of the Midnight Riot 10th Anniversary. What gigs are you most looking forward to?
April the first we are in London, I'm really looking forward to that because it's me, Al Kent, Danny Kane and Natasha Kitty Katt.  Natasha is just a legend you know, a lovely person, I'm really looking forward to. I've got the Lofts in Newcastle this Saturday with Michael Gray and Moodena. Tim (Moodena) I've known for 20 years, so that's gonna be weird djing with him again but good. And then obviously, you've got obviously the Scottish House and disco Festival and we've got three gigs Ibiza. And this year we've got Mansfield and Manchester, there's a lot going on. We've got more going on gig wise than we've ever had, in terms of Midnight Riot.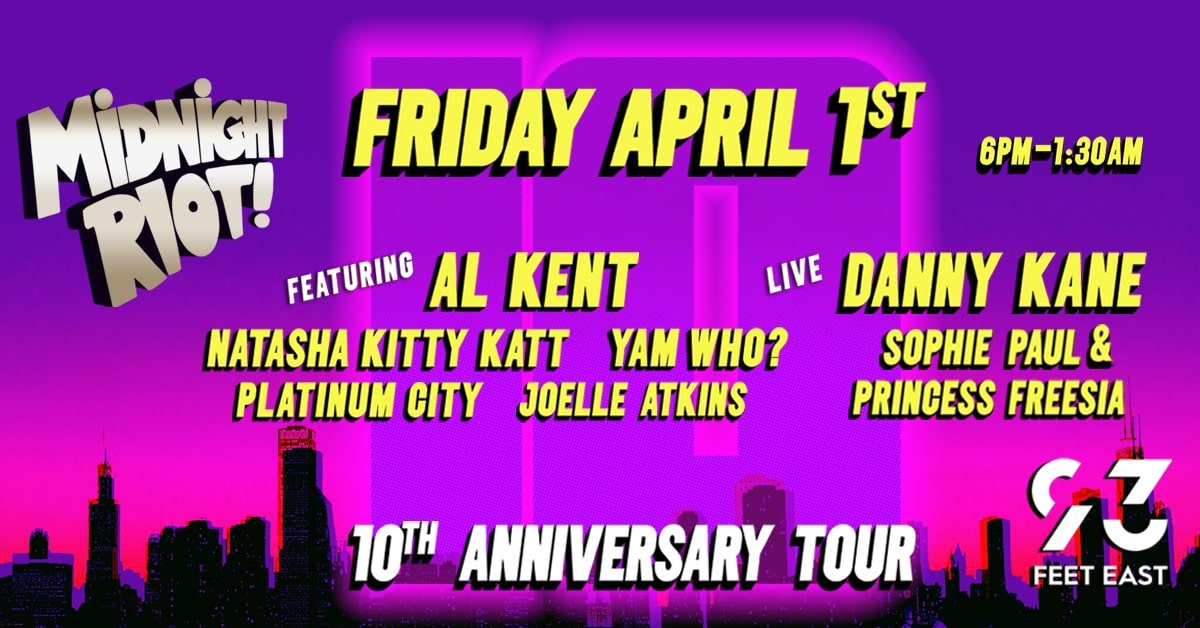 Scottish Disco Festival
You are appearing alongside a star studded lineup at the Scottish Disco Festival. What are your own personal tips for who our readers should check out at the festival?
I think I think everyone's got to check Craig Smith out man, because he's just like, he's a don, you know, he'll play stuff and I'll just go what's that? If you love house music, just go and check Craig out, he's amazing. I think if you want to see the closest thing you'll actually get to be in a disco, you should go and see Nicky Siano. I've seen him a couple of times over the last 10/15 years and it was just it was phenomenal, it was genuinely the closest thing you get to be in a 1970's New York disco.
You have put together a mix for our Scottish Disco Festival mix series, what can you tell us about the mix and what are your favoruite tracks from the mix?
There's some new stuff in there that I've done for me on personal use. There's a Level 42 edit in there, there's the new Platinum city track on there in its really early form, there's a really good Yuksek track on there and there's some good Art of Tones stuff on there. I really respect him as a producer, he's amazing and doesn't seem to do a bad thing. There's a good Herbie Hancock thing that Tom Laroye did, there's a really good Jack Tennis track. There's house, there's Disco, there's a more Latin vibe with the Herbie Hancock track, I tried to keep it interesting. There's a really good new Opolopo track on there which is coming out on Only Good Vibes at the end of this month. Yeah. Peter is just another one next level. So there's a few good bits on there, man. Yeah, it's an interesting one for sure.
What vibe can we expect when we come to check out your set at the Scottish Disco Festival?
As a DJ, one one bit of advice that, I would give it to do your own thing. I listen to other people's mixes, and I listen to stuff but I always take influences from my musical heritage. I'll play a mix again, a lot of re-edited disco stuff and a lot of my own stuff and a lot of personal edits, and maybe some older stuff. And you know, there's so much music to pick from these days. Just play different samples, play different styles, play different genres, you know, play your own stuff, play stuff that other people will have not heard on they can't get hold of. That's cool, man, because you've made that specially for the crowd and it's special to them. I love it when other DJs come up and go what's this? That is the biggest compliment ever. So, yeah, it's gonna be an interesting one that I'm looking forward to playing. I really am.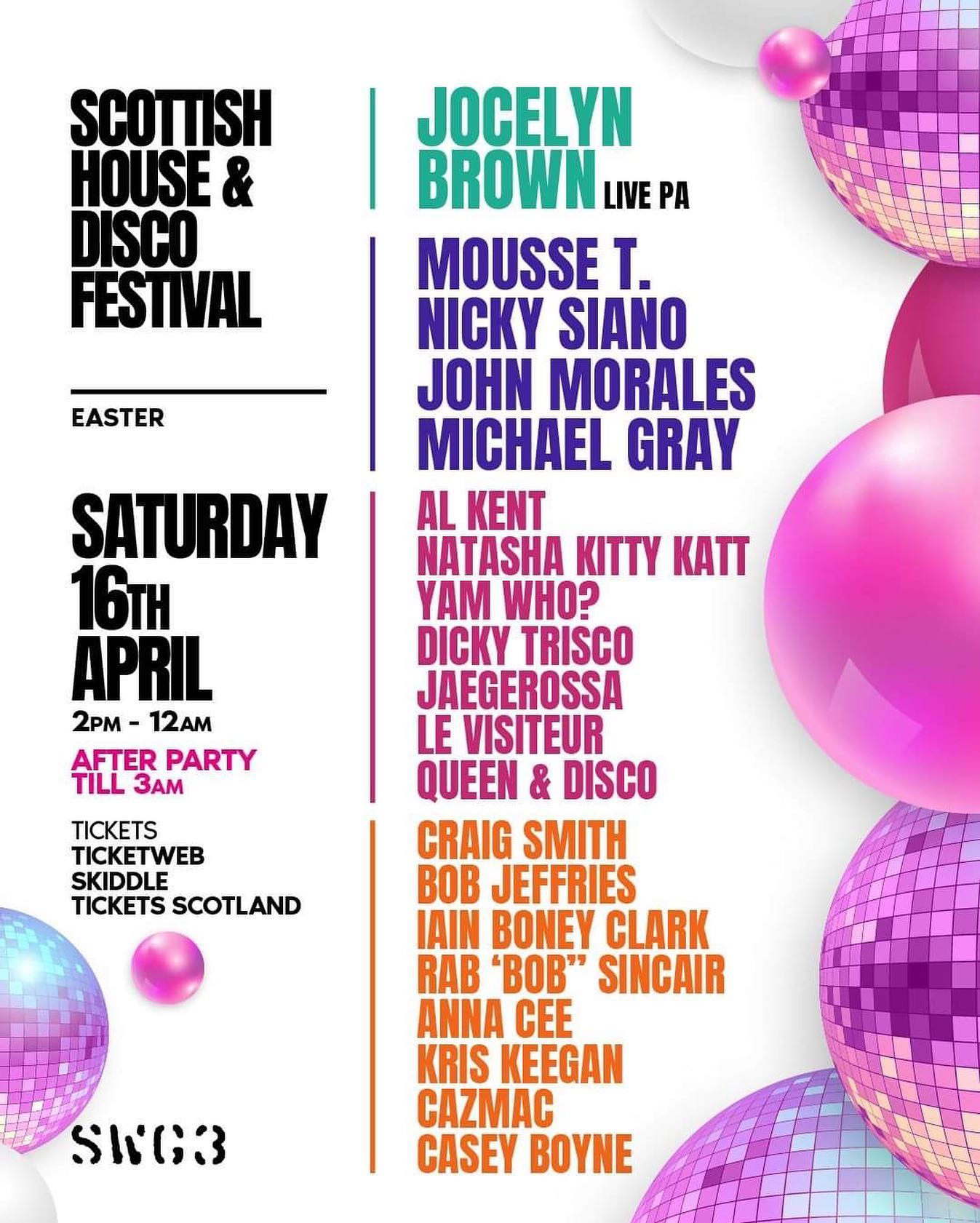 What else can we expect from Jaegerossa in 2022?
We've got a new single Andy and me featuring Suki Soul called Tried Tested and it's turned out unbelievable. We're in the top 10 for pre-orders on Traxsournce with absolutely no promotion, nothing, I can't believe it. And we've obviously got the gigs in Ibiza. There's another new Blackhawks of Panama remix with Yam Who? & Jaegerrosa coming up, there's a new Cooler King single with Leroy Burgess. And just generally just DJing really and carrying on enjoying my residency at Mamasan in Liverpool every week-end and working on the label with Andy and working on gigs and remixes. No massive plan there. It seems to be growing on its own at the moment. I'll just keep putting music out and I'll see what happens.
For more info on Jaegerossa & Midnight Riot please check:
Jaegerossa Facebook: https://www.facebook.com/jaegerossa
Jaegerossa Soundcloud: https://soundcloud.com/phil-rose-1973
Jaegerossa Instagram: https://www.instagram.com/jaegerossa1411
Midnight Riot Facebook: https://www.facebook.com/MidnightRiotRecords/
Midnight Riot Soundcloud: https://soundcloud.com/midnight-riot-records
Midnight Riot Instagram: https://www.instagram.com/midnightriotrecords/
Midnight Riot Twitter: https://twitter.com/MidnightRiotRec
Scottish House & Disco Festival Facebook: https://www.facebook.com/ScottishHouseAndDiscoFestival
For more on the Scottish Disco Festival click HERE
Like what you hear? To help support LV Online buy us a coffee via Ko-FI. Click HERE
Tags:
disco
,
Jaegerossa
,
Midnight Riot
,
Platinum City
,
Scottish House & Disco Festival
,
yam who