Laroye talks about Get Down on Local Talk and his incredible life in music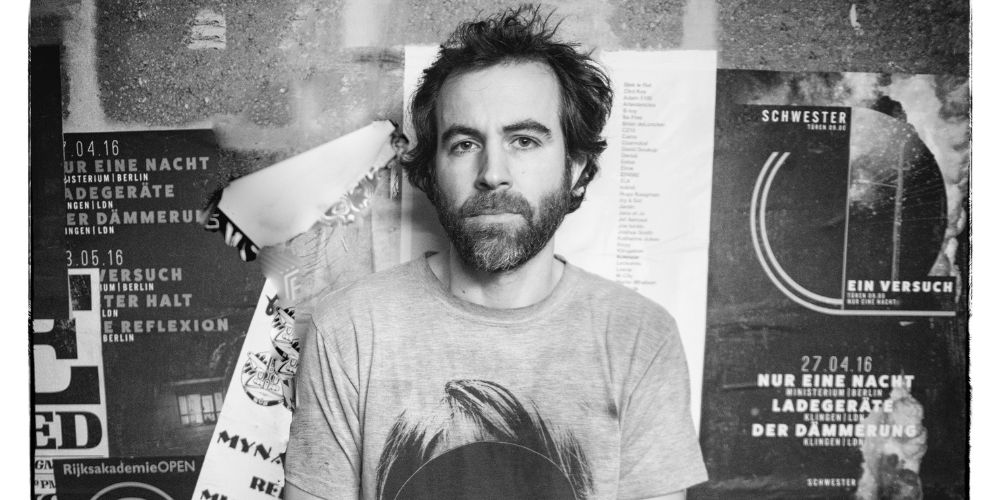 An Interview with The Insider for Le Visiteur
Laroye is an crazy talented artist who consistently delivers scintillating house music on some of the finest labels around including Ocha, Atjazz, Papa, Reel People, Situationism and Local Talk. Indeed it is with the latter that he has delivered yet again with the rather brilliant Get Down which we premiered a few days ago here and which features on Local Talk's 13 Years Later Part 1. You can check the premier below for a taste of what to expect. Safe to say that we are big fans of both Laroye and Local Talk here at Le Visiteur.
13 Years Later Part 1 is an album packed from head to toe with talent also featuring Soul Renegades, Shaka, Alex Attias & Sohan Wilson, Nico Lahs, ManooZ, Envee, Dan Tenor-City & Tom Funk and Rawson & Jackson. Grab it here: https://localtalk.bandcamp.com/album/local-talk-13-years-later-part-1
The Insider spoke to Laroye about the Local Talk album and his fascinating career for Le Visiteur.
Thanks for talking to us Laroye welcome.
My pleasure guys!
Can you paint us a picture of where you grew up and tell us about the music scene there?
I grew up in Sète a little harbor with canals and bridges in the middle of the town situated in south of France. It's lovely place on the coast with sandy beaches. The music legacy there is a strong pride about the French music icon Georges Brassens who was born in Sète and was very popular from the early 50's to the late 70's with his elegant jazzy songs. He is considered one of France's most accomplished postwar poets. But I would say it was mainly my parents record collection ( US and UK 70's rock, soul and Jazz ) plus all the big parties they were doing at home that fed my natural appetite for music.
Was your first foray into music as a young musician and what instruments were you into in your early years?
Around 11 I took a couple of piano lessons, but I wasn't really committed, I was more into my skateboarding tbh! It's more around my 14th when I bought my first electric guitar followed by motorcycle accident a few month later that forced me to lay down for weeks with an injured leg. So plenty of time to practice my first chords and learn a few songs.
I've started to train with music again when I reached my thirties learning the congas with Master Orlando Poleo and then took some harmony courses a few years later to improve my understanding of theory and the accuracy of hearing notes and chords. Still practicing today as regularly as possible.
What kind of music vibe were you into as a teen?
At that time ( 1991 ) I was listening Lenny Kravitz, David bowie, Pink Floyd, a lot of Led zeppelin. I think I watched with my mates their concert movie at Madison Square Garden " The song remains the same " a hundred times. I was obsessed by Prince too, the classic Rhythm N blues of Otis Redding, Motown and also all the sophisticated pop jazz of Donald Fagen, Michael Franks, Al Jarreau, Murray Head, in fact all the records my mum was listening to. Then around seventeen I started to dig into the Jazz fusion of Herbie Hancock, Chick Corea , Stanley Clark, Weather Report and even went to the more heavy Funk Punk metal sound of the ones like Infectious Groove, Mr Bungle , Pearl jam, Fishbone and The red hot Chilli Peppers. My ears also been caught by some more folkish roots sound like Ben Harper who was mixing a lot of blues and percussions within some beautiful recordings. Basically I was listening a bit of everything but always with a solid groove!
Were you stepping out as a DJ in your late teens? Where did you play in those early years?
I discovered House music in 1994 when I was 17 through a Louie Vega mixtape called " United DJs of America " including remixes of Sade, Jamiroquai among US soulful Classics. I was suddenly hearing those really musical tunes played by real musicians bouncing on those electronic beats! It was an explosion in my ears and in my body. My parents had a restaurant at that time on the sea front called " La Voile Bleue " and I remember saying to my Mum and Dad " we should stop hiring bands and start doing DJ nights … I can play the music all night! " So I started to organize my own parties, with hand crafted decorations, big canvas painted behind the DJ branding the theme of the night and making my own flyers to pull the crowd and hiring big Sound system. I quickly realized the importance of the clear and loud bass in that music.
Who are the DJs and artists from back them that you were into?
As I mentioned earlier Louie Vega was a key discovery for me and it led me to all the soulful, deep and disco House from 1994 – Kerri Chandler, Dj sneak, Mateo & Matos, Moodymann, K.O.T, and I think when I moved to Paris in 2002 I started to discover the afro spiritual scene of Jerome Sydenham, Joe Claussell, Ron Trent, USG and Prescription, and later on all the Nu jazz and Broken beat.
When did you start producing?
At University in Montpellier, I met a guy who introduced me to the Software called Rebirth emulating a Roland TR808 drum machine and 2 Roland TB303 (acid bass synthesizer). Then the same guy told me about the SAE, a Sound Engineering School, so I left my home town to Paris to start studying the technical side of sound and embrace the new chapter of my music life.
What was your first release? How do you feel about that release today?
My first release was a remix of Karl The Voice on "La plage records" in 2002 – a soulful broken beat groove. I'm Just listening to it now and I think it sounds pretty good. A lot of musical elements I used are the live takes form the original. I added All the drums and extra synth and re arranged the vocal. I think at that time I was really influenced by The west London bruk sound, especially Kaidi Tatham, Bugz in the Attic, New sector Movement ..
How much has your style changed from the beginning to where you are now?
I wouldn't say I have a style as I'm touching such a diverse palette of sounds and productions. My experience to achieve what I have in my head grew a lot and still expanding. I think my style is more what I am, always trying to create nice melodies and some nicely produced tracks that can be played on a big sound system. If you really want to put some labels to my music it can be Afro House, Broken beat, Deep house, Soulful house, Disco, Boogie, Ambient, Folk Blues and even Pop …
You are well known for blending live instrumentation into your productions. Has this aspect been with you since your early productions?
I think so… that was what attracted me at the first place. The idea was to merge the music I was listening since my early age with this new world of electronic music.
What brought you over to the UK?
I moved from Paris to London with my partner in March 2015, we needed a change of scenery at that time, and I already had a contact with Yam Who? releasing tracks on Midnight Riot Records with Our Boogie project Qwestlife. It was simply a natural move. We ended in a warehouse, a community space in North London, between Seven Sisters and Tottenham, living there with 12 artists. It was a lot of fun and a great way to start from scratch in the great London city.
Do you feel that the UK broken scene and those artists impacted your sound at all?
Yes. It was a serious discovery the first time I heard this music. I think IG Culture and his New Sector Movement Album " Download This" literally blew my mind and of course the genuine releases of Dominic Stanton aka Domu. I felt that sound was a perfect combination of the jazz fusion I loved with the afro and syncopated groove twist … my body couldn't help it, the dance was the evidence.
Can you highlight to us three of your most important releases ?
Qwestlife " Fever ", a collaboration with the legendary Sugar Hill Gang and the Furious five members joined by the award winning song writer Siedah Garrett (Man in the Mirror, Don't Look any Further). I also did a Laroye mix of this tune which has been played worldwide massively.
"Listen to your heart" is my first connection with soul Legend Frank McComb who shared the stage with Prince, Chaka Khan, Frankie Beverly. I think that was a great introduction for me about the idea to work with some hi level musicians and artists. It gave me the confidence to trust more in my musicality.
Laroye & Lee Wilson – "Beautiful" I think this track is a good representation of my work in the afro soulful sound, combining nice melodies with some solid afro-house rhythms.
I would add a fourth important tune. "Precious Day" Feat Humphrey is a track I composed and wrote almost 20 years ago. I always loved the melody of the song but never had the opportunity to finish it. The demo stayed in my hard drive for all those years. It is only in 2021 with the support of Foliage records that I could record a bunch of amazing musicians to achieve it and make a proper release.
Who do you think is making great music right now?
What is making "great" music? I think it's something so subjective in fact. I would say there are so many talented guys out there in many different styles. I can feel sometimes overwhelmed about the quantity to listen to. I would say some artists who are different and have some great concept and not afraid to approach things differently like "Sault" "Allysha Joy" "Floating points" ambient Artist "Ann Annie" "Harvey Sutherland" "Khruangbin" "James Blake" "Jordan Rakei" "Stimming".
Where are you based these days?
I am based in Brighton. I'm mainly doing some live ambient sets with my modular system and my lap steel guitar, mostly some experimental events around here. I'm also preparing a gig to present a new singer songwriter I'm producing at the moment. Brighton is a great place to try out new sounds as the scene is really alternative and open minded.
What kind of vibe might we hope to hear in a Laroye set today?
I would say some afro house, deep house, techno, Jazz Fusion, afro Cuban classics, Disco and boogie anthem and reedits, Jackin' house and Classic house from the 90's.
Can you give us three of your current faves/ hot tunes in your bag?
Demuir – Mind body and soul. Call me
Kosmo kint – Too big (Atjazz remix)
Moods – treat you good.
Are you working a live performance currently?
I'm working on a new set up with a full live band called Macaq. I'll be joined with Abi Flynn and Jerry Clavier on vocal and all the musicians from the group including bass, keys, drums and guitar. I'll play some congas and bit of slide guitar and certainly a flute player will join us on some tracks. I'm gonna perform with this full band in London on the 8th of April in a venue called the Waiting Room.
You are in fine company on LT's latest album. How does it feel to be part of the 13 Years Later comp for Local Talk.
It's great to be part of that project surrounded by friends and artists I respect a lot. I've always been amazed by the quality of music Local talk was releasing over the years. Also this is a great way to introduce my forthcoming Debut Album on the label which will see the light this summer.
What other projects are you working on that you can share?
I am working on a new EP for Freerange records, I have also a new project in the making featuring Rona Ray and African singer Idd Aziz to be released on Ezel's imprint Bayacou records.
When you're not making music, how do you like to chill down?
By watching a great movie – vintage dystopian or thriller happening in the late 20's. I also love to cook a nice meal and bake a cake, almost every weekend! Spend some quality time playing with my little 6 year old boy and have a nice walk with my partner in the nature or by the sea front.
You have spent a lot of your life dedicated to music. If you didn't follow this path, what else do you think you would have done?
Certainly, still something creative! I would have loved to build wooden houses as a carpenter as I love wood and the smell of pine trees.
For more info on Laroye and Local Talk please check:
Laroye Facebook: https://www.facebook.com/tomlaroyeofficial/
Laroye Soundcloud: https://soundcloud.com/tomlaroye
Laroye Instagram: https://www.instagram.com/tomlaroye/
Local Talk Facebook: https://www.facebook.com/LocalTalkRecords
Local Talk Soundcloud: https://soundcloud.com/localtalk
Local Talk Instagram: https://www.instagram.com/localtalkrecords/
Local Talk Twitter: https://twitter.com/thelocaltalk
Love this? Check out more from Local Talk here
Like what you hear? To help support LV Online buy us a coffee via Ko-FI. Click HERE
Tags:
Laroye
,
local talk