Late Nite Tuff Guy talks about remixing Silk's Somethin' 'Bout The Way, Prince, his favourite career and producer tips and much more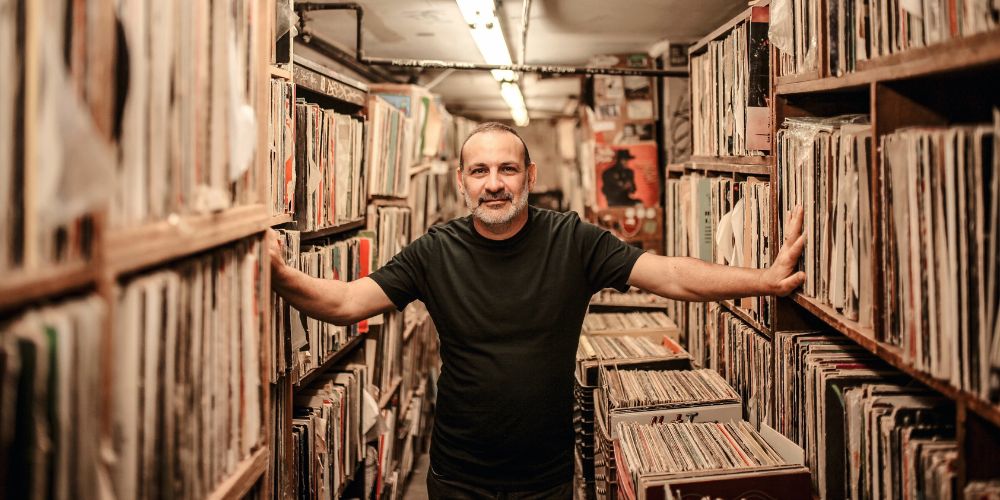 There are very few artists today whose star is so intertwined with the renaissance of a whole genre as Late Nite Tuff Guy. There right at the start of the green shoots of rediscovery he leveraged the power of the then nascent Soundcloud to spread his own gospel of disco across the globe. Creating some of the finest edits and remixes of the day LNTG would help spur a whole generation of producers into action leading in no small part to the vibrant and exciting scene we have today.
His work from that period has more than stood the test of time, more re-inventions than re-edits Late Nite Tuff Guy showcased how to re-imagine often household tracks into something new, exciting and vivacious. His work has continued at a pace over the years creating a discography to be envious of and he is still in strong demand as a go to remixer for some of the finest labels out there including delivering remixes for the likes of Salsoul, West End, High Fashion, Glitterbox and South Street. Indeed his remix of John Rocca on the latter, which we covered HERE, is one of our remixes of the year so far.
His latest remix see's him step up on something of a holy grail, a previously unreleased Silk track, Somethin' 'Bout The Way, from their classic 70's period. Delivering a sublime re-work he has brought the track bang-up-to-date for the modern dancefloor with smooth pianos, pumping bass and plenty of percussive swing all adding dancefloor groove aplenty. It's the perfect backdrop for what is a ridiculously classy vocal.
Somethin' 'Bout The Way is out now on the stand-out label A's & Bee's and as always 50% of profits from this record go to the British Beekeepers Association.
Grab this superb 12″ from https://www.juno.co.uk/products/silk-somethin-bout-the-way-vinyl/949258-01/ and you can also download it via: Beatport, Traxsource & Juno Download
You can check our premier of the LNTG remix below and I also managed to track him down for a very rare chat about the Silk remix and his long and incredible career.
So how did you first get involved in the music scene, was there lots of music around you in your childhood?
Yeah, there was always music around and the one thing I remember is when I was really young, and my parents had a party at home I was always in charge of the music – the irony right? Dad had a good selection of music predominantly 7 inch records and before I was old enough to buy my own Mum would buy records for me. As far as how I got started it kinda went like this.
One night I was at a club that I used to really like going to and I knew some of the staff including the bar manager and the DJ didn't show up and guess who was asked to play that night? They had an in-house record selection and the rest is history.
You have had a pretty amazing career first establishing yourself first as techno/house DJ HMC in Australia and then as the worldwide Disco and edits sensation Late Nite Tuff Guy. Tell us about your journey to where you are now?
When I think back to the early DJ HMC days I've been so fortunate to have my music heard and played around the world – remember back then we didn't have the advantages we do now with our global connection. The evolution from HMC to Late Nite Tuff Guy was pretty organic – I'm a DJ who moved into production and I'm simply a music lover.
When you're raised on a diet of people like Giorgio Moroder and Kraftwerk is it any surprise that I've landed where I have haha! But seriously I believe there's always been a connection with disco and techno and I like both of my personas for different reasons. I can't imagine my life without music.
What was it that prompted the evolution from DJ HMC to LNTG?
There was a time, a while ago now, where I felt like I'd hit a bit of a wall creatively with both my production and DJing so I thought it was best that I just step away.
After a significant break I was offered a club night and really wanted to play some of my all-time favourite tracks and artists. The problem I found was as great as the tracks were I wanted to make them more user friendly for me to play in my sets so it was off to the studio and that became the origins of LNTG.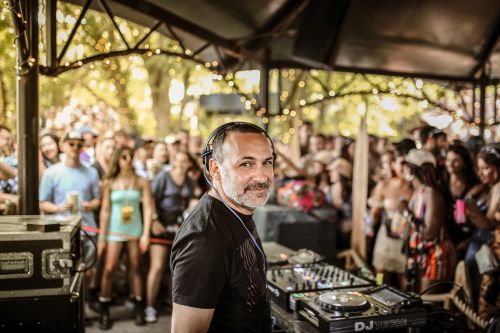 Late Nite Tuff Guy Spike Stage Glastonbury
You will have seen an incredible amount of change in the industry during your career. Do you think what it takes to be a successful artist has changed a lot or do the fundamentals remain the same?
I think the key to a career in music and longevity is hard work, drive, determination and passion, but more simply to love what you do. I also think what's important is to always keep evolving and listening and never stop growing as an artist.
I'm pretty self-critical with my work so by the time you hear something it's been through a long process of me trying to make it as perfect as I can. People can feel the love I have for music because they feel it too.
Can you give us a few tracks which you would say are quintessentially Late Nite Tuff Guy and which had a real impact on your career?
'One In Nite A Disco' is a track that was really the start of the LNTG journey.
I chose that track because as a 16 year old that was one of my all time favourite tracks to play – just me in my room.
'I Get Deeper' was a breakout track for me internationally. It's the simplicity of that track that makes it so infectious.
If I can be a little indulgent with this one, can I say how much I love my version of Chaka Khan's 'I Know You I Live You.' Still gets played in my sets today.
What would you say is your proudest Late Nite Tuff Guy moment?
There's quite a few but I think getting remixes on the Salsoul Label is right up there and something I'm very proud of.
You really leveraged the power and early energy of Soundcloud when you hit the scene as Late Nite Tuff Guy. Do you think that sort of success on that platform is still possible today?
I think initially Soundcloud was a great platform for me personally because so many people used it and I loved the immediate response I would get when I would post something new.
There are so many ways people find their music these days and that in some ways makes it more difficult to have your music heard because the focus is much broader.
I think I'm lucky because people who like what I do tend to share it with their friends which I love.
Tell us about your latest remix, Silk's Somethin' 'Bout The Way which has just been released on A's+Bees?
When I first listen to a song project, I'm looking for that certain something that grabs me and I certainly heard it in the Silk track. I really like the catchy simplicity of the melody and sometimes like it was with this things come together really quickly.
I had fun with Somethin' 'Bout The Way.
The Disco scene continues to evolve. Which producers do you think are really pushing the scene forward?
The essence of what we call Disco can be found in so much music, so I think it's influence is undeniable whether you're a fan or not.
There are so many producers doing great work in the space so it's really hard to single them out. I think Purple Disco Machine has been doing some great things – I get inspired listening to other peoples' work and interpretations.
Give us 3 of your favourite production / edit tips for the benefit of budding producers.
All production is something that you never stop learning and trying to improve upon.
I'm pretty much self-taught so If I was to offer any advice it would be to just keep at it – it's trial and error so trust your instincts and just try to enjoy the process.
If you're having fun hopefully that feeling will come out in the finished product.
I predominantly use Ableton and Logic and both are great for different reasons – but I'm not about to give away any trade secrets haha!
You are well known for your love of Prince and touring with your Prince Tribute show. Can you give us a Prince song that is maybe a little off the beaten track that everyone should know.
Not really off the beaten track as it was released as a single from the Parade album but I think Prince's 'Mountains' is an amazing and very underrated song.
Have you got any upcoming gig dates that you are really looking forward to?
Yes I'm off to Bali in August to play an amazing venue Savaya with the super talented Flight Facilities and I have some great Australian dates coming up and I'm maybe going to squeeze in a little tour of Asia as well. Return to Rio in New South Wales in October is one I'm really looking forward to.
What can we expect to hear in a Late Nite Tuff Guy set right now?
Well I never pre prepare any of my sets before I play so it's always a bit of a lucky dip. A lot of what I play is influenced by my audience – I love doing it that way.
So what's in my sets? Hopefully nothing but great music.
What else can we expect from Late Nite Tuff Guy in 2023?
I have so many music projects that sometimes it's a bit daunting – my focus now is to try and offer something that challenges both myself and the people who like what I do so watch this space and please come along for the ride. LNTG
For more info on Late Nite Tuff Guy and A's & Bee's please check:
Late Nite Tuff Guy Facebook: https://www.facebook.com/LateNiteTuffGuyOfficial
Late Nite Tuff Guy Instagram: https://www.instagram.com/late_nite_tuff_guy/
Late Nite Tuff Guy Twitter:  https://twitter.com/LateNiteTuffGuy
A's & Bee's Soundcloud: https://soundcloud.com/asandbees
Love this? Check out another recent scorcher from LNTG HERE.
Like what you hear? To help support LV Online buy us a coffee via Ko-FI. Click HERE
Tags:
A's & Bee's
,
Late Nite Tuff Guy
,
LNTG
,
Silk