Le Visiteur's Top 10 Prince Tribute DJ Mixes Streaming Right Now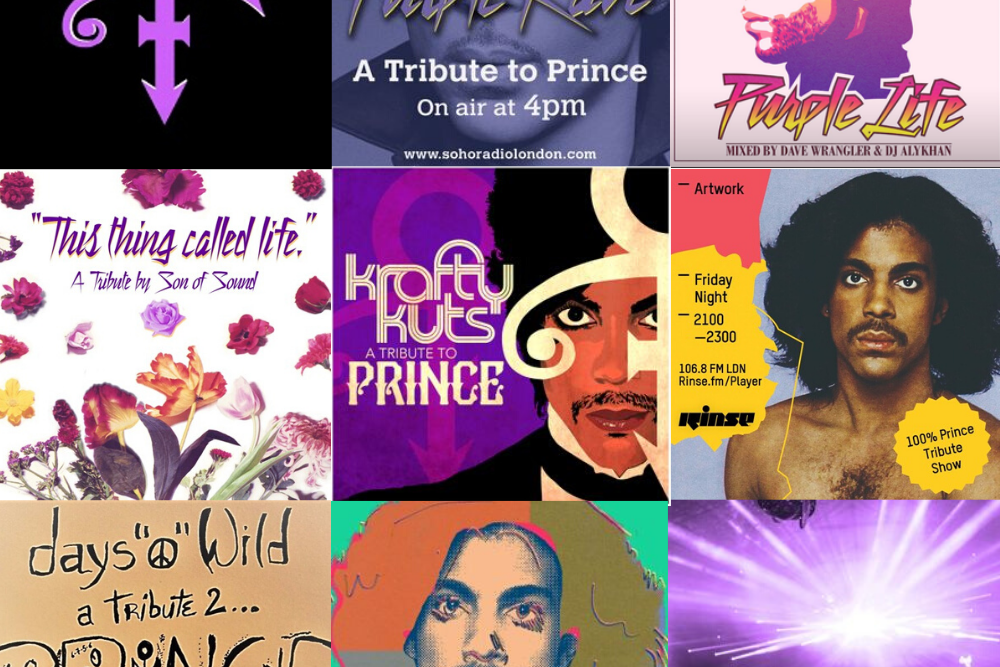 Le Visiteur's Top 10 Prince Tribute DJ Mixes Streaming Right Now
Following up our first two Prince birthday features where Hifi Sean picked his Top 10 favourite Prince tracks and shared some of his stories of how his career intertwined with Prince (Check HERE) and our own Top 20 Prince edits, remixes and tributes (Check HERE) I am finishing off our trilogy of features with a list of my Top 10 Prince DJ Tribute mixes.
There are a multitude of Prince mixes online and I have had a good trawl through them. The vast majority are a run through the classics which is all good and well but I was looking for the ones that go that extra mile. The ones where you can feel the love and passion for the finest recording artist and performer who has ever graced the planet.
I'm looking for the true fans with an extensive Prince collection who have trawled the b-sides, the dusty cassettes, the one-off releases, live shows, rare promos and exclusive edits. Of course there are some classics in there too but they are mixed with the side projects, dubs and rarities.
10: DAYS 'O' WILD MIX (A TRIBUTE 2 PRINCE) by Scott Bootie
Scott Bootie mixes up 70 minutes of live tracks, bootlegs & funky gems from the kid from Minneapolis. A strong selection of tracks focused on the some of the heavier Prince grooves!
9: Purple Rave, A tribute to Prince – Rob Da Bank (22/04/2016)
A tribute to the Legend that is Prince. Bootlegs, originals and tracks inspired by Prince collated by the man behind Bestival and long time Prince fan Rob Da Bank.
8: This Thing Called Life (A Tribute To Prince) by Son of Sound
Brilliant Brooklyn house producer Son of Sound comes up trumps here. I'll let him describe his mix: "I put together a tribute mix of some of my choice Prince joints. I also added some sound bites and dressed it up. Sorry no Purple Rain, 1999 or Little Red Corvettes because we already know where to find those. Don't worry there are plenty of hits, I'm not trying to be a music snob with something to prove either. This project isn't about me at all, it was for me and I hope you enjoy it as much as I enjoyed making it. RIP and once again, thank you.
7: A Tribute To Prince – Krafty Kuts Presents
A selection of inspirational Prince tracks from Krafty Kuts recorded ahead of his exclusive Prince set in Sydney at the Oxford Arts Centre. As you would expect from Krafty Kuts this one has a serious bounce. I just wish it was longer!
6: Soul Clap's Prince Tribute (Recorded live at Coachella Week 2)
Following Prince's passing Bostons coolest musical duo Soul Clap dedicated their whole Coachella show to him. I'll let them describe it: "……we had to dedicate our ENTIRE 2nd weekend performance to one of our greatest musical heroes. Partially planned but mostly improvised, we took the crowd, ourselves and each other on a journey through some of our favorite Prince hits. By the end the Yuma Tent was full of tears and love and dancing bodies, all celebrating the life and music of Prince Rogers Nelson. It was a truly humbling experience, thank you for joining us."
5: If You Feel Like Dancing: A Prince tribute mix by Bill Brewster and Frank Broughton
A words & music tribute for Prince on what would have been his 58th birthday from DJ History and Low Life co-founders Bill Brewster and Frank Broughton. Some great rarities on show here in what is a sparkling set comprising electronic groove, disco edges and a whole range of smile inducing purple gems.
4: PURPLE LIFE: The Mixtape by Dave Wrangler & DJ Alykhan
This is a mix that I have featured a couple of times previously on LV online so it's great to see it still online. Total class from start to finish from Houston's Dave Wrangler and NY's DJ Alykhan. Originally recorded to celebrate the 30th anniversary of "Purple Rain," so unlike the other mixes here this mix predates Prince's passing. 94 minutes of radio hits, cassette b-sides, 12″ mixes and CD single rarities.
3: Rinse FM Podcast – Artwork – 100% Prince Tribute – 22nd April 2016
The brilliant Artwork collates a sublime 2hr show. You can just feel the tlove for Prince flowing through this one as he picks some some of the funkiest Prince jams around. This one is all about the grooove.
2: Dj Pippi a Tribute to Prince-R.I.P.2016 – Unusual Mix
Legendary Ibiza Dj Pippi as one of the very first Ibiza residents is one of the creators of that distinct Ibiza sound which still flows through the veins of the island today. Here he collates a decidedly Ibizan take on Prince. It's a wonderfully different lens to view his music through.
1: GOURANGA MIXTAPE: Luke Solomon's 'Diamonds & Pearls' Prince Tribute
Classic Record Company boss, Freaks member and Defected A&R Luke Solomon gives an exclusive Prince tribute. This mix is extremely special. Recorded live at a Prince tribute event at Dalston Superstore, as Luke described the "result was a collection of personal favourites, overdubbed with loops from different singles, edits that I have done over the years, and interviews I collected."
Love this? Check out more posts on Prince here
Tags:
Bill Brewster
,
prince