LV Selectors 26 – DJ Spen – The Soulful Storm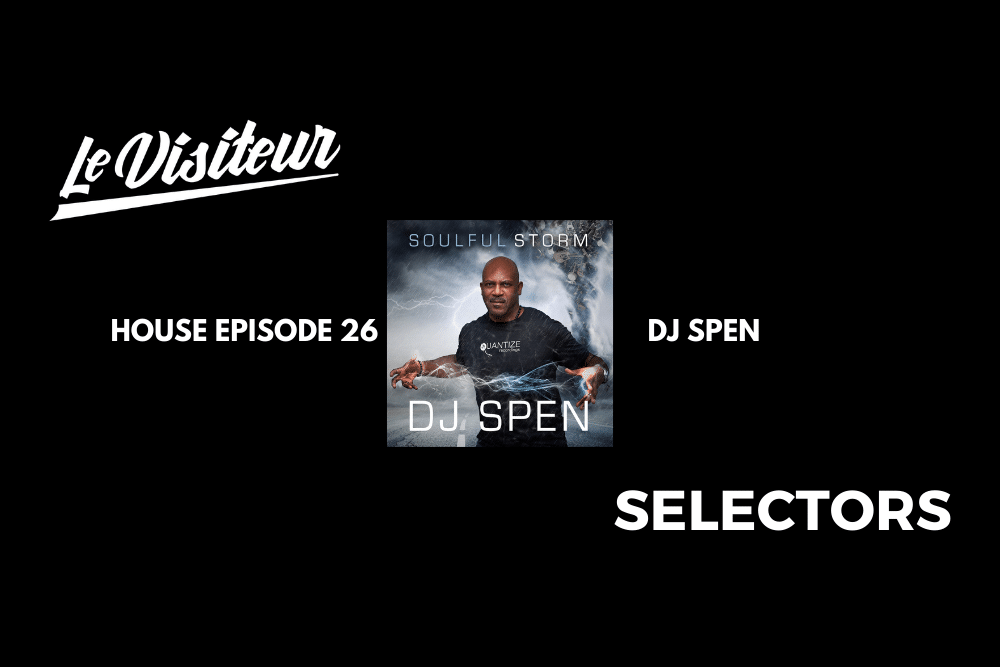 LV Selectors 26 – DJ Spen – The Soulful Storm
Like what you hear? To help support LV Online buy us a coffee via Ko-FI. Click HERE
The music of Baltimore House legend DJ Spen is one of the pillars that House music is built on. Since beginning his career in the 80's as a 13 year old radio hip hop DJ and making beats with his band Numarx DJ Spen has never looked back. Releasing his first solo record in 1995 with the Basement Boys he would begin a period of critical and commercial success, which saw recognition all over the globe.
2004 saw Spen launch his own label Quantize Recordings which has gone on to be one of the most essential Soulful House labels on the planet with some 600+ releases.
Heading into 2021 Spen's music is still as exciting as it ever has been and now he just released his brand new album Soulful Storm, the follow up to his 2014 album Transitions.
Packed full of Soulful, Gospel, Disco and Afro House gems it see's a star collection of collaborators crafting originals and inspired cover versions alike.
You can grab the album here: https://www.traxsource.com/title/1517655/soulful-storm
You can check our premier of DJ Spen & Fonda Rae's Nobody But You from the album below.
To celebrate the release of the album we asked Spen to jump on our Selectors Mix series and had a long chat with him about how his career has led up to Soulful Storm. It's a fascinating interview and the mix is just as outstanding as you would expect.
Hi there Spen,
Many thanks for speaking to us today.
Thanks so much for the opportunity!
Firstly let's go back to the very start. What was it like for you growing up in Baltimore?
I had an awesome childhood. I was the youngest in my family. I have two brothers who are much older so that means that my family was pretty protective. I went to Catholic School all my life. My parents were from rural Virginia, so I spent a lot of time in Virginia during the summers and holidays. I have a huge extended family – my mother had 12 siblings. So there were a lot of family events and gatherings. Even though my family was protective, my mom let me get into the world of music and DJing. I set up our basement as my studio and my "crew" would come over and practice. Before I could drive, my mom would drive me to the radio stations and the parties where I was DJing.
What was it that led to your first steps to a career in music?
Music was always a part of my life – starting with gospel. My mom travelled with her sisters singing gospel music. My grandfather started a church and the entire family participated either in the choir or as musicians in the band. I really don't remember an introduction to music, it was really just there all my life from day one. Because I had older brothers, they did introduce me to some different music at an early age, like rock, funk, blues, R&B, and soul. Starting a career in music was a natural progression. I got my first record player at maybe 10 years old. I started practicing DJing and making hip hop tapes. A local radio station picked up one of my mixes and the rest is history.
What are your first memories of house music specifically?
Around 1984 or 1985 I went for my usual weekly record store trip to buy some hip-hop records. Thommy Davis was working at the record store and he handed me a record with an orange label by a guy named Farley Jack Master Funk. It was called Dumb Dumb It was Farley's take on the midsection of Martin Circus 'Disco Circus'. It was loud, raw, gritty and funky and nothing else was quite like it.
Were there any key tracks which really drew you into the genre?
Records like Virgo Mechanically Replayed 'and Music is the Key by Steve "Silk" Hurley were the records that introduced me to house music (especially Chicago house music) came to be.
Please can you give us three tracks from your discography which you would say are quintessentially DJ Spen and which tie together across your career to lead to Soulful Storm? 
DJ Spen Presents Jasper Street Company – A Feelin
This was my very first dance music production. I had been working as a songwriter and pre-producer for 5 years at that point. I really felt like I was ready to do my own production and that record turned out to be a very successful start.
Ron Hall & The Muthafunkaz feat Marc Evans – The Way You Love Me
This was the beginning of a lot of firsts for me. It was one of the first records I did at Code Red Recordings, which also marked the beginning of my relationship with Defected as a label. It was also my first time working with Marc Evans as a vocalist. We did a lot of great records with Marc but this one has always been extra special. I wrote the hook for my wife.
Dj Spen & Michelle John – You Are My Friend
As I said before, this was a long time coming. The song is very special to me and had been playing in my mind for such a long time. To have it on my album with Michelle John's vocals is amazing
Your musical journey over the last four decades has been inspirational. What for you are some of the key moments that have led you to creating your latest album Soulful Storm?
I knew I wanted to do an album a couple years ago. The question was what was going to be the overall concept. Being on the road generates so many ideas that have just floating around in my head. I come home and write them down. During the pandemic, my wife (Kelly) and I were brainstorming and she suggested that the album be Soulful Storm. I had gotten my new storm logo a couple years before and the graphic designer, Danny Bench, had suggested we started using the #soulfulstorm hashtag. When I told Kelly all the songs and sounds I wanted on the album she thought it was a perfect storm. So we ran with Soulful Storm as the name. But honestly, the album is really a testament to my entire career, the sounds I love and the sounds that influence me.
The period that you crafted a good portion of this album was of course punctuated by the worldwide Covid lockdowns. How did the pandemic change things you personally and how difficult has it been to adjust to life without the DJ outlet for your music?
On the personal front, the pandemic has me home coming up on one year. My wife and I have never had this much time together without me traveling. I think maybe we have gone 4 months max. So the family is all at home together and it has actually been good for us. I still have an outlet for my music, it's just a different outlet. I have not stopped my radio shows and I am now live streaming. I actually started live streaming the very first week of the shut down here. I can tell you I was really against it initially. My wife and I were flying home from my last gig and my mother in law had called to say schools were closing. My wife said, "you have to start live streaming." That was a Tuesday and by the time we got off the plane, she had come up with the Quantize Quarantine Session and the Pandemic Praise Party, which I started that same Thursday and Sunday.
Soulful Storm is a fabulous album, it's incredibly warm and positive. Given the incredibly uncertain times that we have been living through how important for you was it to make an album which is packed full of hope and positivity.
I think overall, being positive is something that has become more and more important to me. Obviously, my roots are in gospel so I think I naturally gravitate towards the positive and inspirational messages. The times we are in made that even more important.
The album features and all star cast of collaborators. How did you go about choosing all the people to work with once you had decided to put together a new album and how long did the project take from concept to fruition?
I love collaborating and many of the artists and producers on the album are people I have worked with before. There were a few new artists as well, such as Michelle John. I had been working on the song You Are My Friend forever. For years I had the song in my head and tried to record it but just could not find the right vocals to really match that sound I was hearing. Neil Pierce introduced me to Michelle and I sent her the song. We recorded it in one day in London. She killed it! It was like the song was waiting for her and I was so happy with how it came out and it definitely was not a difficult decision to include it on the album. Working with Fonda Rae was new. We had started the song a while ago and I was really just super excited to work with her. I am definitely a fan of Fonda's from way back and her vocals never disappoint. One of the late additions was Brandon Yancey from Baltimore. I was introduced to him through Gary Hudgins who is a musician that has been at the heart of everything I do for many years. When I heard Brandon's voice I knew I was adding him to the album. The hometown connection was cool too!
Though I had been working on a few of the projects for quite some time, most of the album came together within a few months. It was really interesting pulling together an album during a pandemic. I had to work with everyone remotely so that was a lot of back and forth discussing issues that might have been handled quickly if I had been in the studio with an artist.
If you had to pick just one track from the album which sums up the ethos behind the album what would it be and why?
That would be 'Soulful Storm' because it is the perfect combination between soulful, raw rhythms and beats, singing, spoken word, and musicianship.
Please can you give us your three favourite studio tips for up-and-coming producers?
1. Always compare what you are working on to something that you know is done well and done right. Having a good idea of what you are working towards is a good way to make sure that you are on the right track. Now, remember this is a reference NOT to say copy someone else's work, which is a whole different thing and I do not support that at all.
2. Stay true to yourself and your sound. Commit to what you are doing rather than trying to branch out in too many different directions.
3. Compressors are a vital part of production. A lot of younger engineers are afraid of compression because of lack of understanding of what it does. Take the time to figure it out. It's very important to the mixing stage as far as making elements stand out and making those elements subtle when needed. The unfortunate thing is that different DAWs have different compressors so depending on which one is being used, it takes time to learn and truly understand what it does.
And finally what else can we expect from Dj Spen in 2021?
Well believe it or not, I am working on another album – actually two. First up, I do want to give a nod to my gospel roots and do a full on gospel house album. Following that, I plan to go straight house. Other than that, I am hoping the world opens and we can safely return to clubs and festivals.
Love this? Check out our Disco and House playlists HERE
For more info check:
DJ Spen Facebook: https://www.facebook.com/djspen/
DJ Spen Soundcloud: https://soundcloud.com/djspen
DJ Spen Instagram: https://www.instagram.com/dj_spen/
DJ Spen Twitter: https://twitter.com/originalDjSpen
Fonda Rae Facebook: https://www.facebook.com/FondaRaeOfficial
Fonda Rae Instagram: https://www.instagram.com/fondawoo/
Quantize WWW: http://www.quantizerecordings.com
Quantize Facebook: https://www.facebook.com/QuantizeRecordings/
Quantize Recordings Soundcloud: https://soundcloud.com/quantize-recordings
Quantize Instagram: https://www.instagram.com/quantizerecordings/
Tags:
dj spen
,
Quantize Recordings
,
soulful house