Matt Masters & Jimpster Release 'The Dub Come Down EP'. We Speak to Matt about the EP and Freerange and he drops a mix for our Selectors Series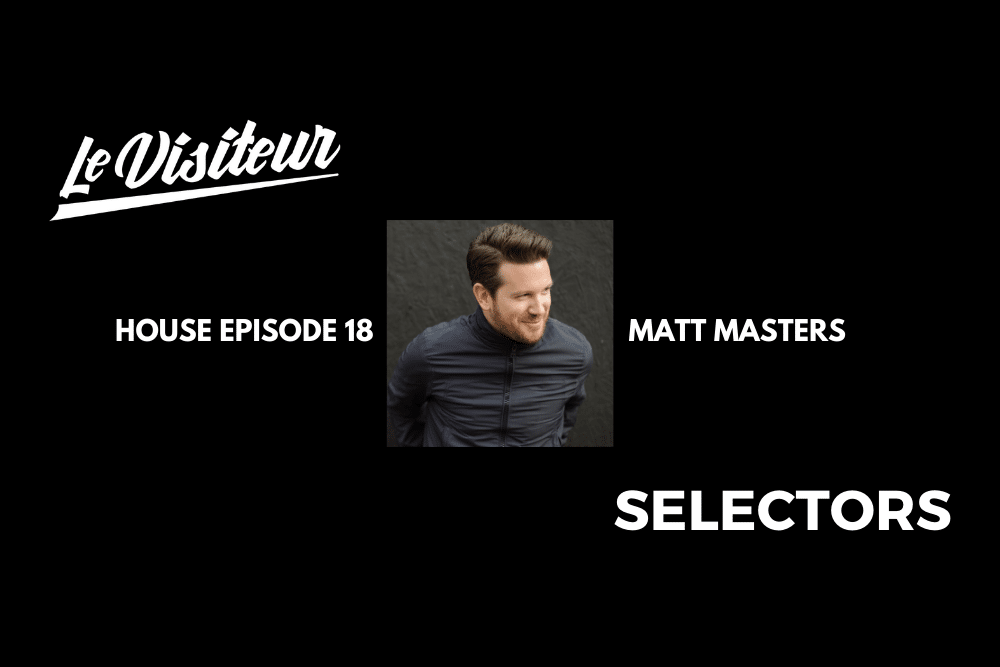 Matt Masters & Jimpster Release 'The Dub Come Down EP'. We Speak to Matt about the EP and Freerange and he drops a mix for our Selectors Series
Like what you hear? To help support LV Online buy us a coffee via Ko-FI. Click HERE
We last caught up with Freerange Records Matt Masters just after he brought out his brilliant debut album Never Ending Nights which went on to garner strong DJ support from some of the industries biggest players. His latest release see's him collaborating with UK Deep House legend Jimpster on a three track EP Dub Come Down and it's just as classy as you would expect. From the driving synth edged peak-time bomb of the title track through the Metro area influenced Area E3 and the deep bubbling No Normal it's an EP which showcases their stand out production skills.
Despite its late entry into 2020 this EP is right up there with our favourite releases of the year. We caught up with Matt to discuss the creation of the EP, working with Jimpster, his influences and Covids effect on the electronic industry.
Matt also put together a scintillating mix for our Selectors series. You can check the full tracklist at the bottom of this feature.
You have been working along side Jimpster since you started work at Freerange way back in 2003. What was the journey to you two working on this EP and please can you give us the inside story on the Dub Come Down EP?
Jamie (Jimpster) has given me production advice since I started producing music professionally. When I was working on my album, it got to a stage where I needed some guidance so I was fortunate enough to work with Jamie in his studio when adding the finishing touches to get it over the line. With the new EP, I started off with a few basic ideas that I took to Jamie. Some were more developed than others and we decided to work on them as a collaboration as we agreed they all needed a lot of work.
The title track from the EP Dub Come Down started as a loop from our mutual friend Nick Cohen. He was kind enough to send me some live bass riffs he'd played alongside some rough beats I had sent him and it all kicked off from there. We really like the rawness of the bass line with the layering of analogue synths and sweeping Juno chords that build across the track.
Area E3 is a little on the Metro Area vibe so a nod to the duo's talent.
The final track No Normal goes a lot deeper but uses some lush pads to build the vibe. We are happy how various elements of our production sounds have jelled together for this release to deliver something different but equally as strong.
Grab the EP from:
Bandcamp buy link –
https://freerangerecords.bandcamp.com/album/dub-come-down-ep
Beatport buy link –
https://www.beatport.com/release/dub-come-down-ep/3206882
The EP is quality from start to finish. Why did it take so long for you to collaborate and when can we expect a follow up?
Thank you, we are delighted you like the release. Not really sure why we have not done it before. I guess due to lockdown we have both had some extra time with the lack of gigs and other distractions pre Covid. Both of us are very happy with how it's all worked. I hope we can work on something in the New Year again together as Jamie is a very busy man.
Jimpster is a true UK deep house legend, What would you say has been the best bit of production advice that he has ever given you?
He often reminds me that less is more and that is something I always come back to. I find that when I am in the zone I tend to start adding too many layers. When I come back to a piece of music I have written with fresh ears, I have now started to mute different parts to see how they sound together and this always takes me on the right path to finishing that piece of music.
Who are your own greatest influences as a producer?
As a producer it has to be Jimpster all the way but as that is too obvious, here are my three:
Matthias Meyer – Infinity
When this first came out I used to play it non-stop. It's repetitive but shows how you can use different techniques and add small elements to continue to build a track and create interest without the track becoming monotonous.
Jacob London – Gutterballs
I first started DJing at Uni in 1998. Back then I was playing a lot of fidget/ shuffle house music including music by Jacob London. I was lucky enough to meet Dave Pezzner who is one half of Jacob London during the early days at Freerange. A few years later we collaborated on a few tracks under our Arithmetics alias and had a couple of them released on Freerange. During that time I learnt a lot from working with Dave and his crazy but extremely effective techniques.
Pepe Bradock – 18 Carats
This was one of the early vinyl's I bought when I started DJing after I got my first student loan and spent the majority of it on vinyl . It's from the Un Pepe En Or Vol 1 release. He has released some great tunes over the years and this EP kicked off my love for his music.
From a label point of view what have been the most difficult aspects of dealing with the current Covid lockdowns?
2020 has been an extremely challenging year for everyone in all industries. It's been very sad to see local shops, restaurants, and businesses not able to re-open after lockdown hit. For those of you that are still going, I take my hat off to you and wish you all the best. From the label side of things, we have had lots of issues with vinyl pressing delays due to people not being able to go into work. We have had to move things back in our schedules and some EP's have been released as digital-only. The music is still selling so provided people keep continuing to support us and other independent labels out there we should all be ok.
What can you tell us about the theme of the mix you have done for us and what are some of the key tracks for you?
The tracks are an insight to some of the music I have been sent on promo, buying recently and just really enjoying. There is a mixed bag of styles in there. Of course, I had to include a couple of tracks from the new EP so managed to squeeze in "Dub Come Down" and "Area E3". I hope you enjoy the mix.
How does the style of mix here compare to how you would approach a live DJ set?
The mix includes a little taster of what you would hear from me live depending on the vibe, venue, or time of night I am playing. The first 20 minutes is a typical example of the style of tracks I would play for a warm-up set. The next 20 minutes for some prime time action with a little disco edit in there and then the rest is more for late-night or after hour's fodder. All equally enjoyable and as satisfying when preparing for and playing out.
Which other artists DJ mixes do you find yourself coming back to time and again and do you have a favourite that you gravitate towards?
Stuart Patterson's weekly Mi-Soul Radioshow, Jimpster's Sofa Sessions, Fish Go Deep's radioshow, The Dirtcast shows (FOUK, Revenge, Nachtbraker, Soul Of Hex etc), Norm De Plume's recent SASH mix… with all of the streaming that's going on there is so many to choose from at the moment. I found a nice link from a friend of mine Raymundo Rodriguez a few weeks back and have been listening to this a lot. It's a load of his archived MOS Wrong Sessions from back in the day. Some great bits on there too!
Check them here: https://www.mixcloud.com/raymundorodriguez/
2020 has obviously been a very difficult year for the electronic industry with most gigs, festivals and international events falling foul of the Covid-19 lockdowns and restrictions across the globe. How have the Covid restrictions affected you on a musical front, have you found it to be a period where it was easy for you to create and what changes would you most like to see coming in across the Electronic world to help it flourish moving forward?
This is a tough one as we are in very uncertain times at the moment. Personally, I have been able to keep creating music and it's given me some time to reflect on how I produce, tidy up the studio and organise my hard drive a bit. All good things to help my workflow when producing. Moving forward who knows the best way for us to get out of this with all of the restrictions. I am going to my first party this Saturday, which will be a sit-down meal in a restaurant with DJ's. It's going to be strange but I am sure I will have a good time. As long as people keep buying the music and can start attending events and supporting the people that put them on then we should start to head back in the right direction.
What else can we expect from Matt Masters in the next 12 months?
I have been working on some more solo material however, I am not sure if I will use it for an EP or work on it for a new album release. If it's an album it will be longer than 12 months as it takes me a while to get things finished! Collaboration wise I have been working with Milton Jackson on a new EP. I'm currently occupied by the final track of three and hoping it will be out early next year. My wife and I are expecting a baby in February so my hands are going to be full for a while so trying to get as much completed before the baby arrives. Exciting times on all fronts!
Thanks for letting me do the mix for you guys. Stay safe out there x
Love this? Check out our Disco and House playlists HERE
For more info please check:
Matt Masters Facebook: https://www.facebook.com/mattmastersofficial/
Matt Masters Soundcloud: https://soundcloud.com/matt-masters
Matt Masters Instagram: https://www.instagram.com/mattmasters
Matt Masters Twitter: https://twitter.com/mattfreerange
Freerange Facebook: https://www.facebook.com/FreerangeRecords/
Freerange Soundcloud: https://soundcloud.com/freerangerecords
Freerange Instagram: https://www.instagram.com/freerangerecords
Freerange Twitter: https://twitter.com/freerangerec
LV Selectors 18 – Matt Masters [Freerange Records] Tracklist
1. Jimpster & Matt Masters – Area 53 [Freerange Records]
2. Henrik Villard – Stay In It [Feedasoul Records]
3. Lea & Muzikman Edition Feat. Tweety – Songbird (Atjazz Galaxy Aart Dub) [Open Bar Music]
4. Nonduality – Something New [Apperel]
5. Greg Paulus – Breezy Point [Freerange Records]
6. Radic – One Short Story [Stay True Sounds]
7. Turquoise Colored French Tourists – Love Is Only [So Glad Records]
8. Intr0beatz – Improvise [Cosmic Angles]
9. Jimpster & Matt Masters – Dub Come Down [Freerange Records]
10. Offshore and Coen – Nightshifter [Phat Elephant Recordings]
11. Adrian Hour – Conga [Get Physical]
12. Jonathan Kaspar – Bigna [Ouie]
13. Clavis – Rocket Dial [Compost
Tags:
Deep House
,
freerange records
,
Jimpster
,
Matt Masters