Sweet Fruity Brunch talks about his new EP 'Street Lights' on Moment Cinetique, his alter ego Donnie Moustaki, his 3 favourite production tips & more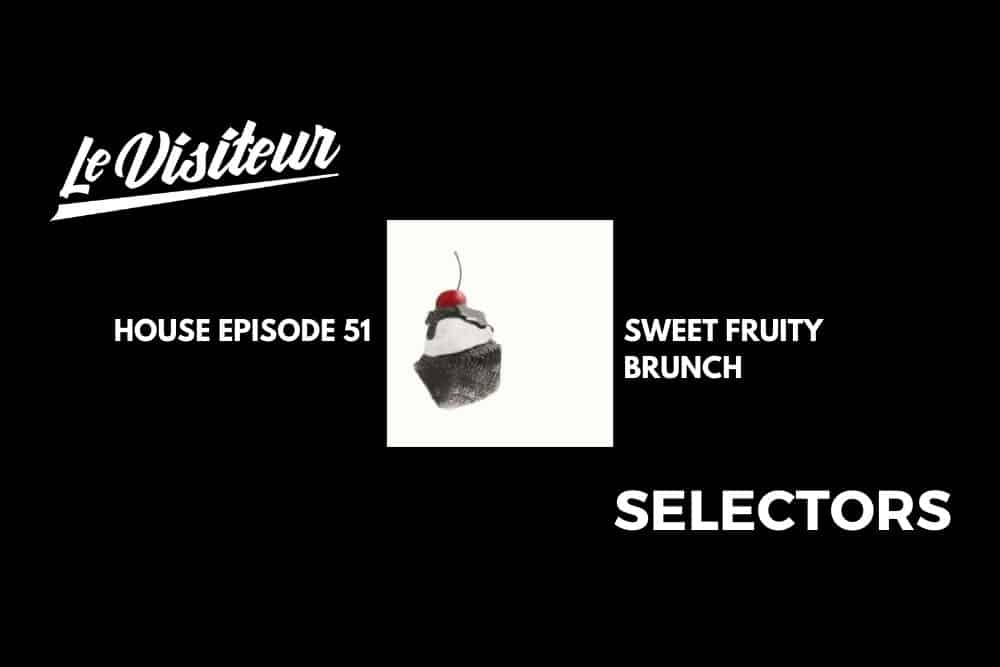 Sweet Fruity Brunch talks about his new EP 'Street Lights' on Moment Cinetique, his alter ego Donnie Moustaki, his 3 favourite production tips & more
Like what you hear? To help support LV Online buy us a coffee via Ko-FI. Click HERE
Over the last couple of years two artists that have really shone for us in the house world are Donnie Moustaki and Sweet Fruity Brunch. Musically they were a breath of fresh air combining jazz chops, with a distinctly European edged house sound and some incredible keys. Online information was scant, to say the least, as both artists were apparently more than happy to focus on the music rather than the socials but it turns out that they in fact the same person.
Now with a stunning new Sweet Fruity brunch EP Street Lights just out via Moment Cinetique we are very pleased to speak to the man behind both artist personas Nicolas. He also put together a rather stunning mix for us, please give it a share over on Soundcloud and help us spread the good word. You can also check the full tracklist at the bottom of the interview.
Make sure that you grab Sweet Fruity Brunch's Street Lights EP via: https://www.traxsource.com/title/1765335/street-lights
Hi Nicolas,
Thanks for speaking to us today.
Where are you from? And where are you based right now?
Hey thanks for the interview. I was born in Switzerland and I am currently living in Switzerland.
Let's go back to the very start. When did you first become interested in music and who were your own musical inspirations when you were young?
I was introduced to house by my brother, to people like Masters At Work or Frankie Knuckles. The biggest impact production wise was most definitely Max Graef.
Who were the first DJ's that you started listening to?
I can't really remember because I didn't pay much attention to the DJ's themselves, only their sets really. But to give a couple names, some of my favourite sets at the time were done by Hunee, Mr. Scruff or Frankie Knuckles.
What was your own musical journey, when did you start producing and DJing and what was it that led you down the path towards electronic music?
I don't know how to mix, I'm no DJ. My mixes are fake news, I put the tunes together on Ableton! I love when people are like "dude, your transitions are so clean!" and then I have to break it to them. Sometimes I'm thinking about just acting like I'm that good. 😂
Anyway, I started producing very non seriously. I just downloaded FL Studio and tried learning it with no knowledge whatsoever. I was so stubborn and lazy I wouldn't even check tutorials, which made the job of learning much harder. I didn't even know for more than a year how to import audio files/samples… I was literally only using drum racks. I was also very much clueless about what style I even wanted to produce…
I really started to define my style once I became obsessed over Max Graef's tunes, which is weird saying it now, because after so many years trying to get to produce similar stuff, I have since decided to take my style in another direction. You will definitely hear the inspiration though, I've totally stolen his signature synth sound.
Can you remember the first electronic record you ever bought?
Wattie Green's Midnight Radio EP. Specifically for his track Wattie's Dream.
Your style is an edgy and really fun fusion of jazz, European house and funky as hell keys. It takes many of the classic feels of house but re-imagines it for a very now sound. Which other artists out there right now would you say are pushing house music forward in a similar fashion?
I appreciate the kind words, but I will say I actually find most of the tunes I put out kind of boring. They're good, but it's stuff that's been done before and better too in my opinion.
Concerning the artists, it's hard to say because I really listen to very little house in my free time, but definitely Scruscru. This dude has a crazy quality output. His buddy Meowsn' too, fresh stuff.
Where do you live right now? Is there a great record shop? A great club? A well formed scene?
I live in a lost countryside village in my mom's basement, no kidding. Closest record shop is a forty minute drive away, and the parties in the closest town aren't really my thing. I heard very recently about a jazz club an hour away, and I'm definitely planning to try it out. But I spend 24/7 in my room, studying online and making music, nothing else.
Which three tracks that you have released so far would you say showcase your sound as either Donnie Moustaki or Sweet Fruity Brunch to best?
I really like Saucisse Cocktail, it has that french house feel to it and it has a shitty mixdown, which is a staple of mine.
I guess I have to include a piano track. I play lots of piano on my SFB tracks.
Not a single track, but this thing has a lot of Donnie Moustaki goodies. They're all stuff that I don't want to release, but definitely the closest to what I'm currently aiming to produce.
You are just about to release a brand new EP on Moment Cinetique. What can you tell us about the EP? 
It's made of three random tunes that Dave (Moment Cinetique) chose. There is not really any story to it other that it had been a while I didn't release anything, so I felt it was time to send some demos.
One of the smoothest collab is on there though, with my man Christian James. I believe he just had gotten a bunch of records for free, with lots of samples. He sent me a project of his which had some of those samples and some chords. I instantly loved the chords, and I could already imagine the bassline in mind. Pretty much finished it in one go after getting the project.
Mushroom Cream is an old tune, I remember listening to a tune by my buddy Jehan, and wanted to produce something similar. So, I did.
'Street Lights' is like if Crackazat and Lone had a loser talentless son. But it kinda sounds like me too! Dope
What can you tell us about the theme of the mix you have done for us and what are some of the key tracks for you?
No specific theme, but I did try to include tracks that influenced me a lot when I first heard them; tracks that I consider classics. Such tracks for example are Nu Colors – Desire (Masters At Work Mix) or Drifting Back by Genius of Time. Timeless tunes.
I also sprinkled a couple gems on the lesser known side, with Mommy What's a Boujee by Last Nubian & Dougan, as well as one of the untitled tunes by Meowsn'. Absolute bomb tracks.
And at last, a couple unreleased stuff from myself, just to add some stuff that nobody heard.
Which other artists DJ mixes do you find yourself coming back to time and again and do you have a favourite that you gravitate towards?
Ehh tough one, I really don't listen to many mixes. I will say though, every mix by my man Last Nubian on his spot for Balamii is really good for inspiration. Careful selection and I found more than one tune that pushed me to make more music.
You are obviously a seriously talented musician as a well as a producer. Do you have any plans to put together a live show based around your Donnie Moustaki and Sweet Fruity Brunch output? That's something that we would love to see?
Thanks, unfortunately I find myself to be too lazy to put quality shows together. I've done some before with minimal effort, and while people seem to be happy with it, I for sure wasn't. At least that's when it comes to house. I do want to put together a live set for my hip-hop/jazz stuff, with maybe a couple live keys on top, but much less people are interested in booking me for that music. But I will try to get a hip-hop gig in Berlin this summer, mostly for fun more than anything else.
What are your three favourite production tips for producers who are starting out to make their lives easier?
I mean, the first thing that comes to mind is kind of obvious, but using drum racks instead of dropping audio files on the timeline. For some reason I was too lazy to do it for years, not realizing I've been wasting more time that way.
2nd thing, for Ableton users, beef those drums with the drum buss. Sometimes extreme saturation on kicks can sound amazing too. And also hihats, to get them super thick. And snares too. Balance is key.
And finally, waves' Abbey Road tape/vinyl plugins are amazing.
If you could have any one artist remix one of your tracks who would it be any why?
I think it would depend on the track being remixed. I'd like someone who does a very different style, maybe even different genre. Slowya.roll remixing a house tune, or Frits Wentink remixing a hip-hop tune.
What lies ahead for Donnie Moustaki and Sweet Fruity Brunch and over the next 12 months?
Probably nothing, last time I mentioned plans it never happened. But I'll say I'm trying to get a another beat tape out, with maybe a music video.
For more info on please check
Sweet Fruity Brunch Facebook: https://www.facebook.com/sweetfruitybrunch/
Sweet Fruity Brunch Soundcloud: https://soundcloud.com/sweetfruitybrunch
Moment Cinetique Facebook: https://www.facebook.com/momentcinetique/
Moment Cinetique Soundcloud: https://soundcloud.com/momentcinetique
Moment Cinetique Instagram: https://www.instagram.com/momentcinetique/
Moment Cinetique Twitter: https://twitter.com/momentcinetique
LV Selectors 51 – Sweet Fruity Brunch – Tracklist
1. Untitled
2. Kartell – La Jeunesse Retrouvée
3. Genius of Time – Drifting Back
4. Sweet Fruity Brunch x Christian James – Beautiful Ugly
5. Nu Colours – Desire (MAW Mix)
6. Max Graef – Zitze
7. Last Nubian & Dougan – Mommy What's a Boujee
8. David & Hjalti – That's Her
9. Sweet Fruity Brunch – Street Lights
10. Armless Kid – Deep Energy
11. Meowsn' – Untitled [blaq numbers]
12. Wattie Green – Mid Tenn Strut
13. Mentor – Closer Than Close
14. Ferry Ultra – Let Me Do My Thang (Opolopo Remix)
15. Sweet Fruity Brunch – M for Method
16. Asquith – The Conditioning Track (NYC Mix)
17. Blue Boy – Its Up to You
18. Felix Leifur – Giving
19. Untitled
Love this? Check out our Donnie Moustaki Selectors Mix and interview HERE
Tags:
Deep House
,
Donnie Moustaki
,
Moment Cinetique
,
Sweet Fruity Brunch