Tone Control Talk About Illusion on Wolf Music, Theo Parrish, Kerri Chandler, Robert Owens, Plastic People and much more.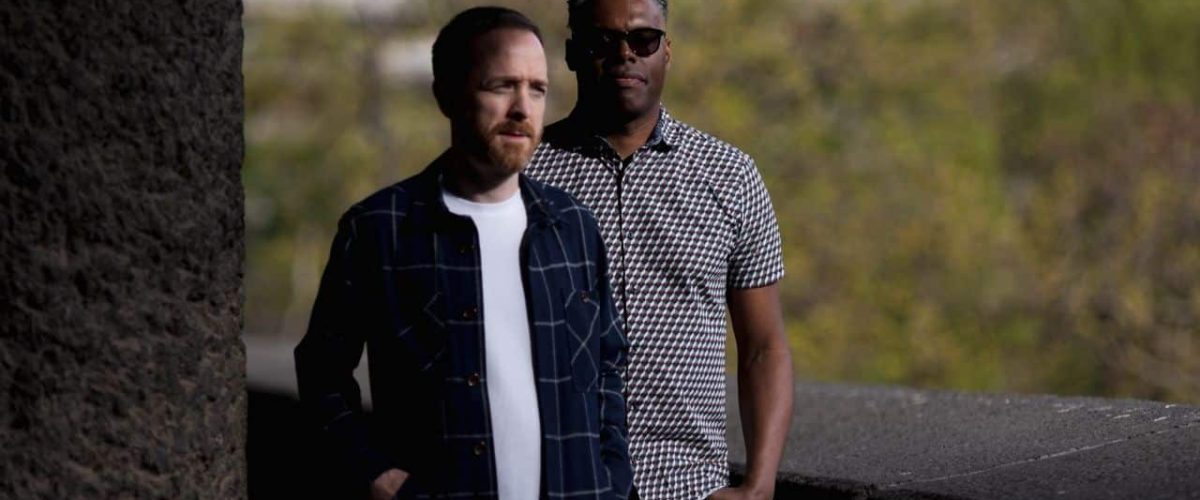 Tone Control Talk About Illusion on Wolf Music, Theo Parrish, Kerri Chandler, Robert Owens, Plastic People and much more.
Like what you hear? To help support LV Online buy us a coffee via Ko-FI. Click HERE
An Interview with the Insider for Le Visiteur
London's Tone Control have notched up nearly two decades in the game and are now back in business after a haitus. Straight out of the blocks they have a re-release of their Deep House classic Illusion from 2005 which lands imminently via Wolf Music with a remix by none other than Theo Parrish. We shared the original mix of Illusion earlier in the week which you can check below and read more about here.
It's a pleasure to have them in for a full interview today to discus their long and fascinating career. They also put together this brilliant mix for us which you can check below and more on that inclduing the full tracklist here, please give it a share over on Soundcloud and help spread the love x
Thanks for speaking to us you guys. Where are you today and how are you spending the time?
Marcus: I'm currently in my office / DJ booth deep in the Suffolk sticks listening to the records I picked up yesterday from Intense Records in Chelmsford – a place definitely worth checking out if you are a fan of classic House.
Simon: I'm currently in East Finchley, in North London, in my living/listening room. I'm putting together some mixes to promote the re-issue of Illusion.
Where are you both from and where are you based these days?
Marcus: I'm from Ipswich, Suffolk, and have recently relocated back to these parts after many years spent living in London and Madrid.
Simon: I'm from Ipswich in Suffolk, UK, but have been in London since 2004.
I get the impression that you two go way back. Is that the case?
Marcus: Most definitely – we've been mates for years, sharing houses, flats and studios and records. We combined our studios in our first house share before eventually taking the plunge and moving to London in the early 2000's to see how far we could push Tone Control. We were also each other's Best Man so you could say that we're pretty tight!
Where did you both meet?
Marcus: I first met Simon when he was doing his school work experience in "Essential Selection", a record shop run by my cousin Diddy and his crew. This must have been about 1993.
Simon: Yes, back then, Paul Arnold (who ran a label called Certificate 18) had a back-room store in the back of Essential Selection focused on House, Techno and Hardcore, Jungle and Drum n Bass, and Rupert Parkes, better known as Photek, was working there.
Did you hit it off over a shared loved of music or was is something else?
Marcus: The love of music was definitely a key factor as well as the love of vinyl culture – crate digging, DJing, hanging about in record shops, and doing shows on the local pirate and community radio stations.
Simon: Music production was another shared interest – I remember Marcus had an Atari ST and Akai S900 sampler when I went to college. He played me some demos on a Walkman and I was really impressed and keen to get into it.
What were the sounds you were listening to when you first met?
Marcus: Back in 93 I was a committed Junglist who had come up through Hip Hop, but I loved the sounds of U.S. Garage and House many of the local producers (Kirk Digiorgio, Photek, Digital and Spirit) were using as influences in their tracks, plus my Uncle Doods was an amazing DJ of those deep and soulful U.S. sounds, so being exposed to it really gave me the bug.
Simon: While I was at school, a landmark rave happened very close to my home in Suffolk, called Energy '89. It made the national news. After this, and being very curious to learn more tapes started to appear from a local party called Raven. I remember the first tape, that I absolutely loved was DJ Randall – hardcore-jungle as it became known. I would copy tapes from friends (using high speed dubbing) and started building up a catalogue of tapes. Through DJ Magazine and listening to Kiss FM on my Hitachi super woofer, I was learning about House music and listening to DJ's like Paul Trouble Anderson, Sarah HB, and Bobby & Steve. It was pre-internet and I realised there was demand for the tapes from raves, I could use this to get tapes from the US so by 93 I was trading DJ mix tapes through classified ads in the back of DJ magazine, to get recordings of Tony Humphries and Todd Terry.
What were the clubs or parties you went to back in those days?
Marcus: As well as the parties we were involved in around Ipswich, I was also going to London mainly to Jungle raves but also to places like the Gas Club to hear Garage and House.
Simon: In Ipswich, there were two events I was lucky enough to get my formative club experiences between the ages of 16 and 18 – There was Push Yer Luck, with DJ's like Derrick May, Matthew Bushwacka B, Terry Francis etc, and Club UK, that regularly had Paul Trouble Anderson, and even us jocks like Dave Camacho.
Later on, in London, we'd frequent parties like Need2Soul, Inspiration Information, Soulogic, Southport Weekender.
Were you both Djing then? Where did you play? Can you recall a couple of key records from that time?
Marcus: I was mainly playing Jungle at the time when we first linked up, but certain records piqued my interest in House and Garage like "Penetration" by Mood II Swing – I loved their drums and the overall smoothness.
Simon: My first DJ gigs, were in pubs and warm ups for local promoters, and then my own parties in Ipswich and Colchester, with guests like Chrissy T from Garage City. After moving to London, we started our own Tone Control parties and put on people we met, like Sarah Sweeney (then Chibuku Shake Shake, now Eavesdrop Collective), Kev Beadle, the late, great Phil Asher. I took on a residency at a very small party called Soul City, in Covent Garden, supporting DJ's like Spen, Karizma, Benji B, Atjazz, Mark E, and heroes from younger days like Paul Trouble Anderson and Bobby and Steve.
You debut single 'I Want You' came out in 2005. But when was the moment you decided to make a record?
Marcus: It took a little while to come together as Curtis, our vocalist, was amazing, but very hard to pin down for studio sessions! The instrumental version came together quite quickly if I recall correctly.
At the time we were sharing a house and had combined our gear into a single dedicated studio. At that time, the kit we had consisted of an EMU E4X sampler (which I still use), a Korg X5D synth, Novation K Station synth and a PC workstation running Cubase and Reason version 1. There was also an Alesis Midiverb, Zoom FX unit and other bits of gear such as a battered analogue delay unit and an SM58 mic for vocals.
Simon: We recorded it in 2003 before we moved to London, so it was from a collection of recordings we made in Ipswich. I remember putting demos on CD and sending them off regularly and thinking we need to get to London, so we can meet these people.
You got it signed to Grab Records. Who was running the label at the time and was it hard to get it signed?
Simon: In 2003 I got the chance to do a small tour in Australia, taking in clubs and radio in Melbourne, Sydney, and Brisbane. I met DJ Freestyle, at my gig at the Family club in Brisbane and gave him a demo. He was super passionate and had a slew of releases out on west-coast US labels, doing a more jackin style of house music. When I got back to the UK, he emailed me to say he loved, and really wanted to remix it. We agreed to shop it as a demo together.
He passed it to Jeff Mitchell who was running Grab recordings in Dallas. It was a label I was following as I worked in a store, and I really liked one of their artist's Demarkus Lewis. Jeff licensed it for an EP called The 3 Zone – referencing the time zones of the producers on it, in Canada, Australia and UK.
Marcus: As a result, soon after we found ourselves at the Winter Music Conference in Miami with Colin meeting other artists on Grab.
You started up your own label quite early doors. Did you just want to be in control of your own destiny?
Marcus: We had become frustrated with sending stuff out to labels only to hear "we like it, but could you make it a bit more this or that" or not even hearing anything back at all. I was always more in favour of a DIY approach, emulating my heroes, people like Coxsone Dodd of Studio One, Mad Mike of UR or Dego and Marc Mac of Reinforced who just put their own stuff out which had their particular sound.
Simon: Yeah, it was challenging to cut through, as we were sort of outsiders, but once we were in London, it felt like having a label was the best way to get autonomy over what you're making and be more creative.
Was the label initially for your releases alone? What other artists did you release on the label?
Marcus: It started off as a vehicle for our own stuff, but definitely grew to encompass music that we liked by producers who we were friendly with and shared a similar ethos of music on a soulful spectrum.
Simon: Running a label comes with its own challenges too – you need a certain level of output to keep the brand on the shelves and in people's minds, so expanding the roster was a logical next step. It was also a useful way to collaborate and expand our reach. Initially I put out a project I produced as Love Over Money, then I signed some singles from artists and producers I knew.
Poussez, Demarkus Lewis and Hannah Khemoh – who is backing vocalist for Grace Jones and Brian Ferry, but went on to record several
Opolopo and Shea Soul – I was doing A&R for a new label, but they turned out to be wasting my time, and left me with a bunch of instrumentals and expectant producers. This particular Opolopo track was too good to let alone so I signed it for Tone Control Music and enlisted, Shea Soul – one of my favourite vocalists – and I think it turned out well.
You put out Illusion in 2008. Who was the vocalist? What else did he do? Is he still making music these days?
Marcus: The vocalist on Illusion is the amazing James B. Coleman. He worked for many years with Paul Weller and The Style Council and is a real journeyman vocalist who can be found at Troy Bar leading the house band when not performing internationally.
We're going to be working with James again in the near future – something I'm really happy about, as he is great fun in the studio and really gets where we're coming from – he also smashed it on "Without your love", another record we worked on.
"Without Your Love"
James Coleman performing "Superstition" at Troy Bar
What were the reactions about the track early doors?
Marcus: To be honest, I was already focusing on what came next… Simon has always had his ear closer to what is happening with regards to any feedback as my head's normally stuck in a synth manual!
Simon: It was good, but it took time. Our first three EP's hadn't really cut through, but the DJ responses were really positive, and it felt like the first record where we got noticed. After a few months people began to recall stories about Tony Humphries playing it, and then I saw Kerri Chandler play it at Southport which blew me away. Later I heard Theo Parrish play it regularly at Plastic People.
Tell us about 'Take Me Away' in 2010 .. What label did you put it out on? Did that track make a splash?
Marcus: This track came out on Tone Control Music (the label).
Simon: Yeah, this has a different audience. It was played a lot on Space Terrace, surprisingly. It also garnered a following in South Africa through a remix produced by Jose Carretas from restless soul.
You worked with the great Robert Owens. What was the track? What was he like to work with?
Robert worked with us on "Starting with me" and "Stuck on loop". He was great to work with – a real professional whose very voice encapsulates the "emotional history" of House music.
Would you say there's been a 'sound' that defines Tone Control?
I would define the Tone Control sound as being soulful and deep with the emphasis firmly on groove. It was really born out of the tension between my tendency to want to go really deep and Simon's great instinct for the dancefloor. We both really love heartfelt vocals and drums that swing and there's nothing I like more than getting deep into the programming that makes that happen.
How did you work the promo of your records back in those days?
Simon: I built up an email list, but we ultimately used a PR agent, Sarah from Favouritizm.
What did you do to get Kerri Chandler to pick up on your release? Or was it organic?
Marcus: To be honest, I heard about it from Simon as I was probably locked away in the studio, but was very chuffed as Kerri Chandler is a real hero to me. I've always loved his stuff, so it was nice to hear he was digging ours too.
Simon: Our PR agent at the time, Sarah Favourtizm, sent him the track, and then one of my friends spoke to him about it at Southport.
Plastic People had Theo Parrish play for some time in London. He played the original versions of Illusion back then. That has to be one of the best clubs that ever was in London. Shame about its closure. Do you think it's been replaced with another spot?
Marcus: Plastic People is irreplaceable – it was a really special place. It has so many great memories for me personally, I met my wife there, ironically at a Theo Parrish night and it was where I started to get to know other people in the scene personally like Tony Nwachukwu, Charlie Dark, Domu, Mr Beatnick and LDLDN. I even had a chat with Theo where he gave me some sage advice about the music industry.
You both took a break from the label and your productions together in 2016. What did you get up to in that time?
Marcus: I was living in Madrid, getting to grips with being a Dad while woodshedding in the studio and being involved with the great underground scene for very Deep House and Techno they have there that I think is a bit slept on. F-ON, Jose Rico and Leonid are Madrid heads absolutely worth looking up as their work is superb.
F-ON
Jose Rico
Leonid
Simon: I decided to study for a master's degree and follow up some business ideas. My parents had become ill, so my spare time was taken up with looking out for them.
What's the story on the revival of Illusion.
Simon: Stu from Wolf approached me about licensing it during lockdown, initially for their reissue label.
How did you get Theo Parrish on board?
Simon: Stu from Wolf approached Theo
How did you hook up with Wolf Music?
Simon: I met the guys years ago at Southport Weekender
Were you fans of the label aside from this release? Have you got a favourite Wolf release?
Marcus: Definitely – a particular favourite of mine was the Medlar edit of "Yours" by Steffi from 2012.
Simon: I think Matt and Stu have built an awesome label. They really love their music, and it shows.
Are you guys officially back in the studio 2022 then? What other projects are you working on?
Marcus: We are fully back in business! Now that my kids are a bit older, I'm able to once again have the headspace to get moving on new TC projects, although I've never really stopped producing – I just haven't been putting things out, so am sitting on a lot of unreleased music that will soon be seeing the light of day!
What's your perfect warm up cut?
Simon: I tend to play a range of music from around 80 to 115 BPM, and span a range of genres, soul, jazz, disco, boogie. Perhaps… One I've enjoyed more recently is Adventures in Success by Will Powers:
Marcus: I do like to drop "Heat Haze" from my alter ego Suitdancer to open things from cold, test the sound system and set the mood.
Tell us your peak time bombshell?
Simon: Too many, but my tastes are inherently mellow, so my peak time is about how danceable rather than tough a record is. I also like it when records are a bit weird.
Iz and Diz – Mouth (Pepe Bradock remix)
Marcus: Illusion of course!
What's your last dance high of the night track?
Simon: We always used to finish the night with some classics, and no one does it like Stevie, on Do I Do:
Marcus: "Solitary Flight" by Theo Parrish
Thank you for your valuable time!
Wishing you all the best with this KILLER release. X
Thanks, it's been a pleasure!
Check the full EP out via: https://www.phonicarecords.com/product/illusion-theo-parrish-remix-preorder/179630
For more info please check:
Tone Control Facebook: https://www.facebook.com/tonecontrolmusic
Tone Control Soundcloud: https://soundcloud.com/tonecontrolmusic
Tone Control Instagram: https://www.instagram.com/tonecontrolmusic/
Tone Control Twitter: https://twitter.com/tonecontrolmusi
Wolf Music Facebook: https://www.facebook.com/wolfmusicrecordings
Wolf Music Soundcloud: https://soundcloud.com/nysoul
Wolf Music Instagram: https://www.instagram.com/wolfmusic/
Wolf Music Twitter: https://twitter.com/WOLFMusic
Tags:
kerri chandler
,
Plastic People
,
Robert Ownes
,
Theo Parrish
,
Tone Control
,
wolf music