Turbojazz gives us the inside story on his brand new album Whateverism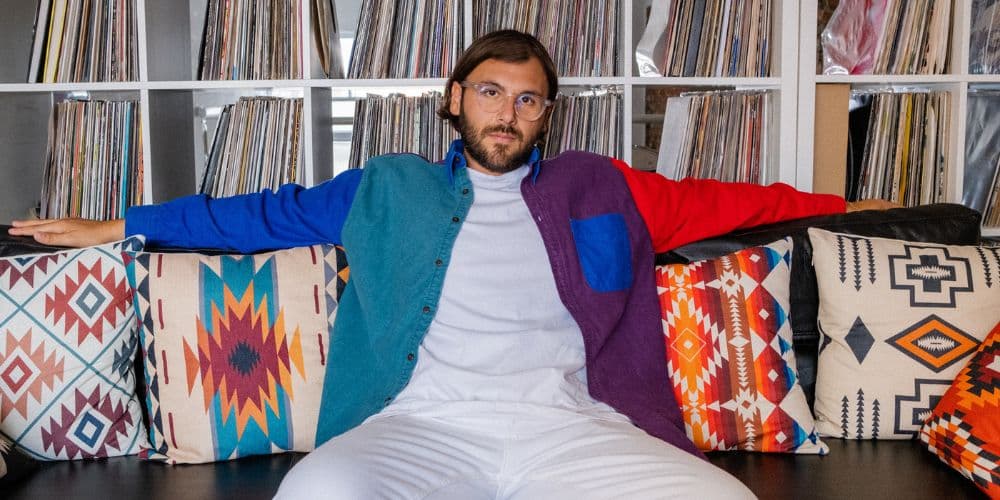 An interview with the Insider for Le Visiteur
Celebrating 20 years in the music industry Milan's Turbojazz has just released an outstanding new album Whateverism which is already flying off the shelves. Featuring the likes of Dave Giles II, Nikki O, Sean McCabe and Japanese producer Brisa, the album perfectly captures the many different textures of Turbojazz's musical spectrum.
It's well worth tracking down, but we would recommend doing so quickly. You can grab it via: https://www.juno.co.uk/products/turbojazz-whateverism/920979-01/
To celebrate the album Turbojazz recorded a brilliant mix for us, packed with his own productions. You can check it below and grab the full tracklist here: https://levisiteuronline.com/music/lv-selectors-68-turbojazz/
He also spoke to the Insider about all things Whateverism. Check the full interview below.
Great to talk to you today in the run up to your album. How are you feeling right now?
Hey thank you for having me! I'm feeling good!! Very excited about life lately.
How long has this album been in the making?
Actually not too long. I started writing down this album at the end of 2020 and finished to mix it during my previous tour in South Africa at the end of 2021. Then of course we had to plan the promotion, make the videos and press the vinyl so the 2023 came quickly.
Has it been a painful process at times or a labour of love and special moments?
You know what, I could never associate the word "pain" to this job even when it's hard and you have to put extra efforts. It brings me so much joy and I couldn't do anything better than this. So yea it has been a beautiful ride… up and down the mountain!
Are you a musician as well as a DJ and producer and what came first?
I'm and I will always be a dj more than everything. I love to create music and working or jumping on a stage with musicians makes me feel so alive and inspired.
What is the most recent gig that you played and where?
My last gig has been a couple of weeks ago in Podgorica Montenegro and I had so much fun as usual! Three hour set with a Funktion One sound system doesn't give you any chance to complain haha. Djing for me is a form of art. Its a dialogue with people you never met but whom you have the passion of music in common and that's language. The magic is when you are travelling and play in front of very different people and the tracks become your words, your mixes, your tone of voice and your smile… everything!
Can you tell us three tracks that we might hope to hear in a current Turbojazz set?
I'm kinda eclectic when it comes to play because in these 20 years I had time to do my research and loose myself into many genres and waves, so lemme give you three tracks for different moments of the night:
Opening: Voices – Voices in My Mind (CJ Mackintosh Remix)
Peak time: Dam Swindle – More Love
Closing: Kerri Chandler – You Get Lost In It
Someone told me once that when they were a kid and they heard Stevie Wonders Dancing In The Key of Life, it changed their life forever. Is there an album from the past that had a great impact on you?
Wow so many but one of the most influential ones, that made me literally discover the meaning of "cool" in music, is (of course) Miles Davis "Kind Of Blue".
I still remember that day I was driving my car in a rainy day on my way to school and I was listening to a CD I downloaded the night before on Napster (lol) under the name of "Cool Jazz". I remained amazed by that sound. Years later I discovered it was "Kind of Blue".
What was the last album that you bought? What is it you love about it?
It's an old Kaidi Tatham album called "Kaidi's 5ive" originally released on the iconic Jazz Re:freshed label in 2011 and recently pressed on vinyl by the cool cats at First Word.
Probably one of my favourites from Kaidi.
Making an album is a totally different commitment than an EP. Are you ready to make another album soon or will you be holding off this for a while?
Do you believe me if I tell you that I'm already collecting ideas for the next one?? Yes working on an album is a very cool experience. This is my second time doing it (the first one was with my other trio project Jaxx Madicine on Local Talk) and it makes you grow all the time.
Can you give us three highlights from 'Whateverism' album and tell us a little about each track?
THE STANDARD: This has been the first track I wrote and the one that made me understand it was time to work on an album project. It has setup "the standard" of the level I wanted to keep all over the tracks.
YOU ARE WORTH IT FT. SARA VANDERWERT:
I discovered Sara during an holiday spent in the south of Italy where, one night, she was performing as a busker in a beautiful square of a small town of Puglia. After that meeting I always wanted to collaborate with her and what a better chance than the album?
STAY BALANCED FT. DAVE GILES II:
The riff of "Stay Balanced" came out playing around during a lunch break in the studio with my long time collaborator and friend Veezo that was trying out my new Korg SV1 piano until I looked at him saying: "WAIT.. do it again!" and adding a few ideas until we had the main riff in a few minutes.
What is Turbojazz working on next that we should look out for?
The agenda is already getting busy hey! Im working on a compilation with Sean McCabe and a couple of releases for my label and others, plus remixes.
Has this album ever been performed live and are there any plans to?
Yesterday was the first day of rehearsals, so definitely yes you will see me and my band on stages soon!
What are your next ambitions as an artist Tommy?
This album marks my first 20 years in music and I'm enjoying this long journey called a career. My ambitions are to keep working with great minds around the world to develop the music and our scene. I'd also like to help new talents to bloom thru my label and keep writing beautiful music to play loud.
Are there some people you would like to shout out to for the album?
For sure my team, all the musicians who contributed with their creativity and all the ppl like you guys who gave me space and support. Thank you from the bottom of my heart.
When you're not making incredibly good music, how do you like to spend your time?
Oh thanks for your kind words! I like to spend time with my girlfriend, friends and family. Exploring new places with my old BMW motorbike, travel and be inspired by the culture and places I visit around the planet. Ah cooking is my passion too! Buon appetito y'all 🙂
For more info on Turbojazz please check:
Turbojazz Facebook: https://www.facebook.com/tommyturbojazz
Turbojazz Soundcloud: https://soundcloud.com/turbojazz
Turbojazz Instagram: https://www.instagram.com/turbojazz/
Turbojazz Twitter: https://twitter.com/TommyTurbojazz
Like what you hear? To help support LV Online buy us a coffee via Ko-FI. Click HERE