Vince Watson Talks About a Life in Techno, Amsterdam and Career Tips for Electronic Music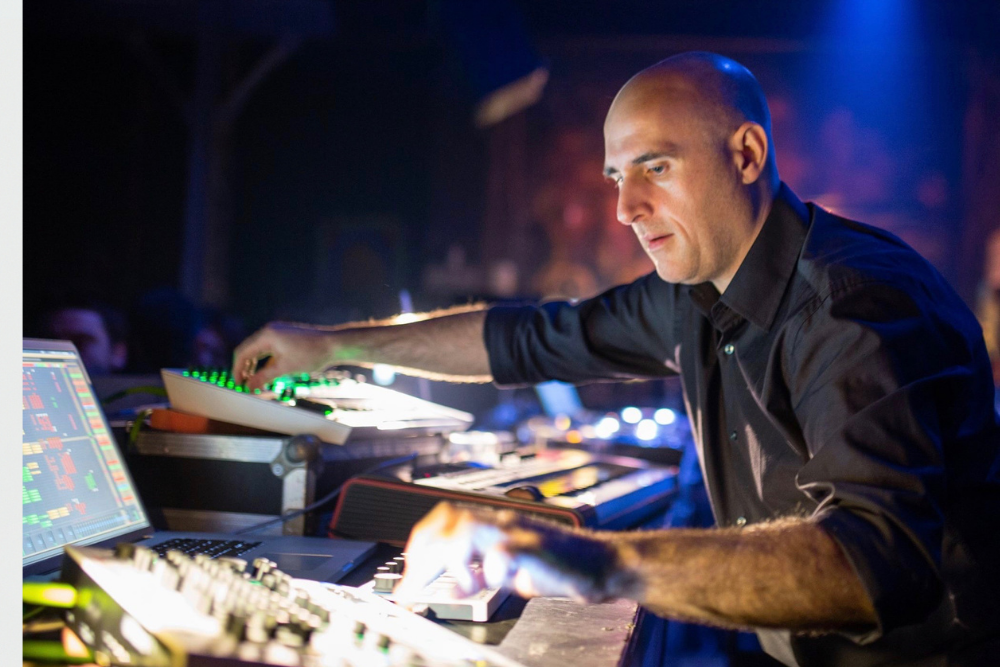 Vince Watson Talks About a Life in Techno, Amsterdam and Career Tips for Electronic Music
Like what you hear? To buy us a coffee and help support LV Online via Ko-FI click HERE
This last week has been a bit of a Vince Watson special for us, first unveiling the modern masterpiece that is the Joe Claussell remix of Progress which you can check below and then Vince put together a scorcher of a Top 10 of his favourite Deep House tracks of all time for us, and what a list it is packed with classic cuts from Ron Trent, Pepe Bradock, Little Louie Vega, Zepherin Saint and many more. You can check it in full HERE.
The reason for all this excitement is the release of a brand new EP on his own Everysoul label where he has assembled a team of the worlds top electronic producers Joe Claussell, Manoo, Steve Bug &  Langenberg and Osunlade who have gone to work on tracks from Vince's 2018 studio album Via. It's a sublime EP.
To celebrate the release we also tracked down Vince for a quick chat about his incredible career which has seen him travel the world with his raved about live show, playing for the likes of Richie Hawtin, before landing in Amsterdam to become a Degree Lecturer at the esteemed Conservatorium van Amsterdam as well as to produce for film at TV. Vince has already had the type of career that most producers can only dream about traveling the globe and releasing on the best labels out there.
Who is Vince Watson?
After more than 20 years delivering timeless music for many of the world best electronic music labels, native Scottish producer Vince Watson's career now spans across many platforms. 200 releases later (and 11 albums), Vince's versatile musical output will be spread across fresh and exiting new artist projects as well as media composing and lecturing, whilst reserving the VW artist name for the dance music he is renowned the world over for, playing parties such as Richie Hawtin's ENTER as well as being resident at both Berlin's Tresor and 909 Festival in Amsterdam. With recent releases on Cocoon, Poker Flat, Yoruba and his own Everysoul label, his debut release on Osunlade's Yoruba Records topped the charts for 6 weeks and a host of classy artists have remixed him including Carl Craig, Joe Claussell, Josh Wink and Osunlade.
A 20 year compilation of edits and re-creations 'VW20 : Introspection' arrived in 2017 as well as a big follow up single on Cocoon entitled 'Speaker Freaker'. In demand, it wasn't long until he also made his debut on Anja Schneider's Mobilee with 'Machines Need Love'. 2018 began with one of his biggest releases in his career to date with Derrick May as Rhythim is Rhythim on Transmat, where Vince reconstructed 2 of Derrick's biggest tracks 'Icon' and 'Kao-tic Harmony' at May's request. 2018 also saw Vince return to Poker Flat to remix a track for Steve Bug's latest album which was closely followed by his 9th studio album 'Via'. Summer 18' saw his return to Yoruba for his follow up single 'Another Rendezvous', a 10 year remake of his Planet E classic. 2019 saw Vince release on Joe Claussell's Spiritual Life label with a track called 'Teardrops', as well as his 10th Vince Watson album entitled 'DnA', an 18 track double album based on Detroit Techno. His Quart alias on BBE (Barely Breaking Even) released its debut album 'Life Is Beautiful' to critical acclaim, and was remixed by Richard Earnshaw reaching No1 and No2 in both Deep House and Top100 overall on Traxsource in early 2020. Vince will also release a 9 track LP for The Outlaw Oceans in Autumn 2020 entitled 'Hope', which was commissioned by the New York Times investigative journalist Ian Urbina for his book launch. The project has since been signed up by Netflix for a series produced by Leonardo DiCaprio. Vince also began working in the media and education arena, becoming a Degree Lecturer at the esteemed Conservatorium van Amsterdam, as well as beginning his journey as a composer for Film, TV and media. Now based in Amsterdam, Vince's live shows are now in demand around the world and as a former Tresor resident, his DJ sets are also now highly requested, positioned somewhere between Derrick May & Laurent Garnier in style and substance. He also has his own monthly radio show Radio Drama, which broadcasts monthly on Ibiza Sonica and has featured top guests like Ben Sims, Truncate & Synkro
What is your latest release?
My latest release was on Osunlade's Yoruba records entitled 'Voodoo Disco EP'…but my new single is about to drop next week on my own Everysoul label featuring remixes from Joe Claussell, Osunlade, Manoo and also Steve Bug & Langenberg. They are remixes from my album 'Via' in 2018. Some proper Deep House action, I'm very honoured and excited to have such a strong package!
Grab Vince's Via Remix EP here: https://www.traxsource.com/title/1396267/via-the-mixes
Q3: What are your first memories of house music specifically, how did you get involved in DJing and producing and who were the key people in your early career that helped you craft your career in music?
I was standing in the crowd at a club in Glasgow as an under 18 in an over 18 club when MC Duke was the guest act. The DJ during the break played some really weird alien sounding thing…and I instantly needed to find out what it was. Nobody knew….I went into 23rd Precinct the next day and discovered it was "It Is What It Is' by Rhythim Is Rhythim. I had no idea that day that it was the defining directional moment in my life, and that I would spend about £10,000 on vinyl in that shop or that I would end up working with Derrick May later on. Life is funny sometimes.
Q4: Can you remember the first house record that you bought?
Absolutely, it wasn't 'It Is What It Is' because there was no stock…it was 'Strings Of Life'.
Q5: Please tell us about the electronic scene where you are based. Which artists from your local scene past and present have inspired and encouraged you and what parties that you love going to over the years have helped your musical evolution?
Amsterdam has been blessed over the years. It's one of the best hubs for electronic music in Europe. Not quite as crazy as Berlin (or as many DJ's walking around) and is a really romantic place to live. My good mate Steve Rachmad is dear to my heart. After being inspired by him for a long time, eventually we started working together and have done quite a bit over the years. Expect a collab sometime :).
Q6: What studio equipment and plugins were essential in crafting Progress?
IvoryII Piano plugin, Yamaha CS80, Minimoog and Spitfire Audio Albion. Love them all.
Q7: Via has incredible remixes from Joe Claussell, Osunlade, Steve Bug & Langenberg and Manoo. How did you go about choosing the remixers for the package?
Essentially, Steve owed me a remix but I was waiting a long time to pick something that would fit his style. Joe I was very fortunate enough to convince to do a remix as he rarely does them. Osunlade was totally down with the project and Manoo also was keen to get involved. He was the only one I had not worked with so it was great to have him onboard. Now I have to remix for him 🙂
Q8: You have already had a long and successful career. What are your own career highlights?
I recently built a studio in my garden and I am living the dream, it's amazing and I respect that every single day. To be able to work every day on my passion and get paid for it is one of the main highlights. Also to be appreciated for what I've brought to the table over the last 25 years or so. I have many friends in the industry across many genre's so I've been blessed to travel and see the world and play music. As far as gigs go. Enter @ Space, Berghain, Florida135, Womb, Dance Valley to name a few.
Q9: Who are your greatest influences as a producer?
1. Rhythim is Rhythim 'It Is What It Is'
Even after 30 years I still can't get this out of my soul. Its the jazz drumming 909 hihat's, The off tuned acid line and those 7th minor sampled chords.
2. Choice 'Acid Eiffel'
I mean, seriously who doesn't like this track? It's the chord progression and the pace, its mood just delivers timeless Detroit inspired acid. Laurent Garnier will be forever in my respects, as a guy and a DJ. Mutual respects are in effect.
Q10: You have managed to build a long term career in the notoriously difficult electronic music industry. What essential tips can you give to artists who are starting out on how to create their sound, get their tracks signed and on how to enjoy a long and fruitful career?
Take time to find your own sound, let it come to you, don't chase it. Evolve over time and be open for idea's. Don't follow the new trends and stand your ground with the music you love. And ALWAYS love what you're doing…if your making music and you're not feeling it so much, drop it and start something else….you have to be shaking with excitement and crying with tears of passion when you are producing. That's when you know you are at a peak. Peaks will come and go….maximise them with focus when you can. Create an image for yourself which feels like you and don't mix your styles too much. Use other names for that!
Q11: What else can we expect from Vince Watson in the next 12 months?
October sees's my next album project entitled 'Hope', written for New York Times / The Outlaw Ocean's project. I have 2 other albums already completed and unreleased and will be launching 2 new artist names as soon as possible.
Grab Vince's Via Remix EP here: https://www.traxsource.com/title/1396267/via-the-mixes
For more info check:
Vince Watson Facebook: https://www.facebook.com/vincewatsonmusic/
Vince Watson Soundcloud: https://soundcloud.com/vincewatson
Joe Claussell Facebook: https://www.facebook.com/Joe-Claussell-47558567307/
Tags:
techno
,
Vince Watson