Sprechen: Justin Unabomber – Gina Breeze – Night Giants – Pre-Party with Le Visiteur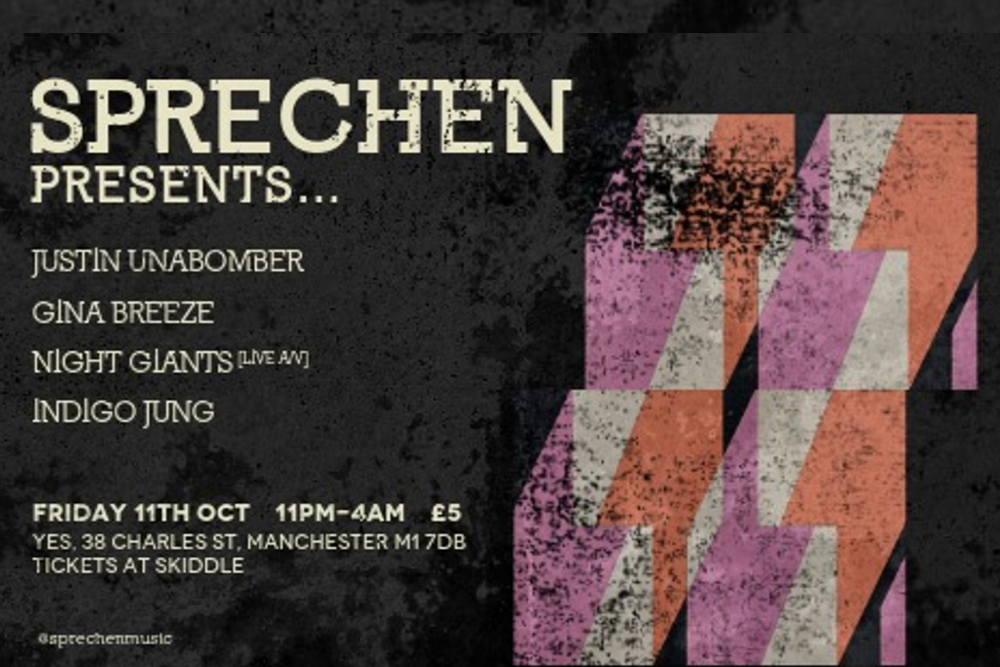 Sprechen: Justin Unabomber – Gina Breeze – Night Giants – Pre-Party Le Visiteur
Our good friends Sprechen are throwing a monster of a label party this coming Friday in Manchester featuring some of the key acts from the label.
Step-up Manchester legend Justin Unabomber, Homoelectric's Gina Breeze, Night Giants, who will be throwing down one of their spectacular live AV performance's, and Indigo Jung.
The event is in the basement of YES and you can expect non-stop wall-to-wall house, disco, Balearica and bonkers leftfield electronica. All My Friends will also be joining the party aiding with the shape throwing.
Our own Le Visiteur will be kicking off proceedings at the pre-event meet up at Hatch from 5pm – 8pm with Marco Giannini – DJ playing an across the board set at Electrik Box (also in Hatch!).
Le Visiteur Online is a huge fan of Sprechen and their well curated across the board electronic releases and you can be assured that this is a party that you don't want to miss. You can check out our recent interviews with Gina Breeze HERE and Night Giants HERE. There are also a couple of fierce premiers that we ran for those artists below.
This is a huge night ahead. To all Le Visiteur's friends in Manchester please make sure you pop in and say hello. I will be following my DJ set with several beers and talking music with anyone who cares to listen.
Tickets are strictly limited and only £5+bf so make sure grab them quick from Skiddle: skiddle.com/e/13585208
Tags:
Gina Breeze
,
Justin Unabomber
,
manchester
,
Night Giants
,
Sprechen