Ray Mang's Top 10 Remixes from the 90's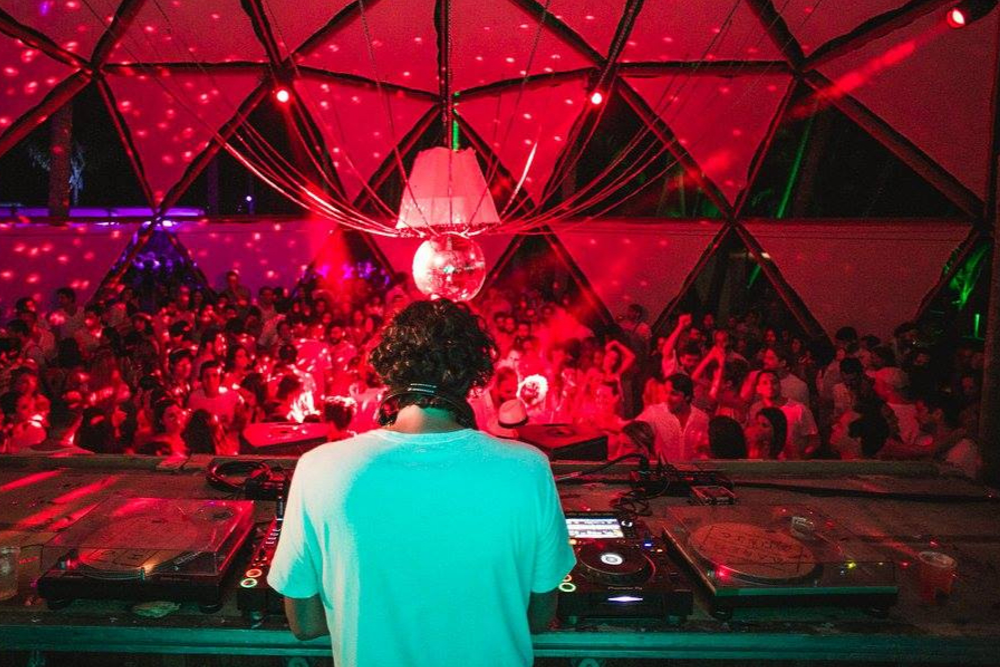 Ray Mang's Top 10 Remixes from the 90's
This Saturday May 7th 2022 – Sushisamba, London
This Saturday see's Ray Mang line up with Moodena and Clint H at Sushisamba for what promises to be a fantastic event.
Ray has been in the game since the 90's and has truly carved his mark as a disco aficionado with a constant output of quality remixes and releases and is constantly touring all over the world.
FREE Guestlist here: https://www.sevenrooms.com/events/sushisambalondon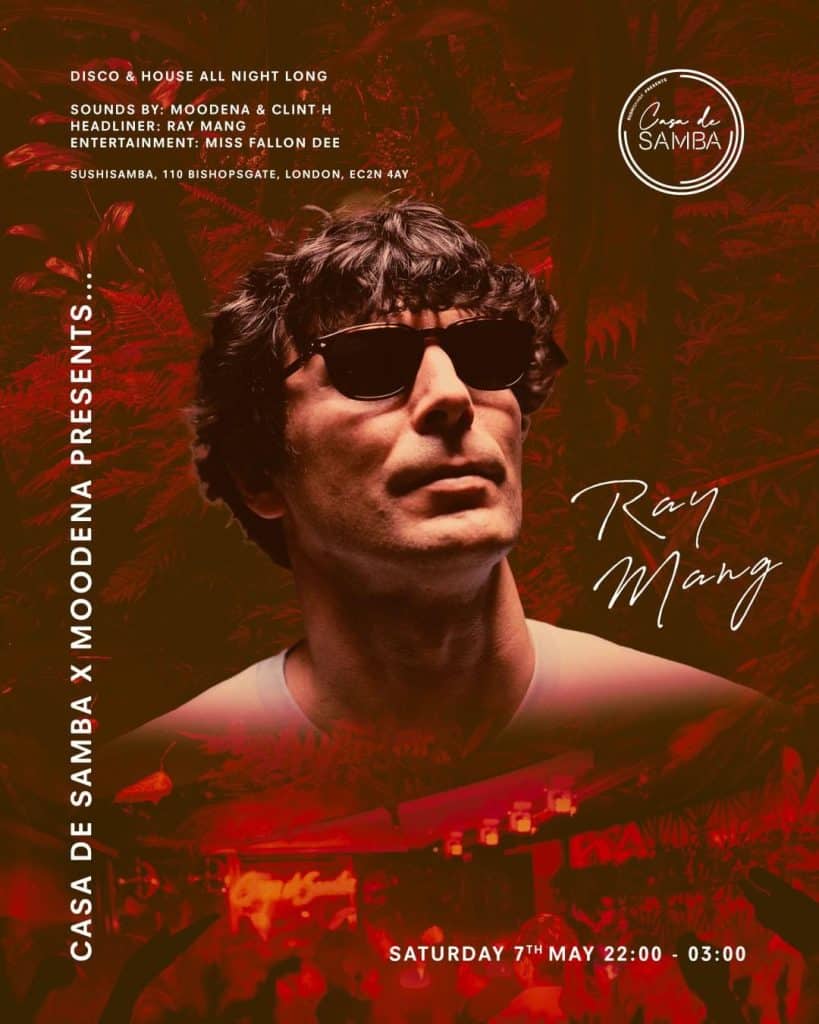 Ray Mang's Top 10 Remixes from the 90's
1990 – Lisa Stansfield – What Did I Do To You? (Anti Poll Tax Dub)
So many huge remixes from the US in the early nineties along with, in this particular year, such game-changing UK releases as Loaded! I've opted for a lesser known work from David Morales on a UK release. One of his best and a bargain bin gem! Anti Poll Tax Dub!
1991 – Shay Jones – Are You Gonna Be There (Hurley's House Remix)
Good to get Steve Silk Hurley in there! Loved so many of his at the time though to these ears many haven't aged so well.
1992 – Louie Vega – Masters at work (One take Tito mix)
Not titled a remix as such but did it spring from those same Ride sessions and become something else? Whatever. It's great. Still play it today.
1993 – Visions – Coming Home (N.Y. Danny Tenaglia Mix)
Some warmth from Danny Tenaglia! A beauty! Also adore Daphne – When You Love Someone produced / mixed by the same man and released that same year!
1994 – Liberty City – If You Really Love Someone [Robo Mix]
MURK!
1995 – Mondo Grosso – Souffles H (King St Club Mix)
Mixed By [Reconstructed] Joe Claussell & Louie Vega. Amazing playing too.
1996 – Innerzone Orchestra – Bug in the bassbin (Jazz version)
From jazzy to even jazzier! Carl Craig.
1997 – Ten City – All Loved Out (Extended Vocal Mix)
More Joe Claussell this time with Ten City. One of the many great mixes he did with them during this period.
1998 – Cheek – Venus, Sunshine People (DJ Gregory Remix)
Allez les bleu! I remember being handed a promo of this (and a few other forthcoming Versatiles) in the basement at Vinyl Junkies by a crew over visiting London who all went on to be BIG!
1999 – Femi Kuti – Sorry Sorry (Old School Afro dub)
How many decades could this man feature in!? 🙂 <3
For more info on Ray Mang check:
Facebook: https://www.facebook.com/Ray-Mang-46538919820/
Soundcloud: https://soundcloud.com/ray-mang
Continuing our 2nd birthday features we are extremely pleased to invite Ray Mang back to Le Visiteur Online. Last year for our first birthday Ray put together a superb Top 10 for us with his Top 10 Remixes of the 80's. It was easily one our most read and commented on features of the year. You can check out that feature in full HERE. As such we asked Ray if he could do a follow up and we are very pleased that he has picked up where he left off with his Top 10 Remixes of the 90's.
It's been another stand out year for Ray with a sold out re-release of his Number one / Look Into My Eyes 12″ He also did a brilliant remix for Flevan's on Jalpeno and there was a well deserved vinyl re-release of his classic remix for Los Amigos Invisibles & Dimitri From Paris Glad To Know You.
Upcoming he has a classy remix for Andromeda Orchestra on Faze Action's FAR and a sublime remix for Phenomenal Handclap Bands brand new track Remain Silent on Toy Tonics. As you would expect there has also been a steady stream of high profile gigs all over the world.
Tags:
carl craig
,
Danny tenaglia
,
David Morales
,
Dj Gregory
,
Femi kuti
,
Joe Claussell
,
Liberty City
,
Louie Vega
,
Murk
,
ray mang
,
Steve Silk Hurley
,
ten city