House Music – The Hot List Vol. 1 – Le Visiteur Online.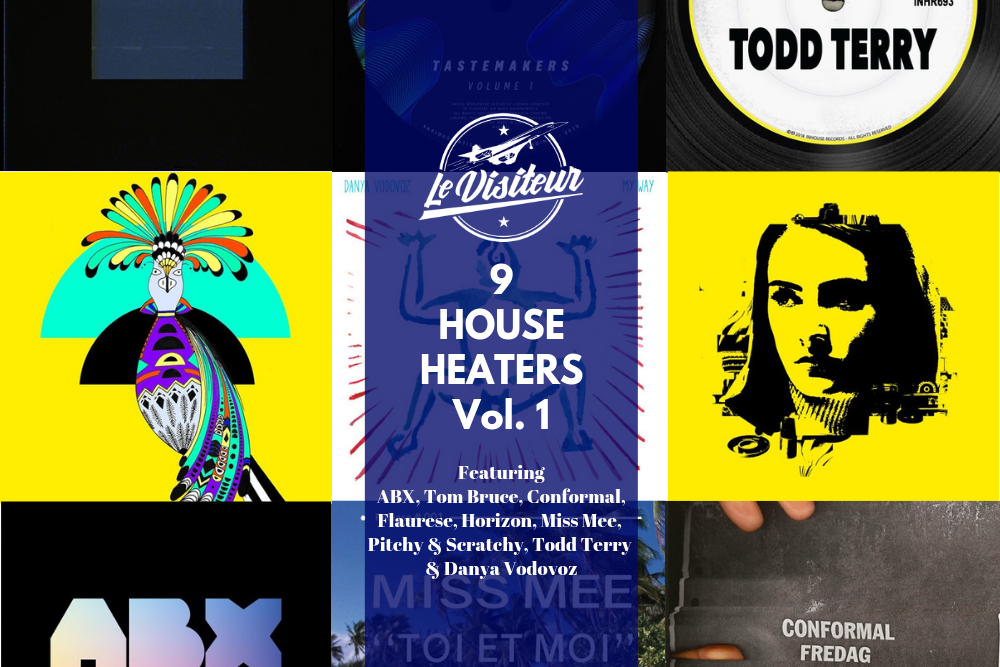 House Music – The Hot List Vol. 1 – Le Visiteur Online.
For the first of our brand new series of House Music roundups we have picked an across the board selection of tracks opening the door for some hot newcomers, a few well known scene heads and one huge track from a stone cold legend. Expect everything from deep to club, vocal to Lo Fi with contributions from ABX, Tom Bruce, Conformal, Flaurese, Horizon, Miss Mee, Pitchy & Scratchy, Todd Terry & Danya Vodovoz. These are the tracks which are shaking soundsystems across the globe at the moment.
ABX – Magic
All good things come to those who wait as they say with some waits a little longer than others. ABX has finally released his well loved track Magic after 3 years of teasing. It's got a real classic house sound as lush synths and warm bubbling basslines allow smooth pads to capture the dancefloor. This one was put together on some classic gear with a combination of Roland TR707, Roland Alpha Juno, Moog Minitaur and Korg M1 deployed to create that well loved sound.
For more info on ABX check: https://www.facebook.com/andyabx
Tom Bruce – Be Vocal
Clipp.art follow up their sold out 1-800 Girls EP with another classy release, this time from Australian producer Tom Bruce. Lead track Be Vocal is smooth and haunting and everything is beautifully balanced. Deft percussion leads the track towards the dance-floor as smooth pads and beautifully realised keys come together to create a wonderfully deep and euphoric track. With the addition of a simple but ear catching vocal and this is an extremely classy track.
For more info on Clipp.art check: https://www.instagram.com/clipp.art/
For More info on Tom Bruce check: https://soundcloud.com/tombruce2
Conformal – Fredag
We are big fans of Conformal on LV online, you can check out our premier of his previous track Fjädret HERE. Their latest track Fredag is another deep and evocative moment. The chugging and morphing bassline gives the track plenty of motion whilst the ebb and flow of the pads draws the listener in. It's as hypnotic as it is danceable. Another great track from this excellent Swedish producer. It's out now via Lima Express.
For more info on Conformal check: https://www.facebook.com/conformalmusic/
Flaurese – Midnight Paradigm
Taken from the Wavy Recordings album Tastemakers Vol 1 from which we also premiered George Feely's Munch N Giggles which you can check HERE Flaurese's deep and sublimely smooth. Midnight Paradigm was another stand out track. Gentle keys joust with some great Kerri Chandler-esque percussion, lazer synths and a brilliantly understated bassline to give a firm backdrop for the breathlessly cool vocal. One for those more chilled moments this summer.
For more info on Flaurese check: https://www.facebook.com/flaurese/
Horizon – High End
German producer Horizon has come up trumps here with this stunning slice of Lo Fi house. High End has a real classic feel from the get go with dubbed out synths sitting atop heavy drums, smooth pads and some great keys. It's beauty lies in in it's simplicity, there are only a handful of basic elements but the structure is wonderful using them all to perfection as the track builds. This will sound pretty incredible over big club systems.
For more info on Horizon check: https://www.facebook.com/horizonmusic1/
Miss Mee – Toi Et Moi (Original Mix)
This is a deep chugging slice of house music from Montreal's Miss Mee. Out via Paradise Fever Records the 4 track release also features a rather tasty and chunkier house mix but it's definitely the Original mix for us on this one. The head nodding bassline, smooth synths and 'come right in the water is perfect' atmospherics provide the perfect base for the ever so sexy whispered vocals.
For more info on Miss Mee check: https://www.facebook.com/missmeemusic
For more info on Paradise Fever Records check: https://www.facebook.com/paradisefevermtl/
Pitchy & Scratchy – The Birds and the Bongos
The Birds and The Bongos is beautifully bonkers, the deep throbbing bassline is the crux of this track providing constant forward motion. Its one of those tracks where it is a mathematical impossibility for you to sit still. Another track which is simple in construction but complex in emotion. Hats off to whoever came up with that ever so memorable keyboard riff. It's been stuck in my head for days. We love it!
For more info on Pitchy & Scratchy check: https://www.facebook.com/PitchyandScratchyShow
Todd Terry – Music Fusion
The master Todd Terry is back with with a huge looped up disco edged houser. Featuring an ever so familiar sample previously deployed by Daft Punk this one is a peak time all day long. The track ebbs and flows perfectly with plenty drama to keep the dance-floor glued from start to finish.
For more info on Toddy Terry check: https://www.facebook.com/djtoddterry
Danya Vodovoz – My Way
Classic vocal house vibes right here from German producer Danya Vodovoz. My Way has everything it needs to make a splash at Miami's WMC with more than enough edge for the dancefloor but it's smooth and soulful enough for the pool parties. An ever so funky bassline merges perfectly with frenetic percussion to provide a powerful backdrop of the soulful vocal. Some great flourishes in the breakdown make this one the full package.
For more info on Danya check: https://www.facebook.com/danya.vodovoz/
Tags:
ABX
,
Conformal
,
Danya Vodovoz
,
Flaurese
,
Horizon
,
house music
,
Miss Mee
,
Pitchy & Scratchy
,
todd terry
,
Tom Bruce