Amy Douglas – 7 Random Q's [Soul Clap Records]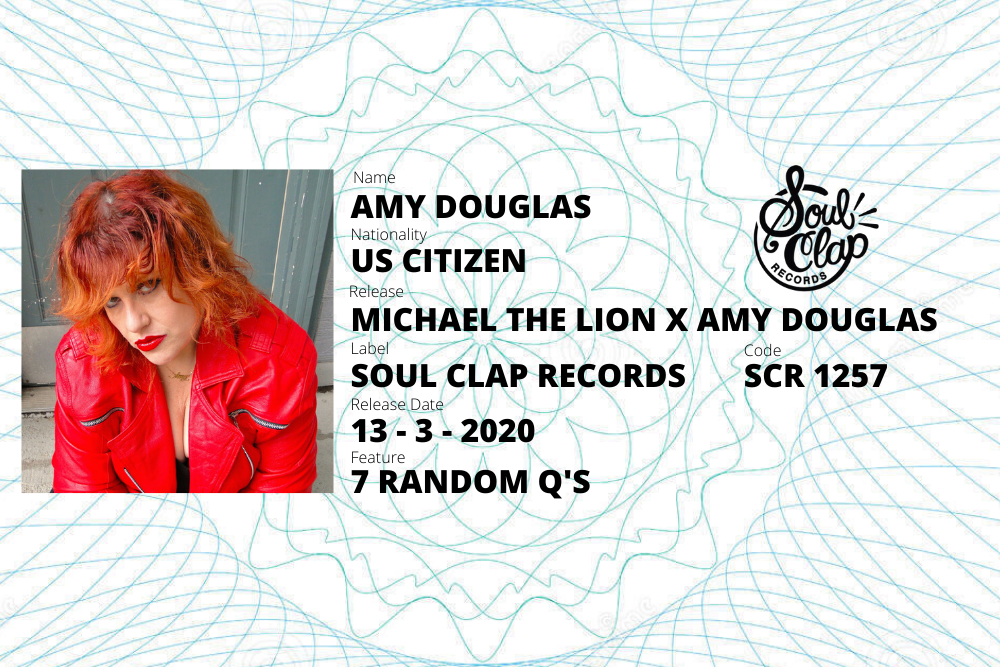 Amy Douglas – 7 Random Q's [Soul Clap Records]
Following up our premier of the John Morales M+M Dub of Amy Douglas and Michael the Lions Find A Way which we shared yesterday and you can check below we caught up with the vocal genius that is Amy Douglas to pose her 7 Random Q's. Amy is a bundle of fun so as you can imagine she was more than up to the task.
Check out our full EP review HERE.
Split into two parts the digital and the vinyl it's packed with great fun disco vibes with boogie and gospel edges. The vinyl lands this Friday and features the inimitable John Morales on remix duties and he's worked his magic yet again so make sure you grab it before they fly out!
Grab the EP from the following links:
Preorder / Buy Link EP: https://michaelthelion.bandcamp.com/album/michael-the-lion-x-amy-douglas-2
Preorder / Buy Link Remix: https://michaelthelion.bandcamp.com/album/michael-the-lion-x-amy-douglas-the-john-morales-mixes
———————————————————-
Amy Douglas – 7 Random Q's [Soul Clap Records]
What's the last thing that made you laugh?
Good Question!  Especially what with our world coming off the hinges and ruled by evil creatures!  I hate to say it, but sometimes these days I force laughter and do so by returning to the same sources to incite the hearty guffaw.  The other day I put on The Young Ones just to watch both Adrian Edmonson destroy the Good Life intro and Alexei Sayle make "Stupid Noises."  These both incite instantaneous laughs from me.
What do you do when you need some downtime?
Put on jazz, roll a spliff and stare at the Brooklyn sky.
Are you able to keep plants alive?
There was a time during an 8 year exile from NYC where in order to stay sane I learned to garden!  I not only kept plants alive, I downright grew food!  Since returning to urban life I wouldn't even dare dream of trying!  LOL!
What is your secret weapon recipe in the kitchen?
I DO however loooove to cook.  I have MANY secret weapon recipes.  I make a truly sick Arroz Con Pollo and Chuletas.
If you could go for a walk with a famous person who would it be and what would you tell them?
Living?  Jimmy Page.  I'd tell him that he was my first true baby daddy, and is still the most influential man of rock music in my opinion to this day, and then I'd BEG him to pay Immigrant Song so I could sing along.  Dead?  Anthony Bourdain.  I'd walk him through one of the NYC parks so he could feel the roots we all feel when we do and I'd say "you've given so much to this world, please do not check out before this world can give so much back to you."
What's your guilty pleasure?
I am a firm believer that almost nearly all pleasures can't really be guilty ones, but I am admittedly REALLY into Scrabble and have invented some really interesting variations of the game to keep things interesting.
Jungle cats?  LOVE em.  Mind you, having one around could be costly.  House cats? NO.  Mostly because I'm so super allergic to them.
For more info check:
Soul Clap Records Facebook: https://www.facebook.com/soulclaprecs/
Soul Clap Records Soundcloud: https://soundcloud.com/soulclaprecs
Amy Douglas Facebook: https://www.facebook.com/amydouglassings/
Amy Douglas Soundcloud: https://soundcloud.com/amydouglassings
Michael the Lion Facebook: https://www.facebook.com/MichaelTheLion/
Michael The Lion Soundcloud: https://soundcloud.com/djaptone
Tags:
Amy Douglas
,
disco
,
john morales
,
michael the lion
,
Soul Clap records