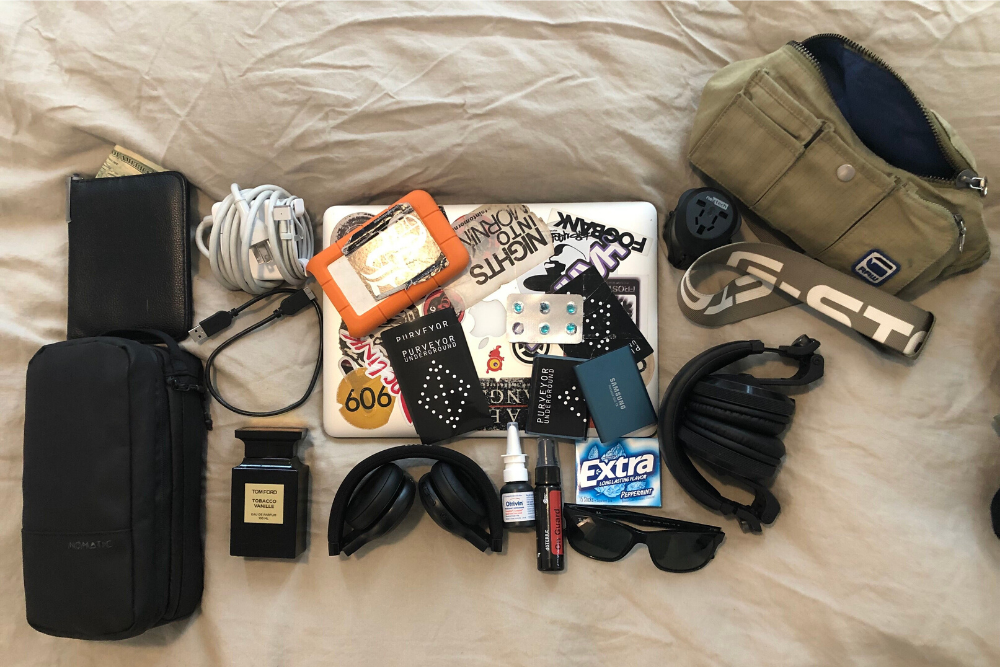 Demuir – Empty your Bag
Demuir is an artist who has had a fantastic 2019. When we think of Demuir the words that immediately come to mind a quality and integrity. His productions are a benchmark of just how good house music should be and he never wavers in his quest to release only the best and most credible music possible. In this quest he's an artist we can definitely all aspire to follow.
His latest release An Artist Thinketh EP comes via Heist Recordings, a label which it's safe to say definitely share his aspirations of quality and integrity.
Featuring five tracks lead track Werq, Feel, Gruv, Vogue is a bonefide peak time club bomb,  Slamming beats, brilliantly constructed vocal chops, synths stabs galore and a speaker shaking bassline. Everything you need to rock a club is in there.
The 3nity Returneth comes in both dub and instrumental form. Wonderfully warm synths, smooth strings and club perfect drum programming abound here.
Philippine Sunrise is deeper and groovier sporting a fantastically funky bassline and some great work on the synths, it's a real builder of a track.
Completing the package is a Lady Blacktronika remix of Philippine Sunrise, it's deeper and sparser with a futuristic feel. Another club track through and through.
This is an absolutely first class EP. Check it and grab it from: https://www.juno.co.uk/products/demuir-an-artist-thinketh-ep/755087-01/
As an artist whose star is definitely on the rise Demuir has spent a good portion of this year playing all over the globe. As such we though he would be the perfect first artist to speak to for our brand new Empty your Bag feature where we ask artists to share the essentials that they take on the road with them. You can also check a mix Demuir put together for us earlier in the year at the bottom of the feature.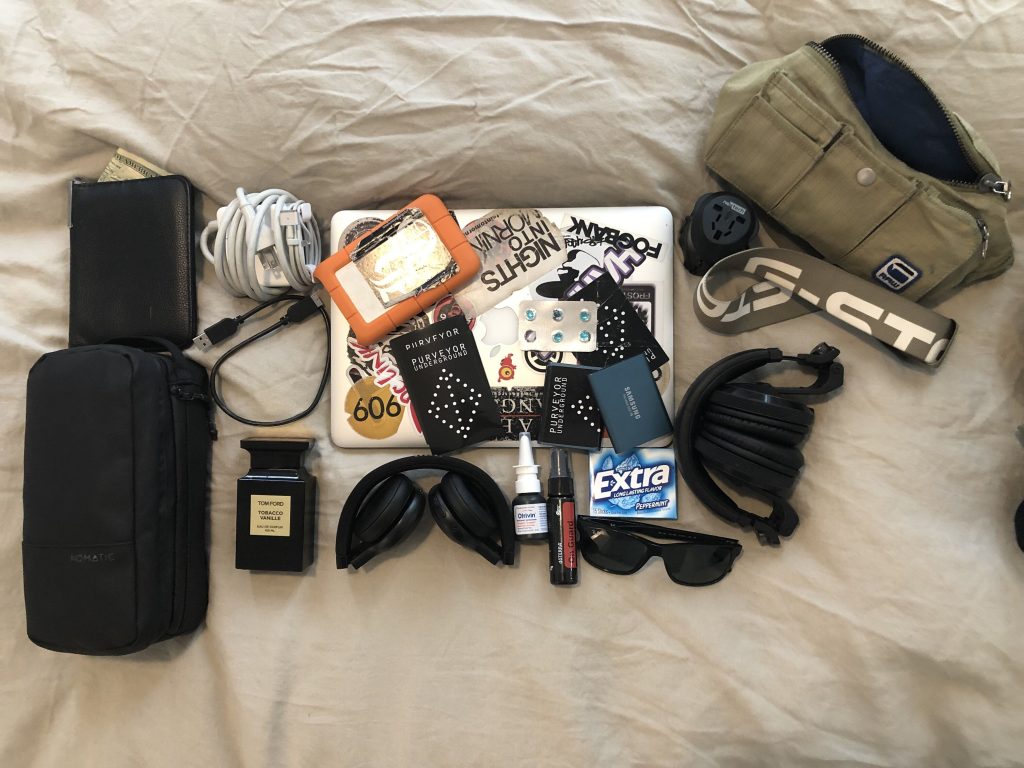 Demuir – Empty your Bag
Going from left to right and top down.
1. Passport – with a little cash currency of the country I'm going to. The most important article next to my music SSD cards.
2. Nomadic Shaving Bag – These guys are ace in how they think about storage and travel. This particular bag, and you would know it by looking at it holds, hold most of my toiletries along with my vitamins and contact lenses to boot. I never check any luggage in and this is a perfect fit for me.
3. Chargers – For my laptop and phone. These are a given.
4. Tom Ford Vanilla Tobacco – This helps me stay fresh y'all with some sophistication.
5. Lacie Hard Drive – This thing is rugged as they come and backed up. People always send me promos and stuff so I like to have this on hand to store straight away
6. Laptop – No brainer for this one. I got Reason and Logic installed to make beats while on the road in addition to Rekordbox to be ready whenever.
7. Slaps (Stickers) – Purveyor Underground reppin'. I usually stick these around or give them to people I meet on the road.
8. Bose Bluetooth Headphones -These are lifesavers for longer flights, storage, and they just sound great.
9. Imodium – I'll let you look up what these are for, but as my homie Louis Pasteur says, "Chance favors the prepared mind." You just don't want to get caught fam! Lol.
10. Samsung Portable SSD T5s – I stopped playing on USBs a few months ago and I love how quick these things export files and read them in correspondence with the CDJs. USBs are so tiny and convenient that I would easily forget on here and there. At 500 gigs each, I'm certain not to leave them.
11. Otrivin – I hit this stuff about 30 mins before taking off on flights and then 30 mins prior to landing. Having very narrow Eustachian tubes, it's a great precaution in keeping my hearing intact, preventing any fluid from getting caught.
12. doTerra On Guard – This is a great sanitizer that keeps airborn germs away on flight. I'm not a germaphobe, but nothing is worse than catching a flu or whatever after long flights.
13. Gum – Good for the ears as well and keeps me fresh.
14. Ray Ban's – I love these sunglasses and they're polarized as well. Good for the sun or when you just wanna nap in the airport with a comfortable hoodie.
15. Pioneer DJ HDJ – X7 Headphones – I love these and have had them for over a year now. The clarity and low end presence are boss.
16. G Star Raw – Fanny Pack – I use this bag to carry my headphones, Imodium, ear plugs, and an extra pair of contact lenses when I go to play out. I def don't wear it like I'm going to the gym stacked with protein bars lol.
17. Outlet Converter – This is a great hack as it gives multiple conversions for electrical outlets including the UK, China, and Spain standards. Perfect to ensure I always keep a charge on my devices.
Love this? Check out our House playlist HERE
For more info please check:
Facebook: https://www.facebook.com/DemuirBeats/
Soundcloud: https://soundcloud.com/djdemuir
Heist Facebook: https://www.facebook.com/HeistRecordings/
Heist Soundcloud: https://soundcloud.com/heistrecordings
Tags:
Demuir
,
Empty Your Bag
,
Heist Recordings
,
house music