DJ Ferdinand Debeaufort – Le Visiteur Featured Artist & Mixtape 090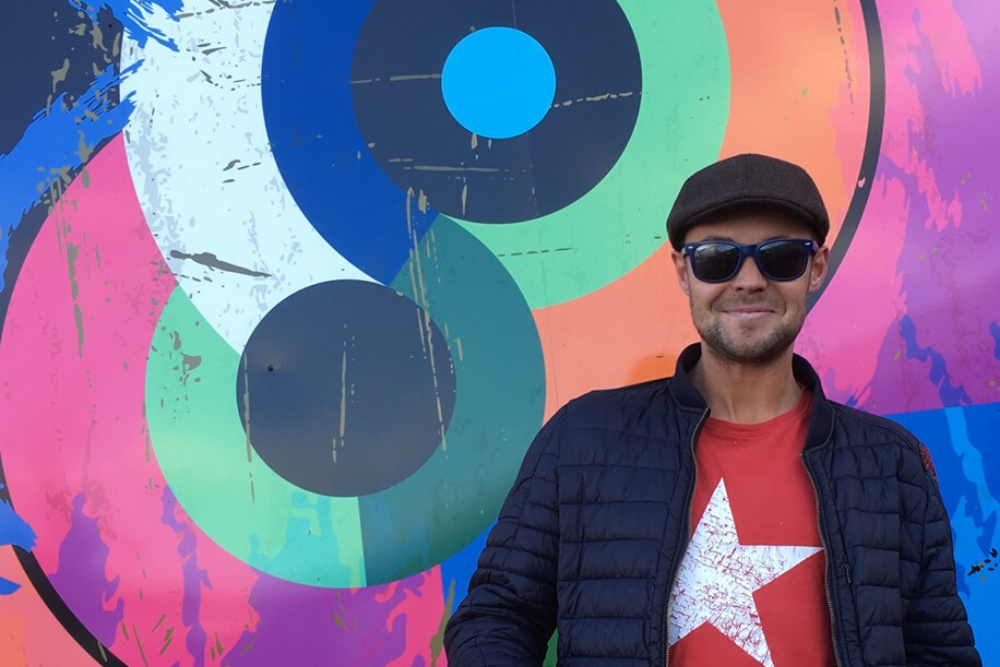 DJ Ferdinand Debeaufort – Le Visiteur Featured Artist & Mixtape 090
We recently came across DJ Ferdinand Debeaufort on Soundcloud and it's safe to say that we were seriously impressed by both the quality of his work and also his sublime choice of tracks to edit. His work is both cool and packed with high energy dancefloor soul.
Ferdinand is a huge vinyl collector and that musical knowledge shines out through his work.
We got Ferdinand straight in to do a mixtape for us so that he could showcase his undoubted skills and we also had a brief chat to him about his career so far and his approach to his work in the studio.
Hi there Ferdinand,
Thanks for speaking to us today.
For our readers who haven't come across your releases before how would you describe the musical style of DJ Ferdinand Debeaufort?
Hi, thanks for the invite! Well, I'm just a groove lover but we could say that my style is a mix between Funk, Disco, Soul, Brazil, Afro, Boogie, House and everything good!
Please can you give us 3 of your own tracks which are quintessentially DJ Ferdinand Debeaufort. 
1 : A Rework of the godfather. I don't hate the groove 😉
2 : A Re-edit of People's Choice. Great for the dancefloor!
3 : A chill edit of the huge Frankie Smith.
Please can you tell us a little about yourself, how long have you been DJing  and producing for and what made you get into the edits scene specifically?
Before djing I was a guitarist/singer in a Rock/Grunge band but when I think about it, it wasn't all that good:) After that, when I was 15, my father who is DJ too (DJ Feelingood), offered me my first Turntables, 2 Technics and a little Stanton mixer and that was me gone, the beginning of the addiction.
I started production 5 years ago, but I have really focussed on it over the last 2 years. I am making edits because you can change, reinvent, modernise and make a completely new song utilising the work of wonderful artists. Sometimes young people like me discover huge songs in this way, it's an amazing thing.
Please can you describe your production set up for us and what is the one piece of equipment or plugin that you couldn't live without?
I'm working on Ableton, I have an Akai Apc40 controller and a master keyboard Novation 49sl Mk2. I think that without the controller I would be in dire straits.
What do you look for in a track that you are planning on giving the DJ Ferdinand Debeaufort touch?
First I have to absolutely love it! After that I ask myself if I can do something interesting with the song. Sometimes it works and sometimes not at all.
Please can you give us 3 artists that you would say have directly influenced your style of production and what tips did you pick up from their work that you have utilised in your own work?
1: The Patchouli brothers : I really like these 2 disco guys. The quality of their productions is crazy and their mixtapes are full of rarities and classic golden nuggets.
2 : The Funk District : I love the way that he puts huge energy and good vibes into his edits.
3 : Jean Claude Gavri : For me he's one of the kings of Disco Edit scene.
The edits scene is huge at the moment and especially in France with some superb artists breaking through over the last couple of years. Which artists do you think are pushing the scene forward at the moment?
If we talk about France, the artists I really like are Folamour, Young Pulse, Les Yeux Orange and V4YS. They all keep up the good vibes
You are currently working on an official release, what can you tell us about that?
I have been contacted by several different labels, so I'm working on some releases right now. They are going to be sample based music and funky fresh edits. Stay connected!
You have a huge record collection, how long have you been collecting and please can you pick 4 tracks for us which sum up your collection.
I have been collecting records since I got my first turntables, every kind of music but especially funky, soul, disco, brazilian and afro records.
Choose 4 records ? Not easy :
1 : Gil Scott Heron & Brian Jackson -1980 : I have 2 copies of this album. One was in really bad condition, so I bought a new repress.
2 : Le Pamplemousse – Sweet Magic : I've made an edit of one the songs on this album. Each song on the album is incredible. You can't listen it without shaking your legs, even the record cover is great.
3 : Jon lucien – Mind's eye : What a voice!!!
4 : Joey Negro volume 2 (part A and B) : You can take these 2 records and you have a one hour of your set in your bag. The other volumes are wonderful too.
What can we expect from DJ Ferdinand Debeaufort over the next 12 months?
Official releases, maybe some gigs in Europe and I will make a lot of cool and funky people dance.
And finally, please can you give us some tips for a great day out in Dinard?
Le Carthagène : A beautiful spot in front of the sea with great fresh food. They regularly have DJ's and Bands. It's my headquarters.
La Fonda Café : A Cult Bar in Dinard, nice drinks, nice sound, nice people.
Les Vedettes : A New Resto-Bar very cool. Here you can hear funky sounds while you're eating your tapas.
La Chaumière : A good Night Club to shake your body until the early morning, the girls are beautiful 😉
Love this? Check out our Disco playlist HERE
For more info on DJ Ferdinand Debeaufort please check:
Facebook: https://www.facebook.com/DJFerdinandDebeaufort/
Soundcloud: https://soundcloud.com/user-181936486
LV Mixtape 090 – DJ Ferdinand Debeaufort Tracklist
1 : Sould out – Ojos coloridos
2 : Paul Older – Nao pochie
3 : Joutro Mundo – Morena
4 : Chris GS – Gonna have a party
5 : Ferdinand Debeaufort – Yeah! Some more
6 : Emilio Santiago – Meu Amigo de Nova York (Bernardo pinheiro Edit)
7 : IZK Eyes – ton of Groove (The Funk District reedit)
8 : The Velvet Stripes – Tony Grey
9 : Antonio Carlos & Jocafi – Simbarere (V4YS Kora Edit)
10 : Chevals – Tres Racas
11 : Fleetwood Mac – Big Love (Mighty Mouse DJ Edit)
12 : The Whispers – The Planets of life (Ferdinand Debeaufort Rework)
Tags:
disco
,
DJ Ferdinand Debeaufort