Fish Go Deep – Le Visiteur Featured Artist & LV Selectors 07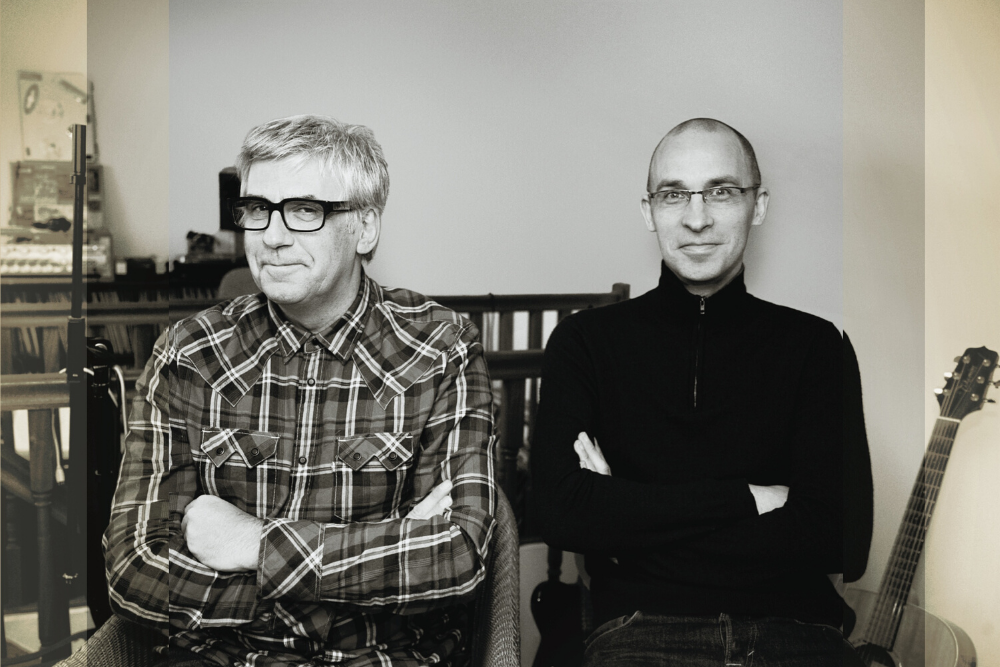 Fish Go Deep – Le Visiteur Featured Artist & LV Selectors 07
Cover photo by John MacMongagle
Over the last two decades Fish Go Deep have built up and enviable and worldwide reputation. They have tackled all aspects of the club scene with aplomb earning a voracious following as producers, DJ's and promoter.
In their own right they have created a string of heavy hitting club tracks for some of the best labels around including Local Talk, Large, Nitegrooves and Om. Their name has become a badge of dancefloor credibility.
Greg Dowling and Shane Johnson launched their own label, Go Deep, in 2005 as an outlet for their own productions and collaborations. They struck worldwide success with their first release The Cure and the Cause featuring vocalist Tracey K which would go on to become a clubland ever green spawning incredible remixes from the likes of Dennis Ferrer, Charles Webster and The Cube Guys.
Since then they have clocked up a 20 further EP's and albums leading to their latest release, the double tracker Midnight Drive / Blackout.
Featuring two tracks of powerful underground house music it is classic Fish Go Deep. Powerful synths, well judged vocal stabs, smooth pads and beautifully produced drums. It's an EP the will fly out when it hits the shelves on December 6th. You can grab it from: http://smarturl.it/anlvmn
We spoke to them in depth about their career to date. Check it out below along with a brilliant mix they put together for us. The full tracklist is at the bottom of the interview.
Hi there Greg and Shane,
Thanks for speaking to us today.
I have been a fan of Fish Go Deep for many years but for our readers who haven't come across your releases before how would you describe your musical style.
Greg:
Musical, dubby, soulful, techy, vocals. We never really stuck to one style on our releases – we love house and techno in all its various guises so sometimes its hard to pin down our sound when someone asks. Hopefully there's soul running through it all.
Which three tracks from your discography would you say are quintessential Fish Go Deep.
Shane:
Work True
An early release on the French label, Brique Rouge… fish go deeeep. We've always loved playing the early sets at our parties, where you're setting the tone for the night and welcoming people to the dancefloor with some warm grooves. This track slots right in there.
The Jazz
A downtempo number we made a lifetime ago with another Cork DJ, Stevie G, that still sounds tasty.
Off Script
This one came out on Stockholm's Local Talk label in 2016 and has been a real dancefloor favourite for us since. Bumping, riffing and bleeping… it just works!
You have been together as Fish Go Deep for a long time. How did you first meet, what set you on the road to being a duo and what was your first gig?
Greg:
I was friendly with Shane's brother and I got to know him through Billy. I was running this Thursday night in a club called Redz, I knew he had some good records – and remember that was a huge issue back then, to actually get the vinyl in Cork was pretty difficult. You had to go to the UK to get tunes or have them sent over. I invited him in to play and that was that – it worked. That's like in '86 as far as I can remember – heady days back then before the whole house thing really hit cork. We were learning on the job. Shane had to go home early because he had school the next day. The naivety of it all, can you imagine!
What do you both think the other brings to the partnership that has helped you stand the tests of time?
Shane:
One of the main reasons it's worked for so long is our different tastes in music. We share a lot of common ground musically but we both grew up listening to very different stuff. I think this gives us a huge range of influences to draw on.
In the studio we've grown into different roles as well… I might do more of the sequencing, sampling and nerdy stuff while Greg gets busy on the synths and modular gear. He has a better ear for the mixdown so that would be largely his domain. Most of the time we're pretty relaxed in the studio too – if the music isn't flowing we try not to stress… we can always try again tomorrow.
How would you describe your latest release the Midnight Drive EP which is out on December 6th on your own Go Deep label and please can you give us a bit of history about the EP?
Greg:
We've been playing Midnight Drive for good few months in our sets and every time it's got this really big reaction – the crowd loved it. We thought let's get this one out on our own label – its a biggie! Blackout is very much built around our modular synth setup, real raw and deep. Again it sounds great on a big system.
How would you describe the ethos of your label Go Deep?
Shane:
We both love everything from soulful vocals to deep percussion tracks to moody techno and want the label to reflect that. We're not interested in being another label that has one particular sound and just releases slight variations month in month out.
If you could give a couple of bits of advice to someone starting a label right now, what would it be?
Greg:
That's a hard one. There's so much stuff being released these days, you really have to have something unique to get noticed. My advice would be to find your sound, don't rush it, make sure you get proper pr and put out the music you believe in not what you think people want to hear…you gotta believe!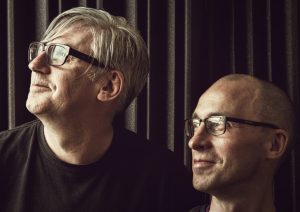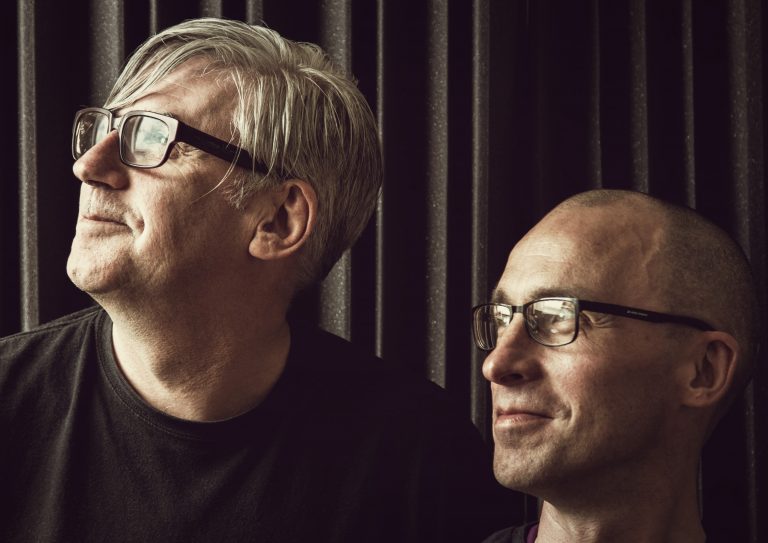 Fish Go Deep (Photo by Billie Johnson)
How big are your own record collections?
Shane:
Our collections are large, sprawling and spread over several locations and if you asked me to look for a particular record it could take a while. I love vinyl but I've always treated it as a working tool, so many of my favourite, most played records are battle scarred and in well-deserved semi-retirement. Greg still buys vinyl and I understand the romance of it but I'll take a pristine WAV version any day.
You've had a weekly radio show for some time right? That's a big commitment. Where can we find it and how do you keep it fresh?
Greg:
That's easy – there is so much amazing music being released at the moment, sometimes too much. When you're doing a show like ours there such a wealth of old and new music to draw from each week. There's also two of us with quite different tastes which is a big help. I generally check all the promos first and then trawl through the download sites and then the vinyl sites and look for the records that excite me or are different. All that makes it very easy to stay fresh. We been DJing and promoting for the last 30 years so house runs deep in our veins and we still love it with a passion. The show gives us a chance to play the deeper and sometimes more interesting stuff and it also keeps you right on top of what being released, which is great. I love the radio show.
Are there any particular artists and labels that you follow who you think are doing the business right now?
Shane:
I love Waajeed's sound. It's so Detroit… raw, soulful grooves that blend electronic and acoustic instruments so well. Let Your Love, off his latest EP, is one of my favourites right now.
Jimpster and his label, Freerange, have been so consistently good for so many years that they can sometimes be taken for granted. The label has a strong identity but within that there's a lot of variation and every release is a must-listen for me.
And I hear brilliant music from new producers all the time. Just in the past couple of weeks people that I've never heard of before – Grant, Jorge Caiado and ELKKA – have all released great tracks.
Please can you give us 4 tracks, 2 each, which you would say have directly influenced your style of production.
Greg:
Rhythm & Sound with Tikiman – What a Mistry
I feckin' love this sound – it's that real deep dub I love. A sound I aspire to.
Trailer Ends – Running Around (Dark Swing Mix)
Perfection in house music for me. A deep deep dub with a driving rhythm track and something we try achieve with our production: every element means something. Less is more, don't be afraid to take things out.
Shane:
Glenn Underground – 70s Trip
This one works on so many levels – it's a killer, heads-down dancefloor groove that breaks into a sublime jazzy middle section, before bringing it home with a viciously filtered finale. An object lesson in dynamics and arrangement.
Mutiny – Bliss (Masters At Work Mix)
Is there a better produced song in house music? (Correct answer: no.) I listen to this every once in a while to remind myself of the inspirational heights that studio talent and musicianship can reach. Kenny and Louie are kings.
What can we expect from Fish Go Deep over the next 12 months.
Shane:
We've finished a lot of music in recent months, including a bunch of collaborations with other artists, so we're planning release dates for those well into next year. Our label, Go Deep, has been in hibernation for a bit so that's ready for a relaunch and most of the finished material we have will be coming out on that during 2020.
And finally, please can you give us 4 tips for a great day out in Cork. A place to buy records, a place to eat, a place to drink and a place to dance.
Greg:
Plugd Records, over the Roundy Bar: easily the best place to get your tunes.
Jacques Restaurant on Oliver Plunkett Street: great tapas in the bar and lovely locally sourced produce cooked simply in the restaurant.
Ah bars… so many in cork! Osho and Impala are two happening spots at the moment, both with lovely friendly crowds.
For clubs, Cyprus Avenue and Dali are the two main spots for house and techno, both with world class sound systems. Come to Cork – it's great!
Shane:
What he said, plus a few northside spots: Iyer's restaurant, The Bierhaus and Maureen's bar.
Love this? Check out our House playlists HERE
For more info on Fish Go Deep please check:
www: http://www.fishgodeep.com/
Facebook: https://www.facebook.com/fishgodeep/
Twitter: https://twitter.com/fishgodeep/
Insta: https://www.instagram.com/fishgodeeper/
LV Selectors 07 – Fish Go Deep – Tracklist 
1) Sascha Dive – Dub Chronicles #1
2) Fish Go Deep – Blackout
3) Lovestad – Miles (Jimpster Remix)
4) Mark Farina & Homero Espinosa – Detour Jazz
5) Demuir – Werq. Feel. Gruv. Vogue.
6) Scott Diaz – Happiness is the Truth
7) Lee Genesis – Can't Separate Me (Splice of Life Mix)
8) Makez – Different Planets (Bobby Analog Remix)
9) Fish Go Deep – Midnight Drive
10) Claude VonStroke – Slink
11) Waajeed – Let Your Love
12) Soulphiction – Speedswing
13) The African Dream – Makin' a Living
Tags:
Cork
,
Deep House
,
Fish Go Deep
,
Glen Underground
,
house music