Fouk – Le Visiteur Featured Artist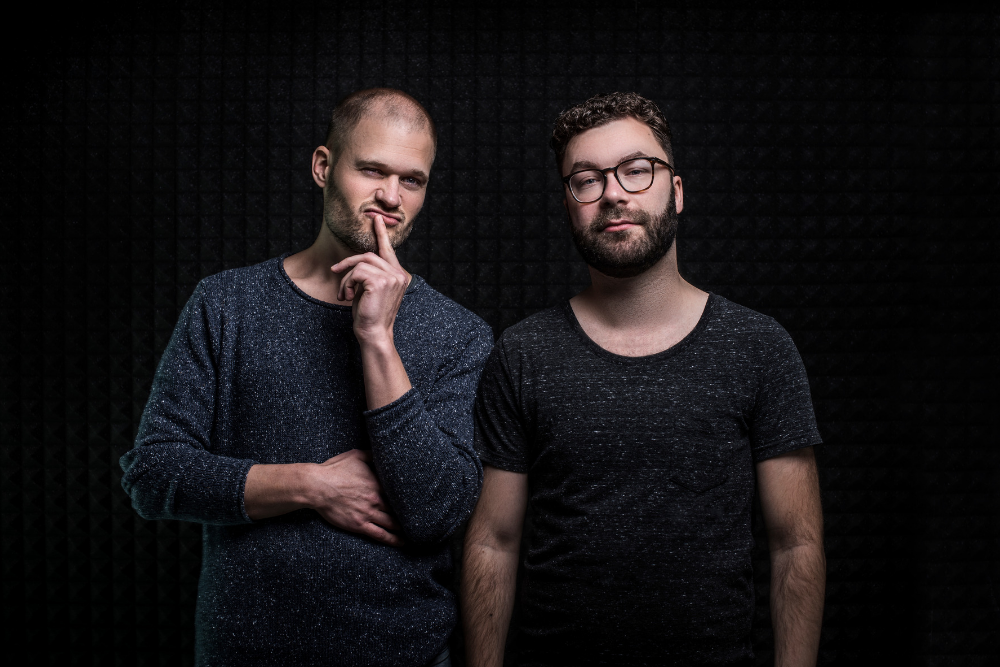 Fouk – Le Visiteur Featured Artist
Cover photo by Lennard Heijer Photography
Fouk are a production duo that we have kept a close eye on at LV HQ. They have released with the cream of electronic labels including Heist, Room With A View, House of Disco and Razer-N-Tape and they also launched their own much lauded label Outplay.
Their releases scream quality, you can tell from the get go the hard work that has gone into each individual release. Check out our review of their latest Truffles EP with Heist Recordings HERE. And you can also buy the release from HERE
We caught up with them to discuss their on-going partnership with Heist, tracks which have influenced them, artists who inspire them, what their plans are for the year ahead and lots more.
Hi there Daniël & Hans,
Many thanks for speaking to us today.
For our readers who haven't come across your releases before how would you describe the musical style of Fouk?
We usually say it's house music with funk/disco/jazz influences. We always aim to make our music sound organic and lively, with a focus on a good groove in the bassline.
Please can you give us 3 of your own tracks which are quintessentially Fouk
Fouk – Coconuts
It was pretty difficult to pick either Coconuts from our Heavy On The Bacon EP on Room With A View or Kill Frenzy from our first EP on Heist. Both came out in the same year and both are good examples of our sound from back then. A collage of samples mixed with synths. In the end we chose Coconuts because of the fuzzy floating feeling we still get from this track.
Fouk – Mating Call
Mating Call came out last year on our own label Outplay. When speaking of making things sound organic, this one fits the bill perfectly. It's a very good example of how our sound has developed over the past years. It's us straying away from using (a lot of) samples and featuring mostly our own playing, but also using our signature bass line grooves.
Fouk – Truffles
We have made a lot of tracks featuring more of a song structure and with Truffles we wanted to make a proper club track without over thinking it (which we always do haha). If you listen to Truffles next to Kill Frenzy, you can definitely hear we made Truffles 4 years later! The sound is more open and polished.
How would you describe your latest release the 'Truffles EP' which is out now on Heist Recordings and can you give us a bit of history about the release?
As always Lars & Maarten pushed us to develop our sound for a new EP. This time was no different. We made the tracks over the course of a few months with a lot of tweaking and hair pulling. As we said earlier we are champions of overthinking our productions and the challenge was not to do that. Less is more, so to say.

We are really happy with how varied and connected the tracks are. A perfect presentation of Fouk 2019. The Hugo LX' remix of 'I'll Be Down' is just phenomenal. We have been listening to it on repeat! It rounds up the EP perfectly.
This is your third release with the excellent Heist label following up your landmark Kill Frenzy EP in 2015 and your With Lasers EP in 2017. What would you say are the strengths of Heist that have made you come back for a third release?
Heist feels like family! They have a great focus on what's going on in the scene and each time we've released on Heist we feel new and improved. As we said they push us on toward bettering ourselves. Since they are great people to work with it feels natural to keep coming back 🙂
How would you say that your sound and approach to making music has changed in that time between your three EP's?
Well it has changed a lot. We already mentioned above our productions are a lot less sample focused nowadays. The way the scene has evolved in the mean time also has had an effect on us as artists. Our tastes have broadened next to us playing more peak time gigs you're bound to be influenced and inspired by new things 🙂
Please can you give us 3 tracks which you would say have directly influenced your style of production.
Max Graef – Life On Mars
Max' sound back in 2014 definitely was a big influence! The way he sampled and made his productions bounce was fantastic. His Rivers of the Red Planet album was the culmination of that, timeless! When you listen to Stuff Your Dad Liked and Cat Lady from our First Things First EP you can hear the influence of early Max.
Floating Points – Myrtle Avenue
This one never loses it's edge, it's timeless for us. The dynamics, the rhodes, the subtleties. Beautiful!
Tom Browne – Funkin For Jamaica
We've always been about the funk in our music. This one is a prime example of an influence. Someone called our sound Nu-Funk one time, and yeah totally feel that! But it's never about one track which influenced our funk, too many to mention of course.
You also run the Outplay label which has had some superb releases from Loz Goddard, Harry Wolfman, New Franklin Theory and of course Fouk and each of your individual projects. What would you say are the most fun aspects of what you do as a label and which are the most tiresome and how difficult is it to co-ordinate with your production and touring schedule?
The most fun is being able to find and work with new young artists! Also the ease of having a platform for releasing your own music is fantastic and one of the reasons that we started Outplay in the first place.
The most difficult is actually finding the gems to release as we are super picky. A good thing of course, but still can wear you out a little bit when we need to divide our attention between Fouk and actively finding new music for the label.
The most tiresome is having to use social media in general. Don't get us wrong it's a fantastic way of getting yourself out there and staying in touch with your fans. But combining social media with being creative can feel like a chore and is often in the way of a good studio session for instance.
If there was any one artist who you could sign to the label who would it be and why?
Oof that's a tough one! Definitely Giovanni Damico. We've been following his work for a long time now and we are big fans. Is you look at how his sound has developed over the years and he's a very versatile producer. Check his latest The Sounds of Revolution EP on Lumberjacks In Hell, full on italo disco funk, very solid!
We are big fans of the LP as a format for artists to really express themselves. Do you have any plans to do a full album release or will it be singles all the way?
Yes we do, as we've already started putting aside some sketches. But there's no deadline yet. LP's can be tricky nowadays for artists as they have to be released on the right moment. And it has to be top notch of course, we want our album to be diverse without losing the Fouk feel.
Over the last couple of years you have toured extensively. If you were asked to collate your perfect club night featuring artists you have played alongside which 4 artists would you book and why?
Kornél Kovács, great dj and very versatile artist all round.
Laurence Guy, big fan of his music and very talented producer. We were really impressed with his dj sets.
Crackazat (live!!), MUSICALITY, period!
Detroit Swindle, surprise, haha! Great artists and played with them multiple times and always a lot of fun.
When you are djing together as Fouk what is your 'if all else fails track'.
Doc Daneeka – What's It Gonna Be? feat. Seven Davis Jr (Earl Jeffers Round N Round Mix)
Might call this one a classic already. It's from 2015 and the way the bass line kicks in is a sure thing 🙂
What else can we expect from Fouk in 2019?
We're returning to The House Of Disco this year with an EP. We have a few "edit's/reworks/whatever" finished for a white label release. And there's lots more coming as we've been quite busy in the studio!
And finally, please can you give us 4 tips for a great day out in Utrecht. A place to buy records, a place to eat, a place to drink and a place to dance.

We usually go shopping for records in Amsterdam, so can't tell a lot about the shops in Utrecht. As Hans lives in 's-Hertogenbosch (45 mins south of Utrecht), there is a great shop called Maestro's Records there. It's a very scenic city, so it's worth a visit!
If you like beer (like us) you definitely have to go to "Kafé België", huge selection of beers!
For food it's "Meneer Smakers": They have multiple locations in the city for a quick way to get a great burger!
As Utrecht is a student city there are a lot of student bars, but for great club nights definitely check out Basis at the Oudegracht!
For more info on Fouk please check:
Facebook: https://www.facebook.com/justsayfouk
Soundcloud: https://soundcloud.com/justsayfouk
Tags:
crackazat
,
fouk
,
Giovanni Damico
,
Heist Recordings
,
Kornél Kovács
,
Laurence Guy
,
outplay