Le Visiteur Spin City Radio – DJ Mix May 2023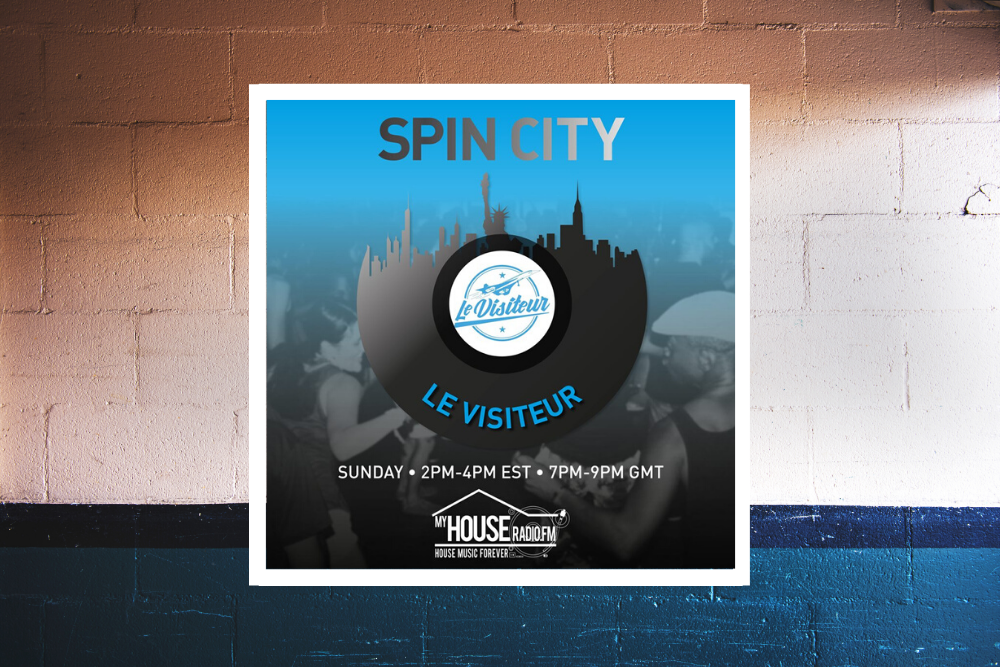 My second Spin City outing of 2023 fell on a bank holiday week-end and that coupled with the sun beaming out for the first time in months as I was mixing, it felt right to put together a summer party mix. You can expect lots of vocal goodness, soaring synths, funky guitar licks and bubbling basslines. This one will definitely feel right next to the pool or down at the beach.
There are some real gems in the mix kicking off with Marcel Vogel & LYMA's blissful RnB edged stepper aptly titled 'Keep on Stepping', if you haven't already the checked it the EP that one appears on Games Change, it is an essential purchase. Jaegerossa's euphoric disco gem Disputed is a real hands in the air moment and quite possibly his finest track to date. Róisín Murphy & DJ Koze's Can't Replicate (12′ Edit) is a future classic through and through and has all at LV salivating for the album Hit Parade which lands  in September. There are a few dusty gems incldued that I have been spinning in DJ sets again including stunning tracks from Art of Tones, Junior Sanchez, Dimitri From Paris and Underdog. Also unusually in my mixes there are a couple of artists who feature twice, so shouts out to Reece Johnson and Antonio Santana for dropping some real gems right now that demanded to be included.
If you are feeling this mix, PLEASE give it a share over on Soundcloud and help spread these brilliant artists and tracks far and wide. Countless hours, and untold blood, sweat and tears went into these productions so a simple click can help get these tracks the attention they deserve. Thanks Le Visiteur x
Le Visiteur – Spin City Radio – November 2022 – Tracklist
Marcel Vogel & LYMA – Keep on Stepping (Extended) [Boogie Angst]
Joseph Malik – Adult Contemporary (Album Version) [F*CLR Records]
Art Of Tones – Flower Child (Original) [Z Records]
Jaegerossa – Disputed [Midnight Riot]
Delfonic & Kapote – I Like Music Rejam [Illegal Jazz Recordings]
Dames Brown feat. Waajeed – Glory [Defected]
Reece Johnson feat Venessa Jackson – Have Faith (Yam Who Downtown Remix) [Midnight Riot]
Antonio Santana – Hold It Now (Original Mix) [Tropical Disco Records]
Kiko Navarro, Dj Pippi & Willie Graff – You Can't Run From My Love (Extended Mix)
Fun Boi – Release and Repeat [Sosilly Records]
The Company Soundsystem – Sweet Thang (Extended Mix) [King Street Sounds]
Kraak & Smaak – Get Live Get Down [Bombstrikes]
Dexter Troy – Love Somebody (Original Mix) [Street King]
Junior Sanchez – Strong Enough (Original Mix) [Circus Recordings]
Reece Johnson – Watchin, Waiting [Pomme Frite]
Róisín Murphy & DJ Koze – Can't Replicate (12′ Edit) [Ninja Tunes]
Superlover – Piano Pump (NiCe7 Remix) [Glitterbox]
Antonio Santana – Like You Like It (Original Mix) [Tropical Disco Records]
M.LUC – In My Soul (Original Mix) [Unquantize]
Groovemasta – Come On, Dance [Hot Digits Music]
Lup Ino – Fat Zorina [Hot groovers]
Underdog Edits – Get Up and Stand [White]
Love Committee – Law & Order (Dimitri from Paris DJ Friendly Classic Re-Edit 2017 Remaster) [Salsoul]
Kiko Navarro, Dj Pippi & Willie Graff – N'Fumbei [Afroterraneo Music]
Check out more Le Visiteur Mixes here
Check out more Le Visiteur Spin City mixes here
Like what you hear? To help support LV Online buy us a coffee via Ko-FI. Click HERE
Tags:
le visiteur
,
Spin City
,
Spin City Radio