Marvin Gaye – I Wanna Be Where You Are / I Want You – Limited 180gm 12″ [South Street]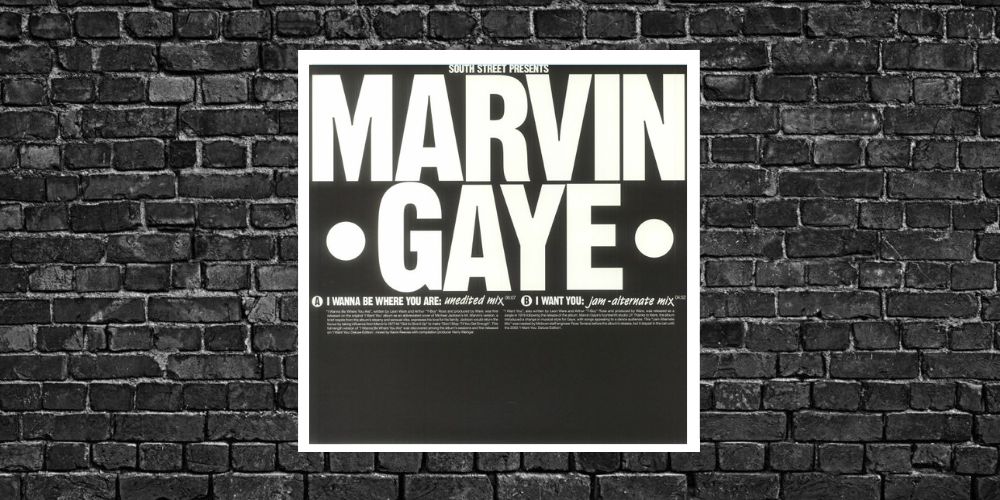 When it comes to soul music, few names shine as brightly as Marvin Gaye. He's an artist whose life and work has long intrigued me personally, indeed his albums are never far from the LV sound system. With his velvety-smooth vocals, socially conscious lyrics, and timeless melodies, Gaye's musical contributions have left an indelible mark on the world of music. From his humble beginnings to becoming a global icon, Gaye's life and career offer a fascinating glimpse into the evolution of soul music across the decades.
Having honed his talents at the local church as a youth, where his father was minister, Gaye's ascent to stardom took flight in the 1960s when he signed with Motown Records. His velvety voice captivated listeners with hits like 'How Sweet It Is (To Be Loved By You)' and 'Ain't That Peculiar'. However, it was his collaboration with songwriting duo Ashford & Simpson on 'Ain't No Mountain High Enough' that would become a career-defining moment, solidifying Gaye's standing as a chart-topping force with an ability to infuse his music with a soulful emotion. It's a track which has recently surpassed the 1 billion listens mark on Spotify, a testament to Gaye's enduring legacy.
His early work whilst stunning, definitely erred on the pop side of the soul spectrum, but as the 1970s dawned, Marvin Gaye's artistic ambitions grew bolder, leading to the release of his magnum opus, 'What's Going On,' in 1971. It was a groundbreaking concept album which addressed social and political issues, tackling themes of war, poverty, and environmental degradation, an album as pertinent today as it was 52 years ago. 'What's Going On' was a masterstroke striking a chord with audiences and solidifying his legacy as a visionary artist.
His creative output in the 1970's is scintillating. From "Trouble Man," the soundtrack to the film of the same name which showcased his range as a composer and his ability to create moody, atmospheric soundscapes via the iconic "Let's Get It On," a sensual and provocative exploration of love and desire whose title track became an instant classic.
Gaye arrived in 1976 on a creative tidal wave whilst simultaneously living through a difficult divorce from his wife, the songwriter and label exec Anna Gordy who was sister to Motown founder Berry Gordy. He was also starting out on a new relationship with Janis Hunter with whom he would have two children. It was against this backdrop of personal upheaval that Gaye delivered 'I Want You,' an album which delved deeper into the realms of sensuality and romance. With lush orchestral arrangements, smooth melodies, and Gaye's trademark falsetto, capturing the essence of seduction in each song.
And it's from this album that the roots for today's incredible 12″ was borne some 47 years ago. With the album receiving a sumptuous Deluxe edition mixed by the acclaimed Kevin Reeves and remastered by the talented Ellen Fitton in the early 00's. Reeves and Fitton's Deluxe edition of I Want You was a masterpiece of reissue, packed with care and attention and overflowing with adoration for the artist whose musical genius they were able to pay homage to by utilising the technological advancements of today enhancing the sonic depth and clarity of the recordings. It is from that sultry and sparkling edition that both tracks 'I Wanna Be Where You Are' and 'I Want You' began their journey towards today's incredible 12″ release.
'I Wanna Be Where You Are' was written by the magical pairing of Leon Ware and Arthur 'T-Boy' Ross with Ware also producing the original album version. Originally the track was an abbreviated cover of a Michael Jackson's hit running at only 1.17 on the original album, but giving respite from the steamy and sensual rapture of the rest of the album.
The new unedited version took the run time up to over 6 minutes turning it from a momentary pause into a delicious and spellbinding slice of soul music. Having only ever previously being released as a Japanese 7″, which now sell for over £100 on discogs, this is an essential pressing.
Over on the flip is an equally stunning track and one which demonstrated another sting to Marvin's multi-layered bow. Written by the same team as the A side 'I Want You' allowed Marvin to step into the burgeoning disco world. This particular mix (Jam – Alternative Mix) holds off on Marvin's vocal until the final passage instead preferring to concentrate on the incredible musicianship behind the track. It's a soaring soundtrack packed with emotion, a track to get lost in, a world of it's own and an end of night anthem if there ever was one.
This 12″, which also features an A2 poster, is a fitting showcase for what are undoubtedly two of the finest moments from the I Want You Deluxe album. It's fantastic to have them pressed loud and crystal clear on a heavy duty 180g vinyl. This is one for DJ's looking to add a touch of class to their sets or just soul music lovers looking to own a piece of musical history . Whichever camp you land in, don't hang around long as it's a limited release.
You can grab the 12″ right now via: https://www.juno.co.uk/products/marvin-gaye-i-wanna-be-where-you/934929-01/
For more info on Marvin Gaye and South Street please check:
Marvin Gaye Facebook: https://www.facebook.com/MarvinGaye
South Street Records Facebook: https://www.facebook.com/southstreetrecords
Marvin Gaye – I Wanna Be Where You Are / I Want You also featured in our Disco Juice column this month alongside South Street's next and equally brilliant release John Rocca – I Want It To Be Real (LNTG Edit) check that here
Like what you hear? To help support LV Online buy us a coffee via Ko-FI. Click HERE
Tags:
Marvin Gaye
,
South Street