LV Mixtape 160 – Anoraak [Paper Disco]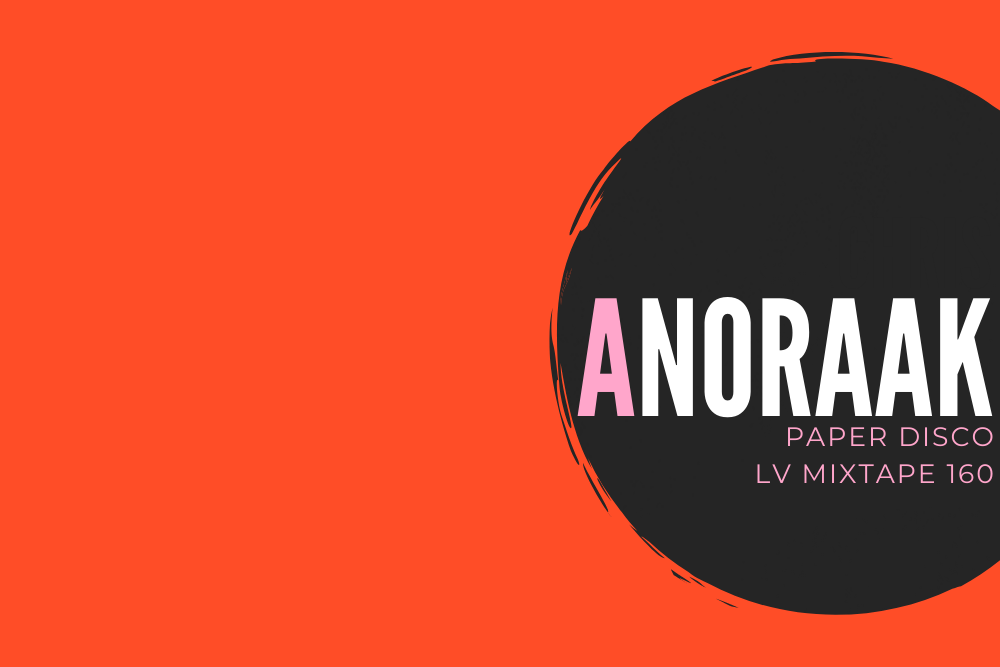 LV Mixtape 160 – Anoraak [Paper Disco]
We have been longtime fans of Anoraak here at LV Online. Hailing from Marseille he's been a key artist on the French electronic scene for nearly a decade and a half. His classic 'Nightdrive With You' album recently had a major 10th anniversary re-release which brought this brilliant album to the attention of a whole new generation of music lovers. It also provided a well placed stepping stone for Anoraak who has gone on to recraft his sound becoming one of the stand out performers on the Nu Disco scene over the last couple of years with a string of hugely well received singles since.
His latest EP see's him team up with another LV favourite Luxxury and vocalist Lauren Turk for a wonderfully warm summer Nu Disco track Fire Inside. It's a sparkling EP which is out via Paper Disco and features a powerful Emperor Machine remix and another new track from Anoraak Up To You. Grab it from: https://anoraak.bandcamp.com/album/fire-inside
We have a full interview incoming from Anoraak next week so make sure that you check back for that. In the meantime check out this superb mix that he put together for us and please give it a share on soundcloud and help spread the love. The full tracklist is at the bottom.
We spoke to Anoraak about the mix.
Q1: What can you tell us about the theme of the mix you have done for us and what are some of the key tracks for you?
I tried to include many of my tracks, and stay in a rather balanced disco mix, between a sunset time kind of mood and a dancefloor burner 😉 I also included an exclusive unreleased track.
Q2: You are renowned for your live shows. How often do you get the chance to DJ and how does the style of mix here compare to how your would approach a live DJ set.
I actually recorded this one live, so you can expect the same kind of mix if you come to see me playing in a club or a festival, always very disco.
Q3: Which other artists DJ mixes do you find yourself coming back to time and again and do you have a favourite that you gravitate towards?
I always enjoy Yuksek's mixes, this one is quite a good exemple:
Love this? Check out our Nu Disco playlist HERE
For more info check: 
Anoraak Facebook: https://www.facebook.com/anoraak
Anoraak Soundcloud: https://soundcloud.com/anoraak
Paper Recordings Facebook: https://www.facebook.com/paperecordings
Paper Disco Soundcloud: https://soundcloud.com/paper-disco
LV Mixtape 160 Anoraak – Tracklist
Fire Inside – Anoraak, Luxxury, Lauren Turk
All The Way (Vibes4YourSoul Tonight's Ze Night Rework) – V4YS
Gang feat. Sarah Maison – Anoraak
Lie Lost – Crazy P
When I'm Alone – Adeline
Between Love feat. Maria – Uzor Anoraak
Judge Not (Ray Mang Disco Mix) – Phenomenal Handclap Band
Up To You – Anoraak
Adadadeya (DJ Edit) – PATAWAWA
Pump The Boogie (JKriv Extended Remix) – Mark Picchiotti, JKriv
??? – Anoraak
I Don't Have a Drum Machine – Yuksek
Push (In the Bush) (Birdee Remix) – Michael Gray, Birdee
More Bongos – Rubin Steiner
TwoVoice (Version 54) – The Emperor Machine
Tags:
Anoraak
,
luxxury
,
nu disco
,
paper disco
,
paper recordings