LV Mixtape 177 – Jerk Boy (JB Edits) [Sosilly Edits]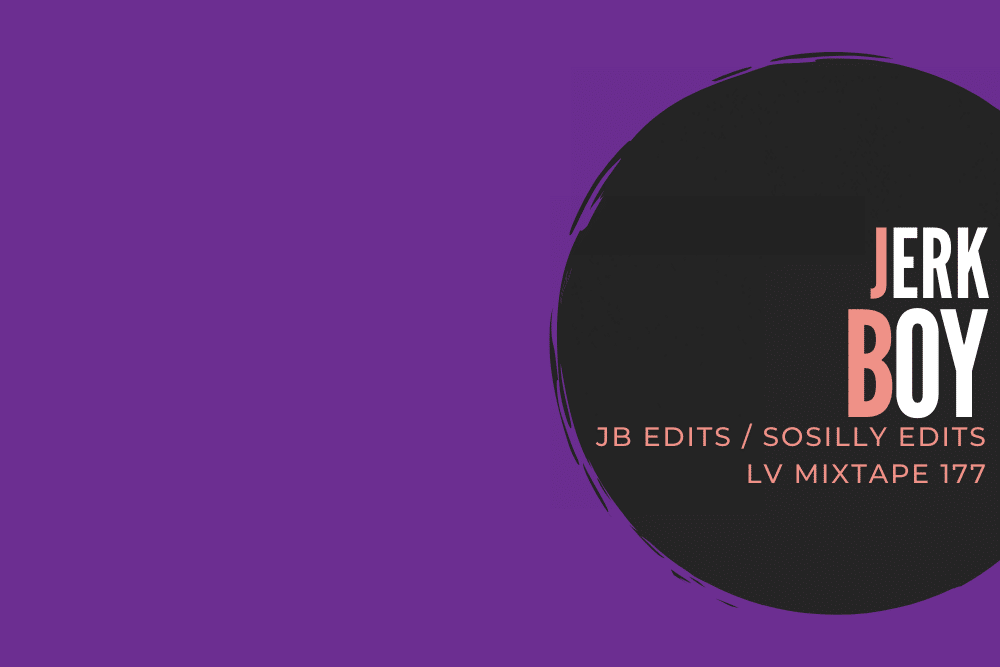 LV Mixtape 177 – Jerk Boy (JB Edits) [Sosilly Edits]
Like what you hear? To help support LV Online buy us a coffee via Ko-FI. Click HERE
Jerk Boy is an artist who first came to our attention when Yam Who featured his Sosilly Edits EP 3 in his Disco Juice feature for us a last month which you can check HERE. After exploring his Sosilly Edits series it's clear that he's a producer with a great ear for taking classic Disco grooves and reworking them to perfection for 2020. He's an artist who we expect to blow up in 2021 as the clubs start to open up again and his tracks become common place on some the more clued up dancefloors.
We recently premiered his superb track Encounter Of The Funk Kind from his upcoming JB edits Volume 4 which lands in December. We were so impressed with the EP that we asked Jerk Boy to put together a mix for our mix series and we also have a full interview incoming shortly with him. In the meantime we asked him a few questions about the mix which you can check below. The full tracklist is at the bottom.
Make sure you get right on this EP and please give the mix a share over on Soundcloud if it starts yous party.
Q1: What can you tell us about the theme of the mix you have done for us and what are some of the key tracks for you?
The mix features some disco & afro flavoured jams I'm digging, it's a mix of new and some old tracks. There are some big drum percussion work outs and wonky bendy bleepy bits. I threw in a cheeky unreleased edit of an old afro disco jam I love by Christy Essien.
I love doing DJ mixes, but not just picking 12 tracks and whacking them together and that's it. I kind of treat it like a rap mix tape with interludes and weird bridges where I'll add acapellas and mash up sections.
I always loved those Italo house megamixes when I was a kid growing up, I'm a big fan of the cut & paste method mashing stuff together, not completely over the top but done tastefully. It is how I love to DJ in the club with 3 or 4 turntables or CDJ's.
I came from a hip hop & turntablist background and I love to keep myself occupied.
If I was just mixing records together I'd get bored and probably wouldn't be a DJ.
I think some of the standout tracks for me are DJ Rocca & Daniele Baldelli – Funkynoizer (Selvagem Farofa Mix). The track has everything I look for in a song – discoflava, bleeps and bendy synth's and dubby delays.
The perfect kind of song I like to hear when I'm a mess in the middle of the dance floor.
I'm really happy with the edit I did of Christy Essien and the new arrangement. I went for that original disco 12" mix with the drum bridge and added loads of new percussion because the original never had a 12" version.  I can't tell you which song it is, you'll just have to listen to the mix or look at the track listing!
Q2: How does the style of mix here compare to how you would approach a live DJ set?
It's exactly how I would DJ. I love trying to tell a story or go on some kind of epic journey…. Yeah look sometimes your dance floor doesn't give a shit and they just want to hear the hits, but if you get the right place and time and they are up for it, I'll throw down!
Q3: Which other artists DJ mixes do you find yourself coming back to time and again and do you have a favourite that you gravitate towards?
Hmm there's so many where do I start! I have loads of old early house/techno, jungle, rave/hardcore mixtapes I collected when I was young, there's one I have from DJ Slipmatt  in 1994 live at Pleasuredome in Sydney, amazing! Another one from Carl Cox in Sydney in 1992 was great.
Then there's all the old early MOS compilations like the MOS Sessions mixes by MAW, Tony Humphries, C&C, C.J. Mackintosh, Frankie Knuckles, Farley & Heller , X-press 2  and DJ Harvey. Don't get me started on Harvey, I love the guy, all his mixes are great if only he'd do 8 hour mixes like his DJ sets. I also love all those MOS FSUK compilations. It's a shame the compilation market has died.
I think with digital radio stations like Worldwide FM / Soho Radio / Red Light and services like Soundcloud / Mixcloud etc the art of the mix has been kind of watered down. I love the fact there's so much on offer but honestly there's too much to choose from! I don't know where to start anymore hahaha! Lately I've been tuning into Louie Vega's lock down sessions on Worldwide FM which I love.
Love this? Check out our Disco and House playlists HERE
For more info check
Jerk Boy Facebook: https://www.facebook.com/jerkboymusic/
Jerk Boy Soundcloud: https://soundcloud.com/jerk-boy
Jerk Boy Instagram: https://www.instagram.com/jerkboymusic/
LV Mixtape 177 – Jerk Boy (JB Edits) – Tracklist
1. The Salsoul Orchestra, DJ Spinna – Chicago Bus Stop (Ooh, I Love It) (DJ Spinna ReFreak)
2. Christy Essien – You Can't Change A Man (JB Edits Revison 12" mix)
3. Shovell, The Latin Hooligans – Soul Makossa (Drums De Makossa)
4. DJ Rocca, Daniele Baldelli – Funkynoizer (Selvagem Farofa Mix)
5. Da Lata, Diabel Cissokho – This Is Not Your Job (Art Of Tones Afrobeat Dub)
6. Atomga – Zenpocalypse (Bosq-s Super Disco Mix)
7. The Wizard & The Prince – The Wiz Is A Genius (Original Mix)
8. Mike Dunn – If I Can't Get Down (Accapella)
9. Sartorial – Ruby
10. Africanism – Do It (Accapella)
11. AC Soul Symphony – Manhattan Skyline (JN Spirit Of -77 Extended Mix)
12. Soul Central, Jennifer Wallace – Work It Out (People) (West Loop Chicago Mix)
13. Igor Gonya – Budai Hotei (Original Mix)
14. Alex_Gopher – Party_People (Accapella)
15. Fusion Funk Foundation, Lo Greco Bros – Sweet Bread
Tags:
disco
,
JB Edits
,
Jerk Boy
,
Sosilly Edits