LV Mixtape 200 – Tiptoes [Moment Cinetique]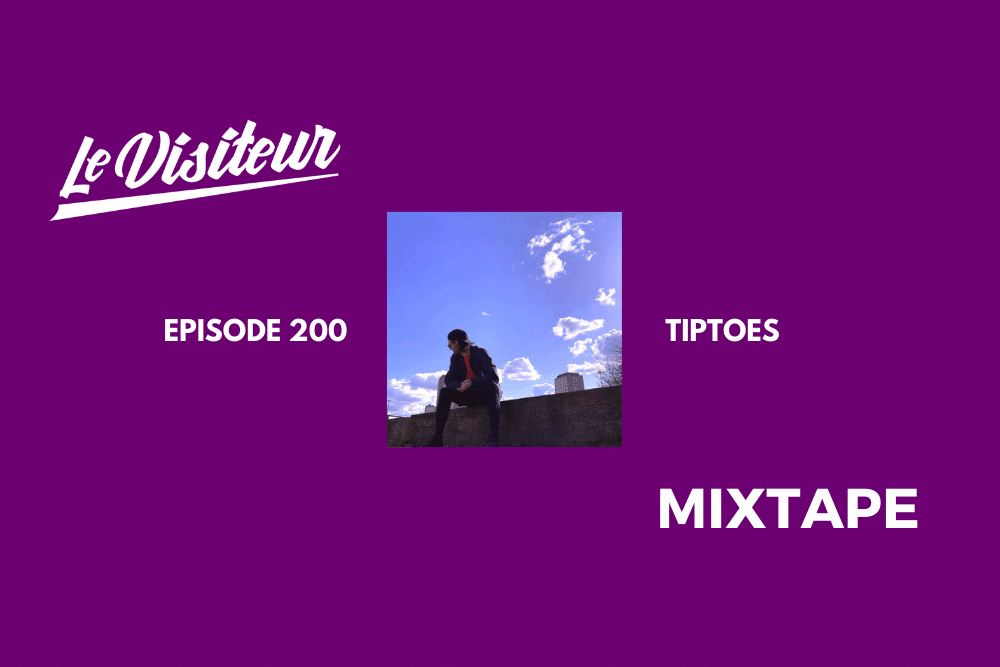 LV Mixtape 200 – Tiptoes [Moment Cinetique]
Like what you hear? To help support LV Online buy us a coffee via Ko-FI. Click HERE
We first came across the super talented Tiptoes when his track Ruffcut landed in our digital mailbox courtesy of what has become one of our most trusted labels Moment Cinetique. He followed that one up with Let go and Steamboats, musically covering a lot of ground from classy deep house through peak time disco house. Safe to say we were hooked with Let Go, which we premiered HERE, being one of our most played tracks last year. His latest release sees him back on Moment Cinetique with another essential EP 3am which we covered HERE and which you can check below.
Safe to say that we have been impressed with this talent out of Glasgow so he was a shoe in when out 200th mix came up. We also have a full interview incoming next week so give this a share on soundcloud and pop back next week for the interview. The full tracklist from the mix is at the bottom.
Q1: What can you tell us about the theme of the mix you have done for us and what are some of the key tracks for you?
When I'm approaching a mix I always do loads of prep and digging then when I finally get down to doing the mix I always record it live in one take rather than layering up a bunch of tracks in a DAW and warping them to tempo as I like to feel the immediacy of the mix in its natural context rather than in a studio environment. Admittedly it's not always quite as tidy this way, especially with live drummers on old disco and rare groove records but I prefer to give the listener that ''this was mixed live by an actual person'' feeling.
For this mix I dug out a few disco bits that I haven't played in a while to kick things off then transitioned into some deep house bits that I've been feeling. I wanted this mix to be more on the deeper side of things with a few disco/funk things to break it up.
Q2: How does the style of mix here compare to how you would approach a live DJ set?
Good question. I always think a recorded DJ mix is kind of a middle ground between the studio and the real thing. From my POV it's definitely a bit more linear than when playing in front of a live audience. In a live mix I usually move through things quicker and I will definitely throw in some bigger tunes and things that people will know, plus there's always that sporadic moment when you're reading the crowd reaction and a random tune just pops into your head like – aye that's what to play now, that'll do the damage here. Obviously this can't really be replicated in the studio environment.
Q3: Do you have a particular favourite track on this mix?
The very last one, Shirley Finney – Pray Again – I always like to finish the night and send people off on a high. This is one of those end of the night tunes, life-affirming feelgood gospel disco, lovely stuff.
Q4: Which other artists DJ mixes do you find yourself coming back to time and again and do you have a favourite that you gravitate towards?
There's no one specific mix per se but here's a bunch of artists, labels, selectors, blogs and venues that I check for and rate:
Obviously Le Visiteur, Mr Redley, Kyle Hall, Jay Daniel, The Remedy Project, Chris Duckenfield, Byron the Aquarius, DJ Caspa, Delfonic, Rainer Trueby; Max Graef/Glenn Astro; Westcoast Goddess; Ben Sims; Demuir; Apparel; Slothboogie; Jeremy Underground; Red Rack Em; Nomada; Blaq Numbers; Balamii; Darryn Jones/Tone B Nimble; Wolf Music; Henry Wu; Moment Cinetique, Motor City Drum Ensemble and so on and so on……..
There's a million others that I've no doubt forgotten to mention but anyone wanting to go fishing for tunes, go check out all these cats and you'll find gems aplenty.
Lastly a special mention to the BSide guys who had the fucking cool idea of getting DJs to put together mixes with tracks selected solely from B-sides of their record collections. I did one a while back that you can check out here:
Grab 3am from: https://www.traxsource.com/title/1647879/3am
For more info please check:
Tiptoes Facebook: https://www.facebook.com/tiptoesmusic1/
Tiptoes Soundcloud: https://soundcloud.com/tiptoesmusic1
Tiptoes Instagram: https://www.instagram.com/tiptoesmusic/
Tiptoes Twitter: https://twitter.com/tiptoesmusic
Moment Cinetique Facebook: https://www.facebook.com/momentcinetique/
Moment Cinetique Soundcloud: https://soundcloud.com/momentcinetique
Moment Cinetique Instagram: https://www.instagram.com/momentcinetique/
Moment Cinetique Twitter: https://twitter.com/momentcinetique
LV Mixtape 200 – Tiptoes – Tracklist
Five Special – Sweet Baby
Clarence Mann – Show Me Baby
Everlife – Money's Only Paper
Flashback Band – The Hots
Cubie Burke – Down For Double
Glenn Astro – Forgotten Intro x Tiptoes Gut Feeling Intro
Apparel Wax – 001A2
Larry De Kat – Depicted (Mr. G Real Dub)
Rick Wade – 2AM Detroit
Solid Gold Playaz – shhh
Tiptoes – Dirt Cheap in the Jazz Bin
Eliphino – You Said That
Cold Meat Lights No Fire – Pressure Delight
Rico Herrera – Ghettos of The Mind
Demuir – Tomorrow Is Not Today
STR4TA – Rhythm In Your Mind
Nathan Coles – Watch My Feet
Carl Craig – Sub Seducer
Tiptoes – 3AM
Junko Ohashi – Dancing
Underground Resistance – Timeline
Lowshore – Ensemble
Benj – What Mood
Yussef Kamaal – Lowrider
Shirley Finney – Pray Again
Tags:
Moment Cinetique
,
Tiptoes