LV Premier – DJ Duckcomb – SOS [Mister T Records]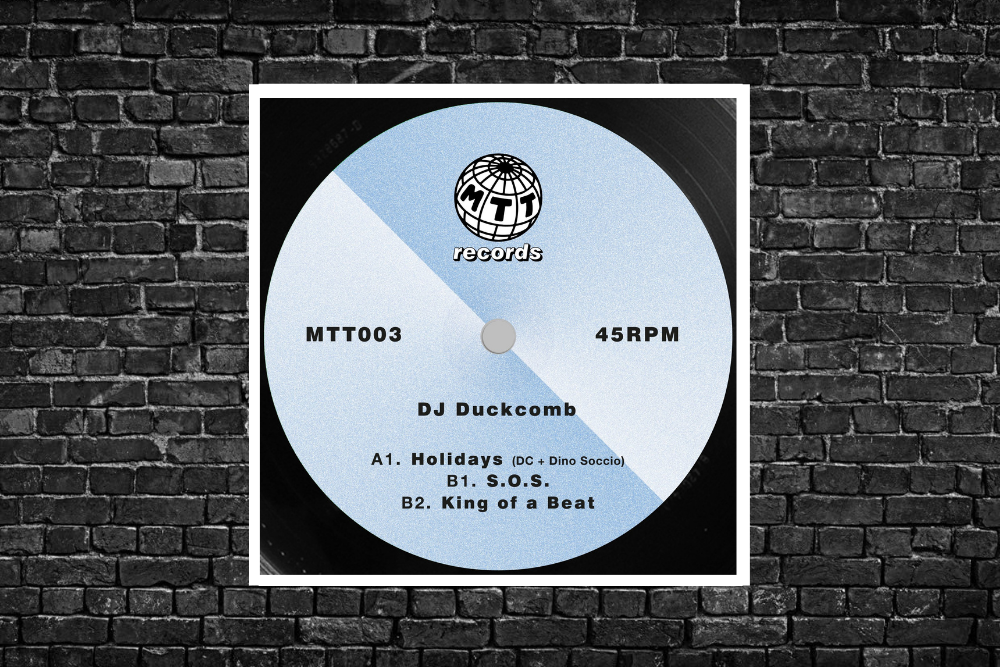 LV Premier – DJ Duckcomb – SOS [Mister T Records]
Following their superb releases with Chevals and Joutro Mundo one of our favourite new vinyl labels of the last year Mister T Records is back with a quality disco and Italo edged EP '87-88-89 Edits' from LA's DJ Duckcomb!
DJ Duckcomb is a producer who is very well respected across the states with close ties with Dino Soccio's ace Pleasure of Love label. With influences like Theo Parrish, Danny Krivit and DJ Harvey you know that he has a real ear for quality and it shines through on this brilliant 3 track EP.
Track one Holidays is a collaboration with the aforementioned Dino Soccio an amazing artist who we featured recently HERE. It's a track packed with attitude. As the EP name suggests the 80's vibes run heavy here. Packed with huge programmed drums and a monster of a synth bass it's a track which just grabs you from the get go. The vocal is siren like pulling you into its orbit and refusing to loosen its grip. This is a real slice of quality disco not disco.
Our premier today SOS is a sublime slice of Italo disco, beautifully produced its electronic percussion keeps that 80's vibe going whilst providing an abundance of dancefloor energy. The overall sound production here is eleven out of ten. The story behind this one is important so we'll let DJ Duckcomb elaborate:
"I found this record at legendary Hollywood record store Amoeba records. It's one of those Italo records with an unfortunate cover photo of the singer but I was intrigued. Turns out the track is as cheesy as late 80s Italo can get but there were elements to the production that had a feel of late-80s garage house and I knew there was an edit hidden in there. I started working on the production but quickly realized the record was a bit damaged and I needed some sound restoration on it. We decided with MTT to send it off to Arsenii who does amazing edits but also has been mastering some of my favorite current releases. After he made his magic, I got back to work and sent my final edit off to Arsenii to master and now it sounds epic! There's still just enough cheese to stay true to the original but it's really its own beast now and I think it will do some dancefloor damage whenever they exist again."
Final track up is the deep groove of King of a Beat packed with yet more powerful drum programming which is a real motif of the whole EP. It's proto house dubby vocal stabs and bubbling bassline line up perfectly here. It's another brilliant edit to bring this wonderful EP to a close.
Grab the EP from: https://mistertedits.bandcamp.com/album/mtt003-87-88-89-edits
For more info check:
DJ Duckcomb Facebook: https://www.facebook.com/djduckcomb
DJ Duckcomb Soundcloud: https://soundcloud.com/djduckcomb
DJ Duckcomb Instagram: https://www.instagram.com/djduckcomb/
DJ Duckcomb Twitter: https://twitter.com/djduckcomb
Mister T Facebook: https://www.facebook.com/MisterT.Rec/
Mister T Soundcloud: https://soundcloud.com/mistert-records
Mister T Instagram: https://www.instagram.com/mister.t.records/
Mister T Bandcamp: https://mistertedits.bandcamp.com/
Tags:
Dino Soccio
,
disco
,
Dj Duckcomb
,
Italo Disco
,
Mister T Records