LV Premier – Scan 7 – All For Me (Alma Negra Remix) & The Round Up Pt 7 [Heist Recordings]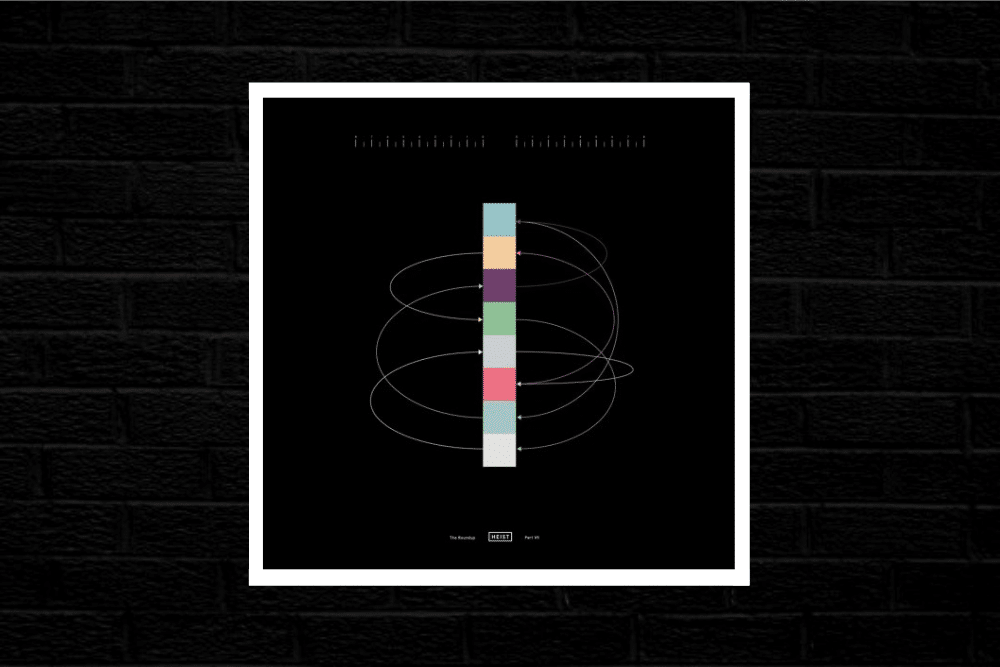 LV Premier – Scan 7 – All For Me (Alma Negra Remix) & The Round Up Pt 7 [Heist Recordings]
Heist Recordings Round Up series is consistently one of the the bright spots of the year at LV online. The concept behind it is simple, get eight of the the finest artists on the label to each remix one of their label mates key tracks from the previous year. It's been an outstanding series to date delivering some scintillating tracks and Part 7 might well be the finest edition to date.
Grab The Round Up Pt.7 from: https://heistrecordings.bandcamp.com/album/the-round-up-pt-7
So step up Alma Negra, Crackazat, Teleseen, Scan 7, Pitto, Nebraska, Kassian and label heads Dam Swindle.
Opening with what was a real LV favorite Alma Negra's Dakar Disco first up to the remix plate is Crackazat who has had a sparkling 2021 already. He takes us off into a percussive heaven here building an ass shakin' backdrop for those ear worm brass riffs. It's a warm and inviting tracks which speaks of better times to come.
Next up Dam Swindle take on Teleseen's Dekalb, it's a ever so slightly deeper with it's subtle and reflective keys but keeps the theme going with percussion front and centre and has a similar power and warmth. Smooth synth pads glide gracefully across the track preparing us for the key stabs and gentle floating vocals which add depth and drama.
Detroit's Scan 7 keep us glued to the speakers with their take on Crackazat's Class One. Off kilter keys provide an focal point to the strong drums and rock solid bass synth. The lead key line provides the rest of the heat. This is a real moment of class as they tease in a lead key line to augment that earworm synth. Classy stuff
Pitto's Discko see's Teleseen take the remix reigns with a super deep track which combines some ace drums programming with a a funky key line, Stabs and atmospherics tie it all together into a track which demands repeat plays. You can also check out Pitto's mix that he did for LV online's Selectors Series this week at the bottom here. You can also check out more on the mix including the full tracklist HERE.
Kassian get their talented hands on Nebraska's club heater Dip & Flip and turn that one straight up to 11 supercharging it for the peak-time dancefloor. With hooky vocal licks and hands in the air synths this is a very tasty club focused remix.
Next in line is Dam Swindle's Move Out The Way with an ace Nebraska Remix. With it's strong key's, powerful bassline, swirling breakdown and driving vocal stabs it's another track which will feel very much at home on the peak-time club floors.
Alma Negra get in on the remix action with our premier today Scan 7's All For Me with huge synth riffs taking front and centre. They are supported ably by the gospel edged vocal sample, dreamy vocals and straight to the dancefloor bassline. Definitely a heater!
Closing the EP out is Kassian's 8th Movement with Pitto providing an incessant stabby groove for this one. Gentle key inflections and 70's soundtrack edges keep this one powering along nicely.
This is another brilliant Round Up edition. Make Sure that you track it down when it lands this week!
Grab The Round Up Pt.7 from: https://heistrecordings.bandcamp.com/album/the-round-up-pt-7
For more info please check:
Alma Negra Facebook: https://www.facebook.com/almanegramusic/
Alma Negra Soundcloud: https://soundcloud.com/almanegramusic
Alma Negra Instagram: https://www.instagram.com/almanegramusic
Alma Negra Twitter: https://twitter.com/AlmaNegra4
Scan 7 Facebook: https://www.facebook.com/scan7detroit
Scan 7 Instagram: https://soundcloud.com/scan-7
Scan 7 Instagram: https://www.instagram.com/scanseven
Heist Facebook: https://www.facebook.com/HeistRecordings/
Heist Soundcloud: https://soundcloud.com/heistrecordings
Heist Instagram: https://www.instagram.com/heistrecordings
Heist Twitter: https://twitter.com/HeistRecordings
Tags:
Alma Negra
,
crackazat
,
Dam Swindle
,
Deep House
,
Heist Recordings
,
Kassian
,
nebraska
,
Pitto
,
Scan 7
,
Teleseen
,
The Round Up