LV Selectors 44 – Clive From Accounts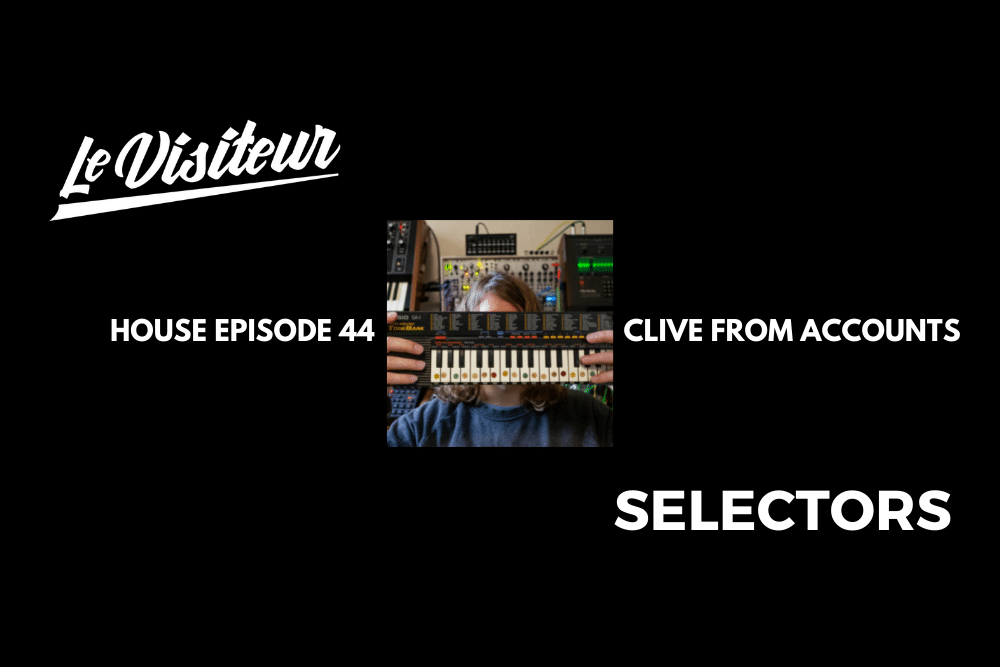 LV Selectors 44 – Clive From Accounts
Like what you hear? To help support LV Online buy us a coffee via Ko-FI. Click HERE
The last 18 months have seen Clive From Accounts quickly establish himself one of the most exciting and innovative house producers on the scene today. With an identity shrouded in mystery he has released a series of absolutely dynamite EP's for Outplay, Dirt Crew, Income Tax and Razor-N-Tape.
Clive's Razor-N-Tape EP Strictly Business landed a couple of weeks ago to huge critical reception and lots of DJ love. It's a sublime EP featuring four tracks which see him take his own unique house style and finesse that to fit perfectly with Razor-N-Tape's NY heritage. It's a very classy affair indeed. We hosted the premier of lead track Tell Me, which you can check below, and we also spoke to Clive to try and shed a kink of light on his background which is well worth checking out HERE.
We have been so blown away by Clive's output that we asked him to put together a mixtape for our Selectors series and he didn't disappoint delivering one of the best mixes of the series so far for us. Check it all out in all it's glory above and the full tracklist is at the bottom here. Please give it a share over on Soundcloud and help us spread the Clive From Accounts Love x
We had a quick chat with Clive about the mix, below 🙂
Q1: What can you tell us about the theme of the mix and what are some of the key tracks for you? 
I like trying to mirror my style of production in my mixes, so an eclectic mix of genres. This time I wanted the first half to be rare groove / disco / afrobeat which gladly sped up until the various electronic influences of the second half could take over. My new track "Without Your Love" acts as a bridge between them. Key track of the whole mix is one of my favourite Disco 12"s of all time, both sides are absolutely killer but I went for "Be Yourself" by Air Power.
Q2: How does the style of mix here compare to how you would approach a live DJ set?
Although this mix is quite intricate in places, broadly speaking I'd like to do the same kind of thing live. Play music from all over the place.
Q3: Which other artists DJ mixes do you find yourself coming back to time and again and do you have a favourite that you gravitate towards?
The Brainfreeze mix by DJ shadow and Cut Chemist had a huge impact on the young me. It started an obsession with breaks, funk 45s and vinyl oddities that shows no signs of stopping! I don't think I could ever get bored of this masterpiece.
Grab Clive From Accounts Strictly Business EP from: https://razor-n-tape.fanlink.to/StrictlyBusiness
For more info check:
Clive From Accounts Facebook: https://www.facebook.com/clivefromaccounts2/
Clive From Accounts Soundcloud: https://soundcloud.com/clivefromaccounts
Clive From Accounts Instagram: https://www.instagram.com/clivefromaccounts/
Clive From Accounts Twitter: https://twitter.com/Clive_Accounts
Razor-N-Tape Facebook: https://www.facebook.com/RazorNTape/
Razor-N-Tape Soundcloud: https://soundcloud.com/razor-n-tape
Razor-N-Tape Instagram: https://www.instagram.com/razorntape/
Razor-N-Tape Twitter: https://twitter.com/RazorNTape
Razor-N-Tape Twitch: https://www.twitch.tv/razorntape
Razor-N-Tape Bandcamp: http://www.razor-n-tape.bandcamp.com
Razor-N-Tape Spotify: https://open.spotify.com/user/m25h7a3w9wp0nuhqgi6td3q3j?si=9ca5d4f2dc564d12
LV Selectors 44 – Clive From Accounts – Tracklist
Trevor Bastow – Integration
Teaspoon Ndelu – Sputla
Magic Source – Lovestruck (Voilaaa remix)
Deke Tom Dollard – Beant
Y. Gershovsky – Disco Baby
Air Power – Be Yourself
Black Devil Disco Club – Timing, Forget the Timing
Clive From Accounts – Without Your Love
Adelphi Music Factory – Jive Turkey
Kink – Dreamer (Frits Wentink remix)
Jackmate – Werk
Anunaku & DJ Plead – Wheele
Luca Lozano – Bone 2 Bone
Roska Ft なかむらみなみ – Pree Me (Hodge remix)
Floating Points – Coorabell
Traxmen (aka Paul Johnson) – Playing With a Rubber Band
Axone / X_1 – Happy, Hippie, Hifi
Tags:
Clive From Account's
,
razor n tape