LV Vinyl Vaults – A Night At The Playboy Mansion by Dimitri From Paris [Respect is Burning]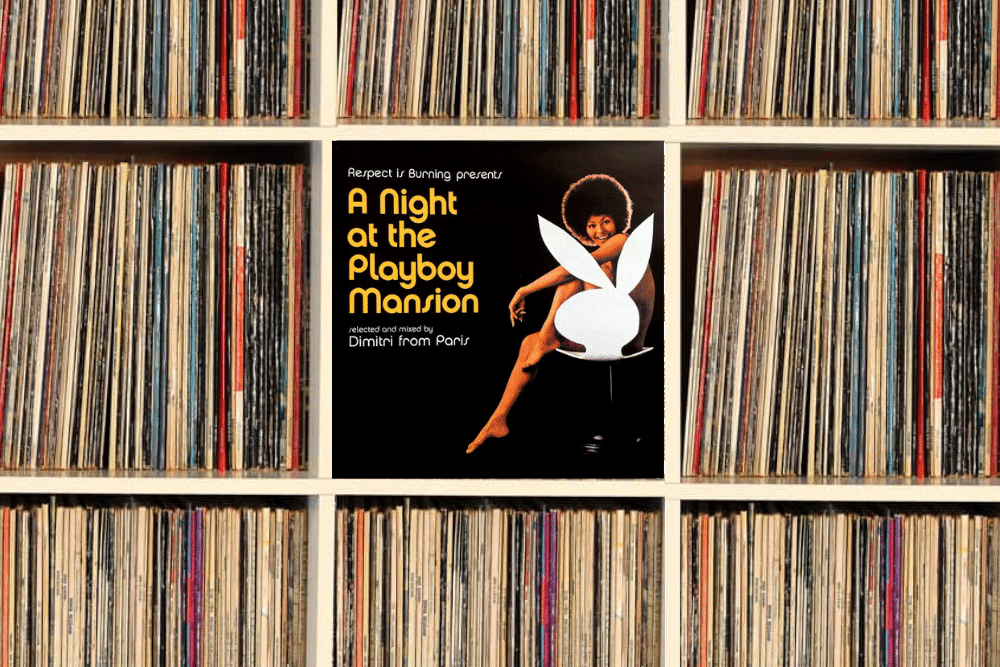 LV Vinyl Vaults – A Night At The Playboy Mansion by Dimitri From Paris [Respect is Burning]
Released in 2000 and celebrating its 21st birthday this year Dimitri's original Playboy mix A Night at the Playboy Mansion is for me one of the most important disco edged compilations of all time.
Created with the Respect is Burning team who at the time were taking their famed Parisian party to all corners of the globe. This mix was crafted to commemorate a party at Hugh Hefner's infamous Playboy Mansion. There is an great post on Dimitri's facebook which details the background of the mix and the event which you can check via:
https://www.facebook.com/DimitriFromParisOfficial/posts/in-march-1998-we-had-an-event-with-my-friends-the-respect-is-burning-crew-of-par/1661864107189136/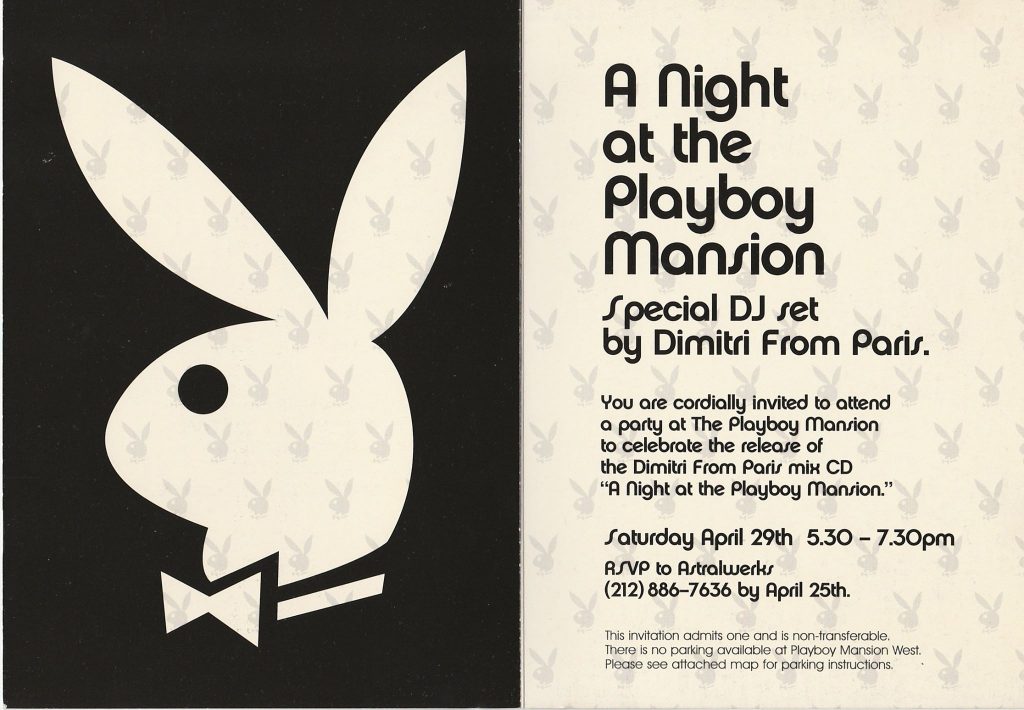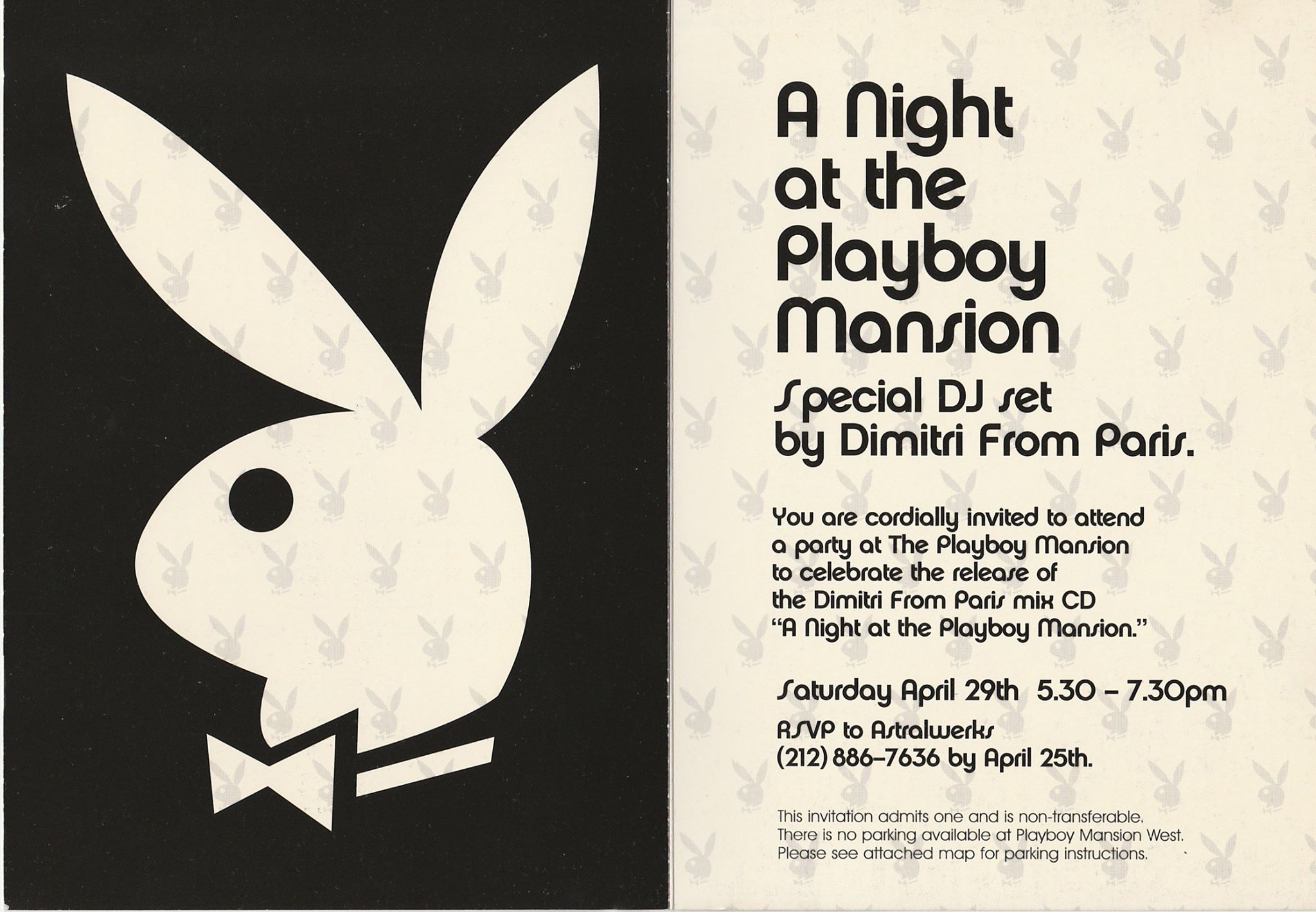 On the post Dimitri chats about the whole process from the original hook up via Club Groove Jet in Miami, who at that time had a co-branding deal with Playboy, along with how the concept of the mix came into being and why it sounds as it does. It truly is a fascinating insight of what would very much become a cultural phenomenon and helped cement Dimitri as one of the premier all-time names in Disco, a position of reverence he still holds today. Indeed the success of the mix has been such that the classic artwork, a 1971 Playboy cover shot featuring Darine Stern, has gone on to become one of Playboy's most iconic images.
Musically it's a mixture of classy house music and original disco. Aiming for a high tempo and fun mix which would sound perfect around the Playboy mansion pool Dimitri mined the archives crafting several edits along the way which would feature on the album.
As a young DJ starting out many of these tracks would become cannon in my DJ sets and were still called into action right up to the Covid lockdowns having become bone-fide party classics. Likewise the whole mix would regularly go on at after parties for a few years after release.
I love the different textures that Dimitri called into action across the mix from the high energy disco bombs of Down To Love Town and Found A Cure to party house vibes of Sweet Music and Reach inside. The percussive dubbed out heavy drum Hip House vibe of Talkin All The Jazz added a great mid mix break before launching into the Latin classic Outro Lugar by Salome De Bahia, itself a cover of Stevie Wonder's Another Star.
From soaring and euphoric vocals to powerhouse synth lines, hands in the air pianos, ass shakin' percussion, club heavy drums, incredible brass solos and even some disco flute, this is a Dimitri mixing masterclass. Here he ably demonstrates how to craft a mix that is both immediate and energetic with plenty of drama without ever being obvious.
It's a mix where you can easily tell how much work and thought went into every aspect of its creation. That we are still talking about it 21 years later shows just how well worth it that process was.
It's a mix which would very much help re-evaluate the world of Disco and lead towards its incredible resurgence over the last couple of decades, taking the disco gospel to a whole new generation of DJ's and producers as it went on to sell 400.000 copies.
Across the years I've ended up with 3 copies of this album on cd and vinyl having had to replace my original vinyl as it's safe to say that my original copy was definitely on the wrong side of well used.
If you have this one tucked away at home dig it out and re-listen or pick up a copy if you don't already own it. As you do try to picture the party, in the Los Angeles sun, cocktail in hand and just imagine how incredible this soundtrack would have been around that pool.
If you are still looking to get your fix of Dimitri make sure that you also check out his upcoming Le Edits box set featuring some of his most recent remixes. You can grab it via: https://www.juno.co.uk/products/dimitri-from-paris-le-box-set/801788-01/
For more info please check:
Dimitri From Paris Facebook: https://www.facebook.com/DimitriFromParisOfficial/
Dimitri From Paris Soundcloud: https://soundcloud.com/dfp
Dimitri From Paris Instagram: https://www.instagram.com/dimitrifromparisofficial/
Dimitri From Paris Twitter: https://twitter.com/DimitriParis
Tags:
A Night At The Playboy Mansion
,
Dimitri From Paris
,
disco