St. David Worship Mix – Essential 90's Grooves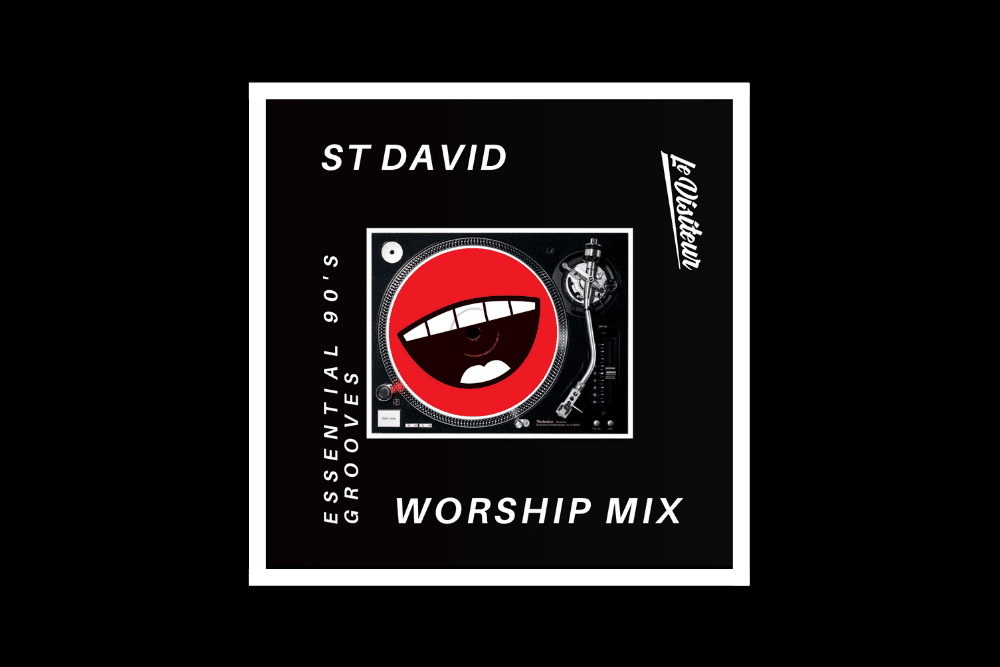 St. David Worship Mix – Essential 90's Grooves
Like what you hear? To help support LV Online buy us a coffee via Ko-FI. Click HERE
With an outstanding new EP House of Universe out right now on the ace Happiness Therapy label we are very pleased to invite super talented Italian DJ and producer St David to the Le Visiteur decks to record a very special 90's themed all vinyl worship mix for us.
The new EP has just landed on digital and is incoming on vinyl. It's a serious collection of house styles which have intertwined themselves with St David's musical DNA over the last three decades inclduing Italian Dream House, 90's edged acid basslines and jazzy licks. It also features a very classy remix from Rydm Sectors packed with tight 90's drum programming. Taken all together it's a masterful EP.
Grab the EP from all your favourite download stores and streaming platforms via: https://kuronekomedia.lnk.to/ht09
We have a full interview with St David about the EP and his career incoming next week so make sure that you check back in for that. In the meantime St David dug deep into his own personal vinyl collection to put this set together for us featuring his favourite classic, filter and Italian Dream house grooves. These are the tracks which have influenced and inspired him and left their mark on the latest EP.
We also Spoke to St David about the mix which you can check below and the full tracklist is at the bottom of the interview.
Q1: What can you tell us about the theme of the mix you have done for us and why did you choose this particular theme?
In this mix I wanted to play all the shades of House that I really love like classic, filter and Italian Dream house. The focal point of this mix is that all the records I played belong to the early 90's era, maybe the best era for House Music in my opinion until 2000'.
Everything inside of this mix comes from my personal collection of records that I've been selecting' and buying for years. This mix is the result of a hard search of my personal Grooves.
Inside I also included some of my recent tracks released on my record Label Theory Of Swing.
The mix is 100% vinyl, it's a bit dusty and has the odd skip but that is what we like right!?
I chose this name because inside the mix it's pretty much full of the type of grooves that I love about House music. The essential for me is the kind of swing or shuffle that every track needs to have for me.
Essential because it's difficult to have a specific type of genre that could describe your sound but the groove signature is  recognizable every time for every artist.
Q2: What are some of the key tracks which have really resonated with you?
D Funk Era – Understand It
Lego – Jazzmorphosis
Bustafunk – French Connection
Q3: Which other artists DJ mixes do you find yourself coming back to time and again and do you have a favourite that you gravitate towards?
I am really loving this Boiler room from Marcellus Pittman that I recently discovered and he's playing maybe 70% of the "Grooves!" that I am addicted to, and I feel completely connected to his vision to select those tracks.
Enjoy it !
Love this? Check out our Disco and House playlists HERE
For more info please check:
St. David Facebook: https://www.facebook.com/st.david.housemusic
St. David Soundcloud: https://soundcloud.com/st-david-music
St David Instagram: https://www.instagram.com/stdavid909/
St. David Discogs :  https://www.discogs.com/it/artist/5405920-St-David
Happiness Therapy Facebook: https://www.facebook.com/HappinessTherapy.France
Happiness Therapy Instagram: https://www.instagram.com/ht_rec/
Happiness Therapy Twitter: https://twitter.com/HT_France
St. David Worship Mix – Essential 90's Grooves – Tracklist
Mix Masters – How Long can u Touch Me (DJ International Record)
The Sunburst Band – Big Blow (Z Record)
Lego – Jazzmorphosis (83 West Records)
Kerri Chandler – Untitled
B Funk – Ladies & Gentleman (Look At You Records)
Love Quartet – Kiss Me (Herthbeat)
Ivan Iacobucci – In the Morning (Hole Records)
D Funk Era – Understand It (24 Stracey Records)
Urban Grooves – Untitled
Bustafunk – French Connection (Funky Tone Records)
Gourment De Funk – Believe (St. David N.Y. Loft mix) (Theory Of Swing Records)
St. David – Piano Beat (Theory Of Swing Records)
Mike Dixon – Love Is (Bumpin City Records)
Dj Sneak – Reachin' (Henry Street Music)
Dj Q – People's Groove (Soma Records)
The Sunburst Band – Garden Of Love (Z Records)
Jovonn – Keep On – (Body n Deep)
Rhythm Of Paradise – Desiderio Latino (Skylax Records)