Ten Fingerz Worship Mix – Classic French House (Vinyl Mix)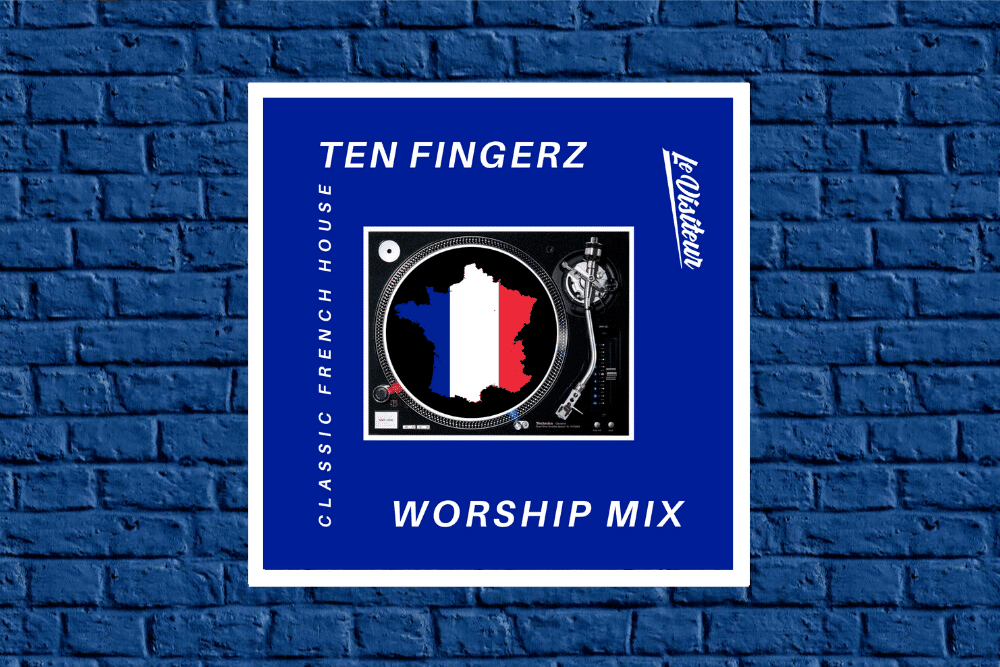 Ten Fingerz Worship Mix – Classic French House (Vinyl Mix)
Like what you hear? To help support LV Online buy us a coffee via Ko-FI. Click HERE
Frappé has become a real go to label over the last couple of years consistently releasing top class wax from their first release right through to what is now their fifth 'Afrodisiaque'.
Based in Paris they are truly passionate about their support of the French electronic scene releasing tracks from many of the scene's up-and-coming artists and stalwarts alike. To celebrate their brand new 12″ we asked label co-boss Ten Fingerz to put together a mix of his favourite classic French tracks.
As a DJ raised on the French sound, hence the Le Visiteur moniker, this mix is just pure bliss packing in some of the finest ever moments of the French house music. You can check the full tracklist below.
If you love this vibe make sure you check out the brand new Frappe EP Afrodisiaque which features both Frappe Co-bosses Basile de Suresnes & Ten Fingerz alongside newcomers to the label Floyd Lavine, Mr Raoul K & Saudade. We recently premiered Ten Fingerz Blow Da Conga which you can check below along with our full EP review HERE.
Grab the release on digital from: https://www.traxsource.com/title/1663111/afrodisiaque
And vinyl via: https://www.juno.co.uk/products/floyd-lavine-mr-raoul-k-saudade-afrodisiaque/843086-01/
For more info please check:
Ten Fingerz Facebook: https://www.facebook.com/10Fingerz
Ten Fingerz Soundcloud: https://soundcloud.com/tenfingerzmusic
Ten Fingerz Instagram: https://www.instagram.com/ten.fingerz
Frappé Facebook: https://www.facebook.com/frappe.label/
Frappé Soundcloud: https://soundcloud.com/frapperecords
Frappé Insta: https://www.instagram.com/frappe.label/
Like what you hear? To help support LV Online buy us a coffee via Ko-FI. Click HERE
1 -Les Guignols de l'intro – OCTO 001
2- Venus / « Sunshine People » (DJ Gregory Mix)
3- Kojak / « You can't stop it » (Troublemen Remix)
4- St Germain « Rose Rouge » (Unknown Redit)
5- I :Cube « Disco Cubizm » (Daft Punk Mix)
– Vocal Overdub : Les Joies de l'auto-stop « Histoires Culotées Vol.8 »
6- Cassius « 99 » (Remix / Long Version)
– Overdub : Daft Punk « Around The World »
7- Bob Sinclar « Feel For You » (Club Mix)
8- Cerrone « Give me Love »
9- Major Boys « Panamerica » (Club Mix)
10- Bob Sinclar « The Ghetto » (Original Cleared Version)
11- SuperFunk « Lucky Star » (Album Version)
12 – I :Cube « Metamorphik » (Original Mix)
13- Mr Oizo « Flat Beat » (Original Version)
14- Daft Punk « Harder Better Stronger » (Jess & Crabbe Regulator Mix)
15- DJ Nekbath « School of Disco »
16- Cassius « Feeling for You » (Album Version)
17- Thomas Bangalter « Spinal Scratch »
18- Daft Punk « Around The World » (I :Cube Remix)
19- Les Guignols de l'outro – OCTO 001
Tags:
Basile de Suresnes
,
Bob Sinclar
,
cassius
,
Cerrone
,
daft punk
,
Frappe
,
french house
,
Ten Fingerz
,
Thomas Bangalter
,
Worship Mix