The Quick 6: An intro To Lowres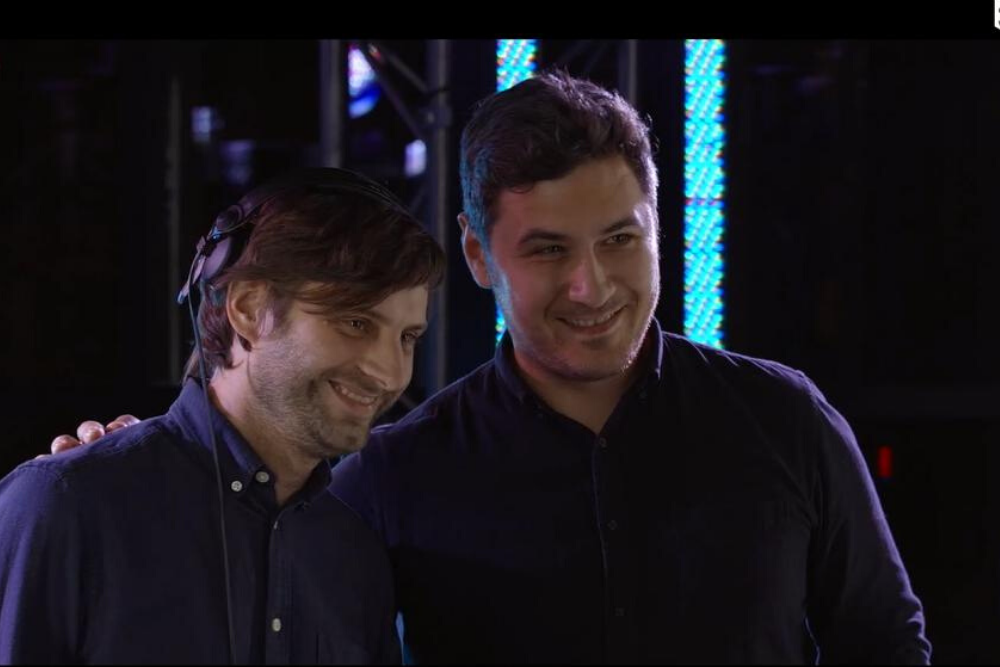 The Quick 6: An intro To Lowres
*Full mix tracklist is at the bottom of this feature!
Q1: Who is Lowres?
Lowres is an electronic music project from two old friends with completely different musical backgrounds. Until 2012, Feodor Stepanenko (aka Nphonix) spent many years productively engaged in dancefloor-oriented drum&bass music, after which he switched to various versions of the modern sound of bass, techno and house. Ivan Voltanov (aka Zimmer-G) is a lounge and downtempo aficionado who has released several albums in this sound – imagine something along the lines of Tosca and early Bonobo.
Initially we met as early as 2000 at a party in our childhood hometown of Obninsk, Russia, but it took us almost 18 years to finally begin to work together. The symbiosis of such different views on electronic music has resulted in a sound that can best be described as classic house with a vintage treatment. Even though we live pretty far from each other (Feodor rents a flat in Moscow while Ivan lives in his apartment in Saint-Petersburg), we manage to collaborate via the internet, which has it's ups and downs.
Q2: What is your latest release?
Our first EP called 'Semena' (which means 'seeds' in Russian) was just recently released on Minor Notes Recordings, an imprint run by house music dj and artist Dmitry Guydee. We found the label when we were browsing one of the popular records stores – their sound was strikingly similar to what we were going after with our project. So, without hesitation we sent the tunes to Dmitry, who, to our surprise, turned out to be from Moscow (same as Feodor).
The EP is a summery jazzy deep house assortment, heavy on tape saturation, tape hiss and dusty vintage vibes. You can even hear some samples from soviet jazz hits. There is also a deep broken beat/soulful hardcore remix from one of the Russian house music headliners Lay-Far.
You can check out all the tunes and buy the 12" here – https://ffm.to/lowres_semena
As a highlight we chose probably the most cheerful track from the EP, Girlanda, which translates as 'lights' (as in Christmas lights).
Q3: Who are your greatest influences as a producer?
Feodor's favourites.
I have chosen a couple of my recent favourites that perfectly show what I like in house music right now.
Adriyano – Dreams With
This one is a master-class in what a proper classic house banger should sound like. Heavy hitting raw beats and a simple piano part that is impossible not to dance to.
Crackazat – Sundial
I love the sun-soaked mood and melody here, very bright, positive and jazzy. The build-ups are just perfect, a good example of how a tune could fill almost any dancefloor.
Ivan's favourites
Shakarchi & Stranéus – Hissmusik (HNNY Edit)
I like the stumbling rhythm here. HNNY is a master of simple but danceable grooves, while Shakarchi & Stranéus made this beautiful melody, which sounds as if it was sampled from an old soviet kid's movie.
Chez N Trent – Morning Factory (Prescription)
I chose this tune as a representative of a whole era of deep house that had such a big influence on me. I'm still very much into this kind of sound. You could say that this is the fundamental blueprint for our own style which we eagerly use.
Q4: Tell us about the club scene where you are based. What artists should we be looking for right now and what are your favourite parties?
Feodor: Moscow is a huge city so it has a great choice of diverse parties – house, techno, bass and all kinds of other stuff.
I am not a frequent visitor of clubs unless I'm playing, but I always enjoy gigs by Hyperboloid records – you can hear so many crazy new sounds each time they throw a party, very inspirational.
It's definitely worth checking out their artists like Pixelord, Raumskaya, Fisky, Cadeu, A.Fruit, Bogue, Bad Zu and Tropical Interface among many other talented genre-defying names.
As for the more house music-oriented scene, the obvious names would be Lay-Far and Cream Soda, both on top of their game right now. Dmitry Guydee of Minor Notes also does some really fun label nights, we hope to showcase our new EP there sometime soon.
Ivan: Saint-Petersburg's nightlife is pretty well developed but I usually only visit parties where I'm one of the DJ's. I would place Test Fm, a radio hub, among the main highlights of the city's current club scene – you will never miss any interesting local artists if you follow them.
Q5: What can you tell us about the theme of the mix you have done for us and what are some of the key tracks for you?
When we did the mix, we were trying to channel the Lowres style and mood through other artist's tracks while also showing off some of our own released, yet-to-be released or unsigned stuff. It's a mixture of modern house hits, edits, lo-fi house bangers like 'Winona' by Dj Boring, some nods to Detroit techno and even some timeless classics like the legendary 'Someday' by CeCe Rogers. This sound on this mix is what you can expect in a set from us when you come to see our show.
Q6: What else can we expect from Lowres in the next 12 months?
We've got another EP – 'Rododendron' – coming soon on the legendary Housewax/Rawax imprint. We have been waiting a long time for this one. It's more lounge-y and lo-fi than 'Semena', probably fitting in the whole lo-fi house stereotype but at the same time more dreamy and smooth. Pre-orders are still available, by the way.
Also, we are working on several new tunes for our next releases, watch out for them – more funky jazzy sunny vibes coming your way.
We hope that people will be able to see us live or playing sets in clubs all around, but we are only beginning our journey as Lowres so that's yet to come, no confirmed dates. Hey, promoters, your move!
Love this? Check out our House playlists HERE
For more info check:
Lowres Facebook: https://www.facebook.com/lowresmusicrus/
Lowres Soundcloud: https://soundcloud.com/lowres_music
Minor Notes Facebook: https://www.facebook.com/minornotesmusic/
Minor Notes Soundcloud: https://soundcloud.com/minornotes
LV Mixtape 124 – Lowres Tracklist
1.Lowres – Deesheeteh
2.Dj Boring – Winona
3.Andy Hart – Epsilon Girls
4.Nphonix – Ijustdontunderstand
5.Earl Jeffers – Joonya
6.Andres – Drama Around The Corner
7.Crackazat – Proton Blue (Deep Orbit)
8.Funk D'Void – Thankyou (Slowly)
9.Pomo – Blue Soda (Part 1)
10.Obsolete Music Technology – Evening Star
11.Bellaire – Street Blues
12.Lowres – Trenirovka
13.CeCe Rogers – Someday
14.Adesse Versions – Thank U
15.Orson Wells – Open Light
16.Youandewan & Huerta – Left On Lucy
17.Lowres – Anyway Sweetest
18.Lowres – Miloe More
19.Baltra – ISO (DJ Seinfeld Remix)
20.Lowres – Morozhenoe
21.Gerald Astor & Hodini – Walle's Super Billige Knastbulleten
22.Earls Booom Edits – Thank You
23.Lowres – Lastochka
24.Gary's Gang – Let's Lovedance Tonight (Danny Krivit Re-edit)
25.Lowres – Girlanda
26.Cuthead – Minerals
27.Nphonix – Seethefuture
28.Marquis Hawkes – Groove
29.Lowres – Avanjeni
Tags:
Lowres
,
minor notes