LV Premier – Thornetta Davis – Set Me Free (Sophie Lloyd Remix) & Take It To Church 4 [Midnight Riot]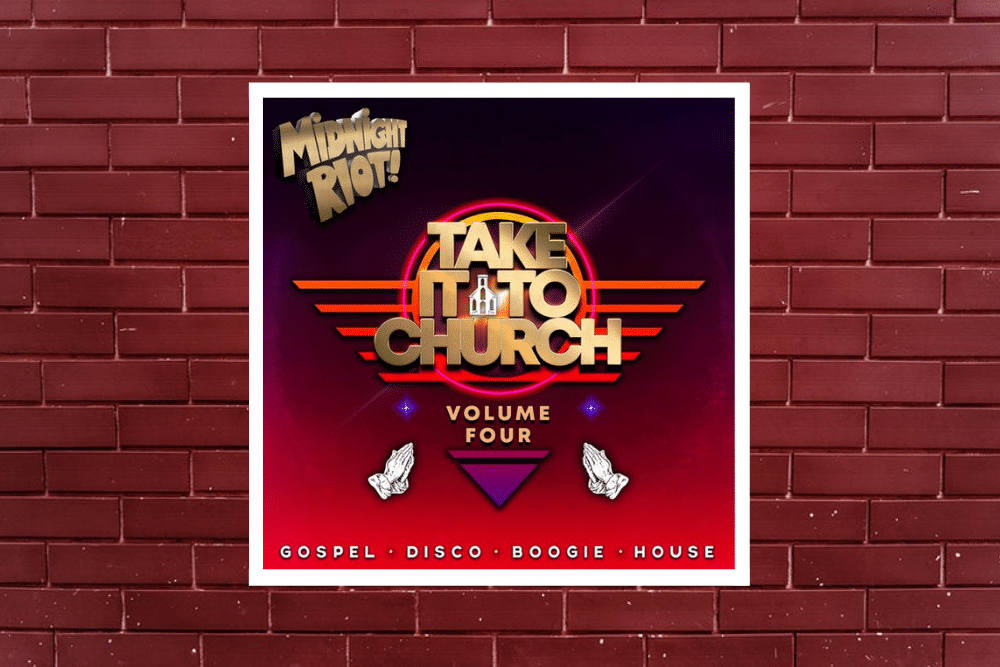 LV Premier – Thornetta Davis – Set Me Free (Sophie Lloyd Remix) & Take It To Church 4 [Midnight Riot]
Like what you hear? To help support LV Online buy us a coffee via Ko-FI. Click HERE
With their first compilation of the year Midnight Riot are setting a seriously high benchmark as they unleash the fourth volume of their well loved gospel disco series Take It To Church. Packed with incredible artists it could well be the hottest volume of the series to date.
The album features a who's who of Gospel production talent alongside some newcomers to the genre who bring some serious heat of their own. There is also a well needed new lease of life of a classic in the shape of DJ Meme's remix of Underground Ministries 'I Shall Not Be Moved' for which we have a full feature landing on Friday.
Opening proceedings regular chart toppers Mark Brickman and Vanessa Jackson give a whole new lease of life to funky house classic Shine on Me reformatting it perfectly as a hands in the air slice of gospel boogie.
Platinum City who have been hitting some high notes of their own chime in with gospel house gem Holy Spirit packed with guitar licks, vocal power and a powerhouse bassline. This one will fly!
Take It To Church regulars The Showfa and Divine Situation chime in with three track between them, crafting gospel gems aplenty in the shape of Always, Got Me Smiling and Showfa's remix of William Kurk.
Across the 15 tracks the album keeps a frenetic pace up with originals, edits and re-imaginings aplenty. Expect huge vocals, wonderful harmonies and some outstanding playing to be in evidence at every turn.
Another thumper comes from Wayfaring Strangers who's Get Your House In Order lands groove first combining a fierce disco vocal with church keys to precision.
Our premier today is the sublime Sophie Lloyd remix of Thornetta Davis anthem 'Set Me Free'. Sophie of course is no stranger to the gospel edges of house music having crafted one of the all time classics of the genre, Calling Out with Dames Brown. Thornetta is in spellbinding form here delivering a rapturous vocal performance. Coupled with a bounce of a boogie bassline, superb keys and heart wrenching harmonies it's a scorcher of a feel good moment.
A must have collection!
Grab the EP from: https://www.traxsource.com/title/1527794/take-it-to-church-vol-4
Love this? Check out our Disco and House playlists HERE
For more info please check:
Thornetta Davis Facebook: https://www.facebook.com/DETROITQUEENOFTHEBLUES
Thornetta Davis Instagram: https://www.instagram.com/thornetta_thornetta
Thornetta Davis Twitter: https://twitter.com/THORNETTAD
Sophie Lloyd Facebook: www.facebook.com/DJ-Sophie-Lloyd-147599731934170/
Sophie Lloyd Soundcloud: https://soundcloud.com/sophie-lloyd
Sophie Lloyd Instagram: https://www.instagram.com/djsophielloyd/
Sophie Lloyd Twitter: https://twitter.com/djsophielloyd
Midnight Riot Facebook: https://www.facebook.com/MidnightRiotRecords/
Midnight Riot Soundcloud: https://soundcloud.com/midnight-riot-records
Midnight Riot Instagram: https://www.instagram.com/midnightriotrecords/
Midnight Riot Twitter: https://twitter.com/MidnightRiotRec
Tags:
gospel
,
Midnight Riot
,
sophie lloyd
,
Take It To Church
,
Thornetta Davis