The Quick 6: Stephen Richards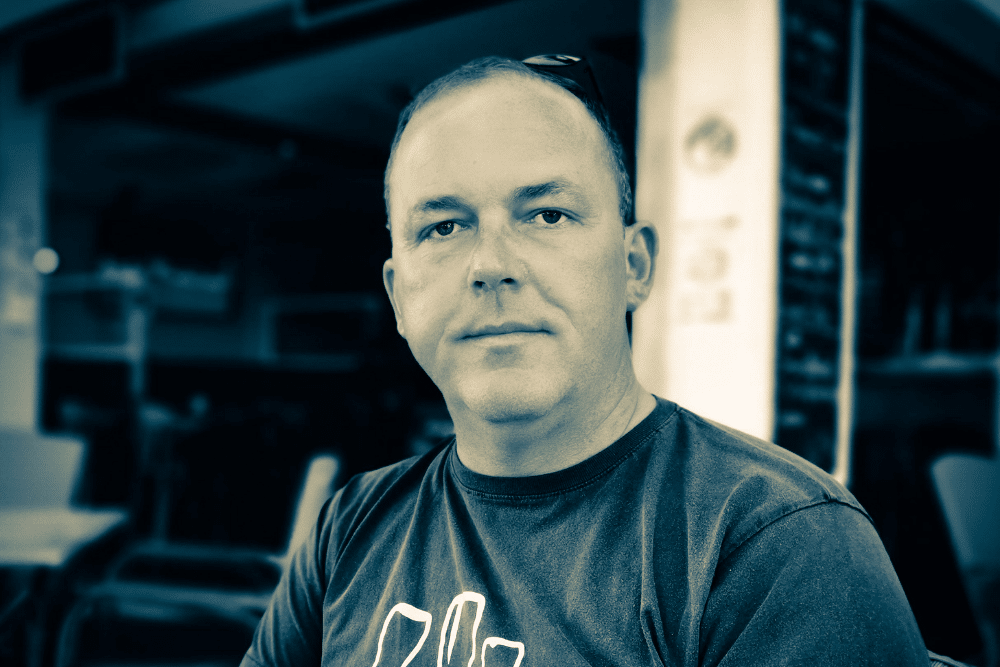 The Quick 6: Stephen Richards
Like what you hear? To help support LV Online buy us a coffee via Ko-FI. Click HERE
Stephen Richards is the DJ behind the hugely popular Disco Daze Radio Show which airs weekly and features regular guest appearances by the cream of the Disco world. You can check it out HERE. He is also a very talented producer in his own right with his latest track incoming on the brilliant Tropical Disco Records on the 1st of January 2021. We love it and premiered the track last week HERE. We also asked Stephen to put together this very classy mix for us and we spoke to him about his career and Disco Daze.
Q1: Who is Stephen Richards? 
I'm from Waterford which is down in the South East of Ireland. I started producing music back in 1998 with Daz from Get Down Edits. We sort of taught each other at the beginning, cutting samples from house records and learning how to arrange and lay effects on them in Cubase which was the first software we used. We attended a music production course together back then and also played records together on many nights in our hometown of Waterford. Myself and Daz released an independent album back in 1998 called "Head Swap" under the alias Hi-Fidelity. The genre of music I was creating back then is probably pretty close to what I am producing now, albeit a little less technical due to experience. During the noughties, I experimented on my own with lots of different styles which included ambient, house, tech house and some tracks that touched on techno. A full-length album under the alias of Jax-Urh was released independently on CD in 2012 together with a number of single track releases around that time.
In 2014, I began working on more house and disco based tracks under my own name and have continued in that vein since. The first release in this present chapter was a track called Get Up in 2015 which formed part of a compilation released on Deep Sense, Mexico. The track was passed on to the label by the other half of Get Down Edits, Martin Roche. In 2016, I released a full-length album on Alpaca Edits titled Colours Squared. The 17 tracks covered a lot of the soundscape I was very interested in at the time. For the past few years, I have been constantly trying to develop my sound with the focus always on writing original material where I get my greatest kicks. Other works since 2016 can be found on labels such as Hot Digits Music, Masterworks Music, Spa In Disco, Thunder Jam, Bandolier, Slightly Transformed & Rare Wiri Spain. A great moment for me personally was producing Making Music and Making Music 2 with Get Down Edits who are also from Waterford in Ireland. Both releases came out on Hot Digits Music in 2018 and 2020 respectively and show very nicely the full circle I've travelled with regards to my production work. Another very nice moment was collaborating with another fellow Waterfordian Jay Ru on Vibrations & Temptations which was released via Slightly Transformed at the beginning of 2020. Making Music with Get Down Edits and Vibrations & Temptations with Jay Ru both reached No.1 on the Juno disco chart.
Gig highlights over the past number of years have got to be Brighton Pride Festival and a once in a lifetime trip to the north coast of Egypt in July 2018 to play Sachi By The Sea.
Q2: What is your latest release?
Left Hand Drive will be officially released on the marvellous Tropical Disco Records on the 1st January, 2021. I began working on Left Hand Drive in early summer 2020. When the track production progressed, I thought that it would suit the direction of TDR which is a label I really wanted to get on at some stage and that I admire a massive amount.
I love the fresh positive up-tempo vibes of their releases and they have had a stellar first few years on the scene.
I'm really looking forward to that one coming out which will hopefully kick-start 2021 for me nicely.
Q3: Who are your greatest influences as a producer? 
1. The Prodigy – Break & Enter (Music For The Jilted Generation – 1994)
Liam Howlett as a producer has always been a massive influence on me. His production range, melody and sheer rawness always resonated with me. I picked Break & Enter from Music For The Jilted Generation as it blew me away on first listen and is still relevant to me today. The melodic breakdown during what is a full-on track sums up the skills of this guy.
2. Laurent Garnier – The Man With The Red Face (Unreasonable Behaviour – 2000)
Without doubt one of the greatest productions for me in terms of being able to merge together a dark underlying canvas with one of the most uplifting brass and synth sections of recent times.
3. Daft Punk – Da Funk (Homework – 1997)
I always look at this track as the rule book being re-written by two young guys which in itself is an inspiration. Slower than a lot of material I was listening to at the time but a mesmerising blend of sound crossing multiple genres all very tightly sown together.
Q4: You are behind the brilliant Disco Daze radio show which is a regular listen at LV HQ and you have been behind breaking some classy records for us on the show. Please can you tell us about the show, how you came to be involved the ethos behind the show and what plans you have for 2021.
The idea for the show was born back in early 2017 when a local radio station was seeking new shows for their schedule. A friend of mine Derek Thompson persuaded me to attend a meeting that the station was hosting in Waterford to discuss new ideas. The original idea was to play new material in the disco house genre together with older original disco recordings from the 70's. As the show progressed, guest DJ mixes were introduced in May 2018 beginning as a 30-min slot and then extending to a 60-min at a later date to allow the DJ's more room for creativity and character. The focus also shifted over time to all newly released productions, be it original tracks, edits or re-works. As the profile of the show grew, other formats were introduced from time to time which included birthday shows and end of year shows that incorporated the input of DJ's and producers from around the globe.
The show is just about to pass a half of million streams on Soundcloud and currently has guest mix DJ's booked to the beginning of 2022. There have been some stand out mixes personally for me on the show but I would prefer not to single these out as every guest DJ that has joined DiscoDaze has put great passion and their own sprinkle of sound into their sets. In terms of favourite shows, I really like the end of year shows where the tracks are selected by other DJ's and producers. There's a special 4-hour show coming up on 1st January from 10pm to 2am (GMT), where I'll be playing 50 tracks from 2020 selected by 50 different DJ's and producers. That's going to be a lot of fun.
Q5: Which artists do you think have really pushed the scene forward in 2020 that you have hosted and played on the show and who do you think are going to bring the heat in 2021?
I could write a long list here as there is so much quality out there at the moment in the scene. In terms of established producers, Mexico has it all with names such as Hotmood, The Funk District, Monsieur Van Pratt, The Velvet Stripes & Sould Out. Outside of that hotspot I love what Sunner Soul, Art Of Tones, C Da Afro, Chewy Rubs, Moodena & Fingerman come up with consistently. On the homefront of Ireland, Get Down Edits and Mix & Fairbanks are always exciting to listen to.
Names that have potential to cause havoc in 2021 for me are George Feely, Pookie Knights, Igor Gonya, The Magic Track and The Secret Soul Society.
Q6: What else can we expect from Stephen Richards in the next 12 months?
Lots more DiscoDaze radio shows, lots more new production material, some guest mixes and hopefully (fingers crossed) a few gigs out and about wherever that takes me.
Love this? Check out our Disco and House playlists HERE
For more info please check
Stephen Richards Facebook: https://www.facebook.com/stephenrichards1975
Stephen Richards Soundcloud: https://soundcloud.com/srichards1975
Stephen Richards Instagram: https://www.instagram.com/stephen_richards75/
Tropical Disco Facebook: https://www.facebook.com/TropicalDiscoRecords
Tropical Disco Soundcloud: https://soundcloud.com/tropicaldiscorecords
Tropical Disco Records Instagram: https://www.instagram.com/tropicaldiscorecords/
Tropical Disco Bandcamp: https://tropicaldiscorecords.bandcamp.com/
LV Mixtape 188 – Stephen Richards – Tracklist
1. HP Vince – Havana Fiesta
2. Rafael Cancian – Sweet Flute
3. Olivier Boogie – How High?
4. Sauco – Pina Colada
5. Son Of Sound – New York Iz All I Know (Aroop Roy Remix)
6. Tilman & Phonk D – The Hustle
7. Shan – On & On (Phone D Remix)
8. King Kong Company – iPop (Get Down Edits Moroderish Remix)
9. Fouk – Organ Freeman
10. Moon Rocket & Re-Tide – Blind
11. Art Of Tones – Over A Gain
12. Thommy Davis & Randy Roberts – Try Jah Love (DJ Spen & Thommy Davis Original Mix)
13. Rhode & Brown Feat. COEO – Women (Vocal Mix)
14. Saturday Born – Hell Yeah
Tags:
Disco Daze
,
Stephen Richards
,
Tropical Disco Records