Clive From Accounts – 7 Random Q's [Outplay]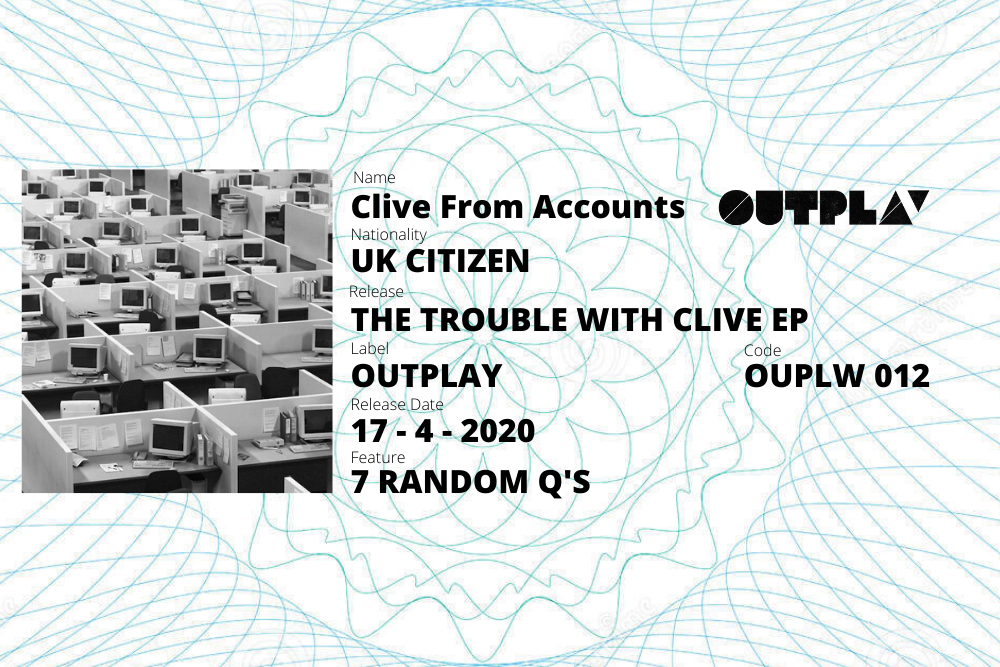 Clive From Accounts – 7 Random Q's [Outplay]
Almost certainly on furlough somewhere in London right now with his feet up Clive from Accounts is a self-confessed regional tiddlywinks champion, stationery cupboard loiterer and all-round beige sky thinker. With a well documented love of both pens and music he spends his spare time left over after lurking in the work stationery cupboard creating some rather splendid music.
Thankfully he has persuaded Outplay to release his latest EP, no doubt by offering them a years worth of accounting as a sweetener.
Thankfully it's a rather special EP indeed which you can check below.
Clive it's safe to say is a little off the wall so we though him to be the perfect candidate for our 7 Random Q's feature. Check it below, under the EP x
We also asked Clive to put together an office playlist for us a few days ago. If you are planning on throwing one of the coolest office parties ever you should definitely check it out here: https://levisiteuronline.com/music/clive-from-accounts-top-10-office-party-records-2/
Clive From Accounts brand new EP on Outplay 'The Trouble With Clive EP' lands on 17th April check it here: https://www.juno.co.uk/products/clive-from-the-trouble-with-clive-ep/768810-01/
Clive From Accounts – 7 Random Q's [Outplay]
What's the last thing that made you laugh?
Not applicable – I'm a very serious person.
What do you do when you need some downtime?
I usually slap on the soundtrack to Fletch and have a deep soak in my nan's jacuzzi, weather permitting.
Are you able to keep plants alive?
This is primarily Maureen from HR's responsibility. Personally I like to keep my surroundings as monochrome as possible so I do my upmost to sabotage her efforts.
What is your secret weapon recipe in the kitchen?
Pickled eggs and Mutton. The undisputed king of the grey-meats.
If you could go for a walk with a famous person who would it be and what would you tell them?
It would have to be either Bono or Lewis Hamilton. I'd give them a piece of my mind. Nothing angers me more than tax evasion.
What's your guilty pleasure?
Self Isolation and minesweeper.
Do you like cats?
Yes of course. Their standoffish, nonchalant manner is a constant inspiration.
Love this? Check out our playlists HERE
Clive From Accounts brand new EP on Outplay 'The Trouble With Clive EP' lands on 17th April check it here: https://www.juno.co.uk/products/clive-from-the-trouble-with-clive-ep/768810-01/
For more info check:
Clive From Accounts Facebook: https://www.facebook.com/clivefromaccounts/
Clive From Accounts Soundcloud: https://soundcloud.com/clivefromaccounts
Outplay Facebook: https://www.facebook.com/outplayrecords/
Outplay Soundcloud: https://soundcloud.com/outplay
Tags:
Clive From Account's
,
outplay