Le Visiteur Selects Disco – Vol. 1 – 09-11-20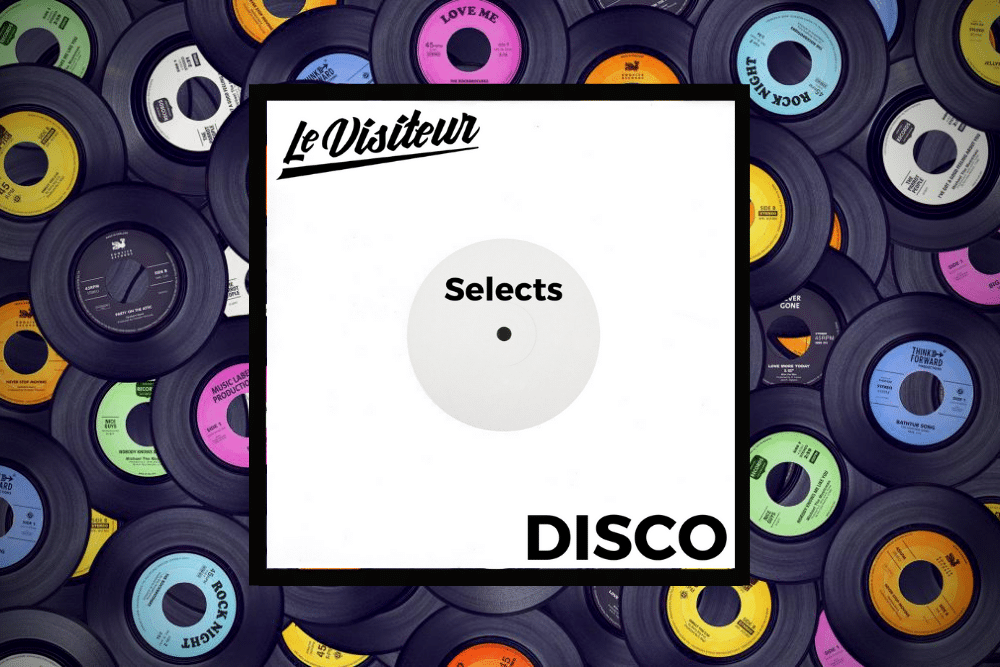 Le Visiteur Selects Disco – Vol. 1 – 09-11-20
Like what you hear? To buy us a coffee and help support LV Online via Ko-FI click HERE
Following on from our debut Le Visiteur selects House feature last week which you can check HERE this week it's all about the Disco. Below are 15 tracks which have been shaking the speakers over the last few weeks at LV HQ and which have now been added to our newly invigorated disco playlist.
From Brazilian groove to classics re-imagined and blues jams re-invented there are entries from all across the disco universe featuring everything from cool as you like underground moments to straight to the dancefloor party jams. As always they are in no particular order other than when they landed on our Le Visiteur Selects Disco playlist so make sure you check them all x
Check out all these tracks and many more on our Le Visiteur Selects Disco Playlist on Soundcloud, Spotify and Youtube HERE
Database – Um Segredo [Toucan Sounds]
The impeccable Toucan Sounds are back with another total gem of a track. Here Database tap their Brazilian roots bringing us a wonderful slice of golden-age dancefloor funk, 6 minutes of feel good vibes. Um Segredo is a track which just shines, from it's bounce of a bassline, through it's infectious vocals, brass stabs and ass shakin' percussion. There is also an Eli Escobar mix on the package which is well worth checking but we're going with the smile inducing original.
Elia y Elizabeth – Alegria (Yuksek Remix) [Razor-N-Tape]
Razor-N-Tape continue their 2020 dominance with another superb release. Revisiting some classic material from Colombian duo Elia y Elizabeth they have enlisted an all star selection of producers to remix the EP for the Razor-N-Tape Reserve. In come the serious talents of Demi Riquisimo, Bosq, Vagabundo club Social and Yuksek. Our pick from the EP is Yuksek's immense remix of Alegria. Expect yet more in the way of feel good party vibes right here with it's fusion of powerful bass and brass stabs providing the perfect foil for Elia y Elizabeth's stand out vocal. This one likely won't be around for long such is the early demand so best grab it quick and get yourself ready for those summers days to come. The 12″ remix EP also comes with a bonus 7″ of newly remastered original versions of the tracks.
A Festa (Aroop Roy edit) [Kampana]
The inimitable Aroop Roy lands back on Kampana after a three year hiatus with a very classy slice of Brazilian Jazz Funk in A Festa. Easing this one towards the House floors he's added in a killer kit to beef things up and crowd noises to fill it out. The laser keys here really set this one out from the pack giving it a futuristic lilt to contrast it's ever so sweet blues edged vocal. It's out on 11th December on 7″ and is another must have flipped with the equally excellent Hustle De Brazil. We spoke to Aroop a while back and he also gave us an immense mix for our mix series check the interview and mix HERE.
Baxu – Turkish Lira
Having already passed through Brazil and Columbia we are off next to Turkey with the mysterious Baxu's groove bomb Turkish Lira. Deep percussion heavy goodness abounds here, the futuristic synths give this a spacey feel as do the white noise effects which are offset perfectly by some sexy 70's vocal samples. Altogether they have a bone-fide gem on their hands right here. It's out now as part of a four track debut release.
Frank Booker – Do It (Edit)
Frank Booker is an artist who I always keep a close eye on, his two edits EPs for Razor-N-Tape are real favorites with More from the second EP featuring in many a Le Vistiteur DJ set. His latest track Do it popped up briefly on Bandcamp recently and hopefully it will appear again in the not too distant. Do It is quite simply dripping with 70's erotic disco power, the lead trumpets are spectacular, the bassline unstoppable and it's all topped off by some superb drums. Another brilliant release from Frank Booker. If this piques youer interest make sure you give him a follow over on Soundcloud for some classy disco cuts.
Conan Liquid Presents The Crates Motel Collective – Gotta Scratch [Tropical Disco]
Having just landed via Tropical Disco as a Traxsource promo Conan Liquid's Crates Motel Collective Gotta Scratch is a proper party starter. With it's ever so recognisable bassline and power keys it's a track which is just packed with unstoppable dancefloor funk. We premiered this one last week. Check it out HERE
J.B. BOOGIE – Division [Spa In Disco]
Greek artist J.B. Boogie has been in fine form recently with a series of great releases. His latest the Division EP has just landed via the prolific Spa In Disco label. My pick from the EP is this funk bomb Division. Looped up and filtered in all the right places it's powered by huge brass stabs creating a real no nonsense peak-time hoedown. A big yes to this heavy hitter which will cause some serious scenes when clubs are a thing again.
Wonder Thang (Roman Truth Edit) [Black Riot]
With an ear for brilliant off the beaten track disco cuts which have both immediate dancefloor impact but which are also oozing with cool Roman Truth picked up some serious support over the last 12 months from the excellent Toy Tonics label. He also recently recorded a quality mix for us which you can check HERE. His recent release the Heavy Wonders EP landed on Black Riot a couple of months back and has been on repeat here recently. Wonder Thang has that Salsoul-esque string vibe but with plenty of sex thrown in for good measure. Edited to perfection it's another track which will be packing out many a DJ's peak time set in the coming months.
Tiptoes – Let Go [Tiptoes Tapes]
Tiptoes, who also featured on our debut Le Visiteur Selects House, roundup last week has been on fire recently. Let Go landed a month ago but has been building steam courtesy of some serious DJ support from Mighty Mouse and Art of Tones. It's a stone cold banger. Make sure you grab it right now.
Yasuko Agawa – L.A. Nights (Deportment Edit) [Phreek Edits]
Part of Maslow Unknown's free to DL Phreek Edits series, which is definitely worth checking out in full, this Deportment edit is a real delight. Packed with vibes aplenty it's a track which exudes that sunsoaked L.A. cool courtesy of some sublime playing and ace vocal samples. And that bassline, ooooooh yes. A completely essential track for those groovier dancefloors.
Danny Russell & Ronald Christoph – Love Rescue [Sprechen Music]
Danny Russell & Ronald Christoph are back with another ace EP for Manchester's Sprechen and Love Rescue see's them in playful mode. A combination of funky guitar licks, elongated brass stabs and well contrasted male and female vocals it's both laid back but with an underlying vibe which will see it help set many a dancefloor smile off. Feel-good disco to the fore right here.
SunPalace – Rude Movements (Moodymann Remix) [BBE Music]
This is an essential release from classic UK label BBE. Out right now as a super limited 7″, which is undoubtedly well on it's way to selling out, Rude Movements is a track made famous by David Mancuso at his NY loft parties. It's also a track which was influential for both Moodymann and Kenny Dope in their early career's. Both artists were chosen by SunPalace producer Mike Collins to give their spin on this classic. Moodymann's remix is super faithful to the original keeping in the jammed flute, sax and piano solos. A perfectly crafted rework.
Berobreo – Pretty Lush [Must Be On Wax Records]
Coming from a quality EP via MBOW, which also features Nyreau, A/P and Oriol Mubu, here Berobreo takes us on a deep blues edged disco journey. It's a track which exudes both warmth and cool. Filters abound teasing the vocal in and out across lazy percussive hits, brass stabs and a smooth bassline. Just add a basement with a big soundsystem and loads of smoke.
The Patchouli Brothers – Man Problems [Re-Loved]
Canadian duo The Patchouli Brothers don their favourite party pants and let loose Man Problems via Seamus Haji's ace Re-Loved label. Looped up vocals galore backed up by a multitude of different disco loops put this one firmly in ear worm party anthem territory. It's a track for those summer dancefloors, you can almost smell the Adriatic sea from this one as it screams Glitterbox boat party with everything it's got.
Johnny Guitar Watson – A Real Mother For Ya (Ben Liebrand Go To A Disco Edit) [High Fashion Music]
Dutch remix legend Ben Liebrand gets to grips with Johnny Guitar Watson's 1977 A Real Mother For Ya and what a remix it is. He has taken the original low slung blues edged jam and turned it into looped up, powered up, dancefloor bomb. Huge brass licks, vocal loops aplenty and a big bassline all come together to build the groove before Johnny Guitar Watson's incredible vocal takes this off to the dancefloor. This is what the art of the remix is all about taking a track from one place and re-inventing it for somewhere completely different and doing it in such a way that it sounds like that's what it was originally designed for. Hat's off to Mr Liebrand right here.
Check all our Le Visiteur Selects series HERE
Check out all these tracks and many more on our Le Visiteur Selects Disco Playlist on Soundcloud, Spotify and Youtube HERE