Le Visiteur Selects – House – Vol. 1 – 30-10-20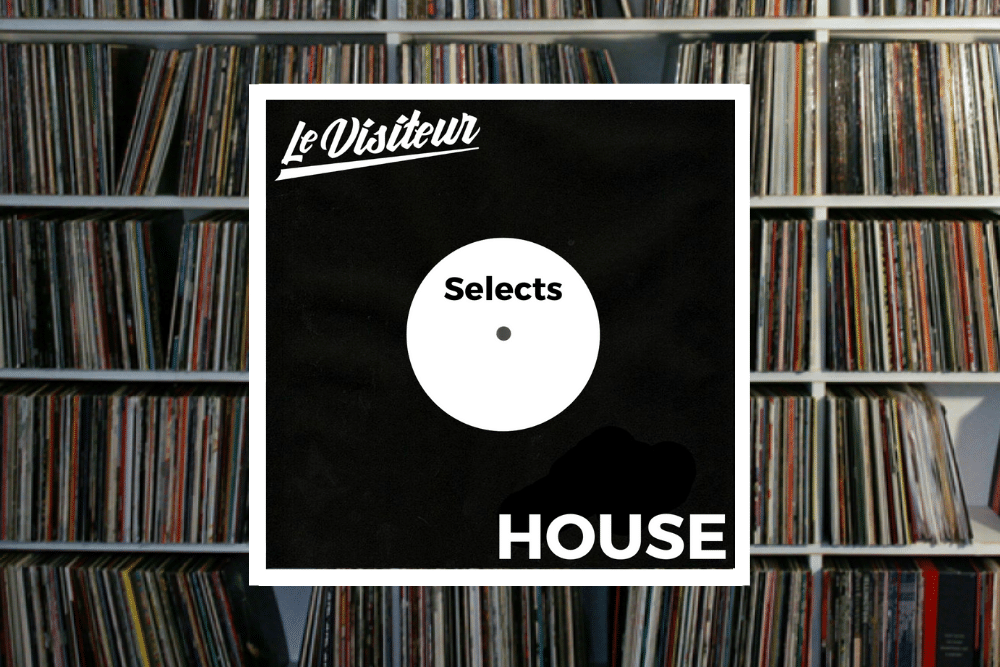 Le Visiteur Selects – House – Vol. 1 – 30-10-20
Like what you hear? To buy us a coffee and help support LV Online via Ko-FI click HERE
Le Visiteur Selects is a brand new playlist series featuring the finest tracks which have been setting the LV HQ decks alight recently. Expect foil fresh club bombs next to overlooked gems and the odd dusty classic which deserves a second look. As well sharing them on LV Online we will also be sharing them to our Selects playlists on Soundcloud, Spotify and Youtube HERE so expect these to build very quickly over the next few weeks.
As always at LV online I will be supporting brand new artists side by side with some of the established names on the scene. The list isn't in any particular order other than when I added them to the Selects playlist so make sure you check the whole list through as the heat is just as fierce at the bottom of the list as it is at the top.
Please give this one a share and help us spread the love for these brilliant tracks. If you would like to support Le Visiteur during this most temperamental of years please buy us a Ko-fi via the link above. It will be HUGELY appreciated!
Scan 7 – All For Me [Heist Recordings]
For the landmark 50th release of Detroit Swindle's Heist Recordings they have drafted in Detroit duo Scan 7 who have delivered the superb Sooner than later EP. Packed with wonderful playing it effortlessly combines the soulful, jazzy and deep edges of house music for a warm and inviting listen. It's perfect for home plays but equally has more than enough power for the dancefoor.
To celebrate this release I spoke to Detroit Swindle about some of the tracks which have influenced their musical journey. Expect to head straight to discogs after checking it out HERE
Manuel Darquart – Parkour [Wolf Music]
Wolf Music are another super dependable label who's back catalogue is overflowing with quality. Their latest comes from London duo Manuel Darquart who's WOLFEP058 draws influences from some of the classic 90's Italian labels including Irma, Antima and Palmares. These influences are perfectly delivered in my pick from the EP Parkour.
I spoke to Wolf label bosses Matt & Stu ahead of the release of this EP about the history of the label and loads more. Its a quality read packed with some great music. Check it out HERE. T
Brandon Markell Holmes – Museum of R&B (Toucan Sounds Edit) [Toucan Sounds]
Toucan Sounds has become a real favourite label at LV HQ in 2020. Releasing a steady stream of incredible music across multiple genres from deep atmospheric house music to disco edged club heat and Nu Disco it's a label we have featured regularly recently.
Their latest track comes from Chicago's Brandon Markell Holmes and see's the team at Toucan on the edit crafting this track from samples from four different tracks from Brandon's debut album Museum of R&B. It's a track which is simply dripping with atmosphere.
Scruscru Meets Meowsn' – Cool Party Tool [Outplay]
Scruscru is another artist that I have followed closely over the last couple of years on LV online, Hailing from Russia he happily creates straight to the dancefloor bombs next to more experimental work often fusing the jazzier and disco edges of house music. His latest EP on Fouk's Outplay see's him collaborate with another Russian producer Meowsn crafting four wonky house gems. you can check out my full review of the EP HERE
I also talked to Fouk about the EP and their label Outplay. as part of the interview they put together a stunning label mixtape for LV Online. Check it all out HERE
Felipe Gordon – The Bacatá Extrapolation [Shall Not Fade]
If there is one artist who has stood out above everyone over the last month or so it's Columbian producer Felipe Gordon. With superb EP's out via Neighbour Soul Rhythms, Off Track and Lovedancing he has been delivering everything from peak time NY-esque house to engrossing Latin Edits. I covered all of those releases and you can check them HERE
I've been hammering tracks from all of those EP's but for today's list I've gone for the lead track, The Bacatá Extrapolation, from his most recent EP. In many ways is a combination of all the style's he's been delivering recently from the huge club focused bassline to the moody Latin vocals.
Iner – Awesomeness [Moiss Music]
Iner is another Russian artist turning heads recently. His new label Dobro is well worth a look with their latest EP being especially tasty. His track here Awesomeness for Moiss Music combines euphoric keys with classic soul vocals and some great looped up drums for maximum dancefloor energy.
Beraber – Maybe Tomorrow [Semi Delicious]
Red Light Radio's Beraber has delivered a super smooth Italo influenced cut in the shape of Maybe Tomorrow for Semi Delicious. Part of an EP which also features Demi Riquísimo, Manuel Darquart and Baby Rollén it's well worth a look but be quick as it's super limited and there are only a couple of copies left on the Semi Delicious bandcamp HERE
Jehan – Once Again [Deepa Records]
Jehan first popped up on the LV radar via his recent EP Cool Man Nazz in collaboration with Donnie Moustaki on Masterworks Deep Cutz which you can check HERE. I would also highly recommend checking Donnie's Mixtape for us which is really special HERE
Safe to say that both those guys are creating some really incredible music. Jehan's latest track Once Again for Deeppa Records ably demonstrates that impressive production skill. Wonderfully warm, it's built around a huge bass groove which is smooth but packed with energy. The EP also features Scruscru and Hotmood. Make sure you heck it!
G.Zamora – De Todo Se Aprende (Original Mix) [Pieces of Life]
Spanish producer and percussionist G Zamora's latest track for Pieces of Life is one of those musical moments which makes it entirely possible to block out the utter nonsense that has been going on in 2020, at least for its near 7 minute running time. It's a track which grabs you and thrusts you into a wild all dancing, cocktail drinking party on a Spanish beach just after sundown, packed with smiling people partying like there isn't a care in the world. More of this please!
Tilman & Phonk D – The Hustle [Footjob]
Tilman and Phonk D's Couple Therapy EP on Footjob is well worth checking out in full. My pick from the EP is this powerful slice of club bothering disco-edged house music. Classy but still accessible it ticks all the boxes to see it land in many a DJ's arsenal come the resumption of club activities. Something we can all look forward to!
Jackmate – CubanLinkx [18437]
Jackmate is an artist who more recently has perhaps been better known under his Soulphiction alias (check his brilliant Lumberjacks In Hell EP from a couple of years back HERE). His latest release see's him land on the 18437 label with three tracks touching on many different edges of house music. My pick from the EP is this Cuban percussion fuelled dancefloor heater. Effusive trumpets combine with breakbeats and a thumping bassline for a track which will cause all sorts of shapes on the floor.
Crackazat – In My Dreams [Z Records]
In My Dreams is taken from Period Works – The Album where Crakazat ties up all his Period Works EP's from the last few years where he utilised acapellas from the Z Records archive to create new tracks with a classic disco and house vibe. For the final touch to the album he has added three completely original tracks into the mixing pot. In My Dreams has that 90's house vibe running deep through its DNA. It's innocent feel-good party spirit will bring many a smile to the tail end of 2020. I'm looking forward to spinning this one in the sun in 2021.
OPOLOPO Feat. Pete Simpson – You Can Make It [Local Talk]
Taken from the Opolopo's album Sickla which landed a few weeks back on Local Talk this powerful cut with the incredible Pete Simpson on vocals is perhaps my favourite moment from the album. Deep and atmospheric, as we have come to expect from Opolopo the keys and drum programming are stand out. This is track with a timeless house vibe which will sound just as good in 2040 as it does in 2020.
Coeo – Sorry For The Late Reply [Toy Tonics]
Coeo land back on Toy Tonics with their Piano Workout EP. One of the labels top selling acts yet again they have delivered a scorching selection of tracks. Sorry For the Late Reply is another track on this list with 90's vibes running through it's veins from the euphoric pianos to the Mood II Swing esque sax and the heavy MAW style percussive breakdown. Brilliant work yet again from this very talented duo.
Tiptoes – Steamboats [Tiptoes Tapes]
Glaswegian artist Tiptoes first came to my attention a few months back when we premiered his brilliant tracks Ruffcut on Moment Cinetique and Let Go on his own Tiptoes Tapes. Keeping up the heat here Steamboats is peak-time jackin' house through and through. Powered by a thumping bassline and frenetic keys it combines jazzy licks and rock solid drums with the peak-time energy of house music to devastating effect. Bomb!
Check out all these tracks in full on our Le Visiteur Selects House Playlist on Soundcloud, Spotify and Youtube HERE