Le Visiteur Selects – The 2020 Deep House Essential 3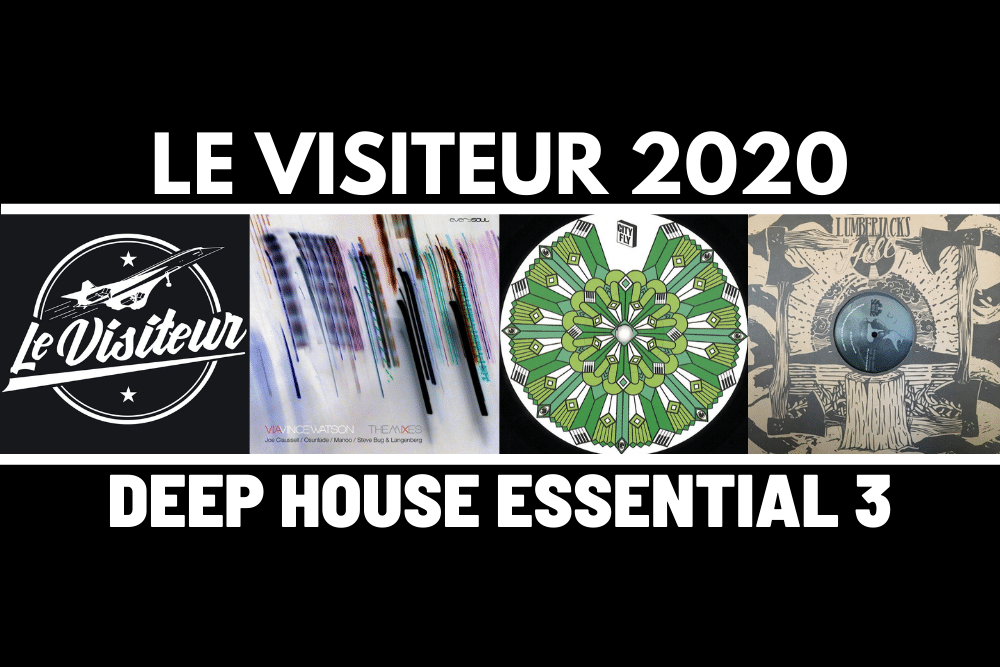 Le Visiteur Selects – The 2020 Deep House Essential 3
Like what you hear? To help support LV Online buy us a coffee via Ko-FI. Click HERE
Despite its obvious dark edges 2020 has been a golden year for electronic music with a seemingly endless supply of incredible singles, EP's and albums arriving throughout the year. An undoubted side effect of many producers finding themselves locked up at home for vast swathes of the year.
Of the three distinct music genres that we cover on Le Visiteur Online, Deep House, Disco and House Music the Deep House genre Essential 3 were the easiest to tie down with three absolutely outstanding tracks popping up again and again for us across the year.
Le Visiteur Selects – The 2020 Deep House Essential 3
Laseech ft Javonntte – More Than Friends (Marcel Vogel & Tim Jules Remix) [Lumberjacks In Hell]
This track was very nearly my track of the year in 2019 as it popped up on promo right at the end of the year, however, with an official release date in January 2020 I decided to hold off and give it time to breathe. It's very safe to say though, that my passion for this track hasn't abated with time. The original version by the super talented pair Laseech and Javonntte is super deep with all the hallmarks of a classic. Featuring mournful keys, plenty of swing across the drums and a truly spellbinding vocal it is indeed a thing of beauty.
On the remix label boss Marcel Vogel and key maestro Tim Jules gave the track some extra club power with tighter drums whilst they also amped the bassline up bringing it front and centre as the motor for the track. It's a subtle but elegant make-over which will easily stand the test of time.
With Deep House as a genre fast approaching its 40th anniversary tracks like this are exactly why it's still such an exciting genre merging classic edges with a modern production vibrancy.
This one, as indeed are the other two records on the list, is already unsurprisingly a very rare record. Grab one of the last couple of copies HERE
Lumberjacks in Hell Facebook: https://www.facebook.com/Lumberjacks.in.Hell/
Lumberjacks in Hell Instagram: https://www.instagram.com/lumberjacksinhell/
Marcel Vogel Twitter: https://twitter.com/MarcelVogel
Laseech Facebook: https://www.facebook.com/laseech
Laseech Instagram: https://www.instagram.com/laseech/
Tim Jules Facebook: https://www.facebook.com/timjulesmusic/
Tim Jules Instagram: https://www.instagram.com/tim_jules/
Javonntte Instagram: https://www.instagram.com/javonntte387/
NY*AK – Slick feat. Mark Hand [City Fly Records]
Landing as a five track EP back in August NY*CK's Afghan Jams was a superb fusion of house and deep house touching in places on the edges of techno. With thumping drums, soulful vocals, swirling synths and wonderful keys, it's a truly superb collection of music and easily one of the stand out EP's of 2020.
A track which has really gelled with me since the EP landed is Slick. From the deep throbbing bassline through the powerhouse drums, record crackles and atmospheric background vocals it builds and builds across the track. Adding in and swapping out layer after layer making way for subtle keys which evolve throughout the track before the incredible piano line comes in. This track is the very definition of earworm, once you've listened to it the lead piano line will live with you forever.
With no UK copies of this one left there are only a few kicking about across the globe grab them HERE
For more info check:
City Fly Records Facebook: https://www.facebook.com/CityFly/
City Fly Instagram: https://www.instagram.com/cityflyrecords/
City Fly Twitter: https://twitter.com/cityflymusic
NY*AK Facebook: https://www.facebook.com/Nyak-263952917009690/
Vince Watson – Progress (Joe Claussell Remix) [Everysoul]
As well as picking our stand out tracks if we also had a prize for the track which track appeared the most on our pages in 2020 it would definitely go to Joe Claussell's breathtaking remix of Vince Watson's Progress. We covered this EP in full including running the premier of track and Vince Watson giving us his Top 10 Deep House cuts of all time which you can check HERE. It has also popped up in guest column's, mixes and end of year charts. There is a very good reason for all of this love in that it's quite simply a masterpiece of deep house music.
Weighing in at 11+ minutes it was recorded as a live jam with Joe Claussell's most trusted musicians featuring overdubbed loops from the original. The playing is incredible throughout, you can truly feel the warmth and passion of the musicians emanating from this track. From the incredible keys to the African chants, stunning drum programming and subtle synth percussion through to the hypnotic power of the bassline. It has euphoric groove aplenty before working into a frenzy as it heads towards its conclusion. To be honest even with its weighty running time it's still not nearly long enough.
This EP landed on digital earlier in the year but only just arrived on vinyl earlier this month and has sold out sharpish. There are only a couple of copies left on discogs, best grab them quick HERE
For more info check:
Vince Watson Facebook: https://www.facebook.com/vincewatsonmusic/
Vince Watson Instagram: https://www.instagram.com/vincewatson_official/
Vince Watson Twitter: https://twitter.com/vincewatson
Joe Claussell Facebook: https://www.facebook.com/Joe-Claussell-47558567307/
Joe Claussell Instagram: https://www.instagram.com/joeclaussellsplayground/
Joe Claussell Twitter: https://twitter.com/joeclaussell
Love this? Check out our Disco and House playlists HERE
Tags:
City Fly Records
,
Javonntte
,
Laseech
,
lumberjacks in hell
,
marcel vogel
,
Mark Hand
,
MY*AK
,
Tim Jules