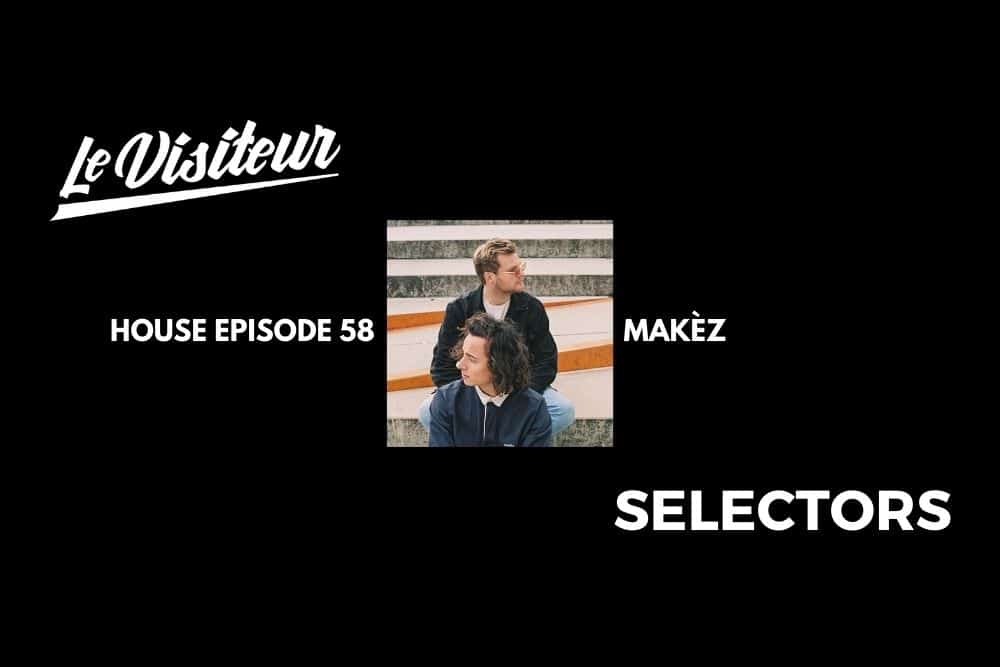 Makèz photo by Joan Sebastian Hanao
Makèz are a duo from Amsterdam who have literally blown us away with the quality of their releases over the last couple of years. First catching out attention with their debut EP on Heist Recordings Different Planets from which the title track become a real favourite here. They have kept a tight working relationship with Heist ever since featuring on the Round Up VI and releasing their brilliant debut album City of All which was easily one of the albums of the year last year, check out more on that HERE.
Their latest release sees them continue that golden Heist run with the release of the Holy Sun EP this week from which we premiered La Grande Folie (below). It's a scintillating collection of tracks which range from delicious vocal broken beat to deep euphoric house and peak time percussion heavy throbbers. It's an EP which continues to build their reputation as one of electronic music's most exciting duos.
Grab the EP from: https://makez.bandcamp.com/album/holy-sun-ep
To celebrate the release Makèz stepped up to the Le Visiteur decks and delivered a cracking mix for our Selectors series. Check it out above and please give it a share over on Soundcloud and help us spread the love.
We also spoke to Makèz about the mix, check it out below.
Talking to Makèz
What can you tell us about the theme of the mix and what are some of the key tracks for you?
This mix for Le Visiteur contains some of the many flavors of electronic music we love. The 1 hour set contains records to play before, during and after clubbing. We start of with some records we would play at home. Expect downtempo beats, boogie and hip-hop. The energy slowly morphs into more energetic music by artists who inspire us. The mix furthermore contains two tracks of our new 'Holy Sun EP' on Heist recordings, and an unreleased track by us.
Key tracks to us are 'people' by Moodymann' and 'Story of her life' by K15, as they are such interesting compositions. Moodymann seems to combine MPC vibes with a live band in this track, as Amp Fiddler performs an amazing solo on the keys, followed by Norma Jean Bell on the Saxophone. We love this combination of live frequencies with more sampled 'colours'.
K15 is such an amazing producer as well. In this track from his EP on Kyle Hall's Wild Oats, the artist created such an interesting arrangement. It takes quite some time before the kick comes in. That long intro and break created magical moments, and takes us back to a special DJ set we did in Sisyphos, Berlin.
How does the style of mix here compare to how you would approach a live DJ set?
The track selection of this mix contains more downtempo records than we'd play in most of our DJ-sets. Which is why we love to do guest mixes like these. Similiar to our live dj sets, we love the freedom to mix and think outside of genres.
Which other artists DJ mixes do you find yourself coming back to time and again and do you have a favourite that you gravitate towards?
We're big fans of Lefto's 'Think outside of the kiosk' weekly radio shows. Lefto is such a great selector. The DJ effortlessly blends different rhythms, genres and energies all together into very interesting DJ mixes. It's always a nice surprise to see what he comes up with, we think he's a great example of a DJ who's really telling a story through his music. Tip!
Here's a mix of Lefto's show together with Danilo Plessow (MCDE) and Diggin Dave.
Next to listening to nothing but amazing records by some really interesting selectors. This DJ mix reminds us to dig deeper into more unfamiliar sounds from all over the world. Every time we'd listen to this, new musical insights and inspiration comes up.
Thank you for having us guys!
Much love from Amsterdam,
Makèz
For more info please check:
Makèz Facebook: https://www.facebook.com/wearemakez
Makèz Soundcloud: https://soundcloud.com/wearemakez
Makèz Instagram: https://www.instagram.com/wearemakez/
Heist Facebook: https://www.facebook.com/HeistRecordings/
Heist Soundcloud: https://soundcloud.com/heistrecordings
Heist Instagram: https://www.instagram.com/heistrecordings
Heist Twitter: https://twitter.com/HeistRecordings
Love this? Check out more from Makèz HERE
Like what you hear? To help support LV Online buy us a coffee via Ko-FI. Click HERE
LV Selectors 58 – Makèz – Tracklist
Silentjay X Jace XL – Intro
Spacek – Eve (Jay Dee Remix)
Cassiano – Onda
Space Ghost – Deep (Vibes Mix)
Moodymann – People
Makèz – Holy Sun ft. Ava Lavá
Dreamcastmoe – Bend Backwards (prod by SHUNGU)
K15 – The Story of her Life
Paranoid Londen – Paris Dub 1
The Raw Shit – Surprise
Iz & Diz – Down 4 U
Makèz – ???
Alkalino – Overground
Kerri Chandler – Coro (DJ Spen Kaoz Re Edit)
Makèz – La Grande Folie
Mas Que Nada – Patato y Totico
Tags:
Heist Recordings
,
Makèz