Marcel Vogel – My Record Collection in 10 records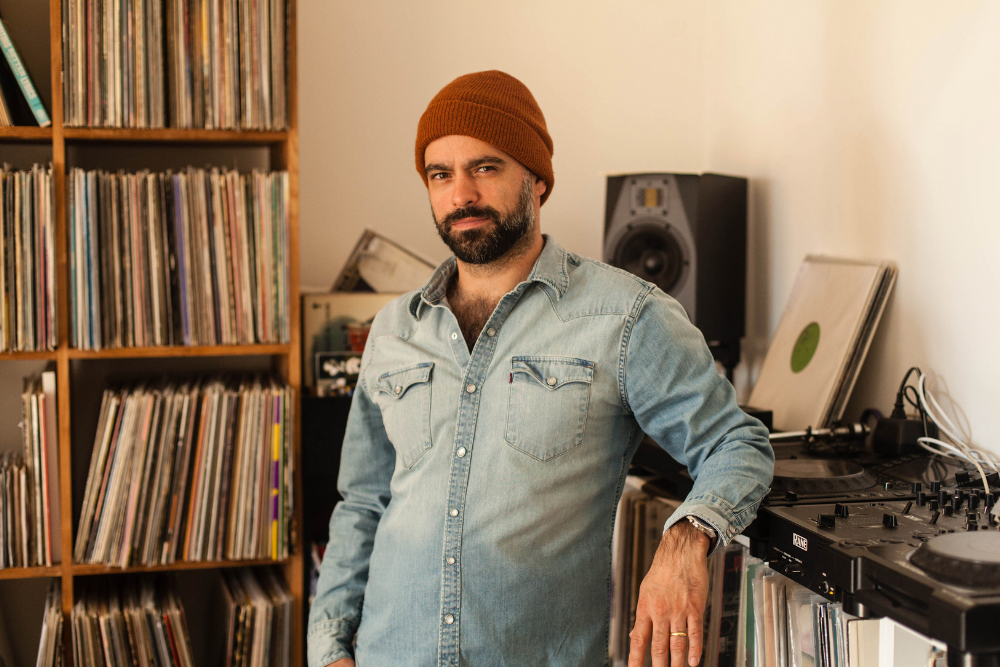 Marcel Vogel – My Record Collection in 10 records
For Le Visiteur Online one of the hottest labels of the last couple of years since we launched has most definitely been Lumberjacks In Hell. They have had superb release schedule with stand out tracks from Giovanni Damico, who we interviewed recently HERE, Karizma, Alma Negra, Dan Shake, Krewcial and brilliant compilations like their Chicago Service and From Hell With Love releases. They also put out a superb album with BBE which you can read about HERE.
The label is run by Marcel Vogel who oversees the whole operation from the A&R to the artwork to the PR. Marcel is also a hugely respected DJ and producer in his own right who's career is currently in overdrive.
His latest release on Lumberjack's their 35th is 'Fuck The Bass Up' A brilliant 4 track EP which we will be covering in depth later this week and you can buy from Juno HERE
Marcel's love of vinyl is well known so we caught up with him for a good chat about his record collection. Check out his choice of 10 records which sum up his collection below.
Romanthony – Testify – Black Male
This has always been one of my favourite house records from one of my favourite artists, the prince of House I reckon. It reminds me of so many things and triggers so many different musical but also emotional responses in me.
Peven Everett – Put Your Back into It – Unified records
That being said this might be my favourite house jam. Period.
Made In USA
Just the amount of jams on here … from the Ron hardy favourite Melodies, to the rather slow but still funky SHAKe YOUR BODY … Never Gonna Let You Go that was heavily edited by Theo parrish and DJ Harvey and the sweet Try Once More…. its insane that records like this even exist.
Bill Dogget – Hot Doggett
This is exemplary for my left leaning leaning tendencies. What is this? early RnB maybe? I like to dig for things other people wouldn't necessarily look for… I enjoy moments of perfect release when you can groove to something unexpected… there are a lot of jams on here that are just baseline driven. and thats all it needs , no?
First Choice – let No man Put Us Under (Ron's Edit #2)
I believe this is the recreation of one of Ron hardy's signature edits and I have it for at least 15 years I think. It's a bit of a blue print of what I love about disco. A repetitive driving hook and baseline, a lot of soul. I love the guitar coming in but it also pumps just like a house record…. this covers my love for Salsoul, Philadelphia International and prelude… all the classics…
Reggie S – Ding Dong Ding-Aling
Something what some people might call a Marcel record. I have a weakness for early 1980's drum machine soul. Stuff that often doesnt really hold up for prime time club sets, because it's too thin and nuanced maybe. I had a time when I would buy a ton of these , mostly on 7″s and my love is still very strong for the quirky soul that springs from it.
Madlib Wit' Frank Nitty – Channel 85 Presents Nittyville
This one as an example for all the Hip Hop in my collection. Madlib, Dilla, Black Milk, Slum Village, MF DOOM… I like it when it's gritty and a bit off. Of course I also own some classics and a bunch of 90's R&B like Aaliyah or D'Angelo. I dont indulge in it a lot but every now and then I pick one Album that I obsess about…. I also love things like Solange – A Seat At the Table or Kendrick's How To Pimp A Butterfly… it's all connected…
Boogie Nite / jamie 3:26 – Do The Mickey
Well it would be rude not to. I'll be so bold to say that some of my favourite records have actually have come out on my own Lumberjacks in Hell. I guess that keeps it exciting and motivates me. I am always trying to entertain myself first. I suppose there would be a formula to push a certain sound and have a different sort of success. But I guess I am an idealist and enthusiast first. Maybe a lot of the things we do are niche but they definitely come from the heart.
Bobby Walker – Stop The Clock
I just bought this and listening to it while I write it. So I dont have a super deep relationship with this record yet but of course it highlights another part of my record collection. All the really sweet and soulful things. No matter what tempo or genre. Thats whats nice about living in Amsterdam, that you can find so much different aspects of music, and your taste is the common dominator.
Sandra De Sa – Vale Tudo
Excellent brasilian boogie LP. Again this stands in for Brazilian, African , even Italian or Spanish mostly boogie but also funk and disco records I pick up along the way.
For more info on Lumberjacks in Hell check:
Facebook: https://www.facebook.com/Lumberjacks.in.Hell/
Soundcloud: https://soundcloud.com/marcelvogel
Tags:
lumberjacks in hell
,
marcel vogel
,
top 10
,
vinyl