Le Visiteur Selects – The 2020 Disco Essential 3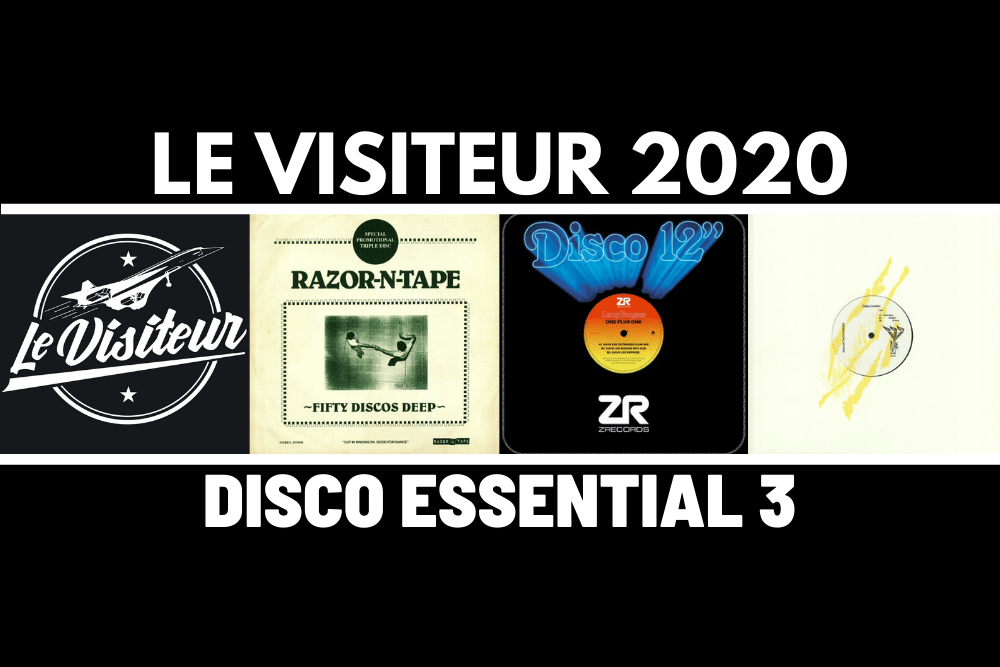 Le Visiteur Selects – The 2020 Disco Essential 3
Like what you hear? To help support LV Online buy us a coffee via Ko-FI. Click HERE
It's been another classic year for disco which continues its renaissance in all corners of the globe with a multitude of artists releasing in just as many different sub styles across the disco universe. There are edits galore from re-imagined classics to tracks mined from the deepest corners of albums, b-sides and label vaults. There has also been welcome number of hot original tracks landing from classic artists and newcomers alike.
From Brazilian Groove to Mexican underground classics, funk fuelled UK jams to Italo House and African electro you name it there have been amazing releases across the board. We are also loving the current 80's boogie renaissance spearheaded by our own Yam Who?
Likewise some labels have absolutely shone this year with legendary labels Salsoul, Easy Street and West End remixing classic back catalogue, Midnight Riot, Tropical Disco, Glitterbox, Razor N Tape, Toy Tonics, Z Records and Samosa Records all continuing to release one incredible track after another whilst hot newcomer High Fashion Music quickly made a name for themselves with some outstanding releases drafting in some of the finest producers out there.
In the end I've gone for a trio of legendary artists and one of the hottest artists of 2020 for our Essential 3 disco tracks of 2020. Leroy Burgess, Dave Lee, Felipe Gordon & Dimitri From Paris step forward!
Leroy Burgess – One Plus One (Dave Lee Extended Club Mix) [Z Records]
Legendary vocalist at the height of his powers – Check
Track recorded in the same session as an evergreen Salsoul disco classic with the same band – Check
Track promptly lost for 35 years – Check
Track rediscovered and then remixed by a legendary producer at the height of his powers – Check
One of the disco stories of 2020 gives us one of the stand out tracks of the year!
Grab it on vinyl while you still can here: https://www.discogs.com/Leroy-Burgess-One-Plus-One/release/16298872
Leroy Burgess Facebook: https://www.facebook.com/leroyburgessofficial
Leroy Burgess Instagram: https://www.instagram.com/leroy.burgess/
Dave Lee Facebook: https://www.facebook.com/daveleezr
Dave Lee Instagram: https://www.instagram.com/davelee.zr/
Dave Lee Twitter: https://twitter.com/daveleezr
Z Records Facebook: https://www.facebook.com/thezrecords
Z Records Instagram: https://www.instagram.com/thezrecords/
Felipe Gordon – Oladipo (Edit) [Neighbour Soul Rhythms]
Felipe Gordon is another artist who has absolutely ruled in 2020. His tracks also made my Deep House and House Essential 3 shortlists such was his depth of releases this year but in the end I chose to go for this outstanding track Oladipo. Hailing from his brilliant Neighboursoul Rhythms EP which featured 2 equally scorching tracks Anikulapo & Livinus it was a brilliant release from start to finish. I reviewed the EP in full on release which you can check out HERE.
With a full album in the pipeline for early 2021 we are super excited to see what Felipe Gordon has in store for us this coming year.
Felipe Gordon Facebook: https://www.facebook.com/felipegordonmusic/
Felipe Gordon Soundcloud: https://soundcloud.com/felipe-gordon
Felipe Gordon Instagram: https://www.instagram.com/felipegordon/
NeighbourSoul Rhythms Facebook: https://www.facebook.com/neighboursoulrhythms/
NeighbourSoul Rhythms Instagram: https://www.instagram.com/neighboursoulrhythms/
Hooked On This Feelin' (Dimitri From Brooklyn Edit)[Razor-N-Tape]
Dimitri From Paris never fails to deliver the goods and here he is in his Dimitri from Brooklyn guise for Razor N Tape. The label continued its golden run in 2020 with some fierce releases from Pools, Elia y Elizabeth, Dinno Soccio and Devin Dare as well as their ace 50 disco's deep album celebrating their 50th release. It was easily one of the essential disco releases of 2020. We spoke to Aaron Dae and Jkriv from the label HERE about the label.
Dimitri is in outstanding form here cutting up classic disco and reshaping it perfectly for the modern dancefloor. From those make your way to the dancefloor horns, perfectly shaped vocal loops, earworm synths and the dubbed out breakdowns it's an outstanding example of editing craft.
Grab the album here: www.juno.co.uk/products/dimitri-from-brooklyn-underdog-fifty-discos-deep/768747-01/
Dimitri From Paris Facebook: https://www.facebook.com/DimitriFromParisOfficial
Dimitri From Paris Instagram: https://www.instagram.com/dimitrifromparisofficial/
Dimitri From Paris Twitter: https://twitter.com/DimitriParis
Razor-N-Tape Facebook: https://www.facebook.com/RazorNTape/
Razor-N-Tape Instagram: https://www.instagram.com/razorntape/
Razor-N-Tape Twitter: https://twitter.com/RazorNTape
Love this? Check out our Disco and House playlists HERE
Tags:
Dave Lee
,
Dimitri From Paris
,
felipe gordon
,
Leroy Burgess
,
Neighbour Soul Rhythms
,
razor n tape
,
Z Records