Le Visiteur Online – Albums and Compilations of the Year 2018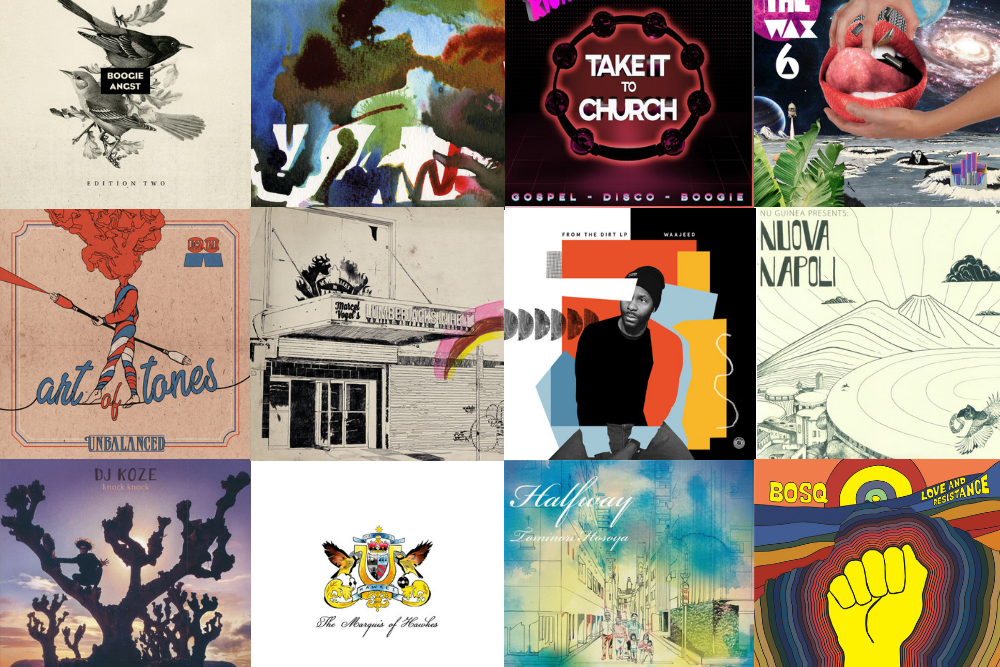 Le Visiteur Online – Albums and Compilations of the Year 2018.
As we noted in our recent 'Tracks of the Year' feature which you can check HERE it's been another stellar year for electronic music with key releases from both established and exciting new artists.
The album and compilation market has been equally impressive with some serious future classic contenders popping up throughout the year. It's inspiring to see so many artists creating fresh and innovative music which both references the past but which also sets a clear path forwards.
Below we have listed a few of the albums and compilations which have really stood out for us this year. These are the albums which have spent more than their fair share of time on the Le Visiteur stereo. We hope these inspire you to add to your collection or even better to create.
Artist Albums
Art of Tones – Unbalanced (Local Talk)
Popping up on digital in early December with Vinyl due in January 'Art of Tones' is in sublime form on this album. It's a real tour de force packed with groove heavy feel good house cuts including the brilliant single 'Where The One Is'. Stand out tracks include 'Have Fun for a little' and synth groove 'To The Limit', the album also closes out on a real high with 'Stand Up', a true heavyweight selection.
Bosq – Love & Resistance (Ubiquity)
Based in Columbia but originally from the USA Bosq brought together many diverse genres from Latin to Disco to Afro to Funk and put together a strong list of collaborators to create what is a truly beautiful album. This is another album which screams feel-good. You can check out the brilliant interview we did with Bosq about the creation of the album HERE
Detroit Swindle – High Life (Heist)
Between their own releases and a steady stream of superb music via their label Heist Detroit Swindle had a brilliant 2018. 'High life' is packed with sublime house music including collaborations with some of our favourite artists including Lorenz Rhode, Tom Misch and Seven Davis Jr. Along the way they succeeded in creating an album which screams class from the smooth 'High Life' and 'Yes, No, Maybe' to vocal gem Flavourism. From cool Disco grooves to afro rhythms it's all packed in there.
DJ Koze – Knock Knock (Pampa)
An album which has already featured on many an end of year list and quite rightfully so. It's a snapshot of all that is good with electronic music fusing great vocals and a diverse range of sounds to create a superb listening experience. Craming everything in from chill-out to huge club cuts it also features one of the tracks of the year 'Pick Up'. This is an album which owes as much to The Avalanches as it does to club culture, track this one down now.
Marquis Hawkes – The Marquis of Hawkes (Houndstooth)
Based in Berlin Marquis Hawkes has created an album which combines the sounds of Detroit with European Deep House. From start to finish it is crammed with tracks which have the dancefloor in mind. Brilliant vocals joust with deep keys and some superb drum programming to create a truly timeless album. Stand-out tracks are 'Don't u' featuring the very talented Ursula Rucker, groove heavy 'Instrument of Thought' and 'We Should Be free' which features Jamie Lidell in brilliant form.
Tominori Hosoya – Halfway (TH Pressings)
Fusing everything from Deep House, Chill-out, Broken Beats and Techno Tominori's 'Halfway' is another album which oozes class. As an album it's a real listening experience best sampled through headphones late at night. Stand-out tracks include huge club track 'Beautiful Lifes', 'Happiness To Trust' and 'The Future I Dream'. We featured Tominori on the blog and he also recorded a superb mix for us. Check it HERE
Nu Guinea – Nuova Napoli (NG Records)
From incredible disco to laid back funk Nu Guinea's 'Nuova Napoli' is an album which will be on our stereo for many years to come. The production is incredible throughout perfectly fusing live instruments with electronica and some utterly brilliant vocals. It's hard to put into words just how good this album is. Buy it as soon as possible,
Waajeed – From The Dirt (Dirt Tech Reck)
An album which popped up on our radar recently thanks to a recommendation from Marcel Vogel. 'From The Dirt' see's Waajeed create what could actually be the perfect house album. It's packed with soul, passion, power and most importantly tracks which move the feet and the heart. Utterly brilliant from start to finish, there are only a few copies of this still kicking about on vinyl. Grab it as soon as possible.
Compilations
Boogie Angst Edition Two (Boogie Angst)
Another late entry as this one just dropped a couple of weeks ago but it's been on the office stereo since. You can check out our full review HERE where we described it as "a beautifully rounded album packed with warm Nu disco, chilled electronica, house and 80's influenced grooves". Stand out tracks come from label bosses Kraak & Smaak, Feiertag and Snacks. It also features one of our Premiers of the year from E.Live
Various Artists – Disco Made Me Do It (Midnight Riot)
One of the labels of the year Midnight Riot dropped more than their fair share of stand out tracks this year but they also had a few key compilation releases including the excellent 'Take Me to Church' which is also worth checking. 'Disco Made Me Do It' was packed with feel good vibes, big vocals and groove aplenty. Stand-out tracks and remixes come from John Morales, Yam Who?, Dubplate Disco, Groove Assassin, Full Intention and Babert.
Jimpster – Selected Remixes 2008 – 2017
One of the legends of the Deep House scene Freerange and Delusions of Grandeur label boss Jimpster released the highly anticipated compilation of his remixes from the last decade and it's a great testament to his renowned skills in the studio. When you look down the track list on this one the artists involved show just how highly regarded Jimpster is by his peers. It's a true crème de la crème of the electronic music world from Seal to S-man to MR V, Josh Wink and the Stereo Mc's. Check out our full album review HERE
Marcel Vogel's Lumberjacks In Hell (BBE)
A label which had another spectacular year 'Lumberjacks in Hell' teamed up with legendary UK label BBE for this compilation. The track-list on this one is a who's who of stand-out acts from this year including Krewcial, Giovani Damico, Ant La Rock, Nachtbreaker, Harry Wolfman and Jonna. It also features exceptional tracks from Tom Noble, Beam Me Up and Seven Davis JR. Couple this with an excellent PR campaign and beautiful artwork and this is deserved addition to this list.
Various – Trash The Wax #6 (Paper Disco)
Another stellar entry to the Trash The Wax series saw Paper Disco collate 17 tracks of exceptionally cool disco. Stand-out tracks come from Hot Toddy, Bill Brewster, Diskobeistet, Flash Atkins, Andy Buchan, Tony Disco and James Greenwood.
We hope you enjoy some of these albums and we will see you in 2019 for more incredible music
Tags:
art of tones
,
Boogie Angst
,
bosq
,
Detroit Swindle
,
Dirt Tech Reck
,
Dj Koze
,
freerange
,
heist
,
houndstooth
,
Jimpster
,
kraak smaak
,
local talk
,
lumberjacks in hell
,
marcel vogel
,
Marquis HAwkes
,
Midnight Riot
,
NG records
,
Nu Guinea
,
Pampa
,
paper disco
,
TH Pressings
,
Tominori Hosoya
,
ubiquity
,
Waajeed